Nothing says summer like some outstanding Apple Cider Barbecue Pulled Pork. Its so tender from the brine and flavorful from the dry rub & slow cooking.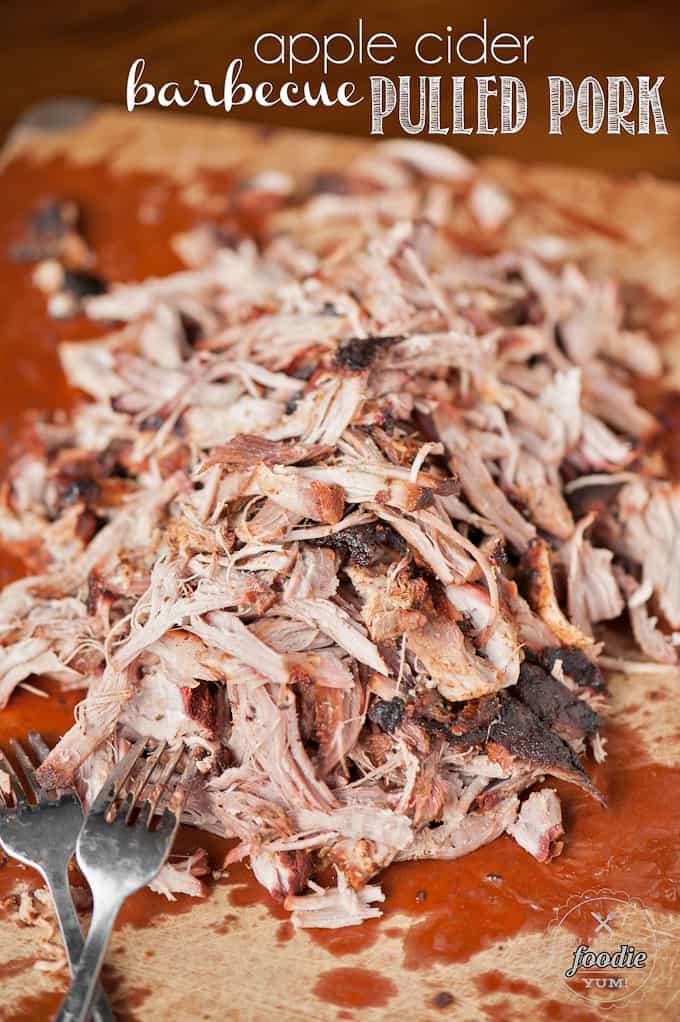 Pulled pork is the best, wouldn't you agree? Its so freaking good. Whether you make it in your crockpot or on your grill, its one of my favorite dinners. I typically like to make my slow cooker pulled pork during the winter months when the weather is crummy. But come this time of year when the days are longer and warmer – its pretty much a sin to not cook outdoors. We have a Traeger and I love it. A lot. But this will work on any grill as long as you can somewhat control the temperature and use a thermometer to know when your meat is done.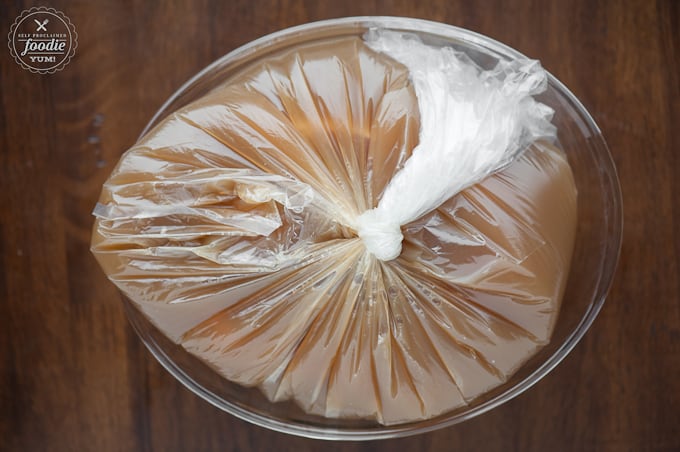 MY OTHER RECIPES
This recipe starts with a bone-in pork roast. We buy a half pig every year from a ranch in Eastern Oregon, so I pretty much always have a pork roast at the ready. I like to use a large bag when I brine meat because I want every inch of my meat touching the liquid. If you just set it in a pot, you may have to use more brine to fully cover the meat and that's just a waste. With a bag, you can squeeze out the air and have a perfectly submerged chunk of meat. I loved using apple cider for this particular roast. Why does pork taste so good with apple?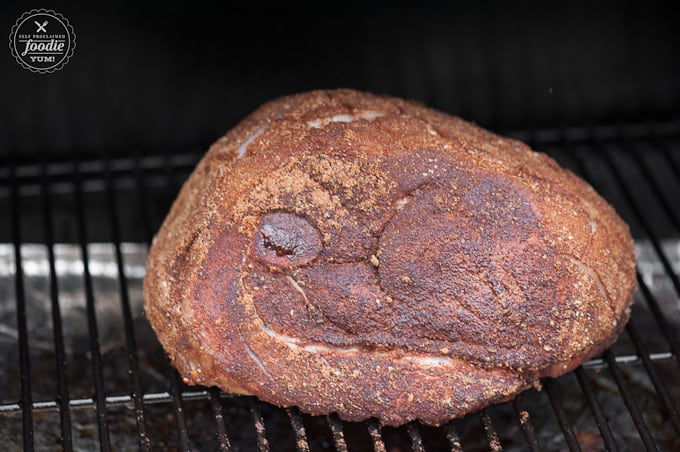 After your roast is done soaking in its overnight bath, you're gonna want to make up a batch of my one spoon dry rub and cover the entire roast. If you've never made my dry rub, it will change your life. I use it all the time. I make my damn good roast chicken as well as my damn good chicken wings with it, among other things.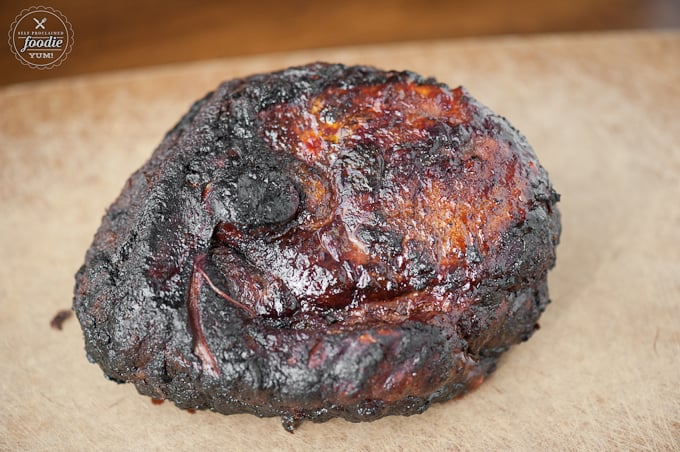 So, I *may* have overcooked my pork a wee bit. Hey – it was a beautiful day and my kids wanted extra time at the park. I couldn't say no! Well guess what – aside from being a teeny bit drier than I would have liked, it still ended up tasting wonderful. And don't worry, I put the proper instructions in the recipe below. Trust your thermometer over the clock… always.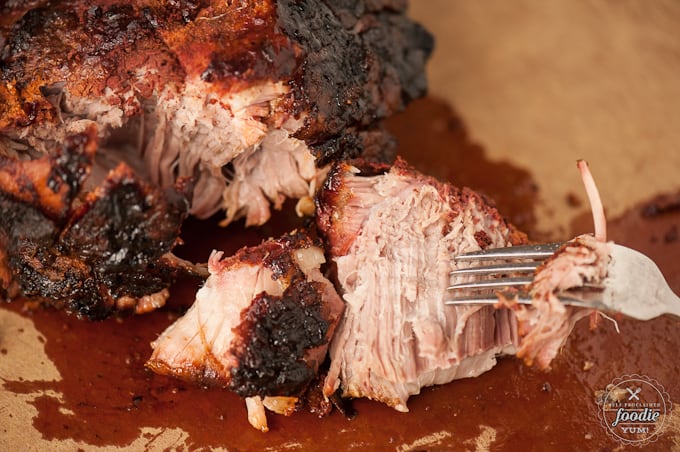 Put your pulled pork on a bun and, wait a minute. Pulled pork on a bun not only looks pretty unappetizing, but it needs some color.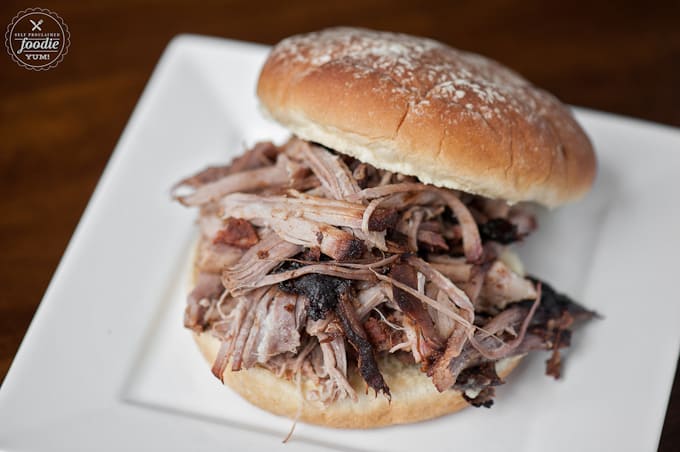 Well, then. You need to make up a batch of this Caroline Mustard Barbecue Sauce. Now we're talking. YUM!!!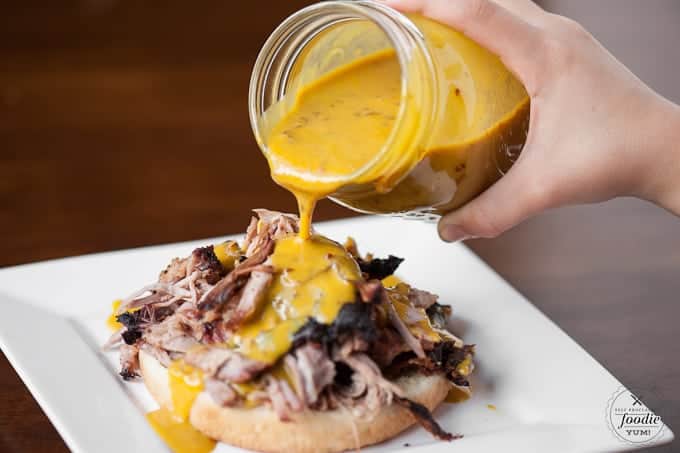 Apple Cider Barbecue Pulled Pork
Nothing says summer like some outstanding Apple Cider Barbecue Pulled Pork. Its so tender from the brine and flavorful from the dry rub & slow cooking.
Ingredients
brine:
1 (4-7 pound) bone-in pork roast
4 cups apple cider (I used Trader Joe's unfiltered Honey Crisp Apple Cider)
2 cups water
1/4 cup Worcestershire sauce
1/4 cup packed brown sugar
1/4 cup kosher salt
barbecue:
Instructions
Rinse pork roast under cold running water. In large oven bag or airtight container, combine apple cider, water, Worcestershire sauce, brown sugar, and salt. Mix until sugar and salt have dissolved. Add pork, cover, and refrigerate (overnight is best).
When you're ready to cook your pork, preheat grill to 225 degrees F. If you have a meat injector, take some of the brine and inject it into the roast (I don't have one so I didn't do this, but it would have been awesome). Remove the roast from the brine mixture but save it for the cooking process.
Mix up the one spoon dry rub and generously cover your roast using all of it.
Put the roast on the grill with the fat side up and cook for 3 hours. After each full hour, use a silicon brush to mop the brine liquid onto the roast to keep it moist. You can discard the brine after the first 3 hours of roasting.
Use an aluminium foil pan or make a boat out of heavy duty aluminum foil and place the roast on top. Increase the temperature to 250 degrees F and roast until the internal temperature reaches 150 degrees F, about 5-6 hours total.
Transfer the roast to a cutting board and allow to rest for at least 20 minutes. Transfer any of the cooking juices in your foil to a measuring cup. When the meat is cool enough to handle, separate the tender meat from the bone and fat. Spoon off any fat that has risen to the top of the cooking liquid or use one of those measuring cups that pours from the bottom. Moisten shredded meat with cooking liquid.
Serve with soft buns and Carolina mustard barbecue sauce along with some coleslaw.
Notes
I recommend using a large bag when you brine because you can squeeze out all the air to ensure your roast is completely covered.