Leftover Ham Bean Soup is the easiest and most flavorful soup your family will love made with a rich broth in the slow cooker from your holiday ham bone.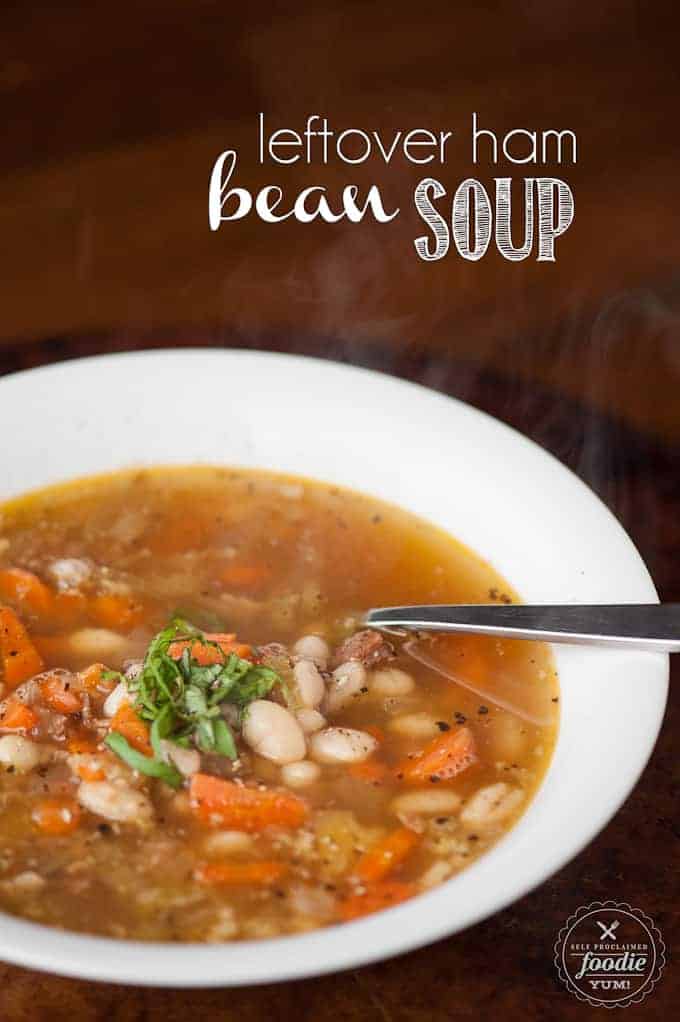 This soup was so freaking easy to make. After I made our damn good whole ham, I was getting ready to toss the ham bone as well as the remaining fat because frankly I was tired of cooking that day and didn't want to deal with it. I have to give my husband credit for reminding me that we never throw away bones. Its the best way to make broth. Its how I make my roasted beef broth. Its how I make my slow cooker chicken broth. Why on earth would I not make something with my ham bone? It, after all, has more flavor than all the other bones because its ham, for crying out loud. So into the slow cooker it went along with all the other standard broth ingredients: onion, carrots, celery, garlic, and a bay leaf. Now, I could have easily used water, but I wanted to give it even more flavor because I knew this soup would ultimate have beans and I think beans need a lot of added flavor, so I used chicken broth. Then I added some chili powder and, 5 minutes later, my slow cooker started brewing one of the most delicious, easy to make, and flavorful soups we've ever eaten.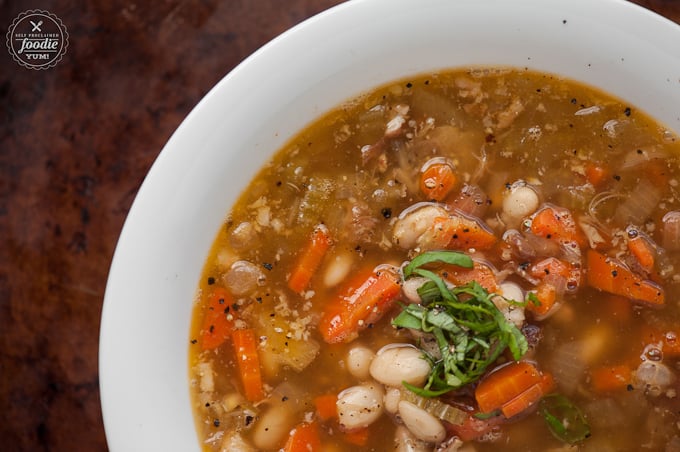 The trick, in my opinion, to extracting as much flavor and goodness out of that ham bone that you can get is to throw all that leftover fat and, of course any juices, back in the pot along with the bone. It may gross you out to see all that fat swimming around in your soup, especially if you're like me and will spend as much time as needed picking out any scraps of fat to avoid eating those slimy little tidbits. Not to worry. I've got you covered. Once you deem your broth done, you stick it in the refrigerator and let that fat congeal. Lucky for us, fat not only floats, but it gets hard, so once you see a thick yellow solid layer form on top, just scoop it off and toss it. At that point, you heat your broth back up, add the beans, and eat it. Based on the amount of chicken broth I used, this recipe only makes two really large or four small bowls of soup. Feel free to double everything if you want. I was planning on my kids saying "ewww" once they saw the onions and figured my husband and I would be the lucky ones to enjoy the soup. Yeah. I was wrong. My kids gobbled it up and my husband had a double serving. Of course I ate a bit of it so I would know what I was talking about while reading this post, but they were the ones with the full bellies. Oh well.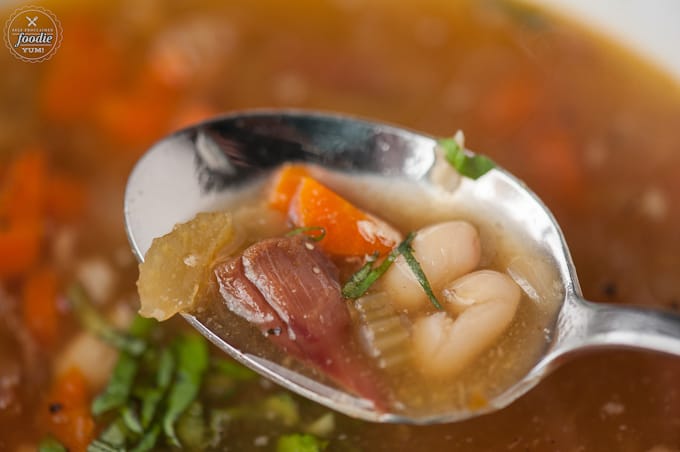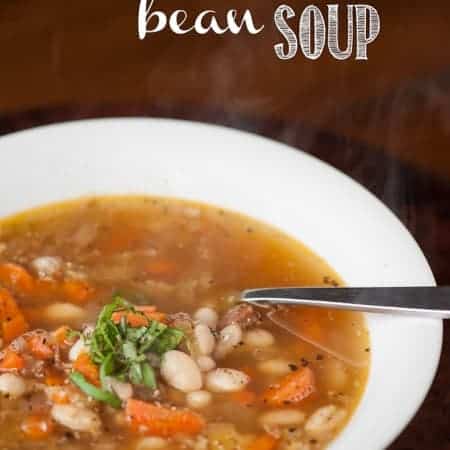 Leftover Ham Bean Soup
Leftover Ham Bean Soup is the easiest and most flavorful soup your family will love made with a rich broth in the slow cooker from your holiday ham bone.
Print
Pin
Rate
Cook Time:
4
hours
20
minutes
Total Time:
4
hours
35
minutes
Ingredients
2

medium

carrots

chopped

2

ribs

celery

chopped

1

small

onion

chopped

1

quart

chicken broth

1

leftover

ham bone

along with any meat, fat, and juices that are left

1

teaspoon

chili powder

1-2

cloves

garlic

minced

1

bay leaf

15.5

ounces

great northern beans

(one can), rinsed and drained

freshly ground pepper

to taste
Instructions
Add carrots, celery, onion, chicken broth, leftover ham bone, chili powder, garlic, and bay leaf to your slow cooker and cook on low at least 4 hours. Feel free to pick off and shred any ham off the bone before you put it in the slow cooker just so you don't have to do it later. This part is really variable and you can cook on high for less time or on low for longer or even over night.

Transfer all ingredients to an airtight container and refrigerate until all the fat congeals. Then, scoop off and discard any of the solid yellow fat that had risen to the top, along with the bay leaf.

Transfer remaining soup to a pot, add beans, and heat to serve.
Nutrition
Calories:
167
kcal
|
Carbohydrates:
30
g
|
Protein:
11
g
|
Fat:
1
g
|
Saturated Fat:
1
g
|
Sodium:
914
mg
|
Potassium:
804
mg
|
Fiber:
9
g
|
Sugar:
3
g
|
Vitamin A:
5333
IU
|
Vitamin C:
22
mg
|
Calcium:
111
mg
|
Iron:
3
mg