You have never fully enjoyed how wonderful ham can be until you've made this moist and flavorful Damn Good Whole Ham that shreds right off the bone.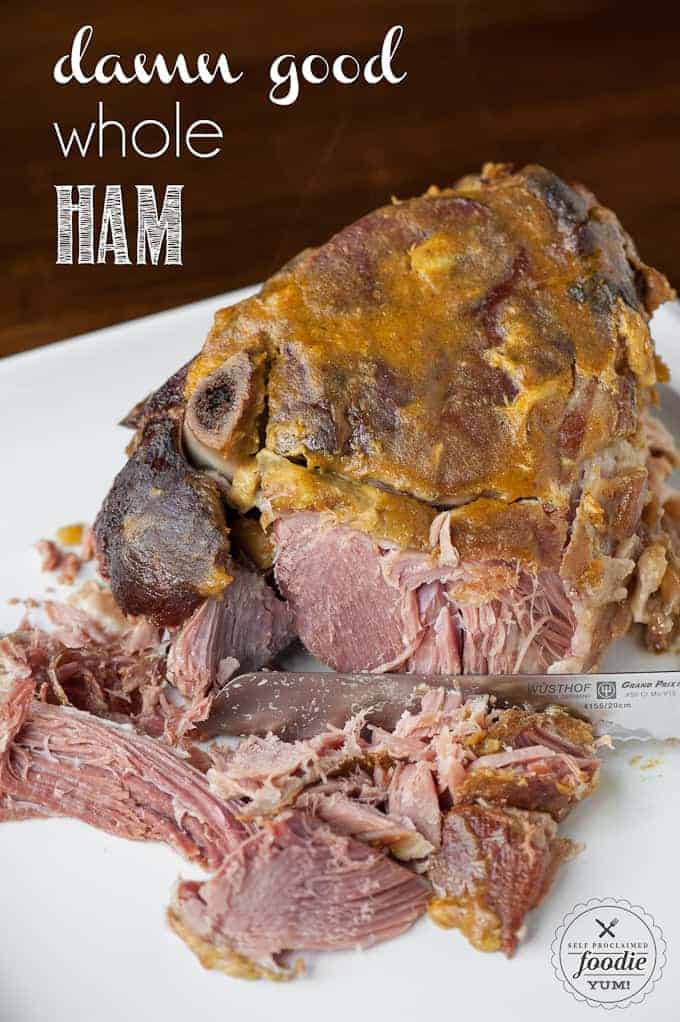 I'm not gonna lie. This damn good bone-in whole ham?  I nailed it.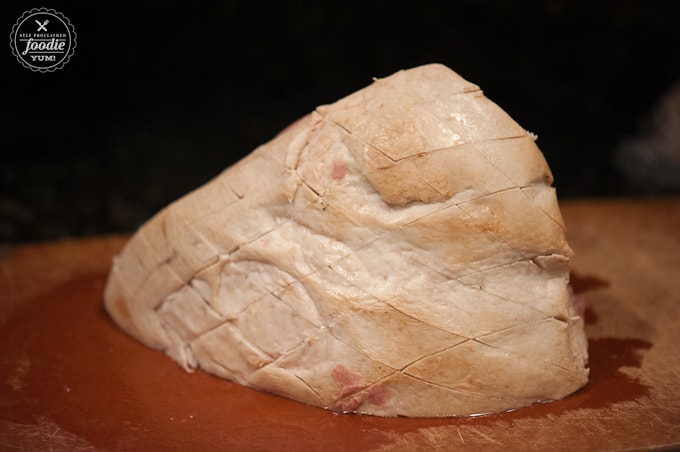 I made a ham just like this for Christmas dinner, but I was so exhausted from making a huge 14-person dinner, and the dark Portland skies weren't providing enough window light for photos, that I did the unthinkable and just served the damn thing without photographing and blogging it. I'm actually glad I didn't because I made this second ham in anticipation of Easter because, of course, when you have a food blog you have to enjoy holiday foods in advance of the actual holiday, and this ham turned out even better. It all starts with a big bone in cured ham. Now, because its cured, you can just slice it up and eat it. But you're not gonna do that for a holiday meal. And you really shouldn't, because you can turn it into something spectacular.  I get my pork and my beef from a ranch in Eastern Oregon and I can tell you that getting your meat from a good source is step one to a damn good meal. Step two is to score the fat layer. This takes only minutes to do and will make all the difference in the world to your ham. Why? Because it will help your fat more easily render and all those juices will get into the meat and make it even more tender.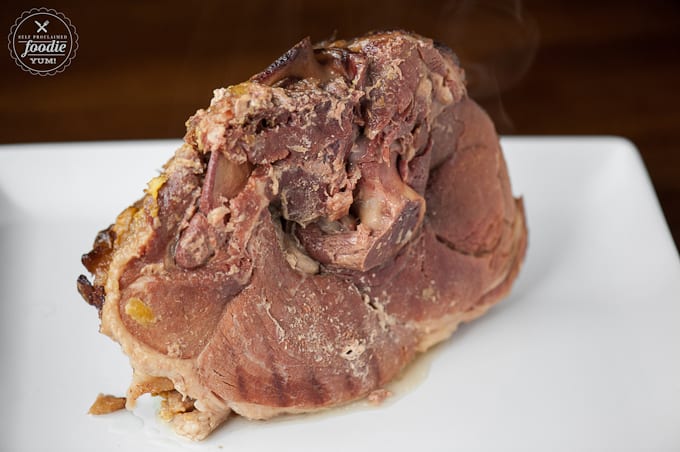 So, I totally struggled on how to photograph this ham. I mean, its just a big hunk of meat. If you're familiar with my blog, you know I don't use a lot of props. Its all about the food, baby. The one thing I really wanted to come across in the photos was how awesome the simple pineapple, brown sugar, spicy brown mustard glaze is as well as how the meat just shreds right off the bone.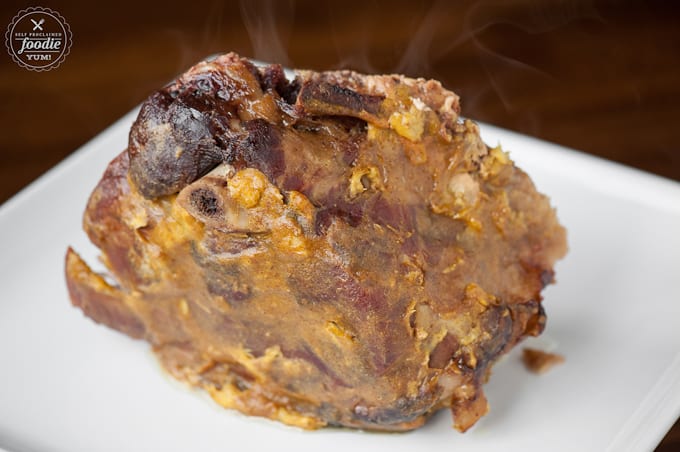 Before I made my Christmas ham, I actually called all the delis in the neighborhood asking if they could spiral cut my ham before I cooked it. You see, I think we've all been brainwashed by those ham companies who shall remain nameless to believe that a large ham will only turn out if its honey baked and spiral cut. Fortunately, no one would spiral cut my ham for me, which was such a blessing because it turnout out so insanely good.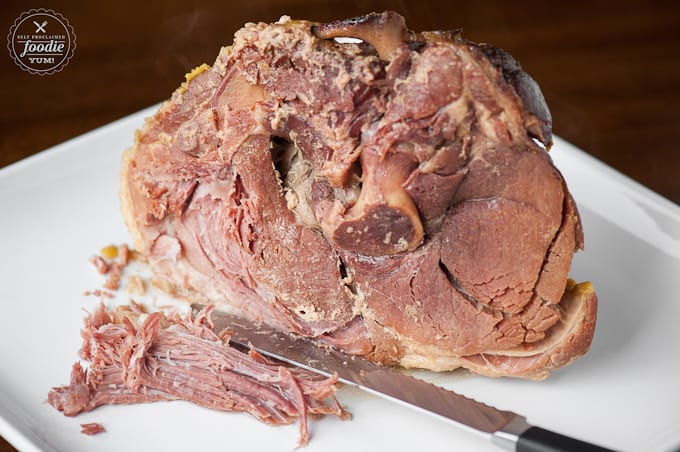 I've screwed up more hams in the past than I'd care to admit. I either didn't heat it up enough and it ended up being served cold or I cooked it at too high of a temperature and it dried out. The trick, my friends, is low and slow. Cover that bad boy up in a nice little foil wrap to keep the moisture in while it gets nice and hot inside, then slather it up with the finger-licking-good glaze during the final steps.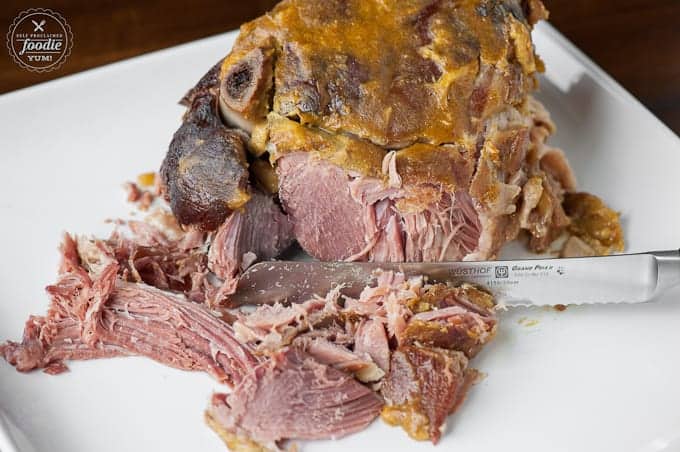 I will have you know that I cooked this ham on my smoker which, I believe, made it even better. But don't you worry if you are smoker-less. This will cook just fine in your oven or on a gas or charcoal grill. But, if you don't have a smoker, I highly recommend you go get one. Once you do, you'll find yourself asking why you waited so long to get one. Every time I make a ham like this, or some damn good roast chicken, or some killer ribs, or an outrageously delicious pizza, I kick myself for not buying that smoker years earlier. Regret is never a good thing, people.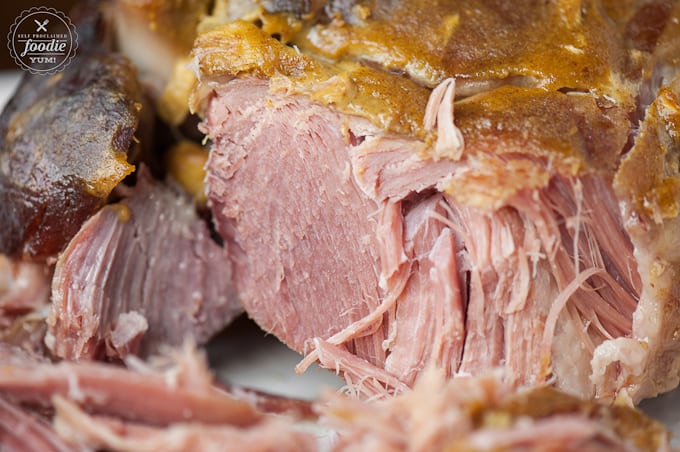 Have you ever had an Easter or Christmas ham that looked that good?  Ugh. YUM.  I made this big ass ham for my hungry family of four, so of course we had plenty of leftovers. I used the leftover ham to make some classic eggs benedict, a denver omelet breakfast casserole, one night I just fried some up in some avocado oil and we fought over who got the last piece, and I used the bone to make an easy bean soup.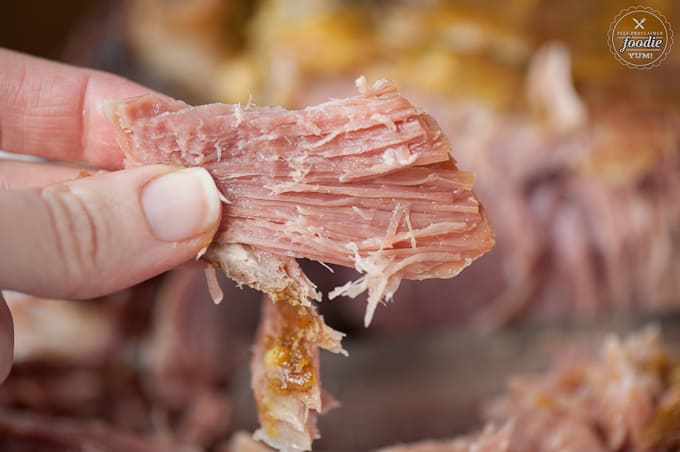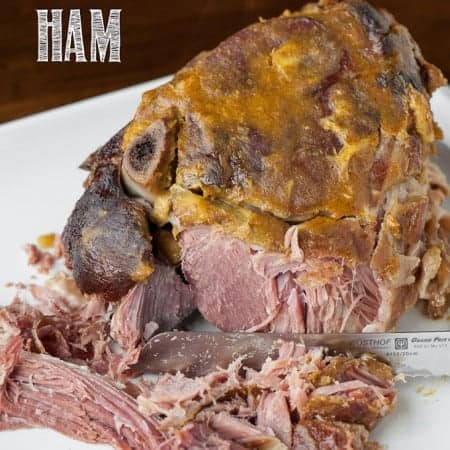 Damn Good Whole Ham
You have never fully enjoyed how wonderful ham can be until you've made this moist and flavorful Damn Good Whole Ham that shreds right off the bone.
Print
Pin
Rate
Total Time:
8
hours
20
minutes
Ingredients
1

whole bone-in cured ham

1/2

cup

fresh pineapple

1/2

cup

brown sugar

1/2

cup

spicy brown mustard
Instructions
Note: total cooking time will depend on your size of ham, but you can plan on about 30min/pound.

Score the outer fat layer of the ham in a diamond pattern. Only let your knife go as deep as the fat and make the lines of the diamonds run about an inch apart. This will allow the fat to more easily render and it will also allow the pineapple glaze to better sink into the meat.

Insert a meat thermometer into your ham and wrap the entire ham in foil. Cook the ham in the oven or on grill at 275 degrees F until the thermometer reads 130 degrees F.

Combine the pineapple, brown sugar, and mustard in the blender to make a glaze.

Once the ham its 130 degrees F, leave the ham on the foil but open it up. If there's excess liquid, drain off as much as you can. Pour the pineapple glaze all over the ham, trying to keep as much on the ham as you can. Leave the foil open but this time make more of a bowl with it. Continue cooking until internal temperature reaches 150 degrees F.

Remove from oven or grill and allow to rest at least 15 minutes before slicing. Ham should fall off the bone. When done, reserve bone to make some leftover ham soup.
Nutrition
Calories:
2497
kcal
|
Carbohydrates:
15
g
|
Protein:
216
g
|
Fat:
168
g
|
Saturated Fat:
59
g
|
Cholesterol:
620
mg
|
Sodium:
12050
mg
|
Potassium:
2911
mg
|
Sugar:
14
g
|
Vitamin A:
0.2
%
|
Vitamin C:
6.3
%
|
Calcium:
9.2
%
|
Iron:
50.3
%