This recipe first appeared over at Real Housemoms where I'm a contributor.
Ham, Egg & Cheese Breakfast Sandwiches combine a perfectly cooked egg, melted cheddar cheese, flavorful ham inside a freshly baked homemade cheddar biscuit.
Make them as a grab-and-go breakfast as a delcious way to start your day!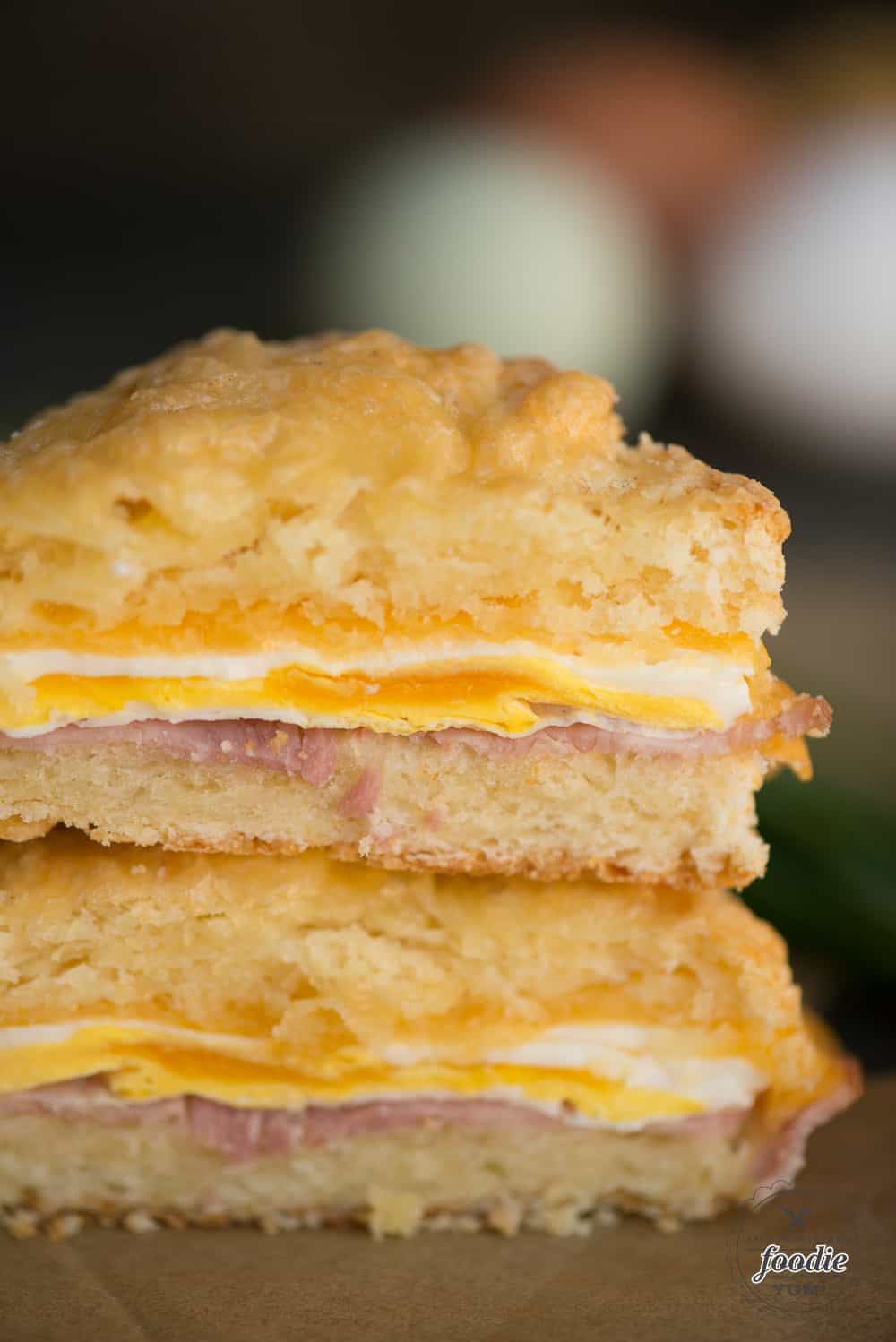 This post may contain affiliate links. That means that I will earn a teeny tiny (seriously, it's ridiculously small) commission on anything that you buy, at no added cost to you. By supporting me this way, I can deliver more delicious recipes! Read my disclosure policy here.
BISCUIT BREAKFAST SANDWICHES
Pin it to your BREAKFAST BOARD to SAVE it for later!
Follow Self Proclaimed Foodie on Pinterest for more great recipes!
Ham, Egg & Cheese Breakfast Sandwiches are one of my favorite breakfasts. Well, right next to biscuits and gravy and monkey bread, of course.
What's your favorite breakfast?
If you enjoy a filling breakfast sandwich, you will be a big fan of these Ham Egg and Cheese Breakfast Sandwiches. What's not to love? They're easy to make, take only a few minutes to prepare, and can be enjoyed on the go. There are a few tricks for creating the perfect breakfast slider, so be sure to check out all of my tips and tricks below.
I'm sure we've all been through a breakfast drive-thru and have gotten a breakfast sandwich on the go. Let me tell you something. Homemade is even better! Especially when you place that egg, ham, and cheese inside a homemade cheddar biscuit.
How to cook the egg for a breakfast sandwich:
The trick to getting a perfectly round egg is to cook it inside of a canning ring. I've found that a wide mouth ring works best, but if you're working with smaller biscuits, and egg will fit into a regular sized canning ring just fine.
You'll need to spray the inside of the ring with cooking spray to prevent the egg from sticking.
Once the egg is cooked, you'll want to slide your ham right under the egg. This allows the ham to get crisp while keeping the egg warm, but not overcooking it.
At the same time, you'll add your cheese to the top of the egg. The heat from the cooked egg should melt it in just a couple of minutes. At this point, you can pick up the whole stack and stick it inside the biscuit.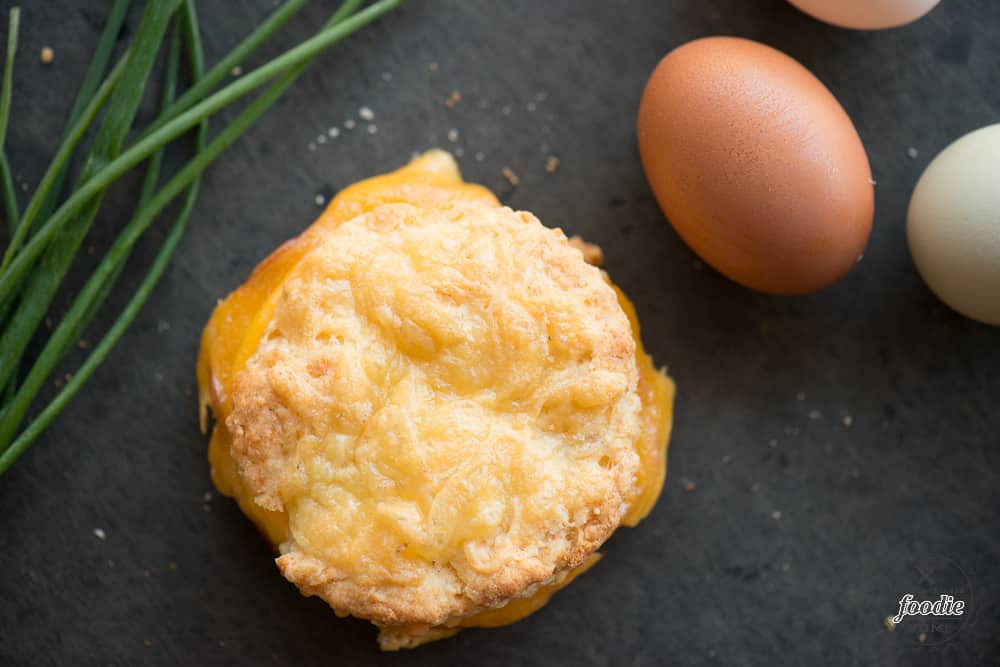 It's easy to make just one of these ham and cheese breakfast sliders or make a whole bunch at the same time if you're feeding a crowd. I like to wrap them up in foil when we're on the go.
You can even stick them in your kid's school lunch and they happily have breakfast for lunch! A solid breakfast is always the best way to start the day and these make ahead breakfast sliders will certainly leaving you feeling full and content all day long.
Want more easy breakfast ideas?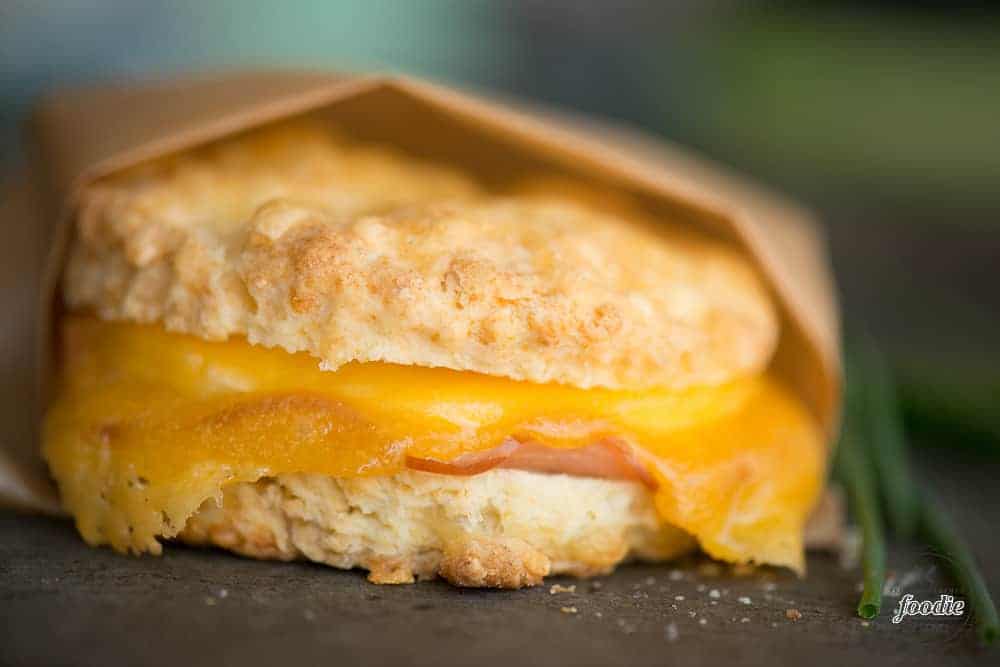 Tools used to make this Ham Egg and Cheese Breakfast Sliders recipe
Biscuit Cutters: Get perfectly sized biscuits every time with these biscuit cutters. Make 'em small for sliders or big and fluffy for biscuits & gravy!
Baking Sheet: A nice big baking sheet is a must have for any kitchen. This half pan sheet is large than a regular cookie and works great for anything you're baking.
Canning Rings: A must have for mason jars, but also great for cooking with!
Skillet: This skillet is my go-to kitchen tool. It's large circumference and high sides make it perfect for cooking anything from one pan meals to soups and sauces.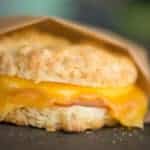 Ham, Egg & Cheese Breakfast Sandwiches combine a perfectly cooked egg, melted cheddar cheese, flavorful ham inside a freshly baked homemade cheddar biscuit. Make them as a grab-and-go breakfast as a delcious way to start your day!
Ingredients
4

biscuits

links to biscuit recipes in Notes below

4

eggs

4

slices

cheddar cheese

sharp recommended

olive oil spray
Instructions
Slice biscuits lengthwise.

In a medium-sized pan over medium heat, set 4 wide mouth canning rings in the pan. Spray the insides of the rings and the base of the pan with the oil spray. Crack each egg into each ring and pop the yolk. When the egg white has gone from clear to white, remove the rings and flip the eggs.

After 1 minute of cooking on the second side, place a piece of ham under each egg and a piece of cheese on top of each egg. This will cook the ham, melt the cheese, and keep the egg warm.

When the cheese has melted, place the ham, egg, and cheese inside the biscuit and serve.
Recipe Notes
Flaky Buttermilk Biscuits: https://selfproclaimedfoodie.com/flaky-buttermilk-biscuits/
Homemade Cheddar Biscuits: https://selfproclaimedfoodie.com/cheddar-biscuits/
To give this breakfast a slider vibe instead of a full-sized breakfast sandwich, use a 1 1/2-inch or 2-inch round biscuit cutter to create a smaller biscuit.
Nutrition Facts
Amount Per Serving
Calories 274
Calories from Fat 153
% Daily Value*
Total Fat 17g 26%
Cholesterol 193mg 64%
Sodium 490mg 20%
Potassium 148mg 4%
Total Carbohydrates 13g 4%
Protein 14g 28%
* Percent Daily Values are based on a 2000 calorie diet.
Are you a Foodie? We have a group that's just for you!
I invite you to join so you can share your love of food and cooking with other foodies.
We're building a community one meal at a time!