Birthday Cake Baked Donuts are a colorful treat for any occasion.
This easy to make recipe will put a smile on anyone's face! Light and fluffy buttermilk donuts are filled with sprinkles. The baked donuts are then dipped in a warm glaze and topped with more sprinkles! Make them for breakfast or dessert!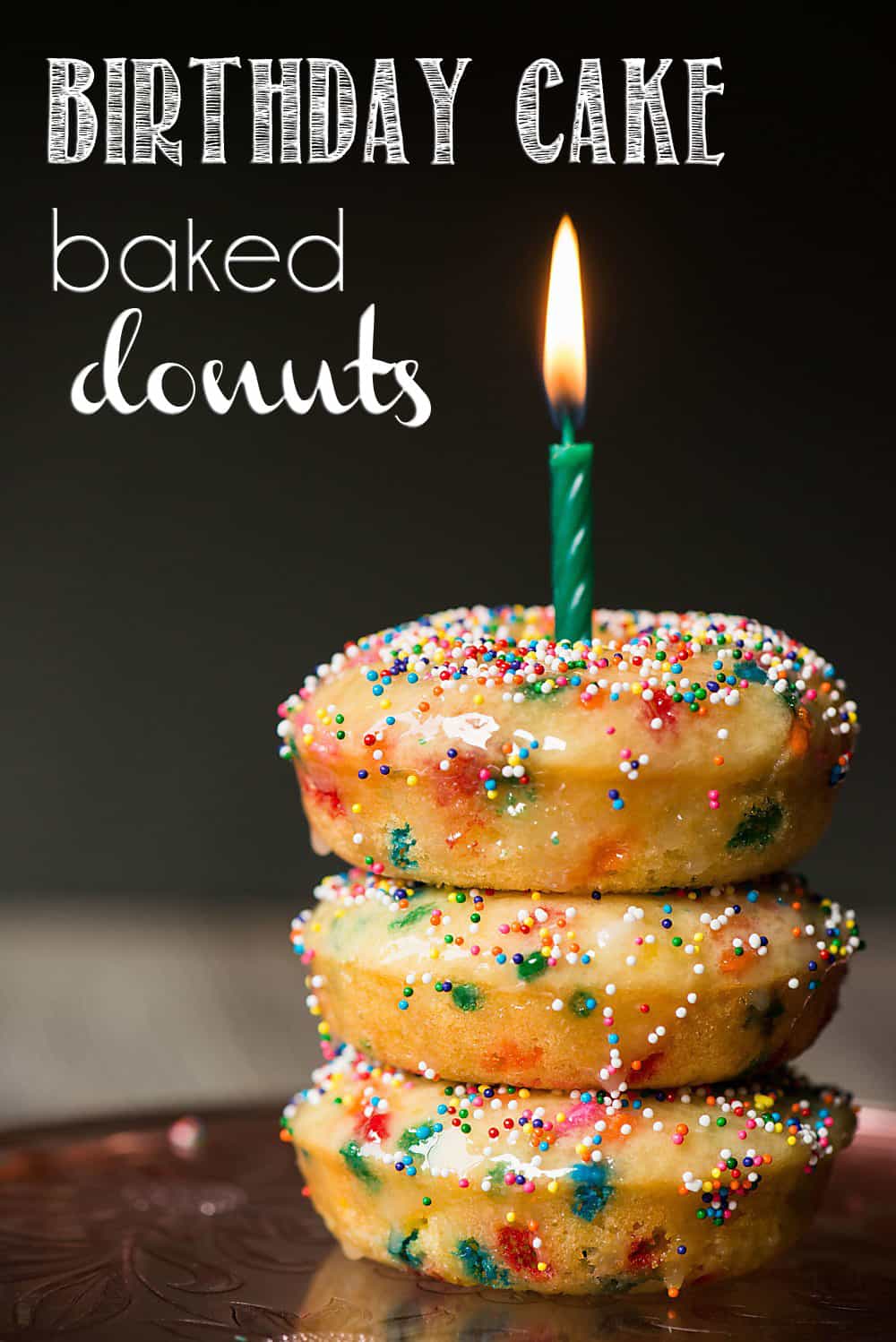 Birthday cake baked donuts were super fun to make. First of all, who doesn't love a good donut?  If you're looking for a baked cake doughnut recipe, you've come to the right place. What I'm sharing here is basically a baked glazed donut recipe. Simple and easy.
These are not to be confused with my birthday cake sugar cookies. They are also covered in sprinkles and are flavored with a touch of almond extract. But we all know cookies and doughnuts satisfy two different kinds of cravings!
Have you ever woken up your favorite birthday boy or girl with donuts? Instead of buying maple bars and apple fritters, make up a batch of these fun birthday cake baked donuts and I promise it will be a birthday breakfast long remembered!
What is the difference between baked and fried donuts? Can you bake donuts instead of frying them?
A real donut is made by dropping sweet donut batter into hot oil. Although that is my preferred method of eating donuts, I don't own a deep fryer. For that matter, I don't often deep fry anything. Making baked donuts, on the other hand, is really not much different than making cupcake or a muffin. You prepare the batter, bake them in a donut pan, then cover with glaze.
Baked donuts are basically muffins but cuter, smaller and easier. The batter is also lighter.
For these donuts, I like to incorporate those long sprinkles right into the batter because they cook up so well. The trick with baked donuts is to squeeze the batter into the donut pan using a plastic bag. The result is so much prettier than if you try to spoon it in.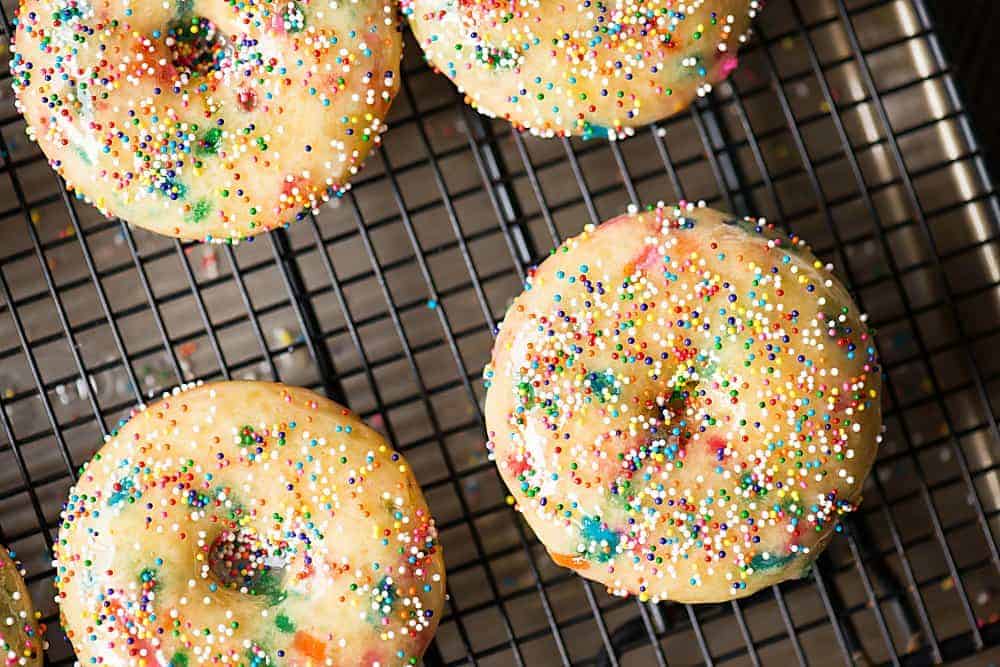 Can you make donuts without a donut pan?
Not really. You could try to pipe them onto a baking sheet, but they won't hold their shape. You could cook them in a muffin tin, but then they would be muffins and not baked donuts. The donut pans are relatively inexpensive and easy to find on amazon. If you're interested in making these, I highly recommend just buying the pan.
I prefer to make things interesting and use those little teeny tiny ball sprinkles on the top. They just add the perfect little crunch to the warm glaze.
When I made my birthday cake cookies, I snuck a bit of almond extract into the batter and for whatever reason, that stuff makes the end result taste fabulous!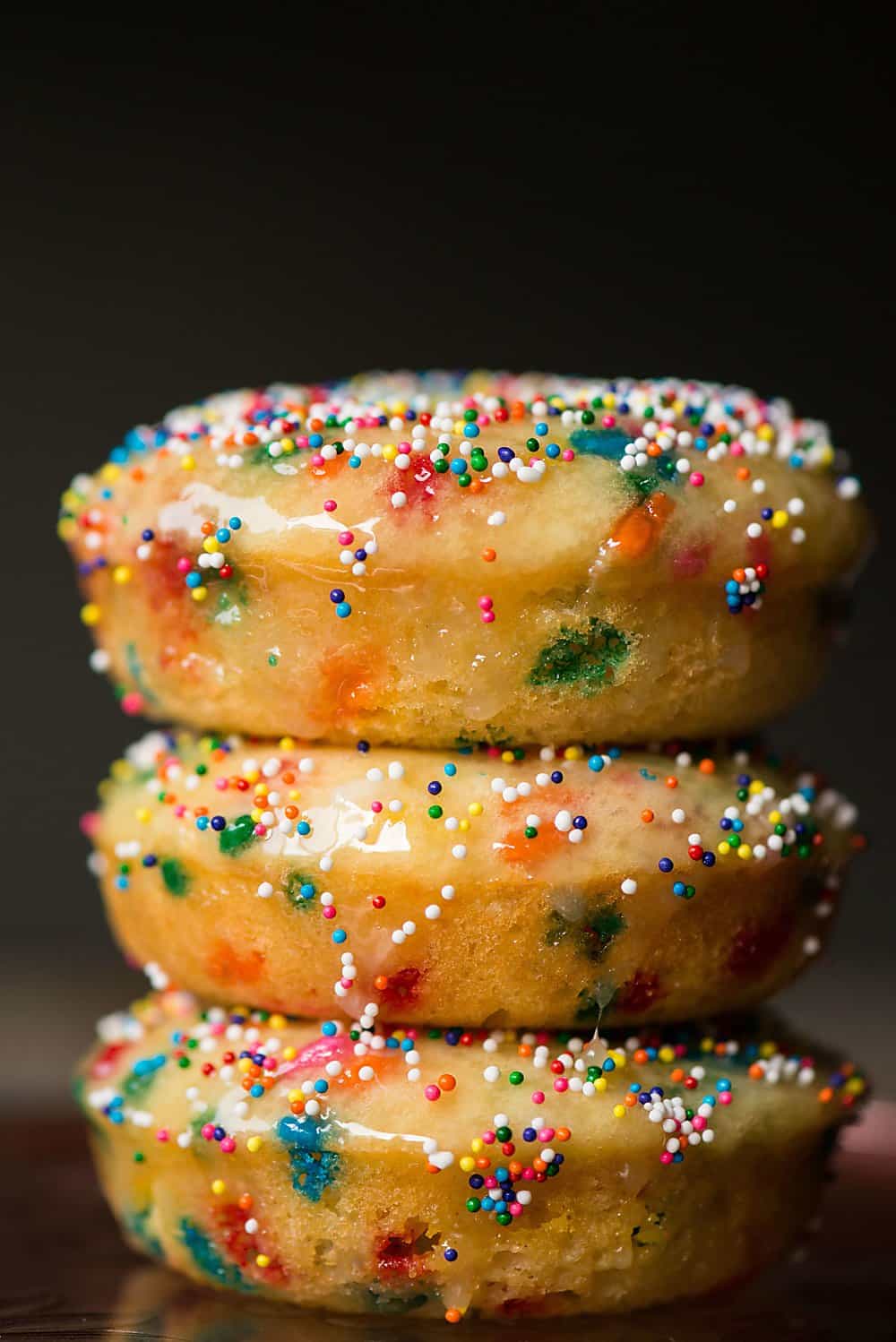 Watch me make my Birthday Cake Baked Donuts in the video below: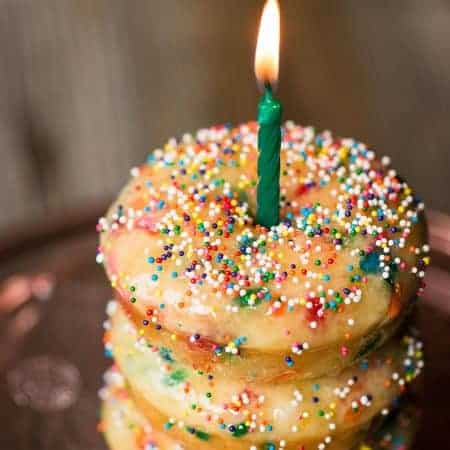 Birthday Cake Baked Donuts
Colorful Birthday Cake Baked Donuts are a real treat for any occasion. This easy to make recipe will put a smile on anyone's face!
Print
Pin
Rate
RECIPE VIDEO WILL AUTOPLAY
Ingredients
Donut:
1

cup

all-purpose flour

1

teaspoon

baking powder

1/4

teaspoon

baking soda

1/2

teaspoon

almond extract

1/3

cup

granulated sugar

1/2

cup

buttermilk

1

large egg

2

Tablespoons

unsalted butter

(melted)

2

teaspoons

vanilla extract

1/4

cup

rainbow sprinkles
Glaze:
1/4

cup

milk

2

cups

confectioners' sugar

1

teaspoon

vanilla

1/4

teaspoon

almond extract

extra sprinkles to sprinkle on top
Instructions
Preheat the oven to 350 degrees F. Spray a donut pan with non-stick spray. Set aside.
For the donuts:
In a medium bowl, whisk together the flour, baking powder, baking soda, and granulated sugar together in a medium bowl. Set aside.

In a larger bowl, whisk the egg and buttermilk together until smooth. Add the melted butter along with the vanilla and almond extracts, whisking until fully combined. Add the flour mixture to this wet mixture and stir until just combined. Do not overmix. Fold in the sprinkles.

Transfer the batter to a gallon sized freezer bag. Squeeze out all the air before sealing and snip the bottom corner off so that you can pipe one fat bead of batter into each well of the donut pan.

Bake for 9–10 minutes or until the edges are lightly browned. Remove from oven and transfer to a cooling rack placed over a large baking sheet to later catch all of the icing drips and allow to fully cool to room temperature.
For the glaze:
Combine the confectioners' sugar, milk, vanilla and almond extracts in a small sauce pan. Heat over low heat while stirring constantly just to warm the glaze and allow the sugar to fully dissolve. Remove from heat.

Dip the top of each donut in the warm glaze and return to rack. Then, once the glaze in the pot has cooled more and begins to thicken, re-dip each donut in the glaze once again and then top with additional sprinkles before the glaze sets.

Donuts are best enjoyed fresh but can be stored in an air tight container for a couple days if not eaten right away.
NUTRITION INFORMATION
Calories:
279
kcal
|
Carbohydrates:
56
g
|
Protein:
3
g
|
Fat:
4
g
|
Saturated Fat:
2
g
|
Cholesterol:
30
mg
|
Sodium:
63
mg
|
Potassium:
105
mg
|
Sugar:
43
g
|
Vitamin A:
155
IU
|
Calcium:
53
mg
|
Iron:
0.9
mg