Hawaiian Ham Skewers, made with a pineapple grilling sauce, ham steak, and fresh vegetables, are not only insanely delicious but are super easy to make.
This is an incredibly easy recipe to make for dinner or if you're feeding a crowd. Because the ham is already cooked, you only need to grill the skewers until they're heated through and the tasty sauce sets.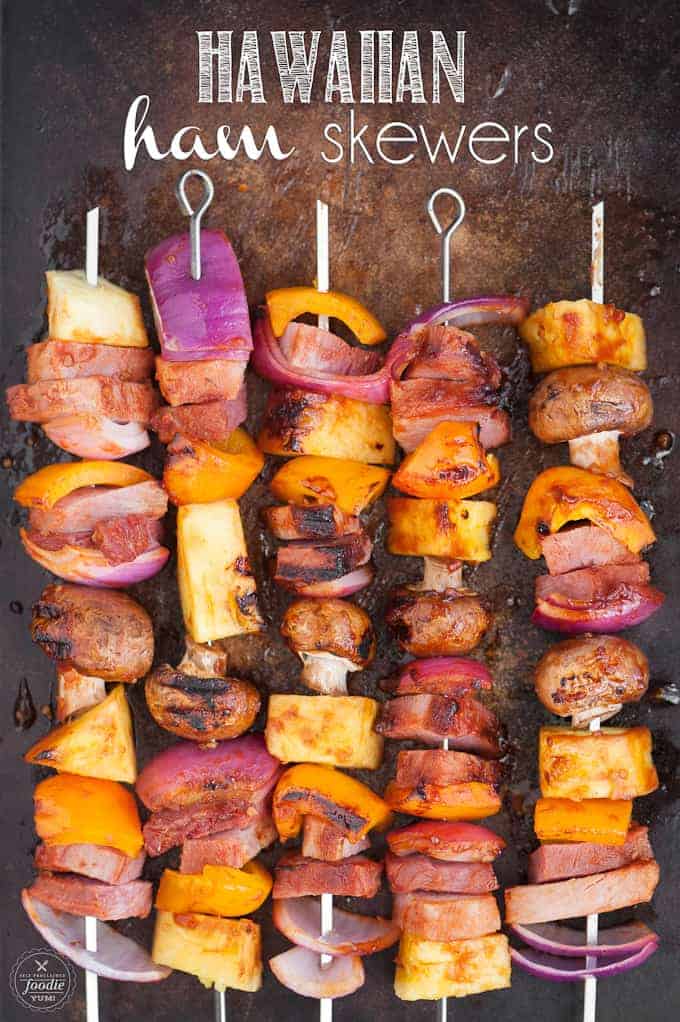 Skewers or kabobs?
Is there a difference, really? Well guess what – I looked it up.
According to the internet, a skewer is the physical object on which food to be grilled is put. They can be metal, bamboo, or other materials.
A kabob is a specific arrangement of meat and vegetables, put on a skewer, and grilled.
Regardless of what you call them, I was truly surprised at how delicious these Hawaiian ham skewers were! In my head I had planned on just threading the ham steak and veggies onto the skewer, grilling them up, and calling it good. Then I had the fantastic idea of making some kind of pineapple grilling sauce. Pure genius.
Why are these so good?
Besides the sauce, the other reason these kabobs are so fantastic are because you're not dealing with any raw ingredients. When you make chicken, beef, or shrimp kabobs, you have to cook them until the meat is safe to eat which often times over cooks the veggies.
Since the ham steak is ready to eat, you're essentially grilling them up to heat them all the way through (because who wants to eat a cold dinner, right?) and to infuse all that glorious flavor of the sauce over a searing hot grill.
The combination of flavorful meat, juicy pineapple, and crunchy seared veggies all smothered in that easy to make barbecue sauce makes for an outstanding meal.
This is one of those recipes you can have the kids help with too as long as you trust them not to stab themselves in the hand as they thread the food onto the skewers (ahem, I may have done this once or twice myself).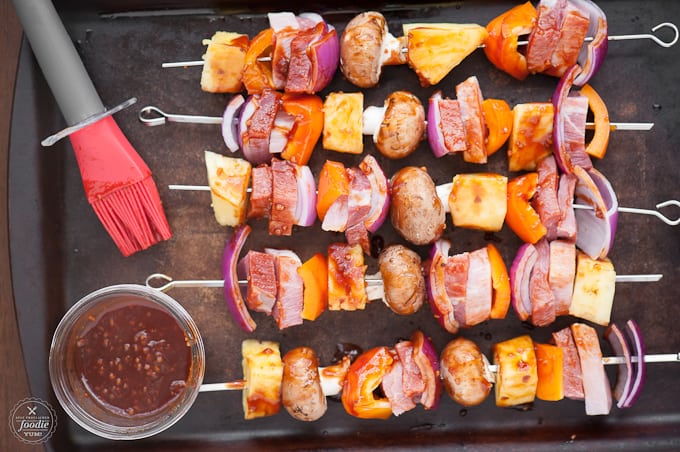 What do you serve them?
We happened to enjoy these for family dinner with a side of rice, but they would be perfect for tailgating.
Can you make them ahead of time?
Sure can! You could do all the prep work ahead of time, throw them in an air tight container, and then throw them on the grill when you're ready to eat. Perfect!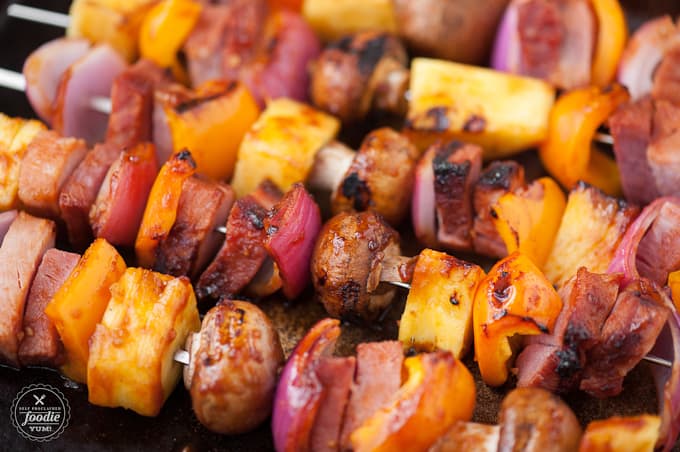 Hawaiian Ham Shish Kabob Recipe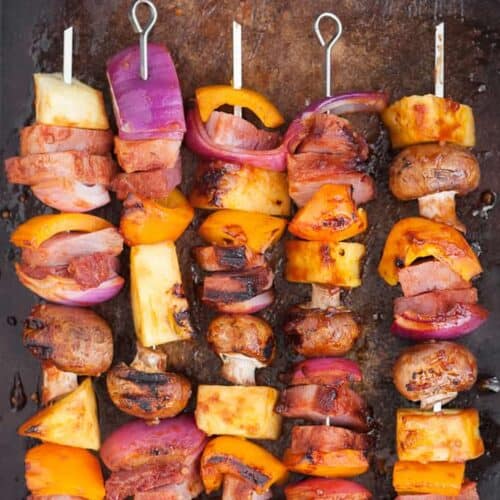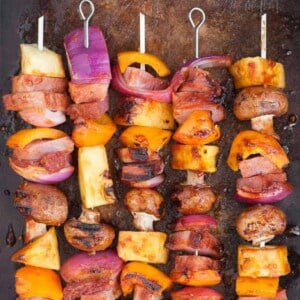 Hawaiian Ham Skewers, made with a pineapple grilling sauce, ham steak, and fresh vegetables, are not only insanely delicious but are super easy to make.
Ingredients
2/3

cup

unsweetened pineapple juice

1/2

cup

ketchup

4

tablespoons

soy sauce

2

garlic cloves

minced

2

tablespoons

brown sugar

1

whole ham steak

1

red onion

1

orange or yellow pepper

8

ounces

mushrooms

1/2

fresh pineapple

peeled with core removed
Instructions
To assemble the skewers, cut the ham, onion, pepper, mushrooms and fresh pineapple into 1" cubes and thread onto metal or wood skewer sticks, alternating ingredients.

To make the grilling sauce, combine the pineapple juice, ketchup, soy sauce, garlic cloves and brown sugar in small sauce pan. Bring to a boil, then reduce heat to low and simmer for at least 10 minutes. Allow to cool before use.

Cover skewers with grilling sauce. This can be done ahead of time and then stored in the refrigerator, if needed.

To cook skewers, heat grill to medium-high and sear each side for about 5 minutes until all ingredients have been heated through and have nice sear marks.
Notes
Makes 10 skewers. Nutritional info based on one skewer.
Nutrition
Calories:
126
kcal
,
Carbohydrates:
16
g
,
Protein:
11
g
,
Fat:
2
g
,
Cholesterol:
20
mg
,
Sodium:
1089
mg
,
Potassium:
383
mg
,
Fiber:
1
g
,
Sugar:
12
g
,
Vitamin A:
110
IU
,
Vitamin C:
61.6
mg
,
Calcium:
20
mg
,
Iron:
1
mg
Nutrition information is automatically calculated, so should only be used as an approximation.
This post was originally created in September 2016 and has been updated with more fun facts and tidbits for your reading pleasure.