If you're craving some good old fashioned comfort food, this Cheesy Ham & Broccoli Tater Tot Casserole is sure to satisfy and makes for a tasty dinner.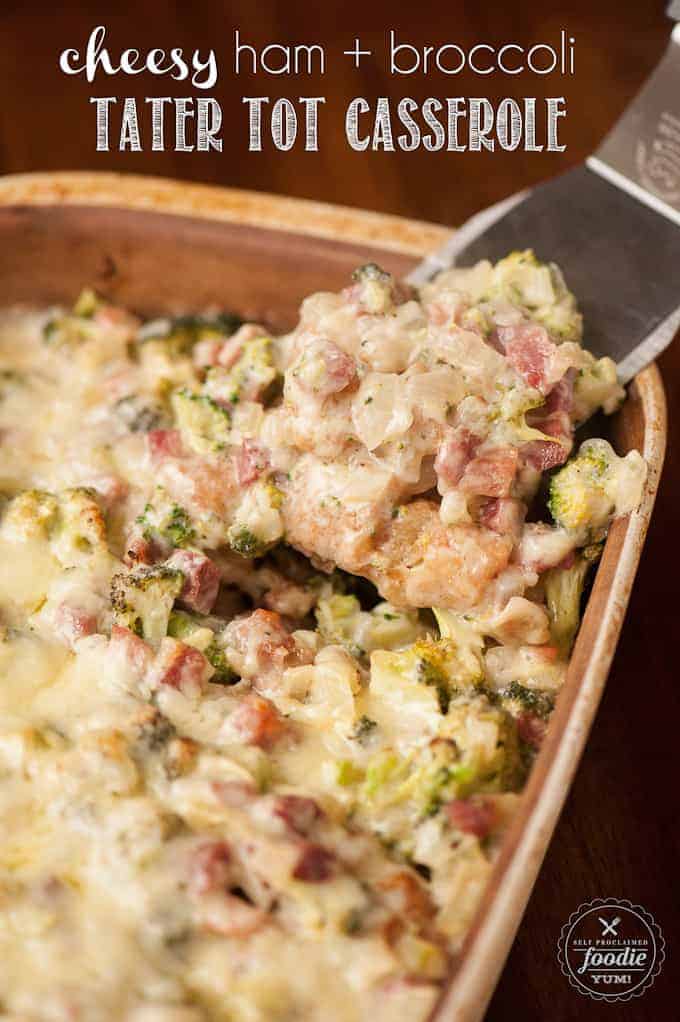 MY OTHER RECIPES
ometimes all you need is some good ol' fashioned comfort food. I could try to convince you that this meal is healthy because, hey, I put broccoli in it. But I think the rest of us know plain and well that tater tots and a hellofalotta cheese don't quite fit into the Whole 30 Paleo Vegan Grain Free lifestyle we all try to enforce during the month of January. I'm no different! Every year I pack on the pounds during the last quarter of the year because I can rationalize every last bit of stuffing and fudge that I place in my mouth. Then come every January I take drastic measures to lose weight. The only difference this year is that I'm being realistic.  Hmmm.  I wasn't planning on this post being a journal entry, but here you go.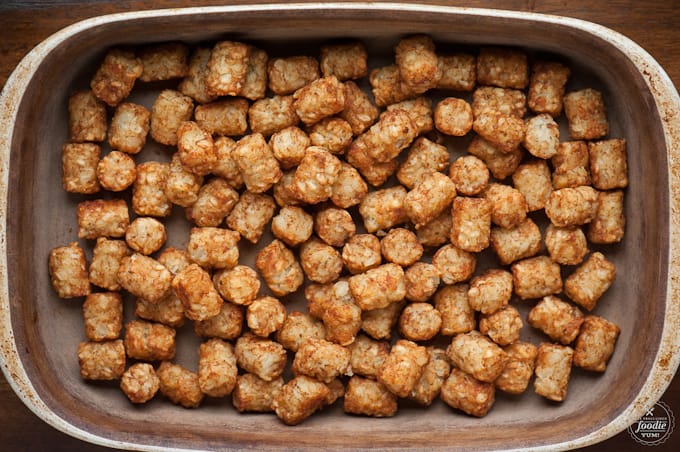 I'm pushing 40 and I'm finally to the point where I feel like I really know myself. I'm sure that in 10 years, I'll be saying the same thing with the addition of "I didn't know anything 10 years ago!". The thing that's different about me this time around is that even though I know I need to shed my holiday weight, I'm being more realistic about it this go around. I would love the will power and desire to enjoy a whole 30 diet. I see the benefits and understand eating lean meats and vegetables is better for you than something like this oh-so-delicious cheesy casserole. But life is short and I love good tasting food way too much to hold back. What I am doing, though, is exercising a lot because its fun when I keep up on it, I love feeling hard defined muscles under the layers of my insulating fat, and I get those awesome brain chemicals that, when combined with my mood light and Vitamin D supplements, helps me through the dark, grey, wet winter months in the Pacific Northwest. I'm also replacing the lazy snacking or starving gorging with a healthy smoothie, salad, or egg-spinach-avocado-sweet potato something or other. So, bottom line – I'm exercising more and eating healthier. But that's not to say I won't enjoy a meal like this. The only difference is that I'll eat a smaller portion with a big glass of water and maybe a green salad on the side. BAM! Compromise.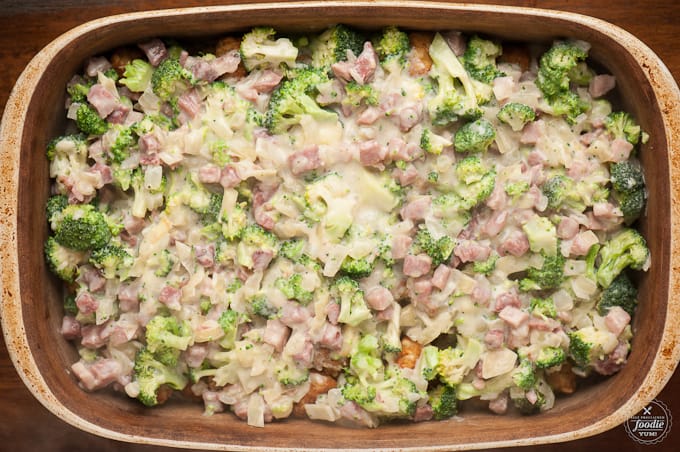 I gotta tell you – I thought this dish was super yum. I had the leftovers the next morning with a couple of eggs and it was fantastic!  I served this as a dinner dish but, by all means, make it for breakfast too!  I cut up a couple of ham steaks I had in the freezer but it would be a fantastic use for any leftover Christmas or Easter hams or a good way to chop up that lunch meat in your frig that you're tired of eating.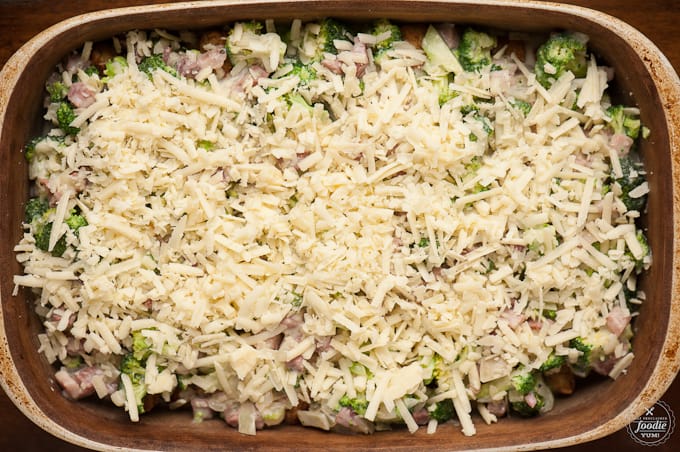 The result? A cheesy, potato-y, ham-y, broccoli-y combination of pure goodness!  If you love cheesy casserole meals, you'll love my roasted veggie lasagna, cheesy chicken Mediterranean pasta, and/or my cheesy meatball sliders.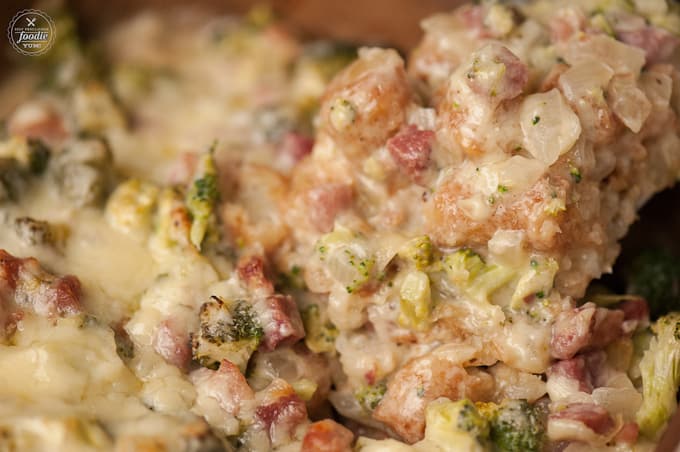 If you're craving some good old fashioned comfort food, this Cheesy Ham & Broccoli Tater Tot Casserole is sure to satisfy and makes for a tasty dinner.
Ingredients
1

(32 ounce) bag frozen Tater Tots

4

tablespoons (1/2 stick) unsalted butter

2

cups chopped yellow onion (1 large onion)

2

cups diced ham (I used 1 ham steak)

4

tablespoons

3

cups milk

1

teaspoon garlic powder

1/2

teaspoon dried mustard powder

1/2

teaspoon salt

freshly ground black pepper, to taste

4

cups fresh broccoli, chopped

3

cups shredded extra sharp Cheddar cheese (about 12 ounces)
Instructions
Bake tater tots on baking sheet according to package instructions.
While tater tots are cooking in the oven, saute onions in butter in 8 quart pot over high heat. As soon as the first onions start to turn golden, add the diced ham. Let the onion and ham cook in the butter for about 5 minutes. Sprinkle the flour over the onion mixture and stir. Allow flour to cook for a couple of minutes, then add the milk, garlic powder, mustard powder, salt & pepper. Stir with a wooden spoon, removing any bits that may have stuck to the bottom of the pan.
Continue to cook and stir the milk gravy until it thickens, about 5 minutes.
Add the broccoli and 2 cups of the cheese, reserving the remaining 1 cup.
Transfer the tater tots to a 9x13 baking dish and pour the ham and broccoli mixture over the tots. Sprinkle remaining cheddar cheese on top and bake in a 375 degree F oven for 20-25 minutes until melted and bubbly. Serve hot. YUM!