Cheesy Ham and Broccoli Tater Tot Casserole is sure to satisfy and makes for a tasty dinner recipe if you're craving some good old fashioned comfort food!
Chunks of ham, fresh broccoli, and sharp cheddar come together in an easy-to-make flavorful sauce that smothers crisp tater tots. It's a meal your family will love. If you love easy casserole recipes, you might also want to try my Healthy Skillet Tuna Casserole or my Feta Corn Casserole.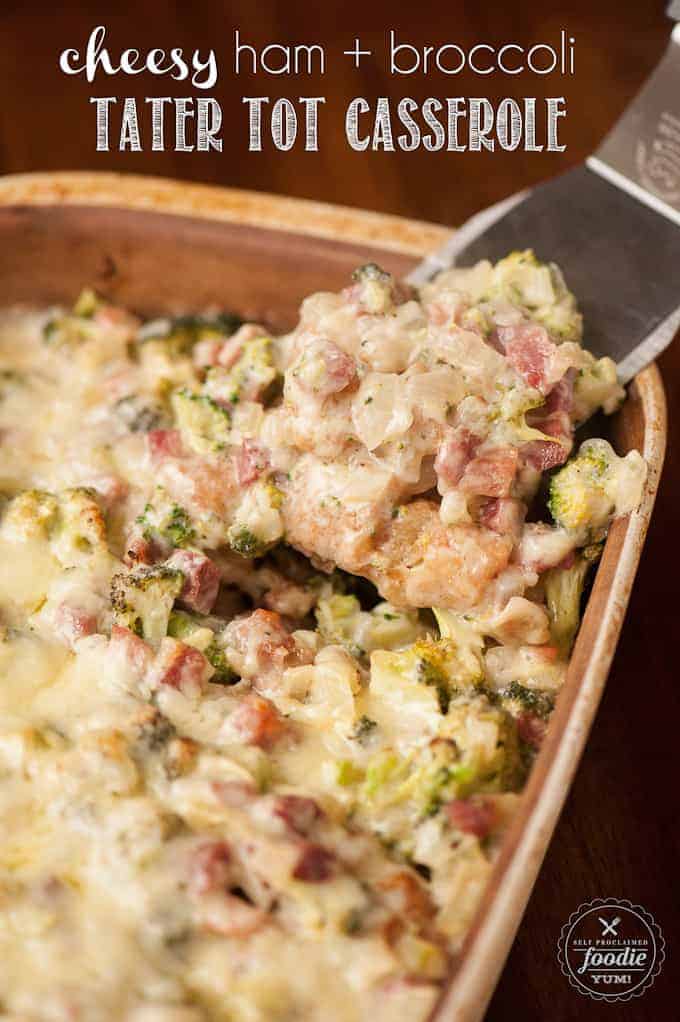 Sometimes all you need is some good ol' fashioned comfort food. I could try to convince you that this tater tot casserole recipe is healthy because, hey, I put broccoli in it. But I think the rest of us know plain and well that tater tots and a hellofalotta cheese don't quite fit into the Whole 30 Paleo Vegan Grain Free lifestyle we all try to enforce during the month of January.
Why Tater Tot Casserole with cheese tastes so good:
I see the benefits and understand eating lean meats and vegetables is better for you than something like this oh-so-delicious cheesy tater tot casserole. But life is short and I love good tasting food way too much to hold back.
There are several reasons why this particular tater tot casserole recipe tastes so good.
The combination of ham, broccoli and cheese is fantastic. The saltiness of the ham perfectly compliments the broccoli, and who doesn't love sharp cheddar?
The cheese sauce is flavored with sauteed onions as well as mustard and garlic powder.
The tater tots are pre-cooked before adding the cheese sauce with the ham and broccoli on top. This allows them to be extra crispy under all that goodness.
What are the ingredients?
To make this yummy and easy broccoli ham casserole, you will need only the most comforting ingredients.
You will need Tater Tots, butter, a yellow onion, diced ham, flour, milk, garlic powder, dried mustard powder, salt, black pepper, broccoli, and of course, cheese. All of these yummy ingredients will come together to create the ultimate comfort food that you and your whole family will love!
There are a million different ways to make homemade tater tot casserole, too. You can create a whole new dinner recipe simply by swapping out the ham with any other cooked meat and swapping out the broccoli for any other fresh vegetable.
How do you make this recipe?
The first step in making your cheesy tater tot casserole is to bake your tater tots how they are supposed to be baked according to the package.
While this is happening, you should saute your onions in butter in a pot over high heat. Once your onions turn golden, you will need to add the diced ham. After they have cooked together for a bit, you will sprinkle the flour in and stir. After a few more minutes, add your milk, garlic powder, mustard powder, salt, and pepper. Continue to stir and cook this until the mixture thickens. This should take around five minutes.
Next, you will add your broccoli and some of the cheese. You will need to save some of the cheese for later.
After this, you will put your tater tots in a baking dish and pour you ham and broccoli casserole mixture over the top of the tater tots.
Then, you will sprinkle the cheese that you saved on top and bake in the oven. In about 20-25 minutes you will be serving up a delicious and easy tater tot casserole!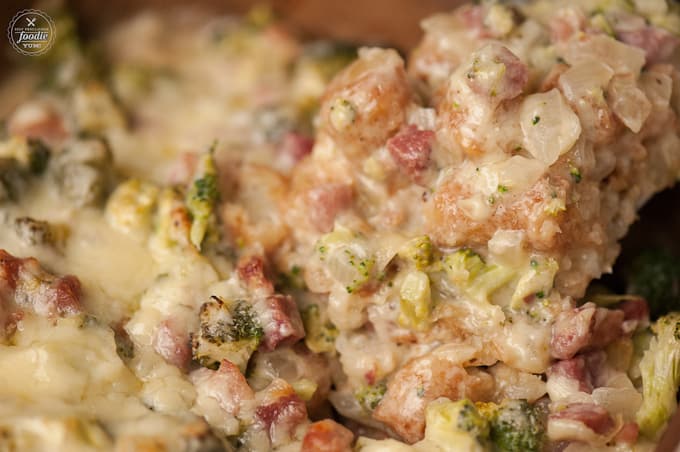 What to do with leftover tater tot casserole:
I gotta tell you – I thought this dish was super yum. I had the leftovers the next morning with a couple of eggs and it was fantastic! I served this as a dinner dish but, by all means, make it for breakfast too! I cut up a couple of ham steaks I had in the freezer, but it would be a fantastic use for any leftover Christmas or Easter hams, or a good way to chop up that lunch meat in your fridge that you're tired of eating.
The result? A cheesy, potato-y, ham-y, broccoli-y combination of pure goodness!
Love easy recipes made with tater tots?
You'll have to try these recipes:
Cheesy Ham & Broccoli Tater Tot Casserole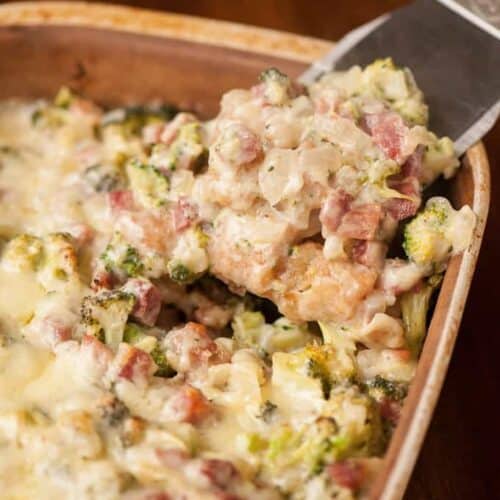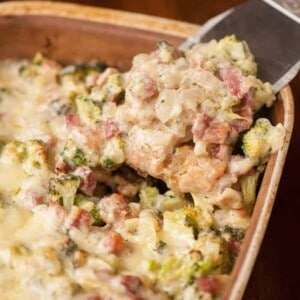 If you're craving some good old fashioned comfort food, this Cheesy Ham & Broccoli Tater Tot Casserole is sure to satisfy and makes for a tasty dinner.
Ingredients
32

ounces

Tater Tots

frozen

4

tablespoons

unsalted butter

2

cups

yellow onion

chopped (I used 1 large onion)

2

cups

ham

diced (I used 1 ham steak)

4

tbsp

flour

3

cups

milk

1

teaspoon

garlic powder

1/2

teaspoon

dried mustard powder

1/2

teaspoon

salt
freshly ground black pepper

to taste

4

cups

broccoli

fresh, chopped

3

cups

extra sharp Cheddar cheese

shredded (about 12 ounces)
Instructions
Bake tater tots on baking sheet according to package instructions.

While tater tots are cooking in the oven, saute onions in butter in 8 quart pot over high heat. As soon as the first onions start to turn golden, add the diced ham. Let the onion and ham cook in the butter for about 5 minutes. Sprinkle the flour over the onion mixture and stir. Allow flour to cook for a couple of minutes, then add the milk, garlic powder, mustard powder, salt & pepper. Stir with a wooden spoon, removing any bits that may have stuck to the bottom of the pan.

Continue to cook and stir the milk gravy until it thickens, about 5 minutes. Add the broccoli and 2 cups of the cheese, reserving the remaining 1 cup. Transfer the tater tots to a 9×13 baking dish and pour the ham and broccoli mixture over the tots.

Sprinkle remaining cheddar cheese on top.


Bake in a 375 degree F oven for 20-25 minutes until melted and bubbly. Serve hot. YUM!
Nutrition
Calories:
609
kcal
,
Carbohydrates:
43
g
,
Protein:
25
g
,
Fat:
38
g
,
Saturated Fat:
18
g
,
Cholesterol:
90
mg
,
Sodium:
1366
mg
,
Potassium:
769
mg
,
Fiber:
4
g
,
Sugar:
7
g
,
Vitamin A:
1030
IU
,
Vitamin C:
52.1
mg
,
Calcium:
458
mg
,
Iron:
1.8
mg
Nutrition information is automatically calculated, so should only be used as an approximation.
This post was originally created in January 2016 and has been updated with more fun facts and tidbits for your reading pleasure.