This super tasty and satisfying Ham and Brussel Sprout Pasta with pine nuts is full of flavor, easy to make, and will quickly become a favorite fall meal.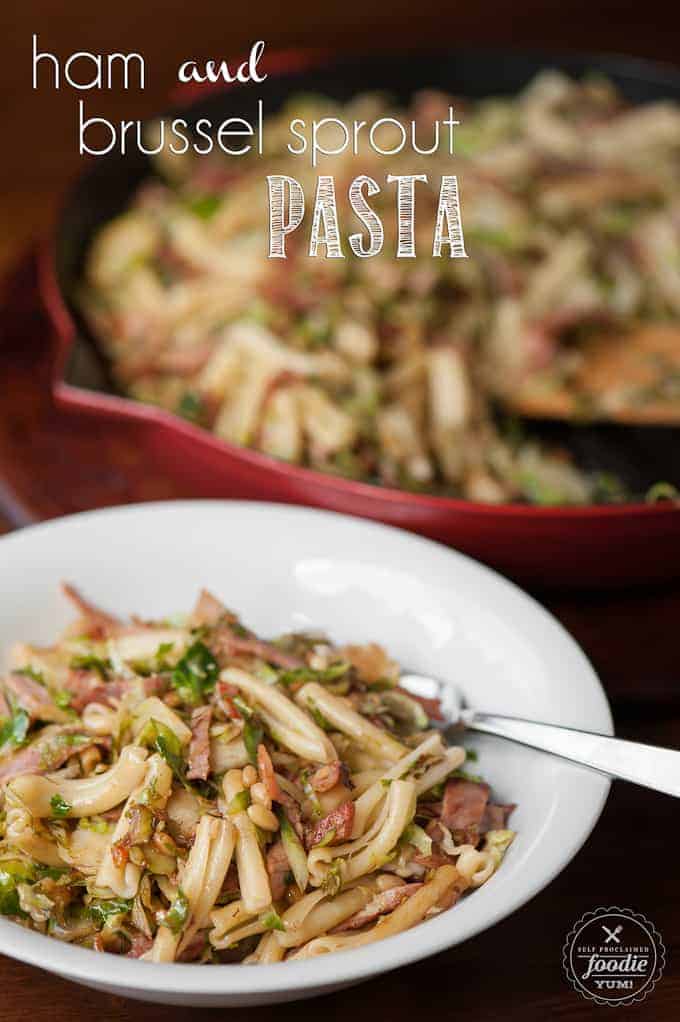 I absolutely love smoked meats. Not only do we regularly smoke our own foods like beef jerky or salmon, but I'll often buy smoked meats from the deli to pair with distinct cheeses and fruit for a meal all on its own.  When you get a really good smoked meat, you can often pair it with bitter greens as well for an amazing balance of flavor. Yesterday when I was at the store, I stopped at the deli counter and picked up some Black Forest Ham.  Then, I did the unthinkable: I took home some brussel sprouts to go along with it.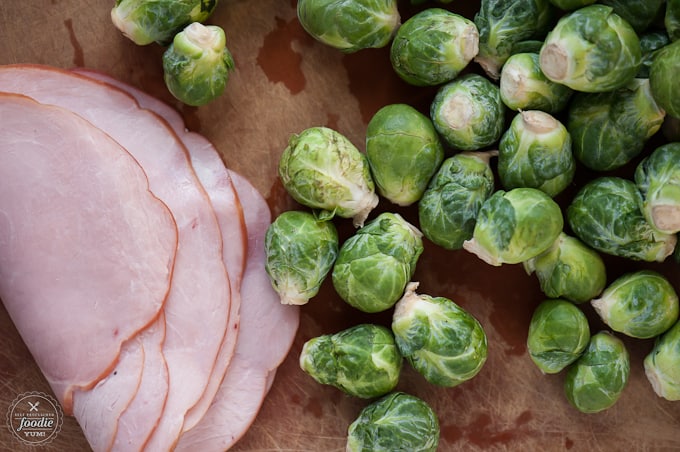 Why was this an unthinkable action? Well, because my husband detests brussel sprouts. He is a lover of veggies and will eat just about every type of vegetable I serve up, raw or cooked, but the man just can't stand brussel sprouts. Me? I want to love them, but have only once or twice enjoyed the way they were prepared. The remaining times left a bitter taste in my mouth (pun intended). But I had this wonderful ham, and what could possibly go better with a bitter green than a perfectly flavored smoked ham? You can totally slice your brussel sprouts, but its way more fun to attach the slicing blade to your food processor and throw them in. I let my son to that part and he thought it was so much fun.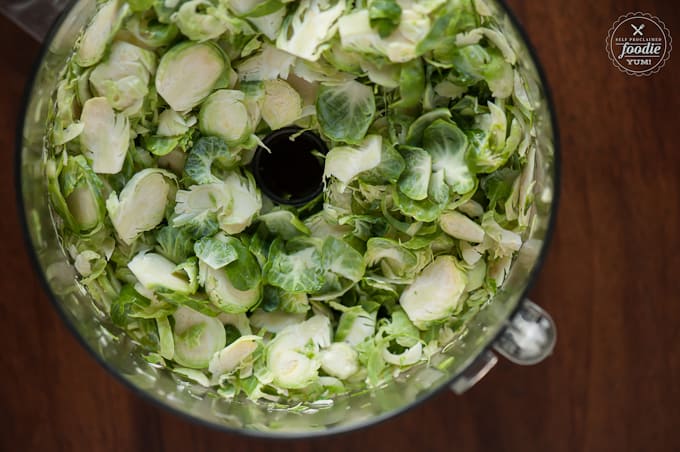 The recipe starts by getting some butter and olive oil nice and hot on the stove. That's a good start to any recipe, right? Then I added some pine nuts, lots of chopped garlic, and my sliced ham which I sliced into smaller strips. I let that go over high heat just until I started to see some awesome golden brown color.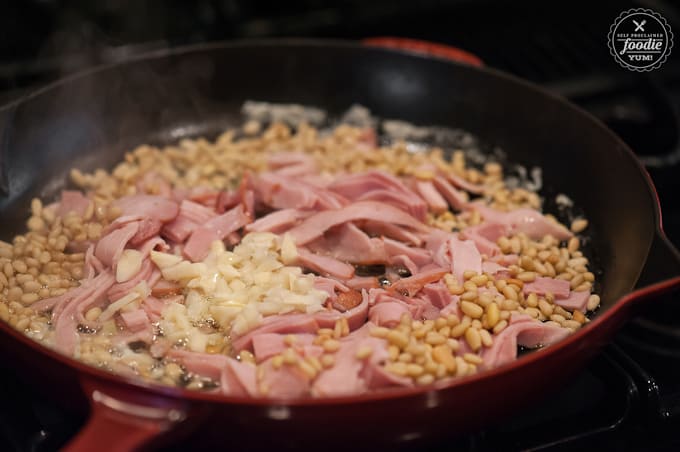 Then I added all of those sliced brussel sprouts. Now, any time I make a pasta + veggie dish, my instincts want to start with more pasta and less veggies. What happens, though, is the pasta expands as it cooks and the veggies often shrink or wilt. Trust this recipe. A full pound of brussel sprouts and only 8 ounces of pasta might not seem right, but the final dish is perfectly proportioned (in my opinion) with a perfect balance of ham to brussel sprouts to pasta.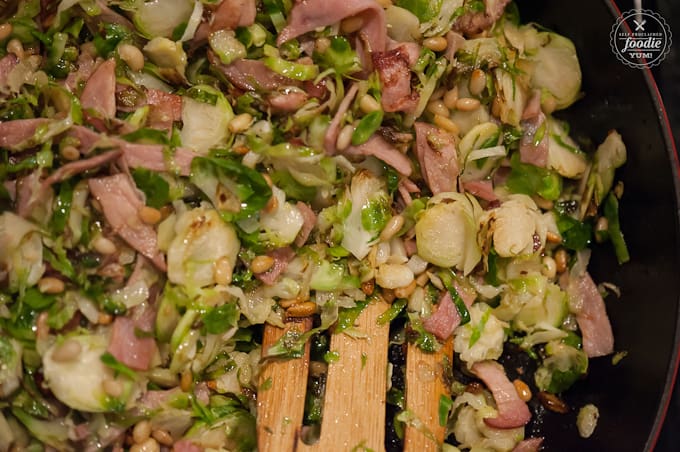 Once those sprouts wilt and turn a nice golden brown in color, toss in the cooked pasta. Here's the trick to have it all work perfectly well together: before you drain your pasta from the salted boiling water, scoop out a good half cup of the pasta water. Then, after you stir the pasta with the ham and sprouts, add a little bit of that pasta water to make it perfectly moist. If you've never done this before, you must. Then you can thank me later for the tip. This also made it so that I didn't have to add any salt to the dish – the ham and the salted water added just the right amount.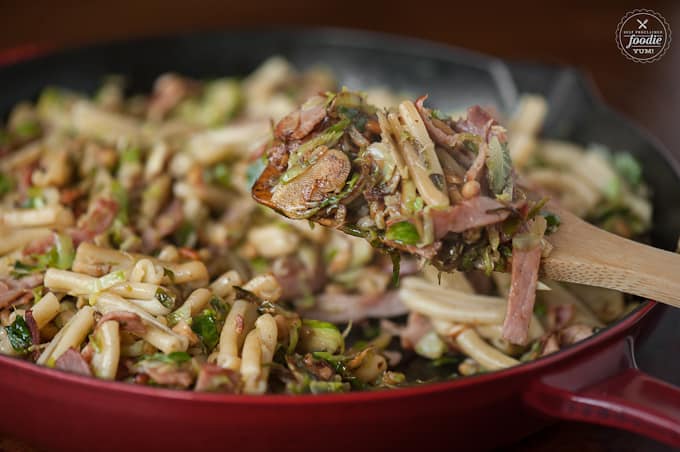 And because any good smoked meat deserves a strong hard cheese to go with it, I added some grated parmesan to the top. In fact, after I took the photo below, I added even more because I'm a lover of hard cheese.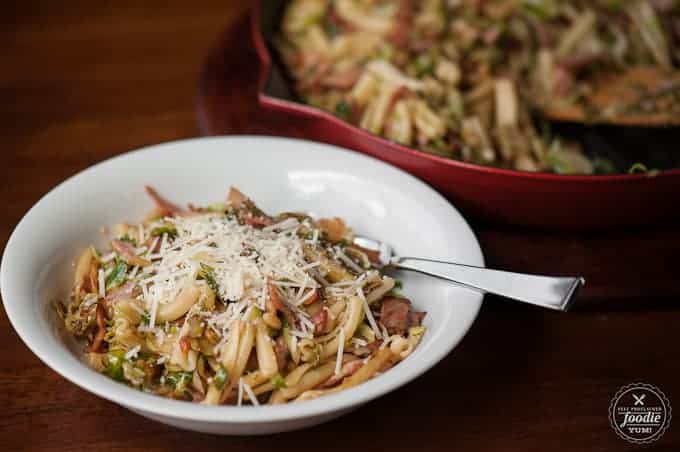 Wanna know the best part of my story? My husband looked at what I made and asked "what's that?" and I told him "it has brussel sprouts in it." Turns out, despite his incredible dislike of that vegetable, it looked so good to him that he not only took a bite, he ate an entire bowl! I'm sure all that wonderful ham and pasta helped make up his mind.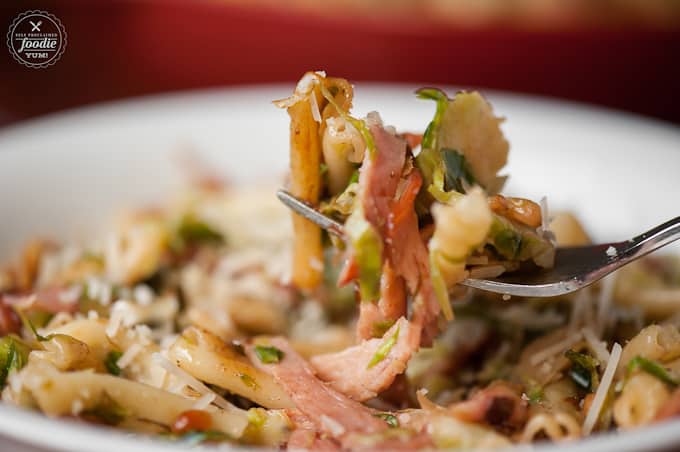 Ham and Brussel Sprout Pasta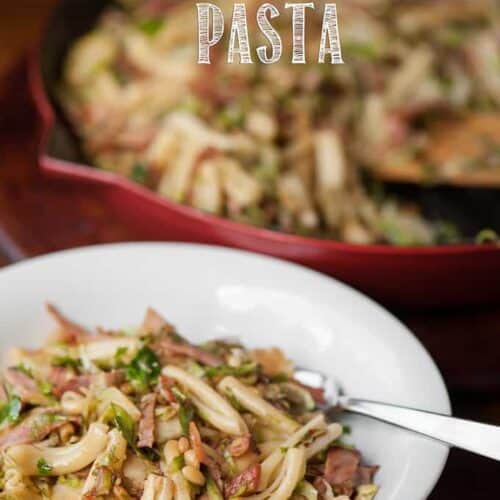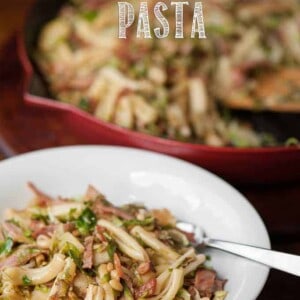 This super tasty and satisfying Ham and Brussel Sprout Pasta with pine nuts is full of flavor, easy to make, and will quickly become a favorite fall meal.
Ingredients
8

ounces

pasta

2

tablespoons

kosher salt

2

tablespoons

butter

2

tablespoons

olive oil

8

ounces

Black Forest Ham

sliced

5

cloves

garlic

minced

1/2

cup

raw pine nuts

1

pound

brussel sprouts

thinly sliced

grated parmesan

for serving
Instructions
Boil water with 2 tablespoons salt. Cook pasta al dente. Before you drain the pasta, scoop out about 1/2 cup of salted pasta water, reserve for later.

In large saute pan, melt butter and oil over high heat. Add ham, garlic, and pine nuts. Cook over high heat, stirring only occasionally, until everything just starts to brown, about 5 minutes.

Add brussel sprouts and mix well to combine. Continue to cook, stirring only occasionally, and reducing heat as necessary to avoid burning, until the brussel sprouts begin to wilt and brown.

Remove from heat and add the cooked and drained pasta. Stir to combine. If mixture needs to be moistened, add some of the salted pasta water (a couple tablespoons at a time) until the mixture is perfectly moist.

Top with grated parmesan. Serve hot. Enjoy!
Nutrition
Calories:
367
kcal
,
Carbohydrates:
39
g
,
Protein:
16
g
,
Fat:
18
g
,
Saturated Fat:
4
g
,
Cholesterol:
30
mg
,
Sodium:
2772
mg
,
Potassium:
564
mg
,
Fiber:
5
g
,
Sugar:
4
g
,
Vitamin A:
687
IU
,
Vitamin C:
65
mg
,
Calcium:
46
mg
,
Iron:
3
mg
Nutrition information is automatically calculated, so should only be used as an approximation.