Use fresh or frozen salmon fillets to create a citrus and herb infused Hot Smoked Salmon that is packed with flavor. Perfect on its own or in other recipes.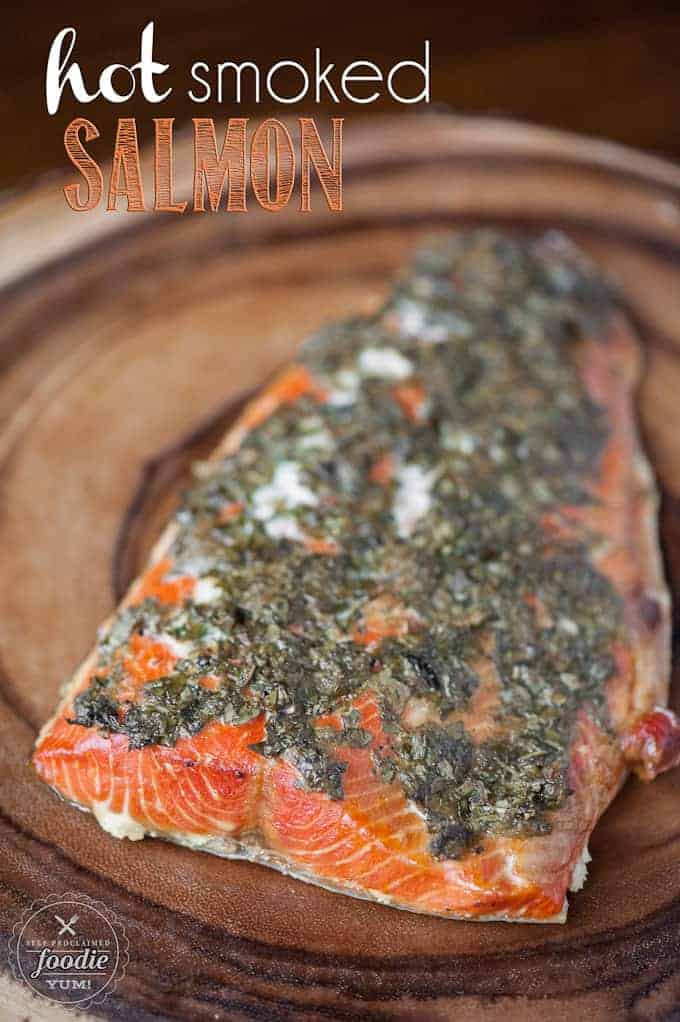 If you have a smoker and you haven't smoked salmon, you need to get started! Hot smoked salmon has so much flavor, and when cooked properly, it has an excellent texture. I have a hard time not eating it all right after it comes off the smoker, but it tastes so good in other recipes or on salads that I force myself to save some.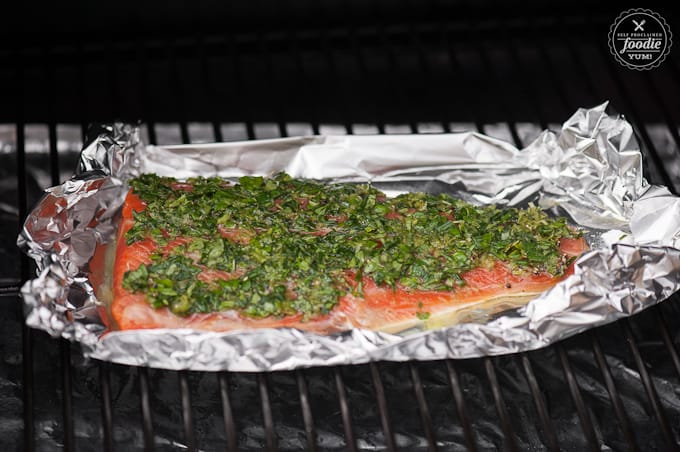 The secret to a good smoked salmon is to first brine it. The brine actually forms a moisture barrier on the outside of the fillet so that it doesn't dry out during the smoking process. Then, right before you smoke it, you smother it with a wonderful citrus herb mixture that gives it so much flavor. Mmmmm.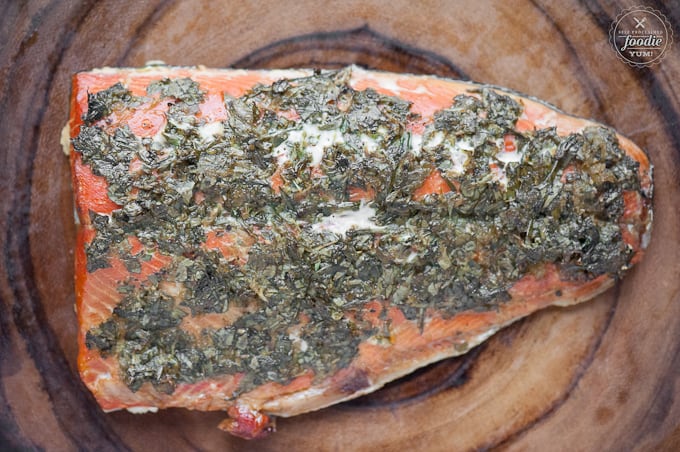 I wouldn't recommend smoking a freshly caught salmon fillet. Oh, don't get me wrong – it would be outstanding. I just think a freshly caught fillet deserves to be grilled up and eaten right then and there. I prefer to use those salmon fillets that have been in my freezer for awhile and just wouldn't taste very good if I thawed them out and grilled them up for dinner. You see, I like to buy an entire salmon at a time. Its often cheaper when you buy the whole salmon at a place like Whole Foods, and they'll fillet it exactly how you'd like, wrap each fillet up in freezer paper, and will even wrap up the head, tail, and bones so you can go home and make a wonderful salmon chowder for dinner made from an extraordinary broth.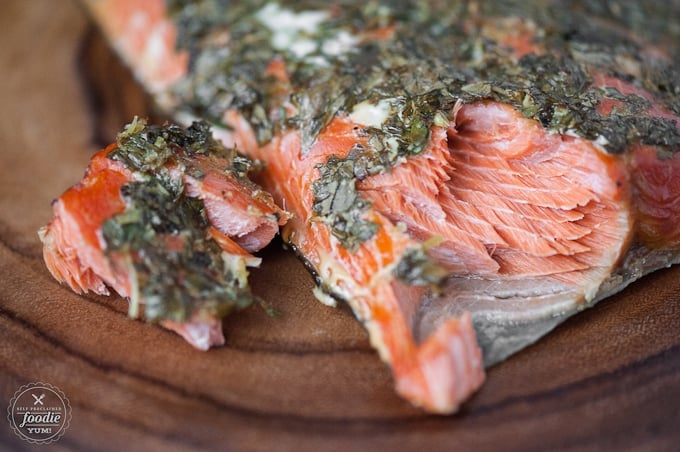 This is one of my most favorite ways to eat salmon. Once its done, I just pick the meat off the skin and I get rid of any of the grey flesh too. You can certainly eat that part, but it has a more fishy flavor and I'm not crazy about it. Anyway, I take the meat and refrigerate it for future use. This is what it looks like after a day in the frig. I like to put it on top of salads or make other yummy dishes with it. Either way, having such a healthy protein-filled and tasty treat at the ready in the refrigerator is always a smart option.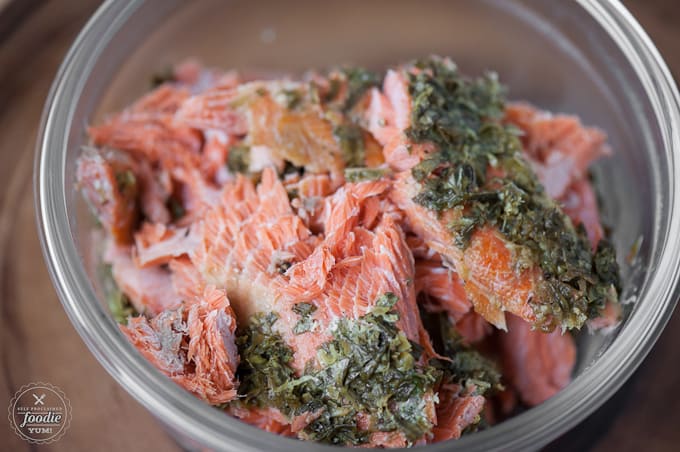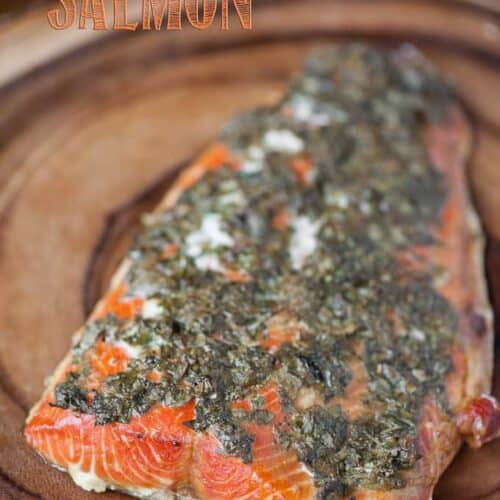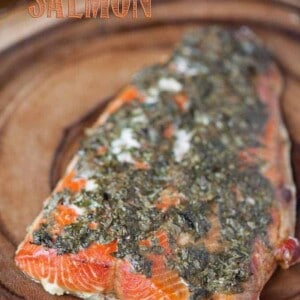 Use fresh or frozen salmon fillets to create a citrus and herb infused Hot Smoked Salmon that is packed with flavor. Perfect on its own or in other recipes.
Ingredients
brine:
2

quarts

water

warmed to just above room temperature

5

tablespoons

salt
Instructions
To brine the salmon, combine the warm water and the salt in a dish large enough to hold the salmon fillet. Stir until the salt has completely dissolved.

Rinse the salmon fillet and place it, skin side down, in the brine. Allow fish to soak while covered completely in the brine for 20 minutes. Remove the salmon, gently rinse both sides with cold water, and gently dab dry with a paper towel. Set salmon, skin side down, on a wire rack for at least two hours. Your goal is to have a tacky glaze form on the fish – this keeps it from drying out while you smoke it.

While the salmon is in the brine, make your marinade by combining juice and zest from limes, salt, pepper, olive oil, and minced herbs. Allow flavors to develop until fillet is ready.

To smoke your fish, set your smoker to smoke and then once you have a good smoke going, set the temperature to no higher than 200 degrees F. When smoker is ready, place salmon with the skin side down on a piece of heavy duty aluminum and curl up edges to catch any juice. Spoon on marinade and cover the top of the fillet best you can. Do not do this until you are ready to smoke your salmon because the acid from the lime will start working its magic right away.

Smoke in prepared smoker until the internal temperature is about 140 degrees F. I usually never test with a thermometer. I test by evaluating the color and firmness of the fish. You don't want it to flake while on the grill because the cooking process will continue even after you remove it, and if it flakes while on the grill, you've over cooked it. You basically want to remove it as soon as it is minimally done.

You can eat your salmon straight out of the smoker with a squeeze of limes or use it for other recipes like in salads, breakfast frittatas, or salmon dip.
Nutrition
Calories:
182
kcal
,
Carbohydrates:
2
g
,
Protein:
23
g
,
Fat:
9
g
,
Saturated Fat:
1
g
,
Cholesterol:
62
mg
,
Sodium:
4713
mg
,
Potassium:
573
mg
,
Fiber:
1
g
,
Sugar:
1
g
,
Vitamin A:
54
IU
,
Vitamin C:
5
mg
,
Calcium:
29
mg
,
Iron:
1
mg
Nutrition information is automatically calculated, so should only be used as an approximation.