Enjoy a hearty and tasty bowl of homemade Salmon Chowder made with fresh corn, potato, lots of fresh dill, and a touch of cream. Delicious!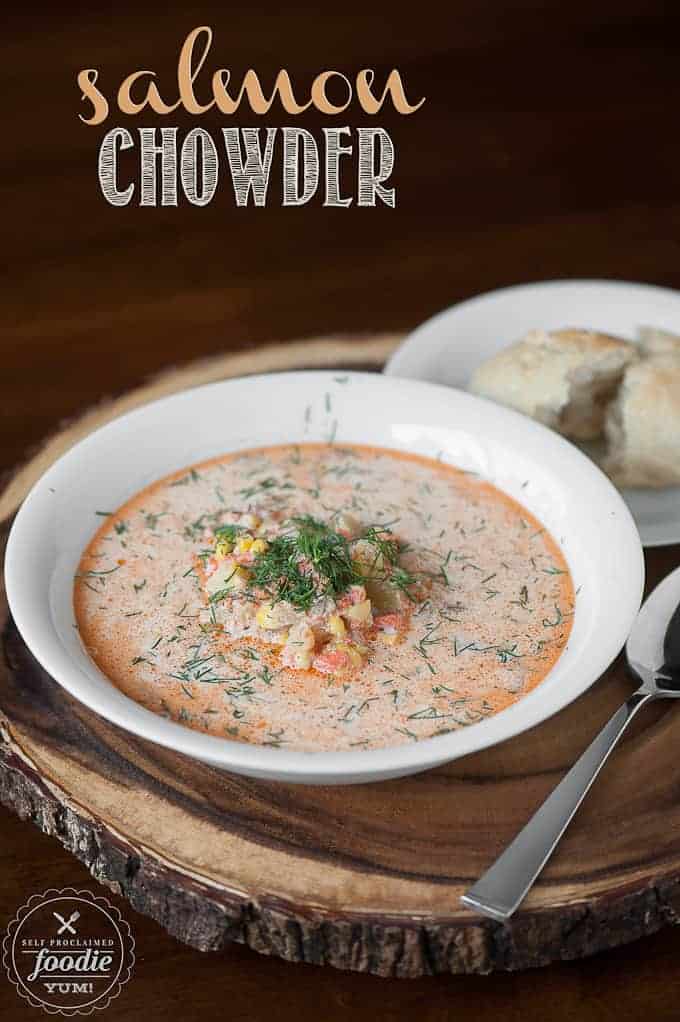 Hello! Welcome to my blog. Here is a photo of fish bones in a bag. Mmm, right?
In my typical fashion, allow me to tell you how this fish came to be. I was shopping at Whole Foods and was admiring the salmon fillets. You see, being in the Pacific Northwest, we get the freshest fish to choose from. The problem is that just because we're in close proximity to the fishing, it doesn't mean that we get any kind of break on the cost. I was admiring the bright orange wild caught salmon fillets, dreaming of all the wonderful things I could make with them, but at the same time I was cringing at the price. Then I noticed they were selling the entire fish for a fraction of the price of an individual fillet. Then a lightbulb went off – I should by the entire fish!
Now I've done this before because occasionally our Costco gets the most beautiful freshly caught wild fish. I'll buy a huge pack, bring it home, and wonder why I bought that huge pack because at that point I was obligated to handle those big slimy cuts of meat and I'm not talented enough to fillet them beautifully. Well, did you know that if you buy an entire fish at a place like Whole Foods, they'll not only fillet it and package whatever sized fillets you request in freezer paper, but you get the head, bones, and fins in a separate bag if you want them too? Easy peasy! Everything was packaged up and ready for the deep freezer and I didn't have to touch it. That's a win in this Foodie's book.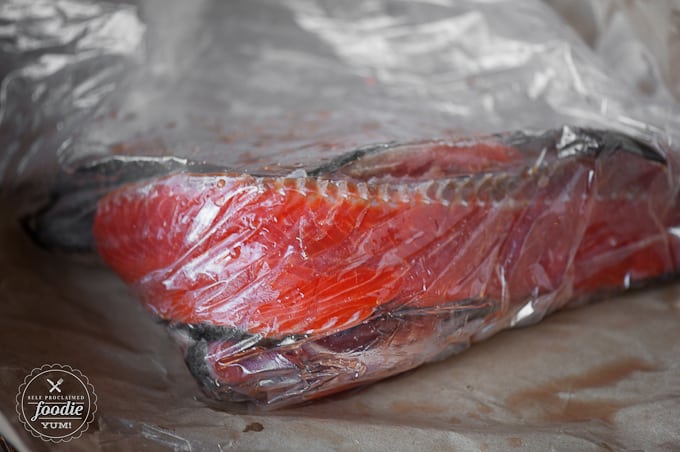 You might be wondering what on Earth you'd do with fish bones. I shall tell you. Make fish stock? Ever try to make a fish chowder with chicken stock? Its kind of gross and just doesn't taste right. Make a fish chowder with your own fish stock? Yeah baby. Now we're talking. This is what that vibrant orange flesh looks like after only a minute of blanching it in boiling salted water. Pretty cool, eh? Its important to do this before you start your stock to get rid of the slime on the skin. I'm here to help.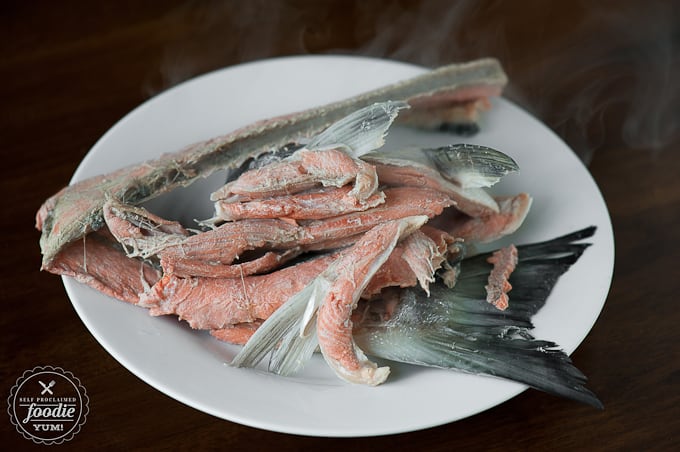 And this is your final product. Its not a thick chowder. It has a rich broth and the heavy cream gives it a smooth and rich finish. I love the fresh corn and if I were to cut back on anything it would be the potatoes… but just a bit. This is the kind of soup that makes you feel good. Its the perfect thing to eat on a cold rainy day. You need to go make it. Now. Go buy a fish!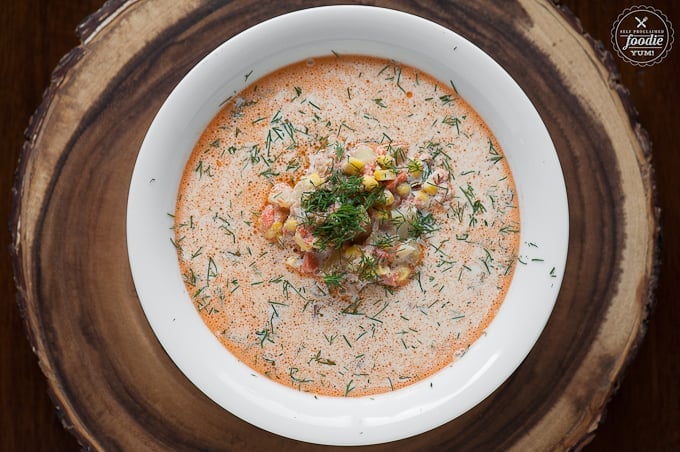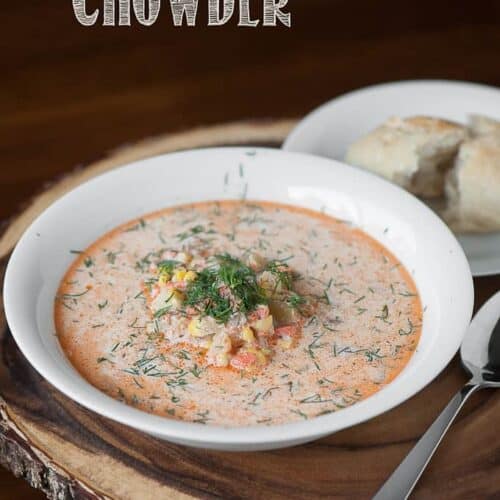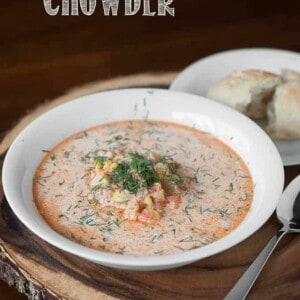 Enjoy a hearty and tasty bowl of homemade Salmon chowder made with fresh corn, potato, lots of fresh dill, and a touch of cream. Delicious!
Ingredients
Broth:
1 1/2

pounds

salmon heads

fins and bones, gills removed (bones from one whole salmon)

2

tablespoons

olive oil

1

onion

chopped

2

carrots

chopped

2

celery stalks

chopped

1

cup

white wine

.88

ounce

dried wild mushrooms*
CHOWDER:
1

tablespoon

unsalted butter

1/4

pound

thick bacon ends and pieces

1

cup

yellow onion

diced

2

celery stalks

diced

1 1/2

pounds

potatoes

peeled and diced (about 5 small)

6

cups

salmon broth

1

pound

skinless

boneless salmon meat, cut into small chunks

2

cups

corn

fresh (about 4 small ears)

1

cup

heavy cream

Black pepper to taste

1

small bunch fresh dill

diced
Instructions
To make the broth, bring a large pot of water to a boil and salt it well. Add the salmon bones and head. When the water returns to a boil, let cook 1 minute. Remove the salmon bits (save them!) and discard the water. Blanching this way removes the scum from the stock and will give you a cleaner tasting broth when you are done.

Wipe out the pot, add the oil, and turn the heat to medium-high. When the oil is hot, saute the onion, carrot and celery, stirring often, until the onion is soft, about 4 to 5 minutes. Add the wine, bay leaves and the dried mushrooms and use a wooden spoon to scrape up any browned bits from the bottom of the pot. Let the wine boil for a minute or two, then add the blanched salmon bones and enough cool water, at least 6 cups, and ensure it covers everything by about 1/2 inch. Bring to a very gentle simmer for 1-2 hours.

Line a strainer with a paper towel or cheesecloth. Set the strainer over a large bowl or pot and strain the broth. Discard the solids and reserve the broth.

To make the chowder, melt the butter in a Dutch oven over medium heat. Add the bacon pieces and cook, stirring and turning often, until crispy, about 10 minutes. Add the onion and celery and saute until soft, about 5 minutes. Add the potatoes and the salmon broth and bring to a simmer. Cook until the potatoes are tender, about 15 to 20 minutes.

When the potatoes are tender, add the corn and the chunks of salmon. Cook gently until the salmon is just cooked through, about 5 minutes. Turn off the heat and stir in the dill, heavy cream and black pepper. Taste and add salt as desired. Serve at once.

If not serving the entire pot of soup, hold off on adding the heavy cream and store in an air tight container in the refrigerator. Do not add the heavy cream until ready to serve. This soup goes great with a crusty bread and a glass of white wine.
Notes
* I found a package at Trader Joes for $1.99 and it was a mix of Porcini, Shiitake, and Oyster Mushrooms
Nutrition
Calories:
407
kcal
,
Carbohydrates:
26
g
,
Protein:
18
g
,
Fat:
25
g
,
Saturated Fat:
11
g
,
Cholesterol:
108
mg
,
Sodium:
194
mg
,
Potassium:
796
mg
,
Fiber:
4
g
,
Sugar:
5
g
,
Vitamin A:
3233
IU
,
Vitamin C:
16
mg
,
Calcium:
73
mg
,
Iron:
4
mg
Nutrition information is automatically calculated, so should only be used as an approximation.