If you have a smoker, one of the easiest protein filled snacks you can make is your own Smoked Beef Jerky.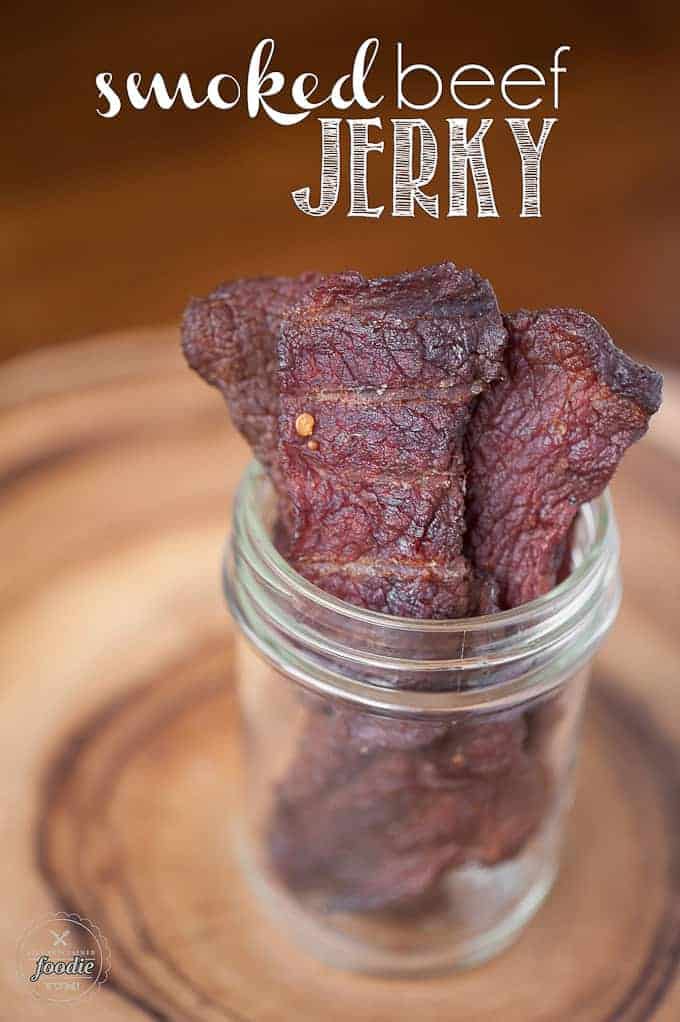 Within the last year, we got ourselves a pretty awesome smoker grill. I can't begin to tell you how much we love it. We make everything from damn good roast chicken to our Thanksgiving turkey to the most amazing burgers we've ever eaten to… beef jerky. I always thought you had to have a dehydrator to make jerky. So untrue, my friends. Smoked beef jerky is so easy to make and full of flavor.  The process is simple: slice the meat against the grain as thin as you can get it, let it soak in your marinade of choice (I basically threw mine together with what I could find in the refrigerator), smoke, enjoy. We get all sorts of cuts of meat from our quarter cow that we buy each year that I really have no idea how to cook. Eye of round roast is one of them. Its a (cheap) lean cut of meat which works perfectly for jerky. So, if you have a smoker but haven't yet made your own jerky, what's stopping you?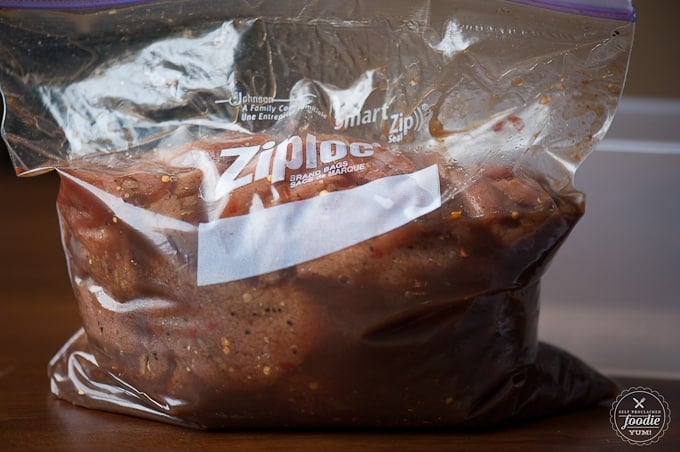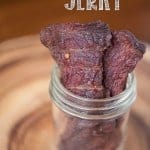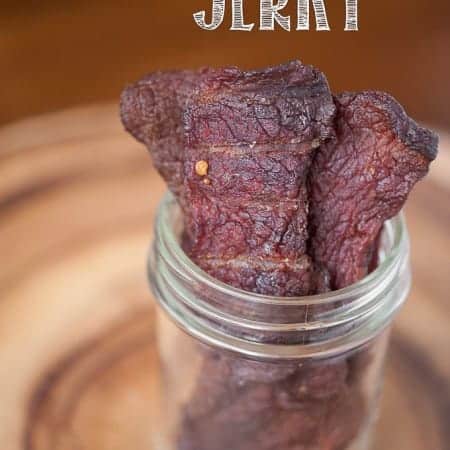 Beef Jerky
If you have a smoker, one of the easiest protein filled snacks you can make is your own Smoked Beef Jerky.
Total Time
5
hours
20
minutes
Ingredients
2

pounds

eye of round roast

can use other cuts like flank steak

1/4

cup

Worcestershire sauce

1/3

cup

soy sauce

2/3

cup

apple cider

2

tablespoon

onion dip mix

1

tablespoon

honey

2

teaspoons

freshly ground black pepper

1

teaspoon

liquid smoke

1

teaspoon

red pepper flakes

freshly ground pepper
Instructions
Cut the meat as thinly as possible against the grain. Mix remaining ingredients in large plastic freezer bag. Add meat and massage to thoroughly distribute the marinade.

Refrigerate meat and marinade and allow to soak a minimum of 6 hours up to overnight.

Start your grill on smoke to allow the fire to start. Remove the meat from the marinade. Discard the marinade and dry the meat with paper towels to absorb any excess liquid. Place the meat in a single layer on the grill and add freshly ground pepper. Smoke for 4 to 5 hours until the meat is dry and chewy.
Nutrition Facts
Beef Jerky
Amount Per Serving
Calories 98
Calories from Fat 27
% Daily Value*
Total Fat 3g 5%
Cholesterol 35mg 12%
Sodium 328mg 14%
Potassium 154mg 4%
Total Carbohydrates 3g 1%
Protein 12g 24%
* Percent Daily Values are based on a 2000 calorie diet.