Nothing says summer quite like a slow cooked, delicious, tender slab of BBQ Pork Spare Ribs. Even better, they are easy to make on a smoker or in the oven.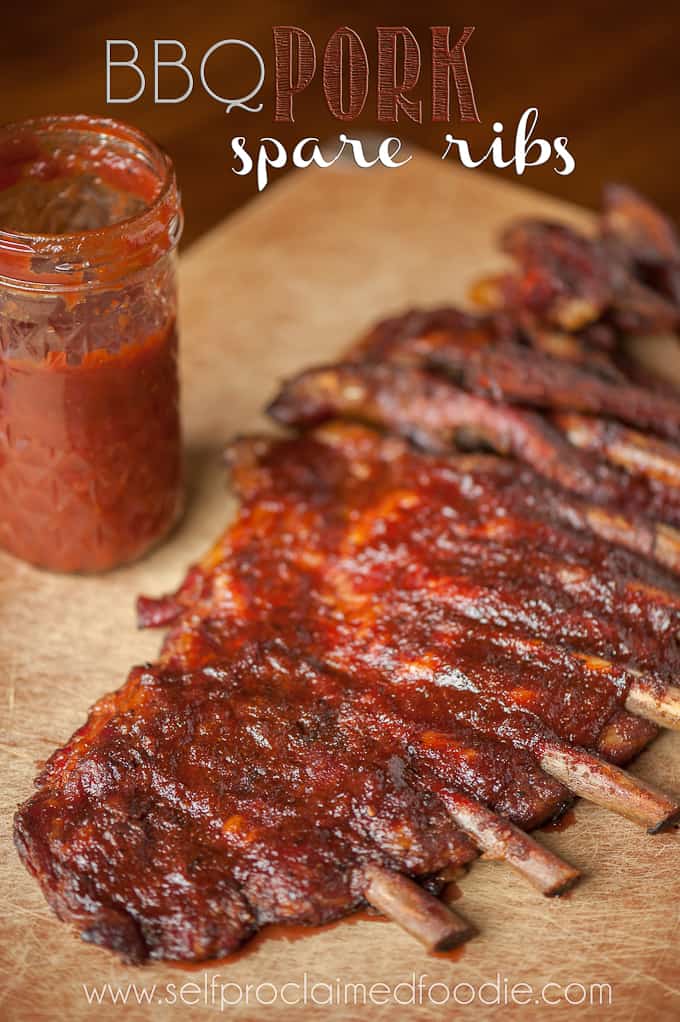 I love me a good rack of ribs.  I've ruined a fair share in my life, though.  The story I'm about to share was the first time I totally screwed up my attempt at ribs.
My first "date" with my husband of now eleven years was when he came over to my house for dinner.  I put "date" in quotations because I was living with my mom (totally by choice) and it can't really be considered a date if you're mom is there, can it?  Anyway, one day at work I was going on and on about the food I had cooked the day before.  This is a common occurrence with me.  I made it obvious to my now husband how delicious the food was and what a great cook I was (I wasn't bad, but I wasn't half as amazing as I made myself sound) because I wanted him to like me, and every woman knows that second fastest way to win a man's heart is through his stomach.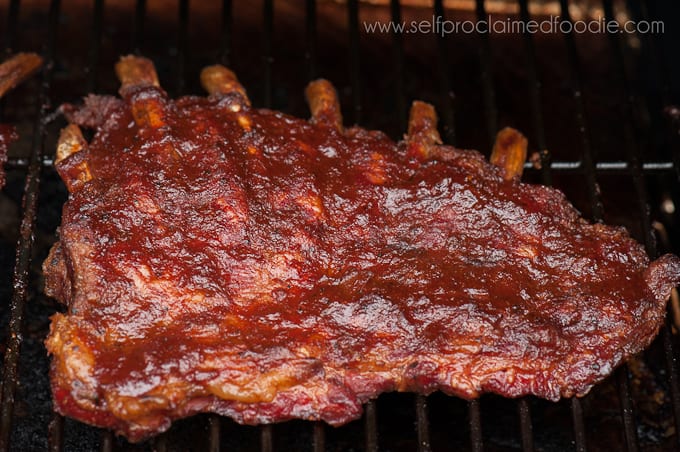 Long story short, I invited him over for a fabulous rib dinner.  I was planning on cooking them on the grill.  When he got there, we found out we were out of propane.  His first honey-do chore was to go fill it up.  I think I ended up attempting to cook them in the oven, but little did I know that ribs really need to be braised (cook in liquid at low temperature for a long time) to make them tender.  The ribs I made were incredibly tough, flavorless, and nearly impossible to rip off the bone.  I'm happy to say that I have repeatedly redeemed myself.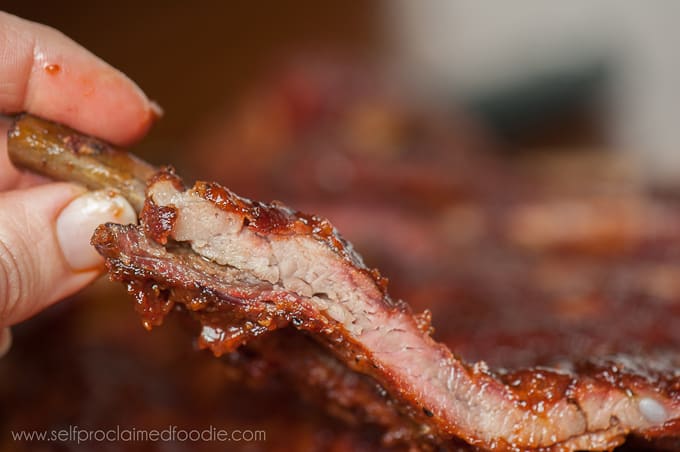 Immediately after I took the photo above, I set my camera down and ate more ribs than I care to admit over the internet.  I didn't even bother taking the time to get a plate and I licked my fingers clean.  They were that good.
Watch me make some babyback ribs in the recipe video below: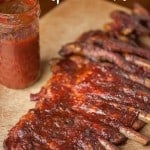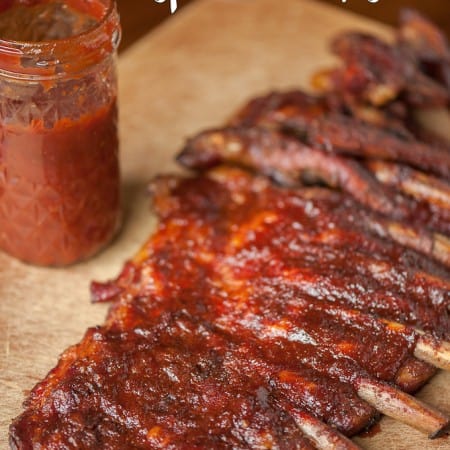 BBQ Pork Spare Ribs
Nothing says summer quite like a slow cooked, delicious, tender slab of BBQ Pork Spare Ribs. Even better, they are easy to make on a smoker or in the oven.
Total Time
6
hours
15
minutes
Ingredients
(all ingredients are approximate and don't really need to be measured)
1

rack pork spare ribs

1

cup

yellow mustard

1

cup

brown sugar

1

cup

apple cider vinegar

1

cup

whiskey barbecue sauce or any other preferred BBQ sauce
Instructions
Prepare ribs by removing membrane which is usually attached to the underside of the rib cage. Sometimes the butcher does this before you buy them. Rub both sides of ribs with mustard and brown sugar. Wrap tightly and store in the refrigerator 6 hours to overnight. If you're in a real hurry, you can skip the refrigeration and just start the cooking process.
If cooking on a smoker like I did for these ribs:
Using hickory pellets, set smoker to smoke with the lid open for 5 minutes. Smoke ribs for 3 hours.

Open lid. Increase temperature from smoke to 225 degrees F. Line a baking sheet with heavy duty aluminum foil (the thin stuff will tear) twice the length of the ribs and transfer the ribs to the foil using tongs. Wrap the foil up around the ribs to make a bowl. Pour the apple cider vinegar over the ribs. Apple juice works as well, but I find the vinegar makes the meat even more tender. Wrap the ribs in the foil taking care not to let the vinegar spill out. Cook for 2 hours.

Remove ribs from foil and place back on the grill. With the heat still still set at 225, cover the ribs with the barbecue sauce and cook for one additional hour.

The ends of the bones should be exposed and the meat should be extremely tender. Take great care lifting them off the grill so as not to have them fall apart.
If cooking ribs in the oven:
Wrap ribs in heavy duty aluminum foil in such a way that the package can hold liquid. Before sealing up, pour vinegar over ribs. Bake in preheated 250 degree F oven for 3 hours.

Remove the ribs from the oven and place on a foil lined baking sheet. Cover with barbecue sauce.

Set the oven to broil and place ribs back in oven until sauce is slightly browned and firm but not burned.
Nutrition Facts
BBQ Pork Spare Ribs
Amount Per Serving
Calories 441
Calories from Fat 63
% Daily Value*
Total Fat 7g 11%
Cholesterol 15mg 5%
Sodium 1475mg 61%
Potassium 416mg 12%
Total Carbohydrates 86g 29%
Protein 6g 12%
* Percent Daily Values are based on a 2000 calorie diet.