Deviled Egg Potato Salad is the best tasting combination of deviled eggs and potato salad. This easy recipe is loaded with tasty ingredients.
The recipe instructions detail how to make this yummy side dish on the stove pot or in your Instant Pot (my preferred method). The flavor and texture is incredible! I love to serve this with my Buttermilk Fried Chicken and a healthy Raw Citrus Beet Salad.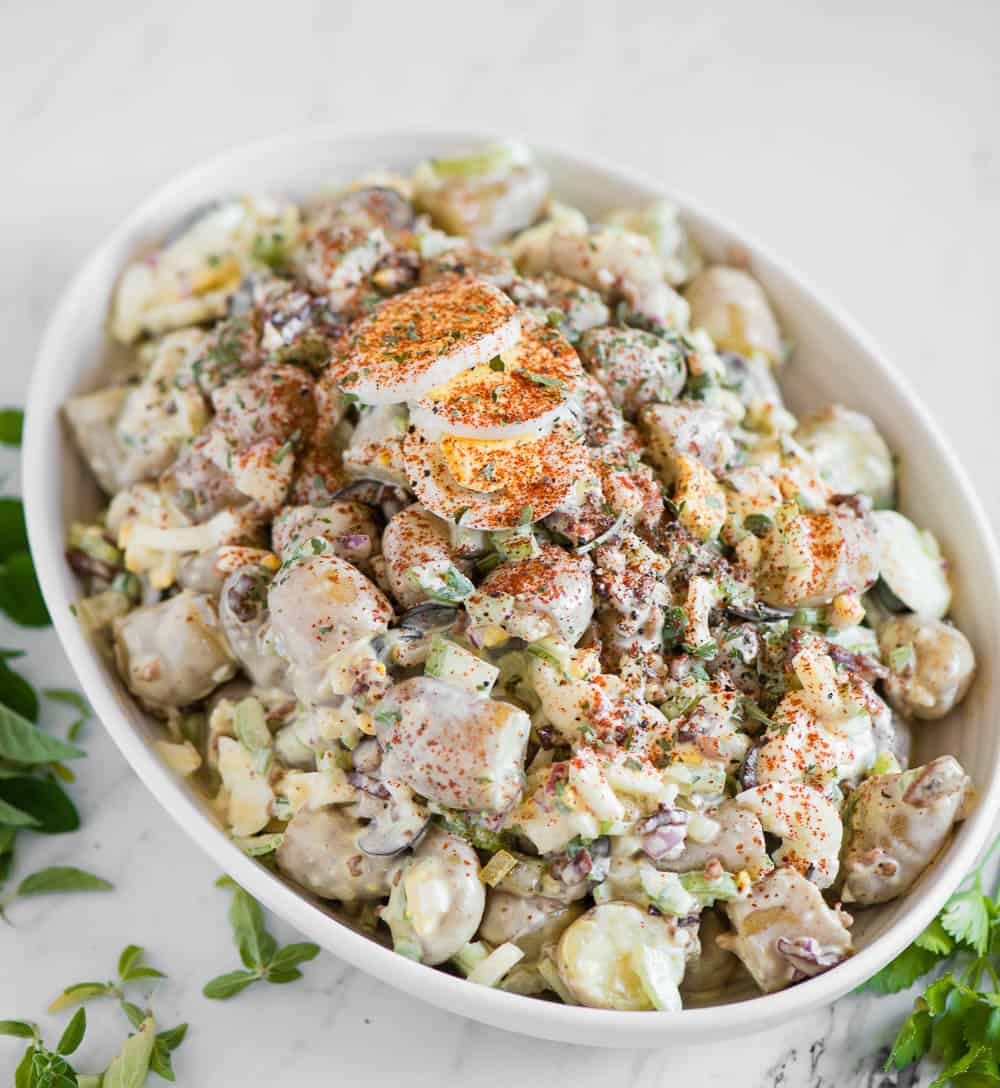 Deviled egg potato salad ingredients:
The reason this recipe is different than a traditional potato salad is simply because of the amount of hard boiled, or deviled eggs, used. That, plus all the other goodies that I threw in to make it taste good, really sets this potato salad apart.
Potatoes - For this recipe I decided to use fingerling potatoes and I highly recommend! Not only did the skin hold the pieces of potato together, but it was thin enough to only enhance the taste instead of make it difficult to enjoy.
Hard boiled eggs - they turn out perfect in the Instant Pot!
Red onion, celery, fresh jalapeno - I like to mince these up real small
Black olives and pickles - always a great addition to potato salad
Bacon - I always have bacon pieces that I previously cooked in my refrigerator. I'll sprinkle them on my egg scramble in the morning, add to sandwiches, and of course they're fantastic in potato salad.
Mayonnaise, mustard powder, salt and pepper - These are the only ingredients needed to make the dressing to hold it all together. Coincidentally, this is pretty much all you need to make a perfect deviled egg.
How to make Deviled Egg Potato Salad:
This is a really easy recipe to put together and is a favorite for backyard BBQs and potlucks. This recipe has so many great ingredients that come together.
First step is to cook the potatoes. My secret tip is to soak them in water for at least an hour before you cook them. They taste so much better when you do! I like to start with bite sized pieces and I cook them until they're tender but not falling apart.
You'll also need to make your hard boiled eggs ahead of time. You can use any method you prefer, but the Instant Pot is my favorite.
If you don't already have cooked bacon on hand, you'll need to make some. Air fryer bacon is quick and easy, but I also love to cook bacon ends and pieces on the stove top. You can also buy bacon bits, but I prefer to make my own.
They final step is to mince up all your veggies and throw everything in one big bowl. Gently stir to combine, taste, adjust your seasonings if needed, and enjoy!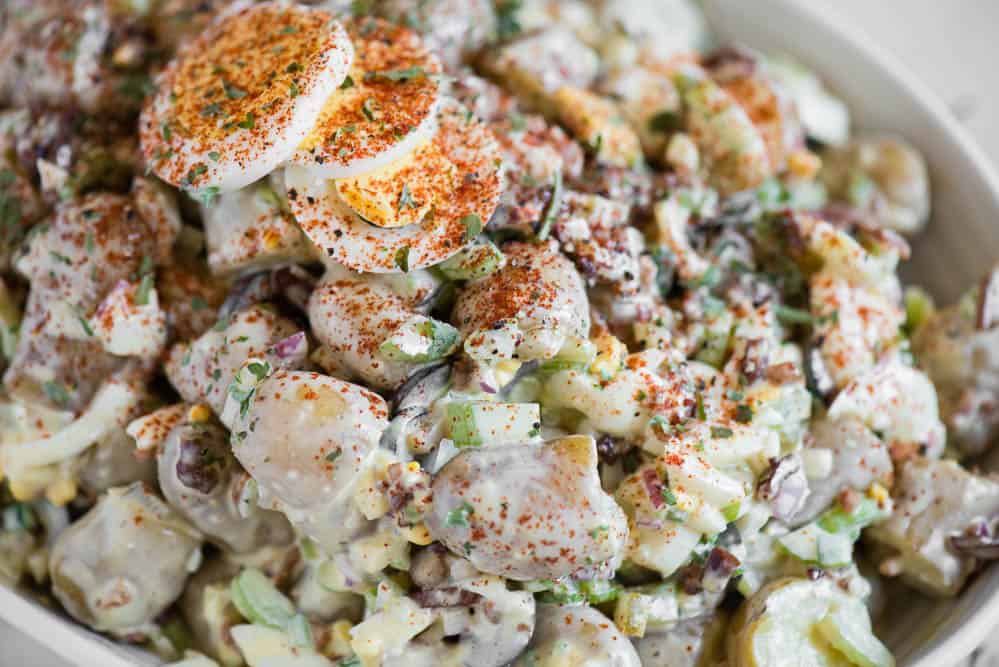 Can you make this potato salad the day before?
Absolutely! Sometimes, I think it tastes even better when prepared the day before.
All you need to do is give it a good toss before serving to redistribute the dressing.
Is deviled egg potato salad good for you?
Depends on who you ask.
Some people will tell you that potatoes along with all the fat you get from the eggs, bacon, and mayonnaise isn't good for you. I, personally, don't really see any of those ingredients as being that bad.
Combine all of that with a fair amount of vegetables and I think you end up with a pretty well rounded side dish recipe. Plus, this potato salad is so rich and flavorful that you don't really need a whole lot in order to be satisfied.
How to prevent potato salad from getting watery:
I don't mind if my dressing gets a bit thinned out after tossing all of the ingredients together, but some people really like their potato salad more thick.
Potato salad will get thin and watery for a couple different reasons.
Potatoes hold a certain amount of moisture when cooked. Some potatoes are more "wet" than others. You can reduce this by allowing the potatoes to cool in a single layer on a towel. The exposed surface area against the air will help dry them out.
All of the vegetables you add to the potato salad contain moisture. You can reduce the amount of added moisture these introduce by combining the vegetables, olives, pickles, etc. in a large strainer and squeezing out any excess liquid before combining with the other ingredients.
Also, all of the yolks from the hard boiled eggs in this recipe help keep the dressing thick and creamy.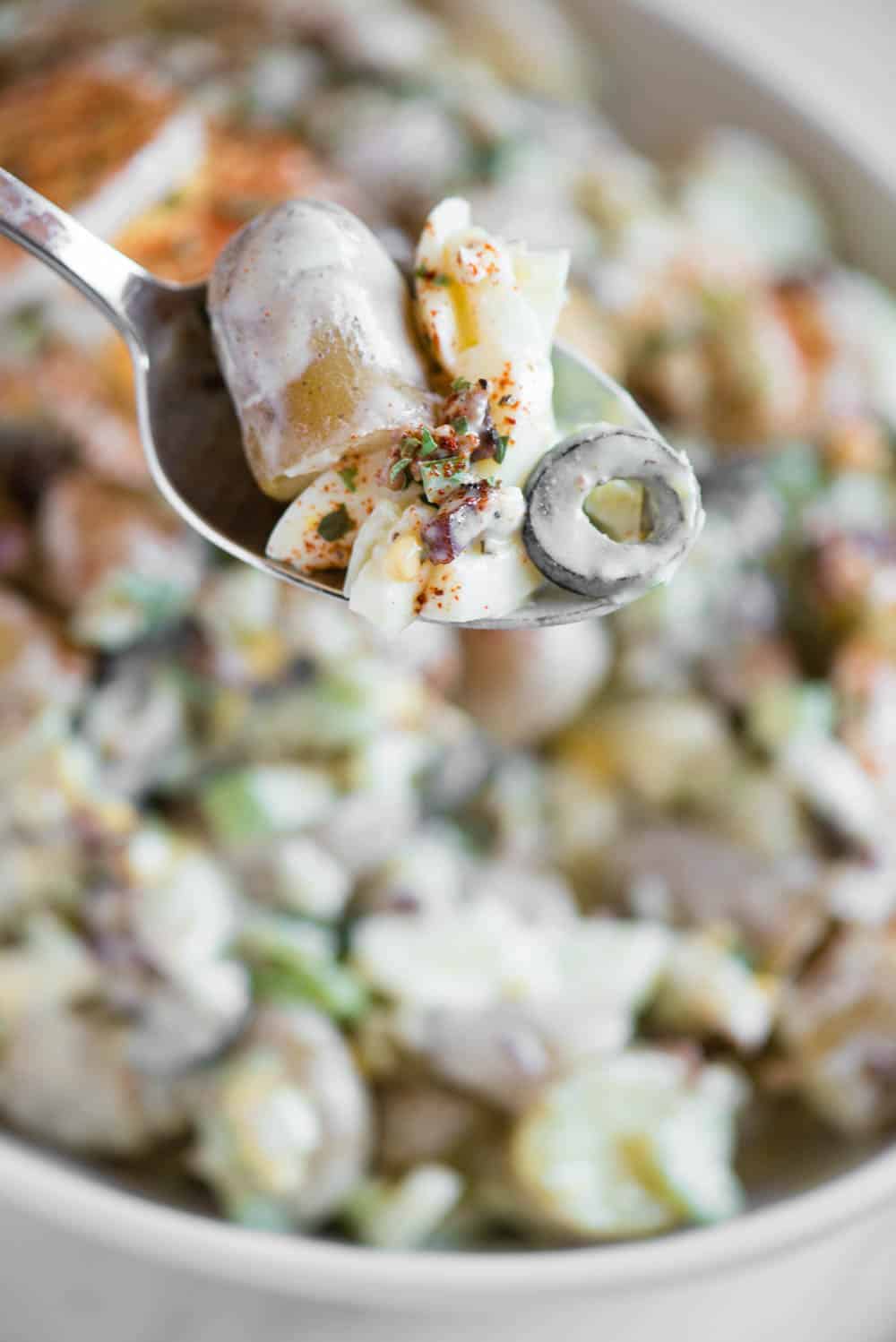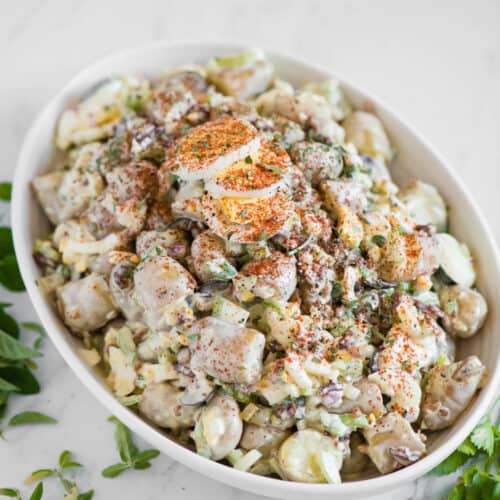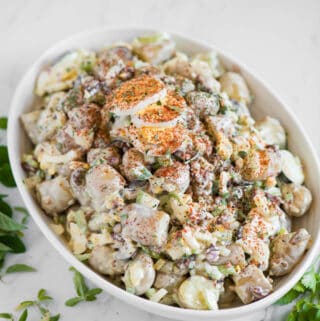 Deviled Egg Potato Salad
Deviled Egg Potato Salad is the best tasting combination of deviled eggs and potato salad. This easy recipe is loaded with tasty ingredients.
Print
Pin
Rate
Hover to scale:
8
servings
Ingredients
2

pounds

fingerling potatoes

6

eggs

1/4

cup

red onion

(minced)

2

stalks celery

(minced)

1

jalapeno

(stem and seeds removed, minced)

3/4

cup

black olives

(sliced)

1/2

cup

dill pickle

(diced)

3/4

cup

bacon

(cooked and diced)

1

cup

mayonnaise

1

teaspoon

mustard powder

1

teaspoon

kosher salt

1

teaspoon

pepper

(freshly ground)

1/2

teaspoon

smoked paprika
Instructions
Wash fingerling potatoes and cut each one in half (or thirds if they're big). Soak in a bowl of cold water for at least an hour.

To cook in Instant Pot, set rack in pot and add potatoes to the top. Add 1 cup of water and cook on high pressure for 8 minutes. Quick release the pressure, drain, and set aside. To cook on stove top, bowl a large pot of water, add potatoes, and cook just until fork tender. You want them soft but not falling apart. Drain and set aside. Be sure potatoes are fully cool before combining with remaining ingredients.

Hard boil the eggs. If using an Instant pot, cook with 1 cup of water for 5 minutes, followed by 5 addional minutes with it off but still under pressure, then at least 5 minutes in an ice bath. To hard boil on cook top, bring a pot of water to a boil, reduce heat to maintain a simmer, add eggs and allow to cook for about 10 minutes before transferring to an ice bath. Peel and slice.

Combine all ingredients except paprika in a large bowl.

Gently toss to combine. Adjust any ingredients to taste, if desired. Garnish with paprika and serve cold.
NUTRITION INFORMATION
Calories:
362
kcal
|
Carbohydrates:
22
g
|
Protein:
7
g
|
Fat:
27
g
|
Saturated Fat:
5
g
|
Cholesterol:
136
mg
|
Sodium:
823
mg
|
Potassium:
581
mg
|
Fiber:
3
g
|
Sugar:
2
g
|
Vitamin A:
390
IU
|
Vitamin C:
25.1
mg
|
Calcium:
49
mg
|
Iron:
1.7
mg
Love easy and delicious potato recipes?
You'll definitely want to try these: