Air Fryer Bacon is one of the best ways to cook perfectly crisp and chewy bacon without all the grease splatter you get from cooking on your cook top!
I have always either made my bacon in a frying pan on the cook top or on a baking sheet in the oven. Now that I have an air fryer, I think this is the absolute best way to cook perfect bacon. Plus, it's so easy to clean!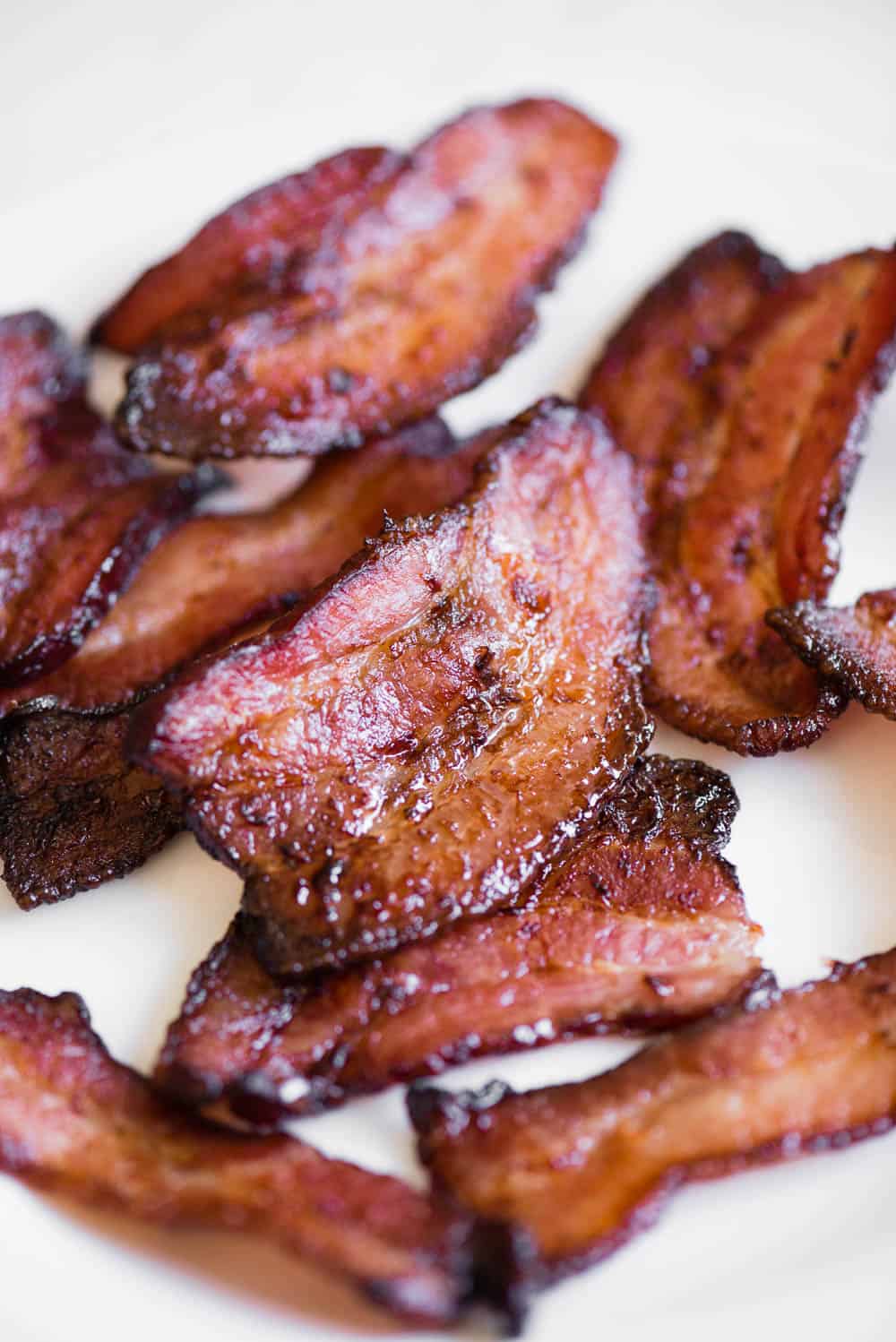 We are a bacon loving family. You will never find my refrigerator without bacon that's ready to cook or bacon that has already been cooked that just needs to be heated up. Can you imagine how good this would taste with some Air Fryer donuts?
There really is no food better than bacon. It deserves it's own food group on the food pyramid.
I'll go over my various methods of cooking bacon and why I think using the air fryer is your best bet.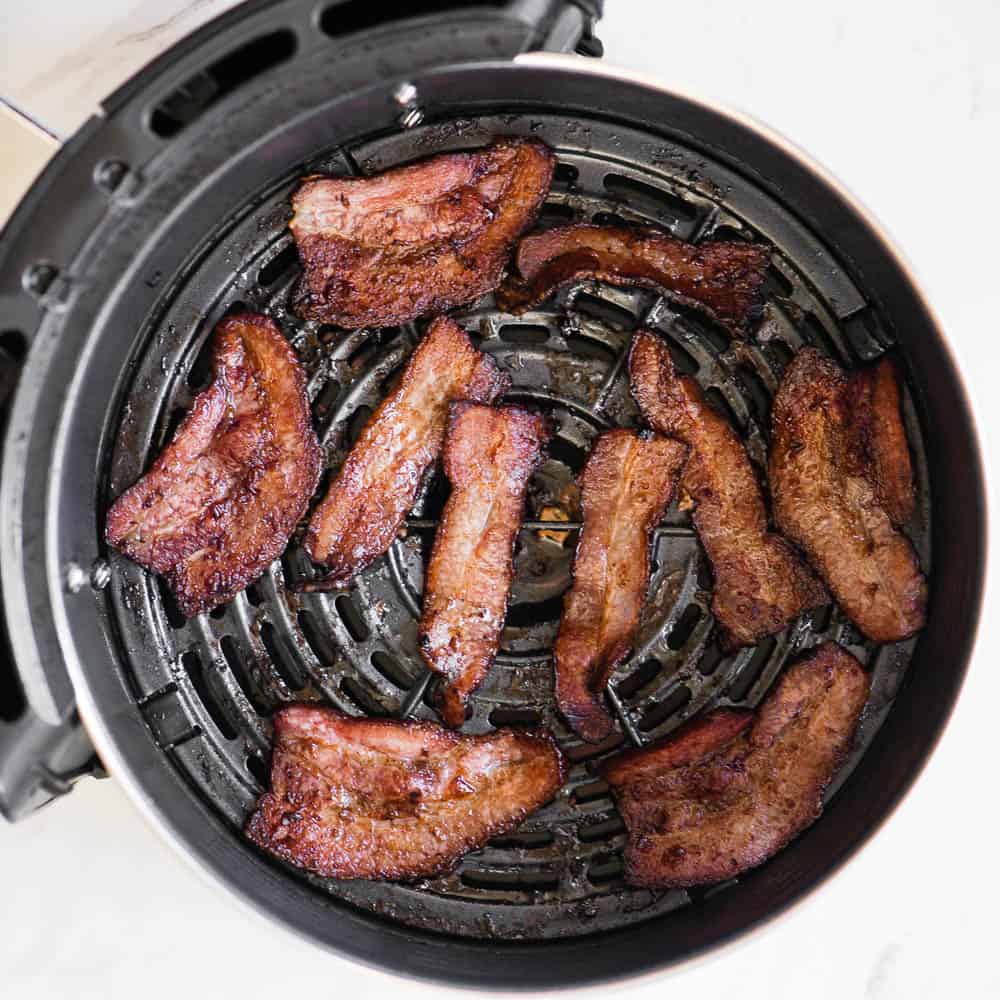 First, let's discuss the pros and cons of each of the three main ways to cook bacon: on the stove, in the oven, and in an air fryer.
Cooking bacon on the stove:
PROS:
Tastes amazing if you do it right. That means you must start off at a high temperature and slowly decrease the temperature as the oil heats and bubbles
It's easy to save the bacon grease and use for another use
CONS:
You have to constantly monitor the bacon and move it around to ensure it gets evenly cooked
Easy to burn some pieces and under cook others
Bacon often cooks curled and not flat
You are limited to how much you can fit in your pan without over crowding
Cooking bacon in the oven:
PROS:
Easy to clean up, especially when you cook on foil and let the oil harden
Bacon cooks flat and turns out even better if you flip it half way
Doesn't require much monitoring
You can cook a lot of bacon all at the same time
CONS:
Must have an oven safe rack to place on your baking sheet to get best results
Bacon turns out more chewy than crisp. It tastes good, just not as good as when it's fried
Cooking bacon in the air fryer:
PROS:
No splatter!
Creates the best tasting bacon. Crispy edges, chewy bite, and perfectly rendered fat... especially if you flip the pieces part way through the cooking process
This is the quickest way to cook bacon. Makes it easy to enjoy on a busy morning
CONS:
You must own an air fryer. They take up a lot of space but I think they're worth it.
You're limited by the size of your basket.
It takes a little trial and error to figure out the temperature and time that works best for you.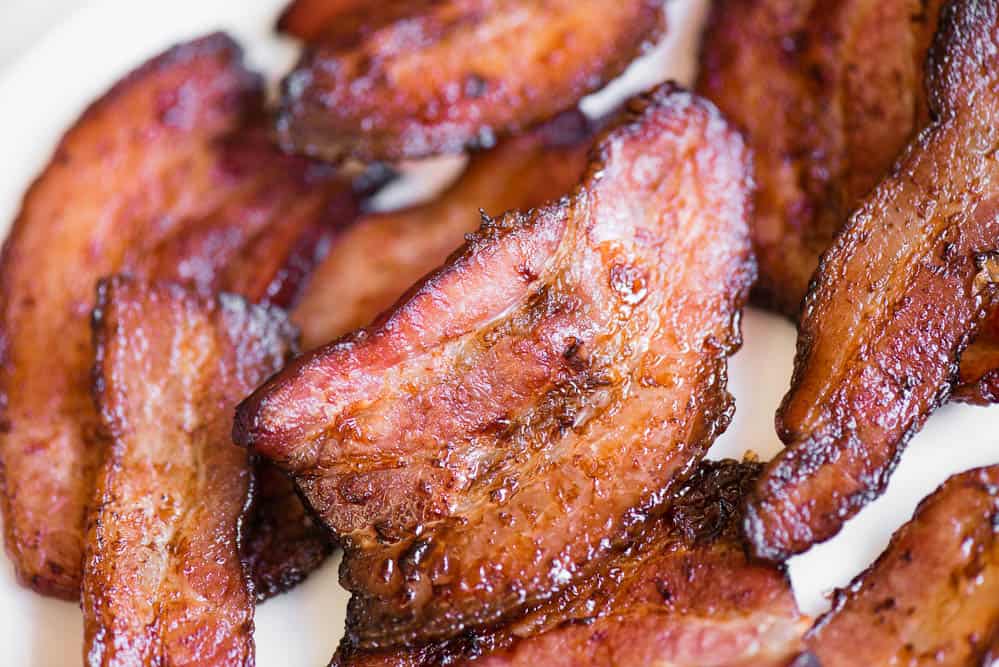 How to make this recipe:
Like I said above, it takes a bit of trial and error to get the temperature and timing right. I burned the first batch I made because I thought it would take longer to cook than it did. Don't worry - I didn't burn it to the point where we couldn't eat it. I just chopped it up and put it on a salad.
Arrange your bacon slices in a single layer. If it helps, cut them in half so that you can fit them in better.
I like to air fry my bacon at 350 degrees. I started with a time of 10 minutes.
Pull out the basket and flip the bacon. Put the basket back in and cook the bacon another 2-5 minutes depending on how crisp you like it.
Remember, it's easy to pull the basket out and check on the doneness of your bacon at any time! You won't regret it.
Full Recipe Instructions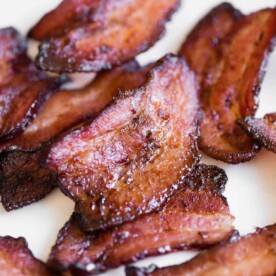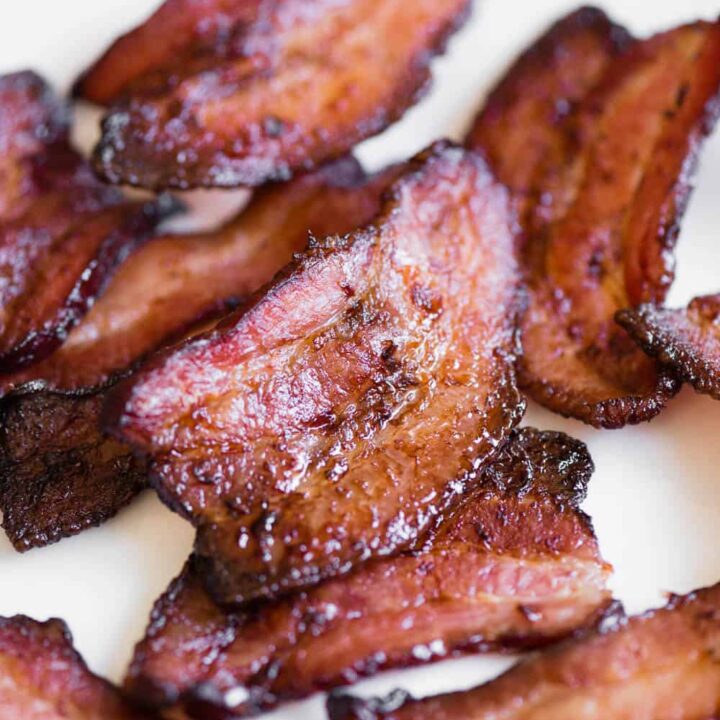 Ingredients
4

slices

bacon

(thick cut, cut in half)
Instructions
Arrange bacon slices in single layer in bottom of air fryer. Be sure not to overlap.

Air fry at 350 degrees F for 10 minutes. When done, open cooking compartment, flip bacon pieces, and cook for another 2-5 minutes depending on desired chewy or crispy level.
NUTRITION INFORMATION
Calories:
183
kcal
|
Carbohydrates:
1
g
|
Protein:
6
g
|
Fat:
17
g
|
Saturated Fat:
6
g
|
Cholesterol:
29
mg
|
Sodium:
291
mg
|
Potassium:
87
mg
|
Iron:
0.2
mg
Related recipes:
Here are my favorite recipes that use bacon: