Warm Spinach Salad with sliced hard boiled eggs, sauteed mushrooms, and the best homemade bacon dressing is the most satisfying lunch or dinner recipe!
Present on a platter or toss everything up in a large bowl. One thing is for sure – you are going to absolutely love this salad!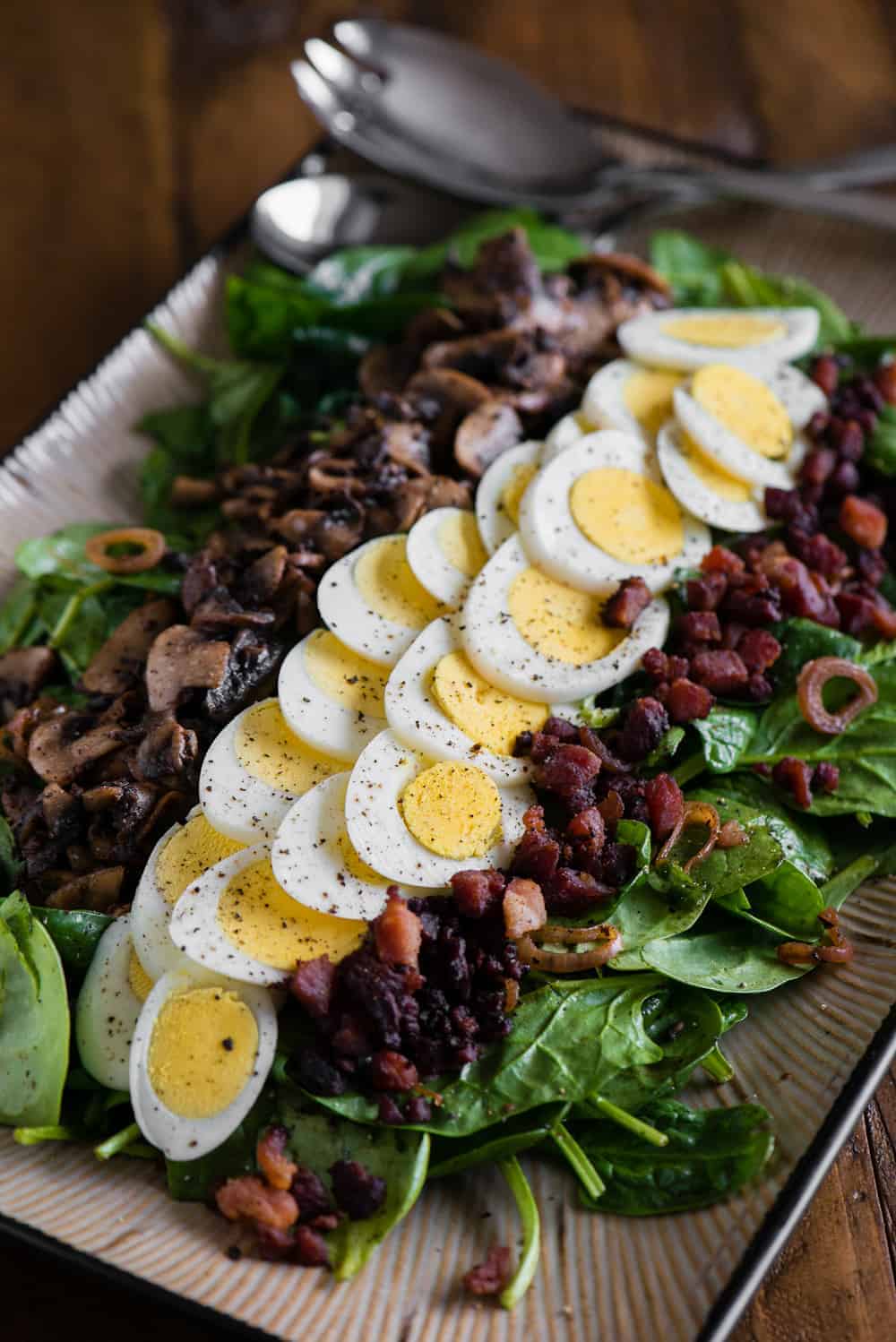 SPINACH SALAD WITH BACON, EGGS, MUSHROOMS, AND DRESSING
Pin it to your SALAD BOARD to SAVE it for later!
Follow Self Proclaimed Foodie on Pinterest for more great recipes!
Warm Spinach Salad with Bacon Dressing is one of my favorite salads. I mean, come on, there's a ton of bacon! What's not to love? Need I even go on?
I was first introduced to this kind of salad when my husband and I went to dinner at the Chart House. You see, if you order their spinach salad, they bring everything to your table and toss it right in front of you. Super fancy.
For me, this salad checks all the boxes. Tons of spinach, which we all know is super good for you. Hard boiled eggs that add a creaminess to the tossed salad and also keep you feeling full. Perfectly sauteed mushrooms and shallots. And bacon. I already mentioned the bacon, yes? Bacon makes everything better. Don't even try to argue that one.
What kind of dressing goes on spinach salad?
You can use any kind of dressing on a standard spinach salad, but for this particular salad, I like to make a mouth watering vinaigrette that starts with the fat left over from cooking the bacon. I'm sure I have your full attention now.
After I cook up my bacon pieces to perfection, I remove them from the pan. Before I even begin to make the dressing, I saute up the mushrooms and shallot in some of the remaining bacon grease. Yum, right?
I then scoop those out of the pan and get to work on the dressing. It comes together in a matter of seconds. Olive oil, apple cider vinegar, dijon mustard, and a bit of sugar all come together in the remaining warm bacon grease to create a dressing that will make your mouth water.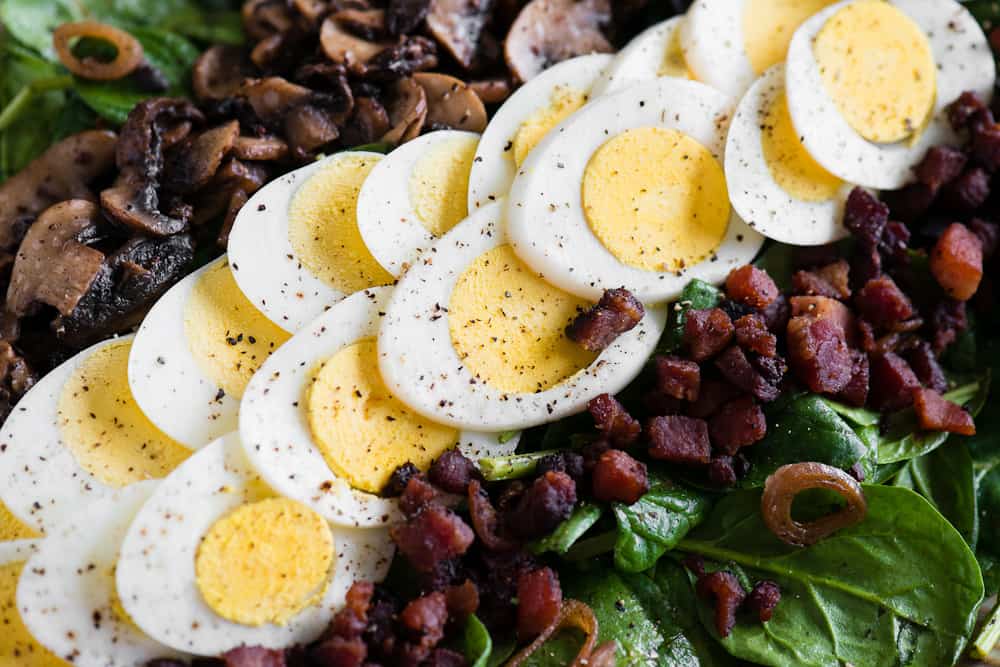 Can you eat spinach raw in a salad?
This seems like a silly questions, but some people don't know. If you grew up not eating spinach, or only eating cooked spinach, you might not even know that you can eat spinach raw.
We actually eat spinach raw more often than we eat it cooked. Whether it's used in a green smoothie or in a spinach salad like this one, raw spinach is a great choice as a leafy green.
So yes, you can most definitely eat spinach raw in a salad.
Can you eat spinach every day?
Again, this seems like a silly question but people actually ask google this exact same question.
Yes, you can eat spinach every day. I do.
Spinach is an excellent source of vitamin K, vitamin A, vitamin C and folate as well as being a good source of manganese, magnesium, iron and vitamin B2. Vitamin K is important for maintaining bone health and it is difficult to find vegetables richer in vitamin K than spinach.
I have loved spinach my entire life, but I'll admit I grew up only knowing frozen spinach. The kind that comes in a frozen block. Now I buy a big container of pre-washed baby spinach every week or I grow my own in my garden. Basically, you'll never find my refrigerator without spinach.
How to make this Warm Spinach Salad with Bacon Dressing:
First step is to add the spinach to a large bowl. You can certainly use large leaf spinach, but if you have to wash it, be sure to get all of the water off. I much prefer the baby pre-washed spinach.
Next step is to hard boil your eggs. My preferred method is to use the Instant Pot. Best hard boiled eggs ever! Peel 'em and slice 'em!
Now comes the best part. Fry the bacon. My tried and true method is to use small bacon ends and pieces and a dutch oven. Start off over relatively high heat, and as the bacon begins to brown and the fat renders, slowly reduce the heat. Perfection!
Scoop out the bacon, leave yourself about three tablespoons of bacon grease, and saute up the mushrooms and shallots. Oh yes. Then take those out of the pan and set aside.
Final step is to make the dressing. Simply whisk all the ingredients together in the bacon pan and you'll have the most delicious, warm vinaigrette.
Now, you can either serve your salad on a platter like I did, or toss everything in a large bowl and devour it (that's my preferred method). Enjoy!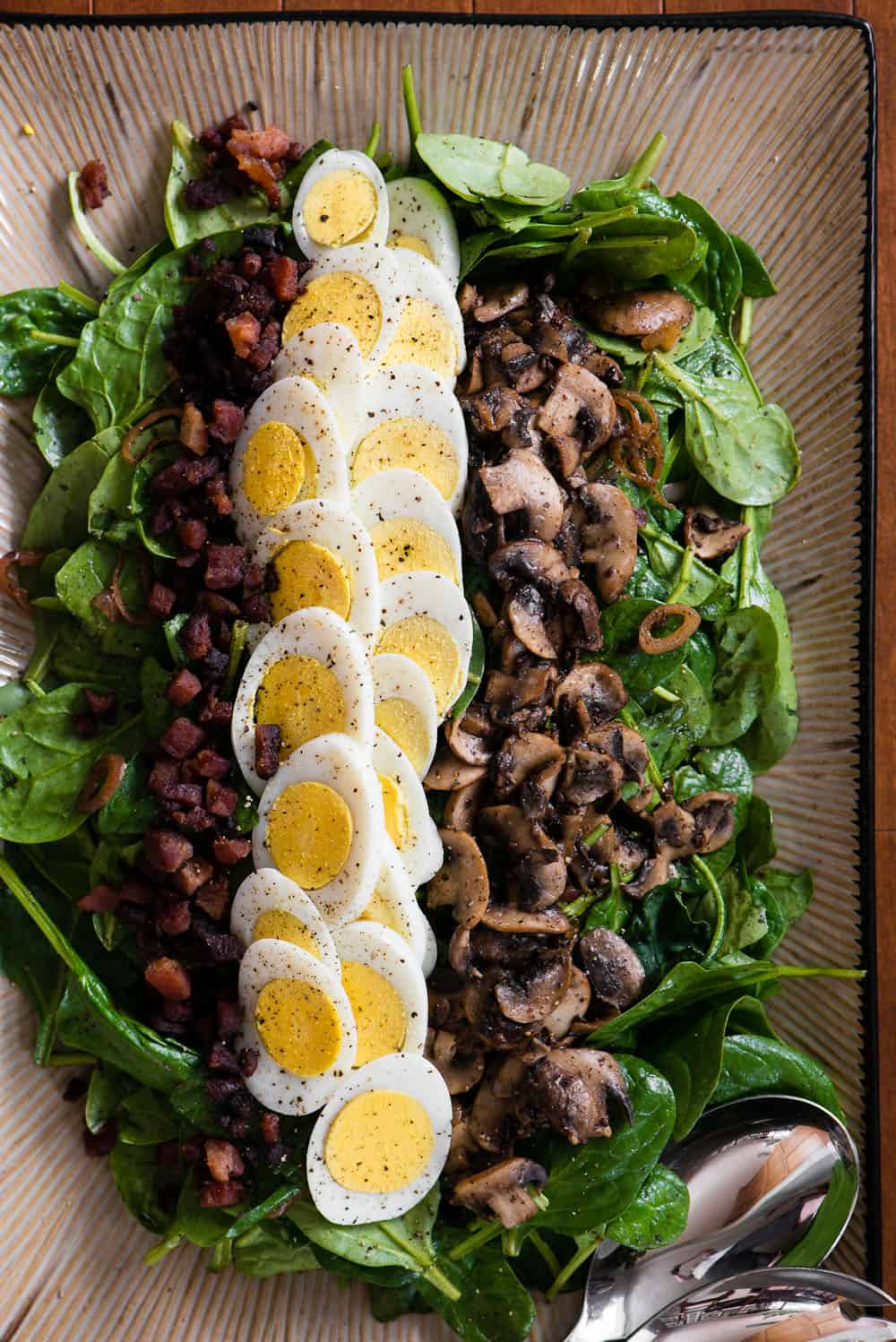 Love delicious salad recipe?
Well, then, you'll want to make these: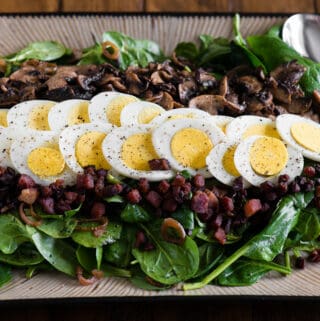 Ingredients
8

ounces

baby spinach

fresh

2

large

eggs

8

ounces

bacon

chopped into small pieces

6

ounces

mushrooms

thinly sliced

2

shallots

thinly sliced

6

Tbsp

apple cider vinegar

2

tsp

sugar

2

Tbsp

olive oil

1

tsp

dijon mustard

1/2

tsp

kosher salt

1/2

tsp

pepper

freshly ground
Instructions
Place spinach in large bowl or serving platter and set aside.

Hard boil eggs. To do this, either cover with water in small pot, bring to a bowl, remove from heat, and let eggs sit in water for 15 minutes, then place in ice bath. Similarly, cook in an electric pressure cooker for 6 minutes, allow to sit at pressure for 6 minutes, then transfer to ice bath. Peel and slice eggs. Set aside.

Fry the bacon in a skillet or dutch oven. Start with medium high heat and gradually reduce the heat while stirring regularly as the bacon cooks to prevent burning. Continue cooking until all fat is rendered and bacon is crisp. Remove bacon with a slotted spoon and transfer to a paper towel lined plate.

If more than 3 Tbsp of bacon grease remain, discard excess. Heat pan with 3 Tbsp of bacon grease over medium high heat and add mushrooms and shallots. Stir immediately to coat and then allow them to sear. Stir only once after they have begun to brown to prevent from burning and allow other side to brown. Remove sauteed mushrooms and shallot with a slotted spoon and transfer to a plate.

Using same pan with residual bacon grease, reduce heat to the lowest setting. Whisk in vinegar, sugar, and dijon mustard. Slowly drizzle in olive oil while whisking continuously. Whisk in salt and pepper and add additional salt, if desired.

To serve salad, toss spinach with a small amount of dressing in large bowl. Continue to add dressing until you've reached the desired amount (you may not use all of the dressing). Add sliced hard boiled eggs, cooked bacon pieces, and sauteed mushrooms and shallots. Toss to combine and serve warm.
Nutrition
Calories:
384
kcal
|
Carbohydrates:
9
g
|
Protein:
14
g
|
Fat:
32
g
|
Saturated Fat:
9
g
|
Cholesterol:
142
mg
|
Sodium:
770
mg
|
Potassium:
661
mg
|
Fiber:
2
g
|
Sugar:
4
g
|
Vitamin A:
5490
IU
|
Vitamin C:
17.8
mg
|
Calcium:
79
mg
|
Iron:
2.6
mg