Marinated Tomato Cucumber Salad with red onion and an apple cider vingegar marinade is a healthy and flavorful way to enjoy fresh summer vegetables!
To be perfectly honest, I don't even like cucumbers, but I am completely addicted to this salad. My husband loved it so much that he had two full sized bowls and asked for more!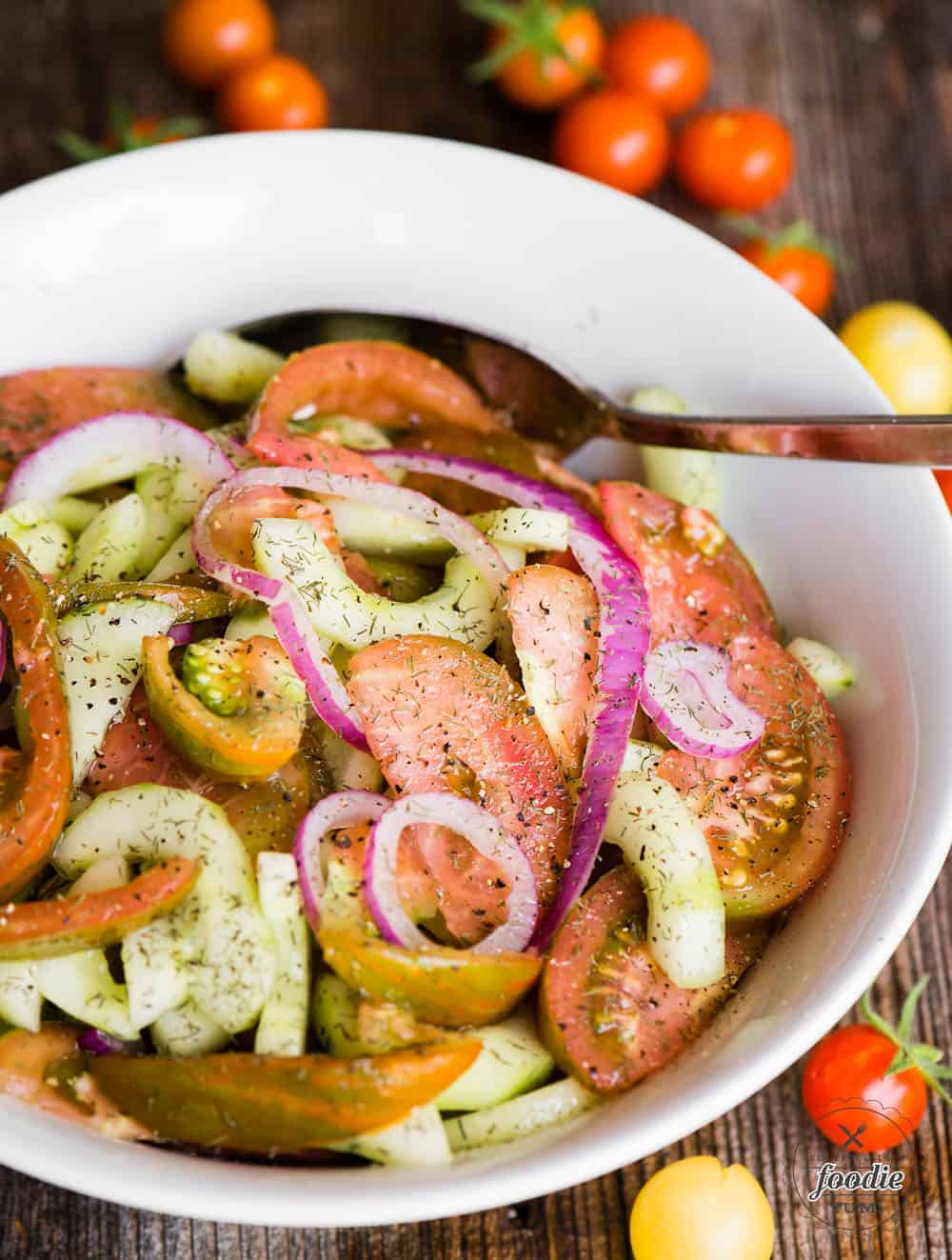 Tomato Cucumber Onion Salad is probably the healthiest thing in my refrigerator right now. I absolutely love keeping it on hand for when I just want to snack on something. Better to enjoy garden fresh cucumbers and heirloom tomatoes than that bag of chips. Right? And to prove that the only way I love to eat cucumbers is when they're soaked in vinegar, you'll see that pretty much the only cucumber recipe on my site is for my Easy Refrigerator Dill Pickles.
I probably should have put this recipe on my other blog, Ten Acre Baker, considering I grew all the vegetables myself. But, since I think this recipe is so insanely delicious, I wanted to make sure the maximum amount of people saw it!
How to make this recipe:
There are so many different recipes out there. I have found cucumber tomato salad recipes that call for distilled white vinegar and others that call for red wine vinegar. You've got your tomato and cucumber salad recipes that call for feta or mozzarella. And don't forget about creamy cucumber and tomato salad!
With so many choices, how are you to ever choose?
Choose this one.
It's vegan. I'm not vegan, but I like to create a vegan recipe every now and again for my vegan friends.
So here's how easy this cucumber tomato with red onion salad is to make:
Create the marinade. My recipe combines water, apple cider vinegar, sugar, dill, salt and pepper. Kind of like what you'd use to make pickles, but the addition of water and apple cider vinegar really makes it tame.
Add your cucumber, tomato, and red onion to the marinade. Doesn't really matter how you cut them, just be sure to use a really good quality knife and cutting board. I prefer to peel and seed my cucumbers, but you don't have to. It's a matter of personal preference.
Wait. If you want the flavor of the marinade to soak into the vegetables, you need to let everything soak for at least an hour, but longer is better.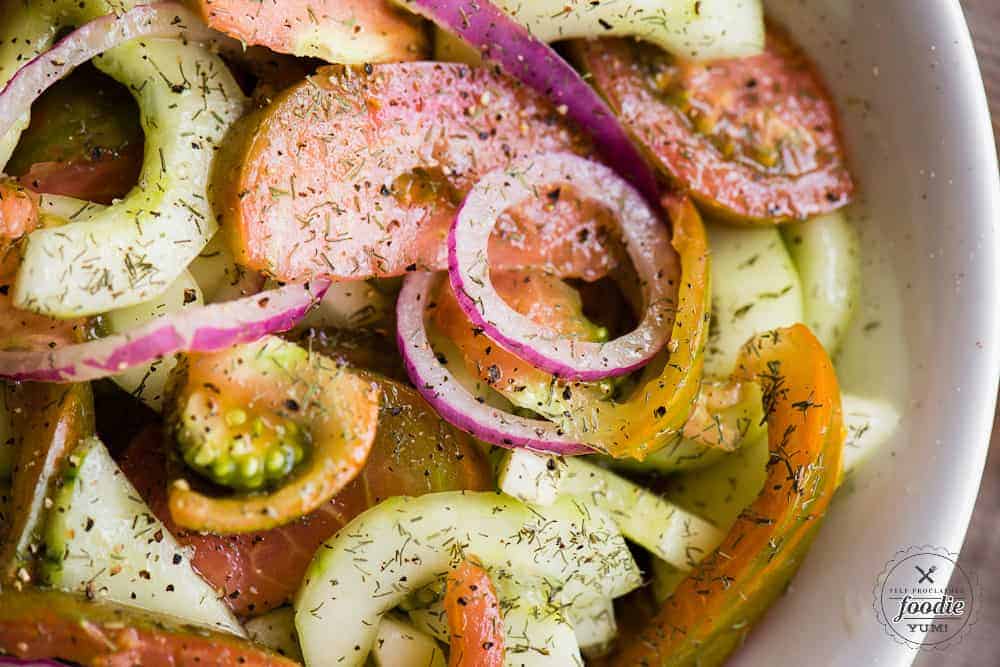 How healthy is Tomato Cucumber Salad?
This recipe is especially healthy. Yes, there's a wee bit of sugar in the marinade to balance out the acid, but it doesn't taste sweet. You could always omit or replace with raw honey.
Fresh raw cucumbers, tomatoes, and red onion are all very good for you for different reasons. I read something about how the combination of cucumbers and tomatoes together are unhealthy, but I think that is complete hogwash. That claim had to do with the fact that your body digests them at different rates. I'm basically eating all kinds of food all day long. How is that any different?
The fact that this tomato cucumber salad has olive oil as a healthy fat and tons of veggies straight from the garden can leave you feeling good about what you're eating!
Is it okay to eat the skin of your cucumber?
You sure can! And depending on the type of the cucumber, I highly recommend it. The skin is full of vitamins and fiber. You can also use a vegetable peeler to remove half of the skin if you'd like. The cucumber skin will also help keep the cucumber pieces firm.
I, however, chose to remove the skin. Hopefully I won't get a lot of heat from my readers for removing my skin like I do when I make my Salmon Patties. This year I grew a variety of cucumber called Straight Eight and the skin was really quite thick. Not my thing. Again, it's just a matter of personal preference.
If you love this recipe, you'll definitely want to try my Greek Salad!
Marinated Tomato Cucumber Salad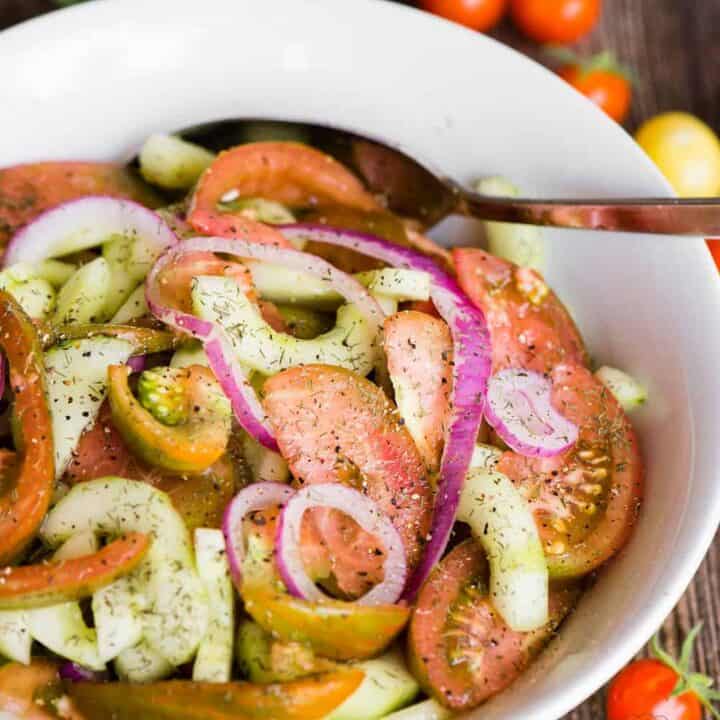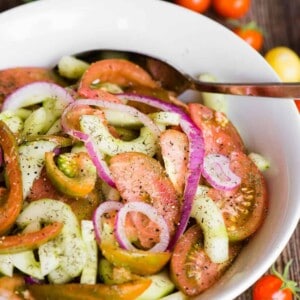 Marinated Tomato Cucumber Salad with red onion and an apple cider vingegar marinade is a healthy and flavorful way to enjoy fresh summer vegetables!
Instructions
In large bowl, whisk together water, vinegar, oil, sugar, dill, salt and pepper.

Add cucumbers, tomato and red onion. Gently toss to coat.

Cover bowl with plastic wrap and refrigerate at least one hour. To serve, use a slotted spoon to scoop out vegetables. Serve cold.
Notes
Leftover marinade can be re-used to make another salad. Just keep it in the refrigerator until ready to use. I recommend discarding after a couple weeks.
Be sure to let the salad sit at least an hour, but it tastes great after an overnight soak too.
Nutrition
Calories:
122
kcal
,
Carbohydrates:
8
g
,
Protein:
1
g
,
Fat:
9
g
,
Saturated Fat:
1
g
,
Sodium:
782
mg
,
Potassium:
250
mg
,
Fiber:
1
g
,
Sugar:
6
g
,
Vitamin A:
225
IU
,
Vitamin C:
7
mg
,
Calcium:
25
mg
,
Iron:
0.5
mg
Nutrition information is automatically calculated, so should only be used as an approximation.