Greek Salad made with crisp romaine, onions, olives, peppers, tomatoes, cucumbers, feta cheese, oregano and the homemade dressing is the best salad recipe!
If you're wondering what to serve with Greek salad, I will always lean towards my other favorite Mediterranean recipes like Moussaka, Spanakopita, and some homemade Baklava!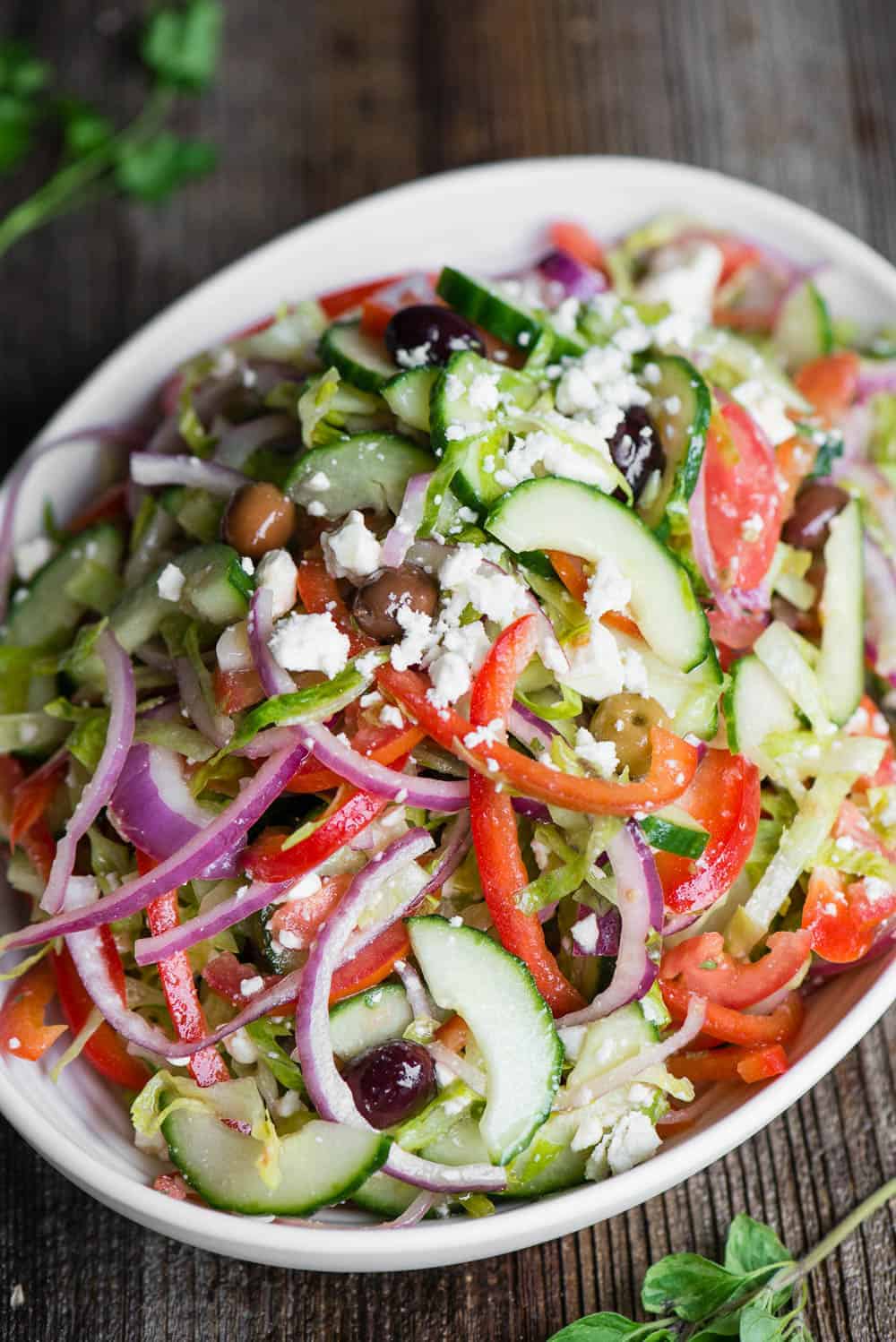 GREEK SALAD RECIPE
Some of my favorite Greek recipes satisfy all of my comfort food cravings, but tend to be a little bit on the heavy side.
This salad is not only light and fresh, but it is tangy and packed full of flavor. It reminds me a lot of my Marinated Tomato Cucumber Salad, but this recipe includes a bunch more ingredients.
Unlike so many Greek salads that I've gotten at restaurants that are filled with huge chunks of ingredients and saturated in dressing, this salad has all of the ingredients thinly sliced with just the right amount of Greek dressing.
What is Greek salad dressing made of?
This salad is delicious for two reasons: the salad components along with the homemade dressing.
Sure you can buy a bottle of dressing, but I stopped doing that long ago because of all the ingredients that get added, even with organic dressings, in order to preserve it. Dressings are so easy to make!
This Greek salad dressing is made from a few simple ingredients:
the acid comes from juice from one lemon along with some red wine vinegar
you need to add some sugar and salt to balance out the tart
and olive oil
That's it! Simply whisk all of the ingredients together without the olive oil, then pour it in using a thin, steady stream while whisking continuously. Couldn't be easier! As always, give the salad dressing a taste and adjust any of the ingredients as needed.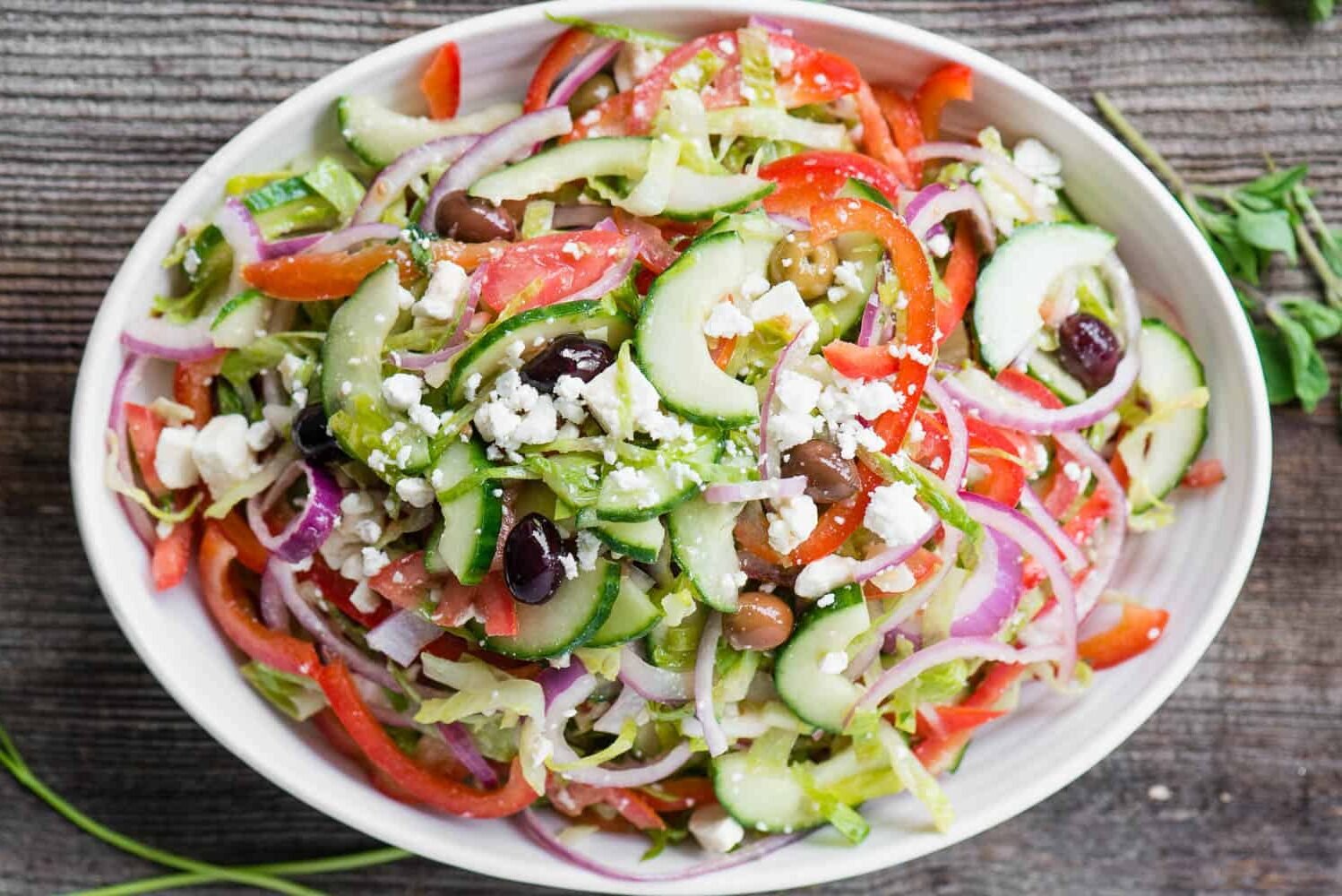 My favorite Greek salad ingredients:
I tend to like a lot of variety when I make salads. This recipe is sure to pack a ton of flavor into each bite. Be sure to slice all of the vegetables thin!
crisp Romaine lettuce 
red onion - hint: you can soak it in cold water first to tame the strong flavor
Kalamata olives - be sure to buy the kind that don't have pits
red bell pepper
tomatoes - be sure to scoops out the seeds
cucumber - remove those seeds
crumbled feta cheese
freshly minced oregano
Can you make Greek salad the day before?
This is completely a matter of preference. I prefer my salads to be completely crisp and fresh which is why I rarely eat leftover salad.
My husband and kids, however, love leftover salad. They don't mind when it gets soggy.
If you want to make my Greek salad ahead of time, there are a few things you can do:
You can chop all of the ingredients and store them separately. Likewise, you can mix up the dressing and keep everything refrigerated until ready to use. Then, all you'd need to do is toss everything together just before serving. This is your best option if you want to do the work ahead of time but still enjoy a fresh, crisp Greek salad.
You can mix the salad ingredients together but wait to add the dressing until you're ready to serve. Keep in mind that the vegetables will release moisture and might make your salad a bit soggy.
Is Greek salad healthy?
I would absolutely say that this traditional Greek salad recipe is healthy, but like I always say, my idea of healthy might different from yours.
Is this salad full of fresh, colorful vegetables? Yes. I think we would all agree this is healthy.
Do I add feta cheese? Yes. Feta flavorful and full of all sorts of things that are beneficial to your health, but it is higher in sodium than other cheeses, so keep that in mind.
The kalamata olives are full of intense flavor and healthy fat, but again, they are super salty.
And finally, I put a bit of sugar in my Greek salad dressing to balance out the acid and salt. You can always omit or replace with a natural sugar like honey.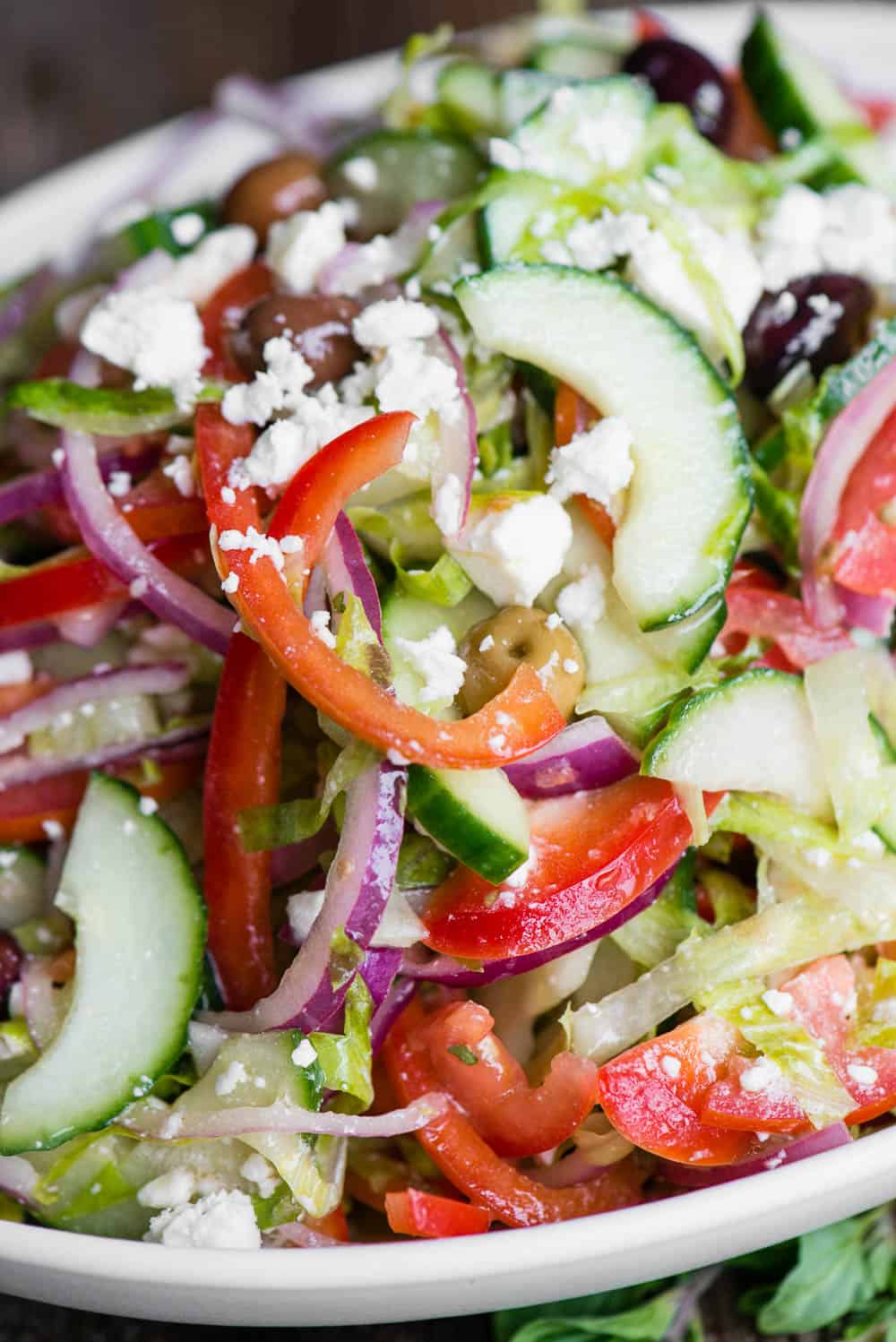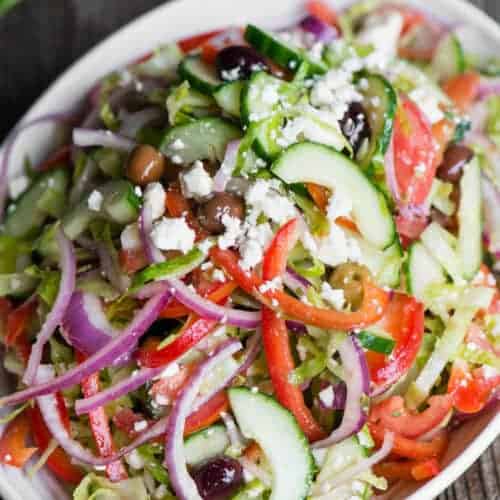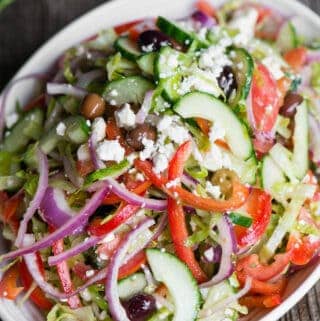 Greek Salad
Greek Salad made with crisp romaine, onions, olives, peppers, tomatoes, cucumbers, feta cheese, oregano and the homemade dressing is the best salad recipe!
Print
Pin
Rate
RECIPE VIDEO WILL AUTOPLAY
Hover to scale:
6
servings
Ingredients
Salad:
1

head

romaine lettuce

(sliced into thin strips)

1

medium

red onion

(thinly sliced)

6

ounce can

kalamata olives

(drained)

1

red bell pepper

(thinly sliced)

2

large

tomatoes

(seeds removed, sliced)

1

cucumber

(halved lengthwise, seeds removed, sliced)

1

cup

feta cheese

(crumbled)

1

teaspoon

oregano

(fresh, minced)
Dressing:
1

lemon

(juiced)

2

tablespoons

red wine vinegar

1

tablespoon

sugar

1

teaspoon

salt

6

tablespoons

olive oil
Instructions
Combine all of the salad ingredients in large bowl. Toss to combine.

To make the dressing, whisk together all of the ingredients except the olive oil. Pour the olive oil in a slow, steady stream while whisking constantly. Continue to whisk once all the olive oil has been added until the dressing has emulsified.

Add dressing to salad and toss to combine. Serve immediately. If making ahead, keep the dressing and the salad separate until ready to serve.
NUTRITION INFORMATION
Calories:
293
kcal
|
Carbohydrates:
15
g
|
Protein:
6
g
|
Fat:
24
g
|
Saturated Fat:
6
g
|
Cholesterol:
22
mg
|
Sodium:
1122
mg
|
Potassium:
590
mg
|
Fiber:
5
g
|
Sugar:
8
g
|
Vitamin A:
10465
IU
|
Vitamin C:
50.3
mg
|
Calcium:
200
mg
|
Iron:
2
mg