Moussaka is the best Greek comfort food. This Mediterranean inspired casserole is a combination of roasted eggplant, potatoes, Bechamel sauce, and ground beef.
This recipe has a lot of ingredients and many steps, but is worth the time and effort!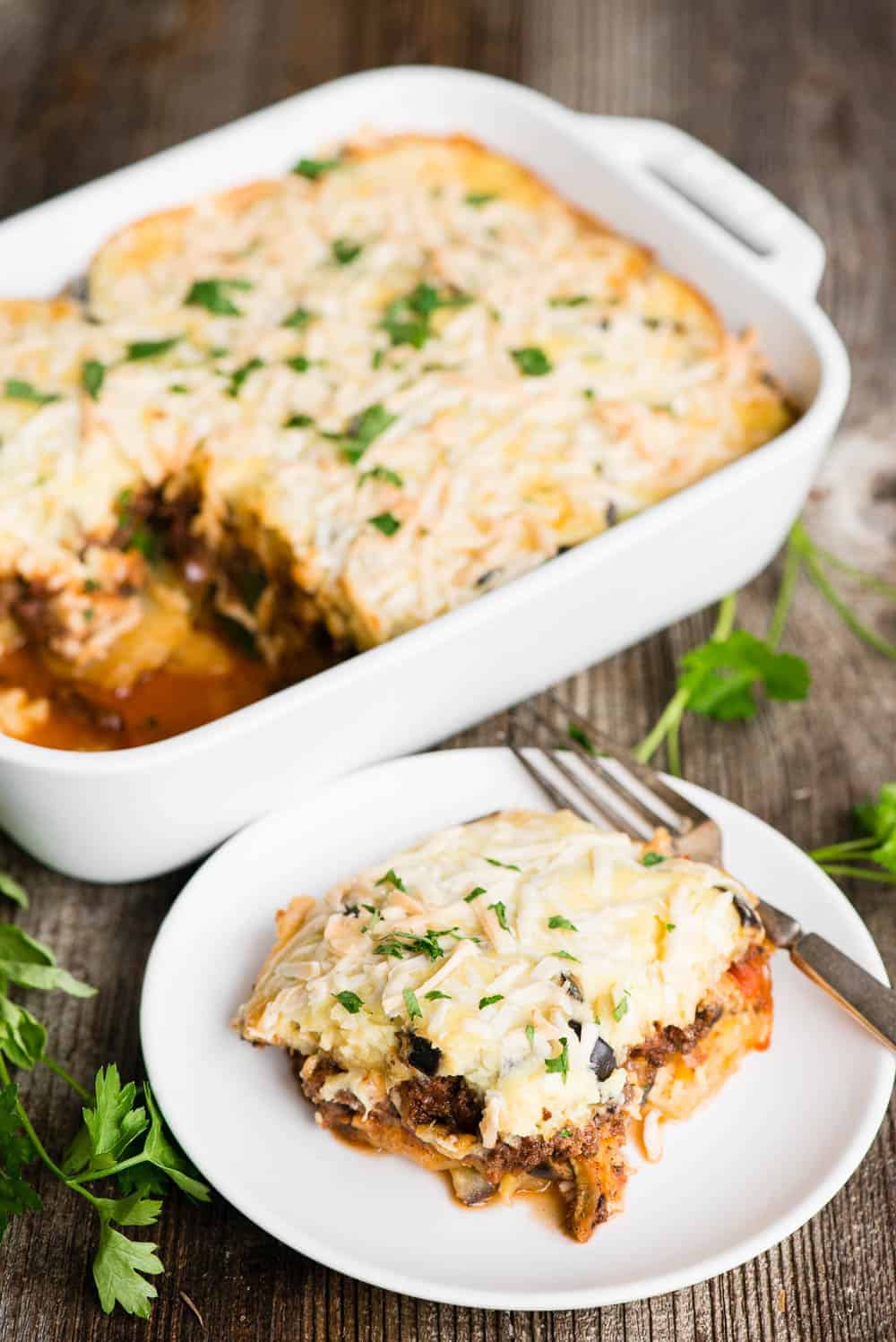 This recipe took me back to my Middle Eastern roots. I'm not gonna lie. This recipe was a bit complicated. It's not technically challenging, but there are a lot of layers that make this outstanding eggplant moussaka casserole so wonderfully delicious.
I've included a lot of process photos in the post as well as within the recipe, so hopefully you'll get a thorough preview of what's involved to make my version of Greek moussaka!
Recipe basics:
Moussaka is an eggplant and/or potato based casserole. You can certainly make vegetarian moussaka, but I chose to add meat.
As with many Mediterranean dishes, lamb is often the preferred meat of choice, but since I wasn't raised on lamb, I prefer to use ground beef.
You can serve this casserole hot or cold, but I much prefer to serve it warm.
Each layer offers a completely different taste, texture, and flavor profile, but somehow it all works well together.
Ingredients needed:
The list of ingredients is rather long, so I'll break it down by layer:
Meat sauce: ground beef, onion, bell pepper, garlic, salt, all spice, cinnamon, pepper, oregano, tomato paste, red wine, canned tomatoes. The all spice and cinnamon are what give this dish the signature Mediterranean flavors and you can scale them back if they're too strong for your liking.
Bechamel sauce: butter, flour, milk, bay leaf, salt, pepper, nutmeg, egg yolks, lemon zest. Basically, this is a rich creamy white sauce that starts with a roux. It also makes a great base for mac and cheese.
Roasted eggplant: salt water for a brine, then fresh eggplant that gets roasted with olive oil.
Potato layer: this is just thinly sliced potatoes that are half way cooked in boiling salted water.
Topping: Pecorino romano cheese. YUM!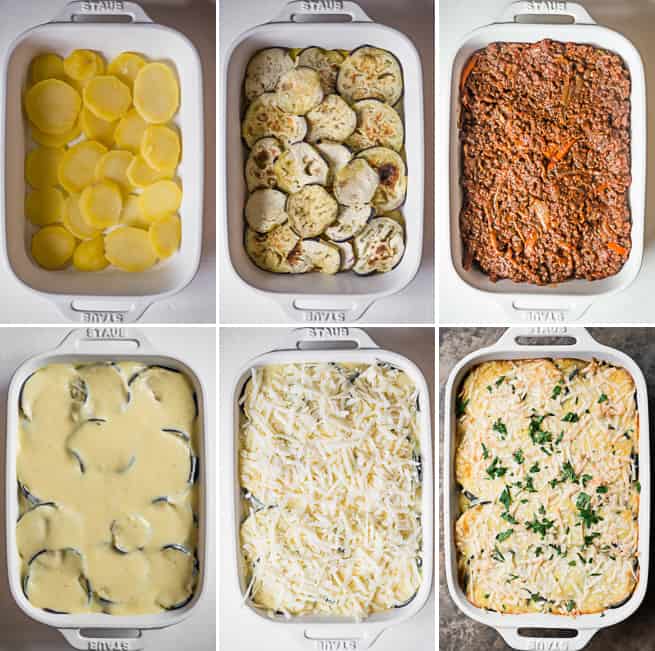 Freezing directions:
Since this is a pretty extensive casserole recipe, you might as well make two and freeze one of them for a future dinner?
If you'd like to freeze this moussaka recipe, just prepare the entire dish up until the point where you put it in the oven. Wrap it tightly to prevent freezer burn and freeze.
To cook a previously prepared frozen moussaka, allow it to fully thaw before cooking.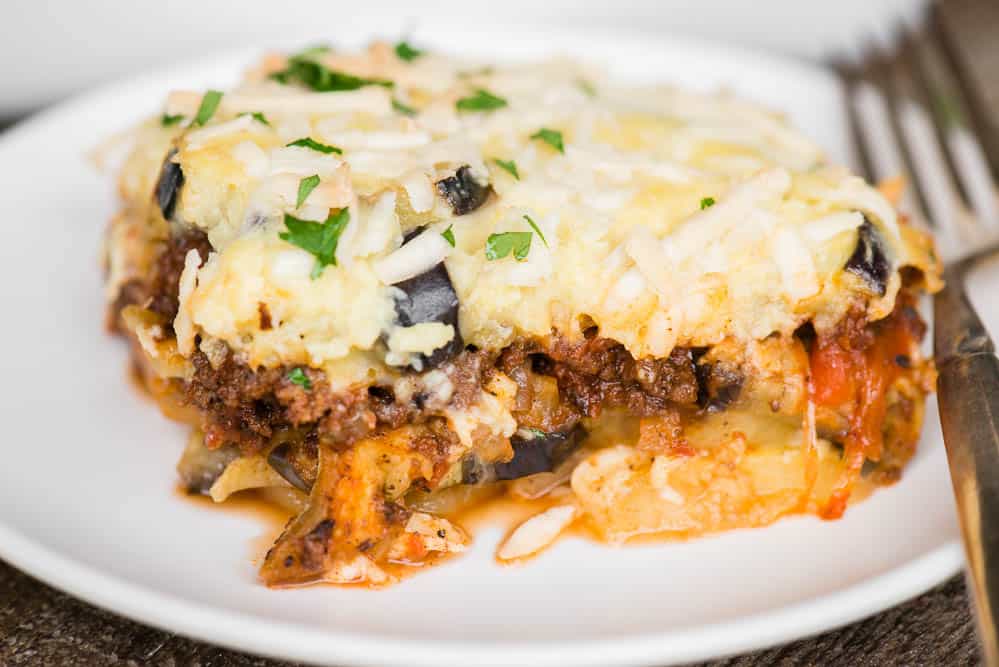 It is one of my favorite Greek recipes, along with a good Tzatziki sauce and some homemade baklava.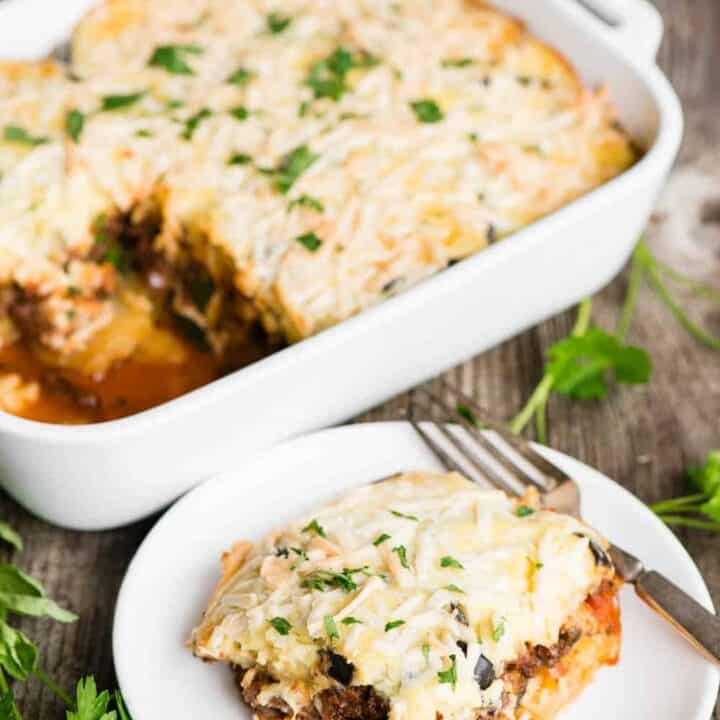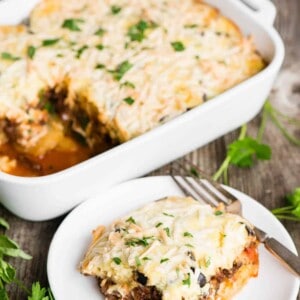 Moussaka is the best Greek comfort food. This Mediterranean casserole is a combination of roasted eggplant, potatoes, Bechamel sauce, and ground beef.
Ingredients
Meat Sauce:
1 1/2

pounds

ground beef

or ground lamb if you want to be more traditional

1

medium

yellow onion

halved and then thinly sliced

1/2

red bell pepper

stem and seeds removed, thinly sliced

4

cloves

garlic

minced

1

tablespoon

kosher salt

1 1/2

teaspoons

all spice

1 1/2

teaspoons

cinnamon

1

teaspoon

black pepper

freshly ground

1

tablespoon

dried oregano

2

tablespoons

tomato paste

1

cup

red wine

28

ounce can

tomatoes

pureed until smooth
Eggplant Layer:
Potato layer:
1 1/2

pounds

gold potatoes

1

tablespoon

salt
Topping:
8

ounces

pecorino romano cheese

grated
Instructions
To make the meat sauce:
In a large skillet over medium high heat, brown the meat. Break up large pieces and cook until done but not overly crumbly. Add the onion, bell pepper, and garlic, stir, and continue to cook until the vegetables are tender.

Add all of the spices, herbs, and tomato paste. Stir and cook for several minutes.

Add the red wine, stir, and cook until all of the liquid has absorbed or evaporated, about 5 minutes.

Add the tomato puree, stir, and simmer over low heat for about 20 minutes.
To make the Bechamel sauce:
Melt the butter in a medium sized saucepan over medium high heat. Whisk in the flour, whisk constantly, and allow to cook until the flour is golden brown and smells heavenly. While continuously whisking, add in the milk and bay leaf. Continue to cook while stirring until thickened. Stir in salt, pepper, and nutmeg. Discard bay leaf. Remove from heat.

Allow mixture to cool and when it is cool enough to touch, whisk in the egg yolks and the lemon zest until smooth.
To prepare the eggplant:
Remove half of the peel by peeling vertical strips. I like to remove half because I find that not removing any peel makes it too hard to eat, but I like some peel because it helps the pieces stay in tact. Slice into 1/4 inch thick rounds.

Combine water and salt in large bowl and stir until salt dissolves. Add eggplant slices to brine, weigh down with heavy lid to keep them submerged, and soak for at least 15 minutes.

Remove eggplant from brine. Set slices in single layer in between clean towels or paper towels and press to remove liquid.

You may have to do this next part in batches. Set eggplant slices in a single layer on a baking sheet and lightly coat with olive oil. Broil for a few minutes on each side, just to the point where they're softened and the edges begin to brown. Remove from oven and set aside.
To prepare the potatoes:
Peel and slice the potatoes into 1/4 inch rounds. Add salt to a large pot of water, bring to a boil, and add potatoes. Cook them until they're slightly soft/slightly crunchy, about 5 minutes. They will continue cooking later in the oven. Drain and set aside.
To assemble Moussaka:
Preheat oven to 350 degrees F.

Spread all of the potatoes across the bottom of an 11×17 baking dish. Spread half of the eggplant on top of the potatoes. Add all of the meat sauce on top of the eggplant, then top with the remaining eggplant. Cover everything with the Bechemel sauce and then top with the grated cheese.


Bake in preheated oven until browned and bubbly, about 35-40 minutes. Best if you let it cool for about 20 minutes before serving. Enjoy!
Nutrition
Calories:
667
kcal
,
Carbohydrates:
37
g
,
Protein:
32
g
,
Fat:
41
g
,
Saturated Fat:
19
g
,
Cholesterol:
193
mg
,
Sodium:
9605
mg
,
Potassium:
1344
mg
,
Fiber:
8
g
,
Sugar:
12
g
,
Vitamin A:
1760
IU
,
Vitamin C:
37.8
mg
,
Calcium:
498
mg
,
Iron:
6.4
mg
Nutrition information is automatically calculated, so should only be used as an approximation.