Baklava is a rich, decadent dessert recipe made of layers of flaky filo dough, filled with chopped roasted cinnamon walnuts, and sweetened with a sticky honey sauce. This recipe is not only impressive, but it is extremely easy to make.
Scroll down for tons of step-by-step photos and the full detailed recipe.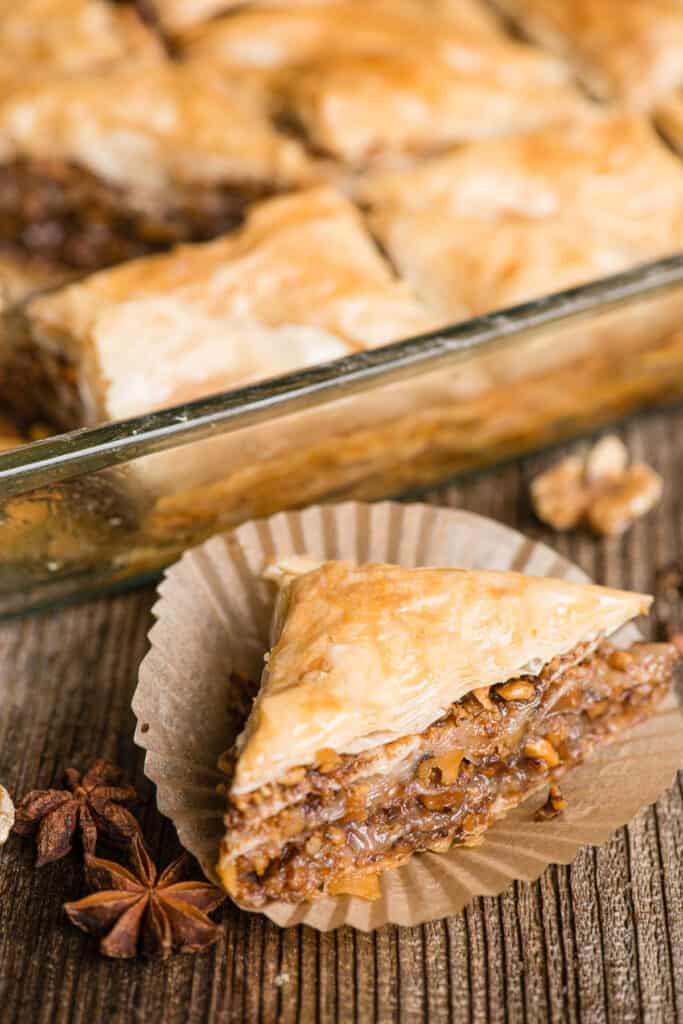 Why you'll love this recipe:
I grew up eating baklava and it's truly one of my favorite sweet treats.
Easy to make: If you've ever enjoyed this sweet treat, chances are you bought it at a restaurant, bakery, or store. It is, however, actually extremely easy to make! Working with phyllo dough can be intimidating because it will dry out quickly, but as long as you follow the recipe steps and tips below, this recipe will turn out perfectly.
Super sweet: This is one of those desserts where a little goes a long way. The honey and sugar perfectly balance the salty buttery flaky pastry dough and crunchy nuts. This recipe gives you a little bit of everything: sweet, salty, crunchy, chewy. Serve it with a strong cup of coffee for the perfect treat!
Customizable: This recipe uses walnuts, but next time I think I'll make pistachio baklava. There are so many variations you can do to vary how this easy baklava recipe turns out!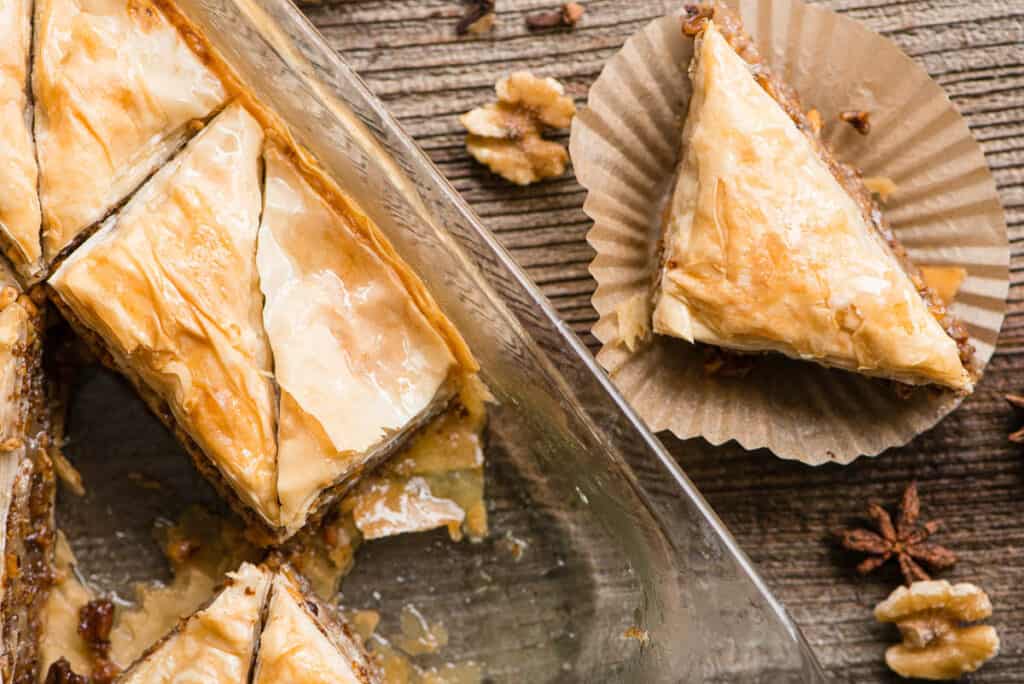 Ingredients needed:
Exact quantities are listed in the recipe card below, but here is a summary.
Syrup: The syrup is made of equal parts water and sugar along with honey and vanilla. I always use raw honey and pure vanilla extract.
Dough: Phyllo dough is what makes up the thin crunchy layers. You can buy this in the freezer section of your grocery store or you can make your own.
Nut filling: Walnuts, butter and cinnamon make up the filling. Using a high quality butter makes all the difference.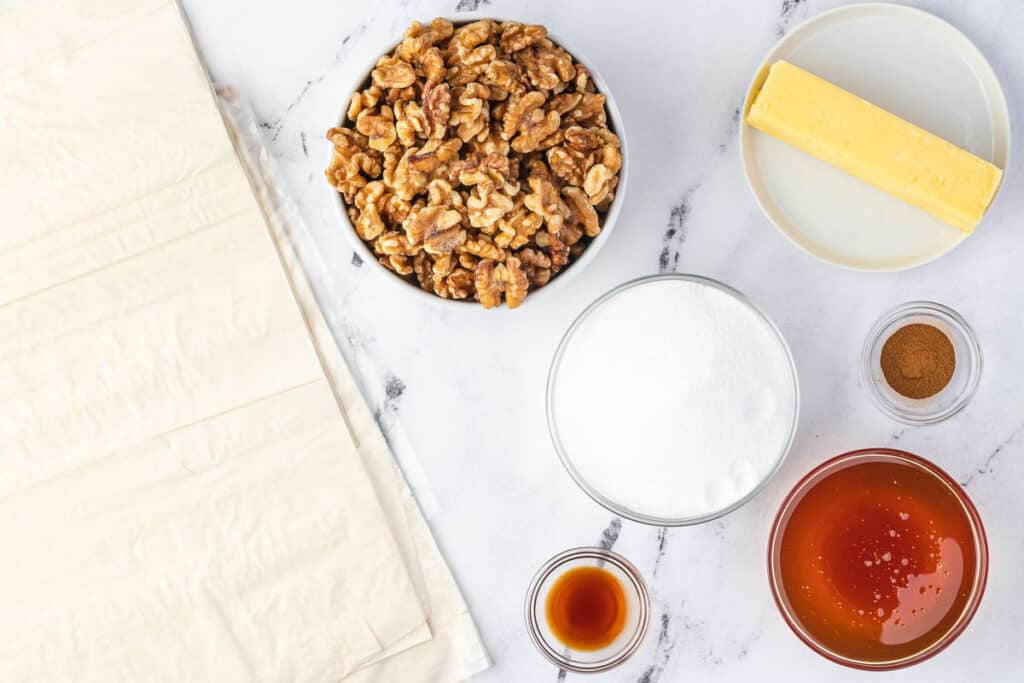 How to make this baklava recipe:
Detailed step by step instructions are listed in the recipe card below, but here is a summary.
Step 1: Make the syrup
Add all of the syrup ingredients to a pan and heat until it comes to a boil while stirring constantly to dissolve the sugar. Then, reduce the heat to maintain a simmer and allow to cook for about a half hour. Transfer to a measuring cup and allow to cool.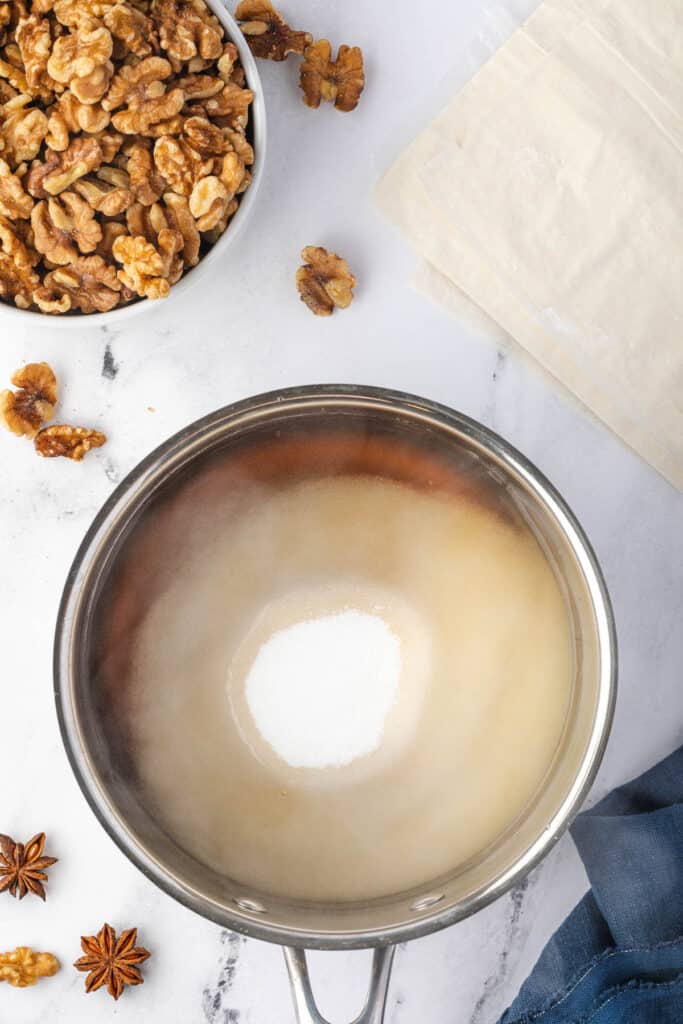 Step 2: Toast the nuts
I like to leave the raw walnuts whole while I toast them in the oven and then I run them through the food processor to chop them into tiny pieces. At this point you'll combine with the cinnamon and set them aside.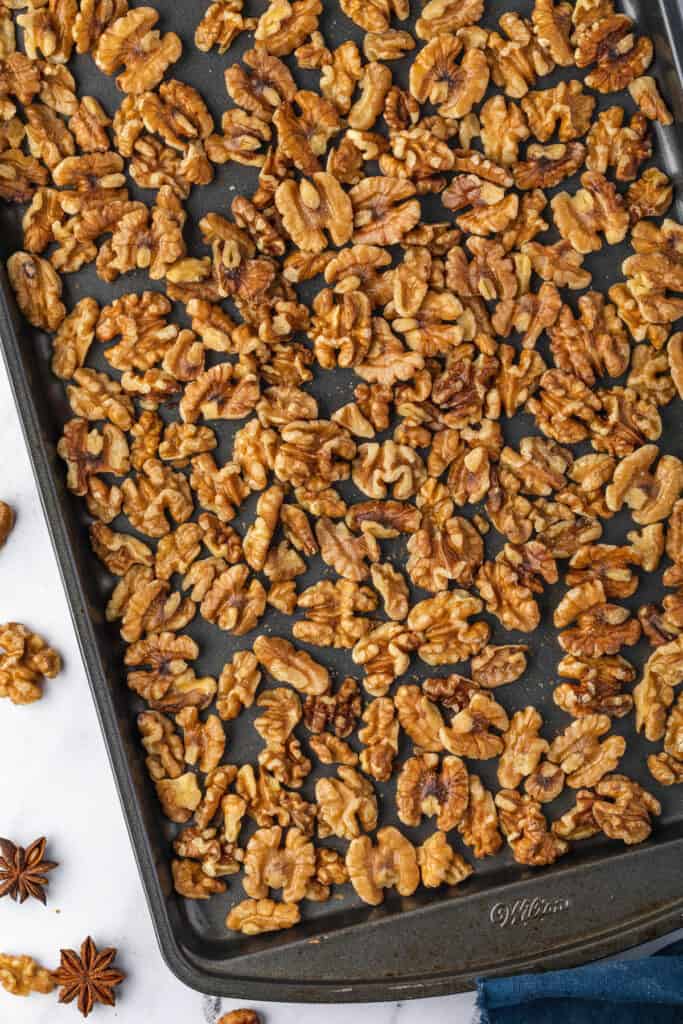 Step 3: Assemble the baklava
Now it's time to assemble the baklava. Phyllo dough dries out almost instantly so it's extremely important to keep the unused sheets with a damp (not wet) towel.
Paint the bottom of your baking dish with butter.
Lay down two sheets of dough, paint with a thin layer of butter, more dough, more butter, and so on. Do this until you have 8 sheets of dough on the bottom.
Continue the same process, but this time you'll be adding a few tablespoons of the cinnamon walnut pieces in between.
Do this until you have 8 remaining sheets of dough for the top.
The top follows the same dough/butter layering as the bottom.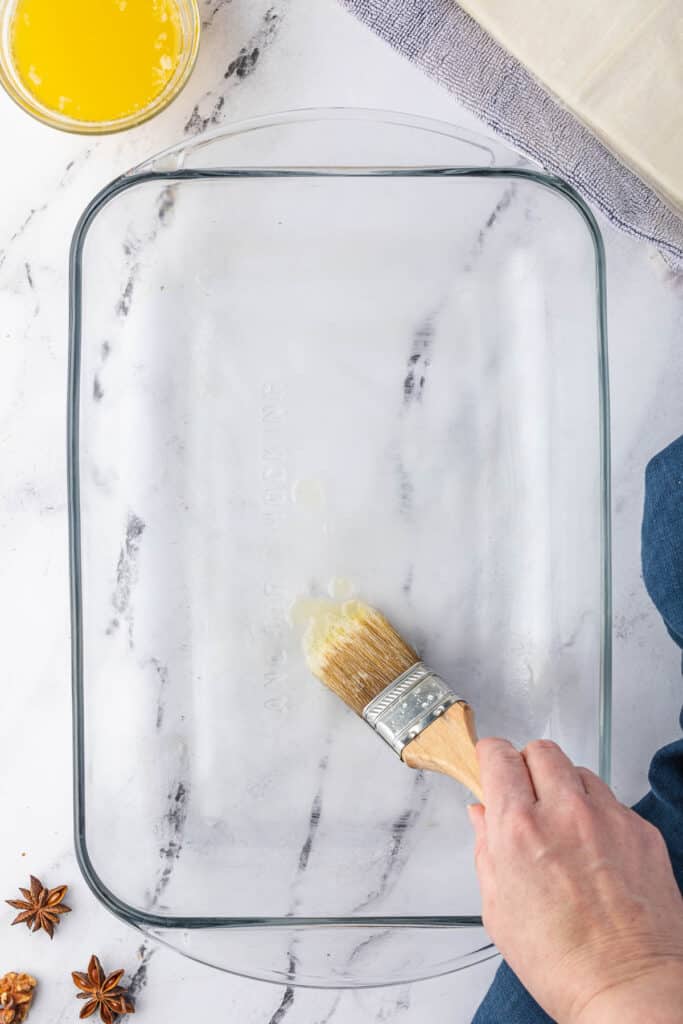 Step 4: Cut pieces
Here's the trick with great baklava: once everything is assembled, cut the pieces but do not cut all the way through the bottom layer. This will allow you to have beautiful pieces once it's cooked, but the solid bottom layer will keep the syrup in the middle and not all over the bottom of the pan.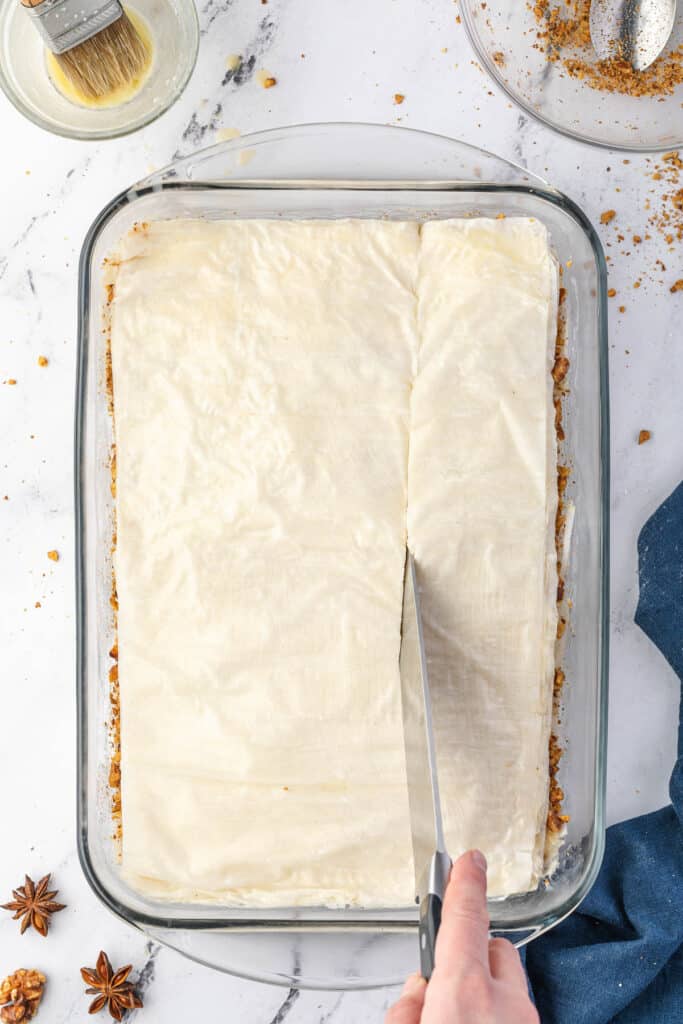 Step 5: Bake and add syrup
Bake until golden brown and then immediately pour the syrup over the top. This is the best part!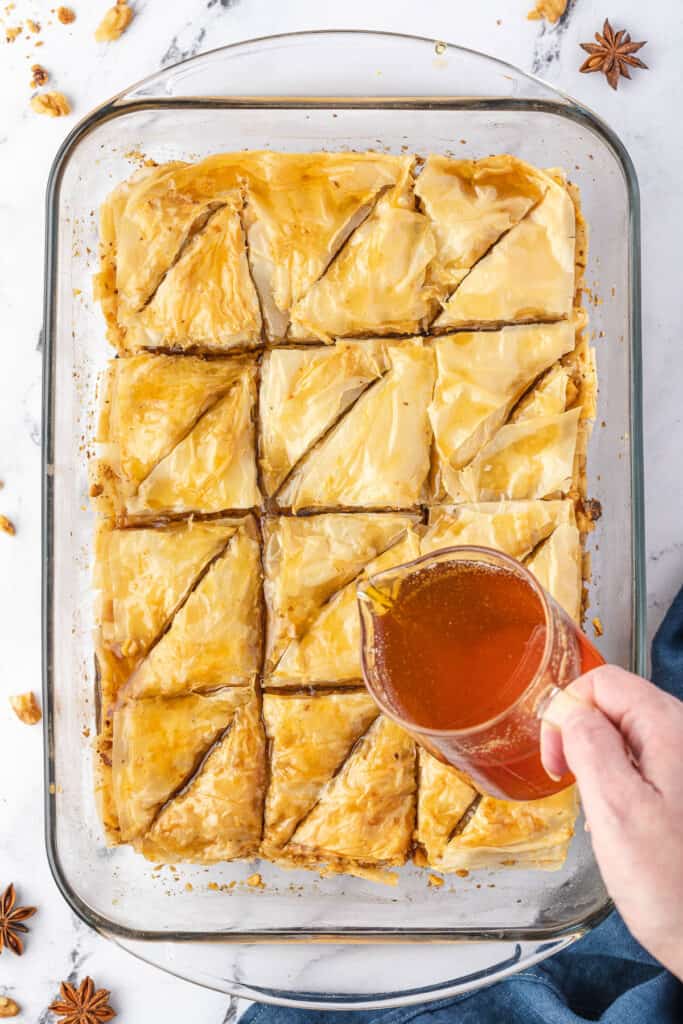 Recipe tips for perfect results:
Working with Phyllo Dough: Ensure the dough has fully thawed before using, however do not open the package until you are ready to bake the baklava. You must always keep it moist (not wet), otherwise it will dry out.
Variations: The easiest way to alter this recipe and to make it your own is to substitute the type of nuts used. Other than walnuts, the most popular choice is to use pistachios.
Storage: Baklava is best enjoyed fresh on the day it is made, however it will still taste wonderful for several days. To store, do not cover tightly as air flow is needed to prevent the baklava from getting soggy. Instead, loosely cover with a lid or, my preferred method, a kitchen towel. This will allow air flow but will also keep anything from touching the baklava.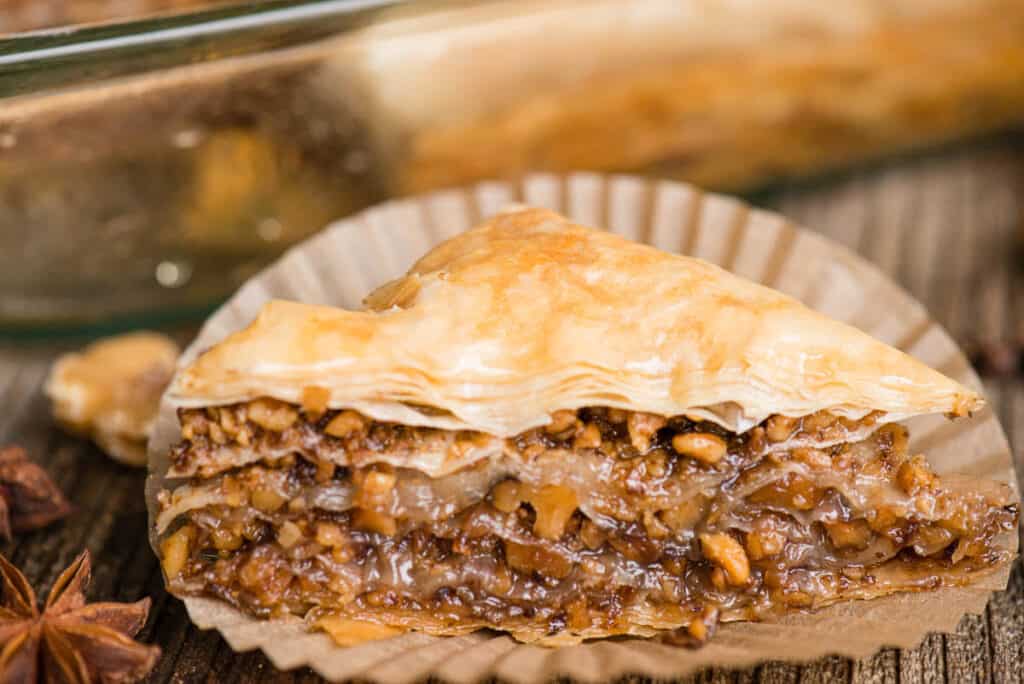 FAQs:
What is baklava? This is simply a pastry dessert layered with phyllo, or filo, dough, chopped nuts, and a sweet syrup.
What does it taste like? Because of the honey, baklava is insanely sweet. The outside is crisp, and the dessert has delicate layers of golden brown phyllo dough layered with cinnamon spiced nuts. Since the layers have been lathered in melted butter, they literally crumble and melt away in your mouth.
Recipe origins: It is believed that baklava originated in Turkey and is now a popular dessert across the entire Greek and Middle Eastern regions.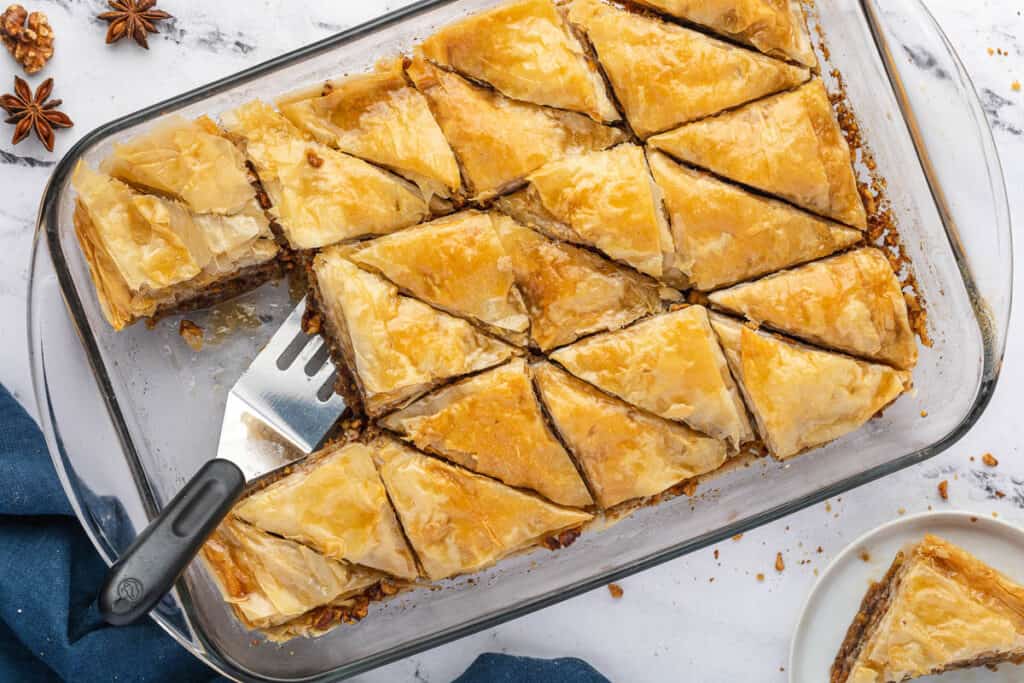 If you've made this or any other recipe on my site, let me know in the comment section how it turned out. I love hearing from my readers!
You can also follow along on PINTEREST, FACEBOOK and INSTAGRAM to see more amazing recipes to satisfy any foodie craving!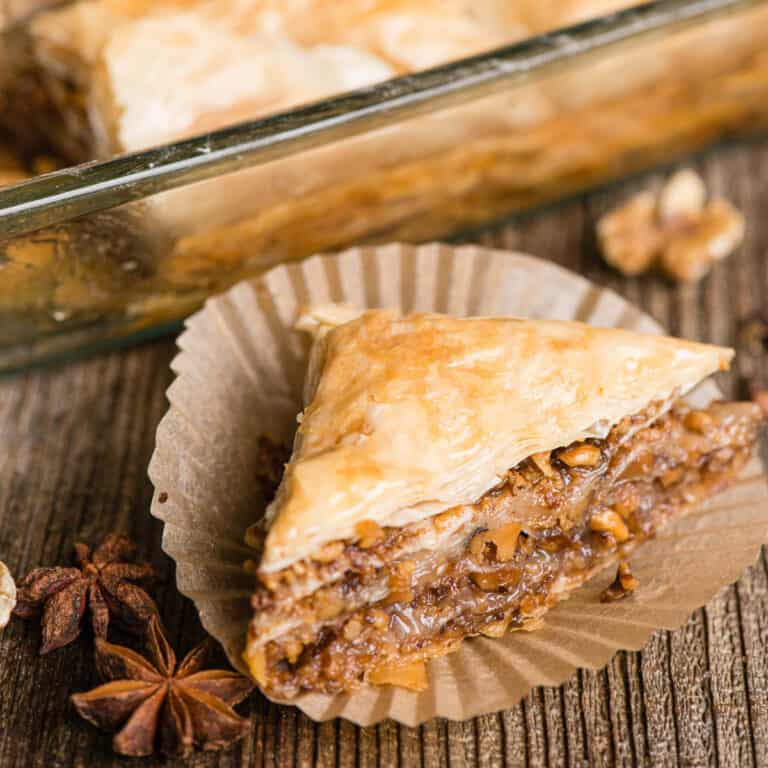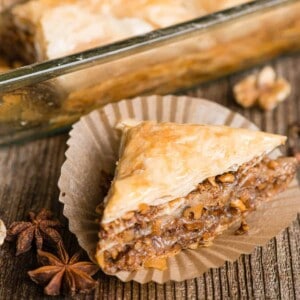 Baklava is a rich, decadent dessert recipe made of layers of flaky filo dough, filled with chopped roasted walnuts, and sweetened with a sticky honey sauce.
Instructions
Prep work:
Make syrup: Combine water, sugar, honey and vanilla in a medium sized saucepan. Bring to a boil, stir to dissolve sugar, and then reduce heat as low as possible so that it can still maintain a gentle simmer. Maintain simmer and cook uncovered for about 25-30 minutes. Transfer to a glass measuring cup and allow to fully cool.

Toast nuts: Spread walnuts onto baking sheet into single layer. Toast in preheated oven for 15-20 minutes, stirring occasionally to prevent burning. Remove from oven and allow to fully cool. Use a large knife to chop them into small pieces or pulse in food processor (my preferred method). Combine with cinnamon and set aside.
To assemble and bake baklava:
Prepare dough: Unroll phyllo dough. Cut sheets so that they fit perfectly in a 9×13-inch baking dish. Dampen and ring out two clean kitchen towels or large sheets of paper towels and place them above and below the phyllo dough. Keep the dough covered at all times with moist cloths so that it doesn't dry out.

Create base: Using a pastry brush, paint the bottom of the baking dish with butter. Add two sheets of dough, spread a thin layer of butter on top, then repeat with two more sheets of dough, butter, dough, butter, etc. until you have a base layer of 8 sheets.

Add nuts and layer: Now, you will lay down a thin layer of melted butter, 2-3 tablespoons of the crushed toasted cinnamon nuts, and top with two sheets of dough. Repeat this butter/nut/dough layering process until you are left with 8 remaining sheets of dough.

Finish layering: The top layer will consist of two sheets of dough, butter, two sheets of dough, butter, and so on. If you run out of butter, you may need to melt more, but the goal is to have a very thin layer every time you add it and I like to paint the top with the last bit of butter.

Cut servings: Cut the baklava prior to baking with a very sharp knife. Cut through the top layer but do not go all the way through to the bottom. You want the bottom layer to remain intact. I prefer triangles so I cut rectangles first and then cut across on a diagonal.

Bake: Cook baklava in preheated 325°F oven for about 50 minutes until the top is crisp and golden.

Add syrup: As soon as you remove baked baklava from the oven, pour the cooled syrup over the entire top, allowing it to sink down through all the layers. This is why you didn't cut all the way through. By leaving that bottom layer whole, it won't make your baklava soggy. Allow everything to cool.

Serve and enjoy: Best if served same day, but can be stored for several days at room temperature. I prefer to cover loosely with a kitchen towel to prevent anything from touching it because airflow is needed to prevent the baklava from getting soggy.
Notes
Makes 24 pieces. Serving size based on one piece.
Nutrition
Calories:
295
kcal
,
Carbohydrates:
33
g
,
Protein:
4
g
,
Fat:
17
g
,
Saturated Fat:
3
g
,
Cholesterol:
10
mg
,
Sodium:
126
mg
,
Potassium:
102
mg
,
Fiber:
1
g
,
Sugar:
21
g
,
Vitamin A:
120
IU
,
Vitamin C:
0.3
mg
,
Calcium:
24
mg
,
Iron:
1.2
mg
Nutrition information is automatically calculated, so should only be used as an approximation.
This recipe was originally published in August 2019 and has been updated with helpful information, ingredient and process photos, as well as recipe tips. Don't worry – the recipe hasn't changed!