This Raw Citrus Beet Salad is a gorgeous, bright, incredibly easy to make super food side dish and will even have non-beet lovers asking for more.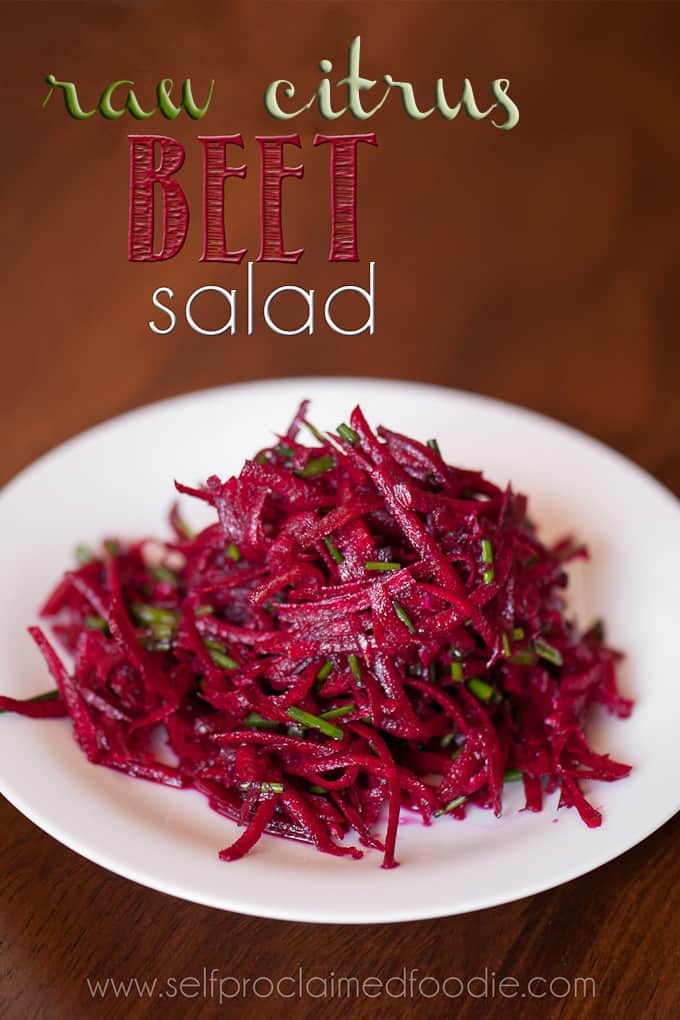 MY OTHER RECIPES
Fresh beets have never tasted so good.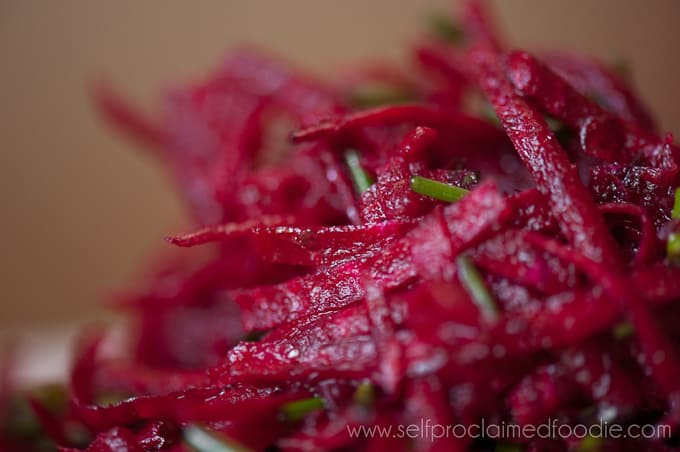 Confession time:  I had never eaten a beet until the mature old age of 33.  I had never purchased a beet at the grocery store, but when a bunch of them were pleasantly arranged in my CSA box a few summers ago, I was stumped.  I asked a good friend, who is also a self proclaimed foodie, what to do with my beets and the response was "Throw them in the garbage.  Beets taste like dirt."  Now, I have an immense amount of respect for this individual who borderlines genius in many aspects of life, but given my now current love affair with beets, I'm shocked anyone could ever utter such words.  Beets are gorgeous.  How many foods out there will stain everything you own bright pink?  I guess you could say its nature's most flamboyant root vegetable.  Beets are one of nature's most coolest super foods.
A quick google search on the benefits of beets will tell you that:
1) Beets are good for weight loss.
2) Beets are great for brain and energy boost.
3) Beets are nature's viagra. Read about this one… its pretty stimulating.  Get it?
4) Beets are a super antioxidant for a long, healthy, pain free life.
5) Beets have anti-inflamatory benefits.  This includes natural wrinkle repelling, people.
6) Beets provide cancer prevention.  I'm guessing you know someone effected by cancer?  Who doesn't?
7) Beets support cell detoxification and cleansing.
8) Beets have been linked to improved mental health.
If those reasons don't convince you to drop everything and run to the store or, better yet, your nearest farm, for some fresh beets, let me remind you that they are YUM.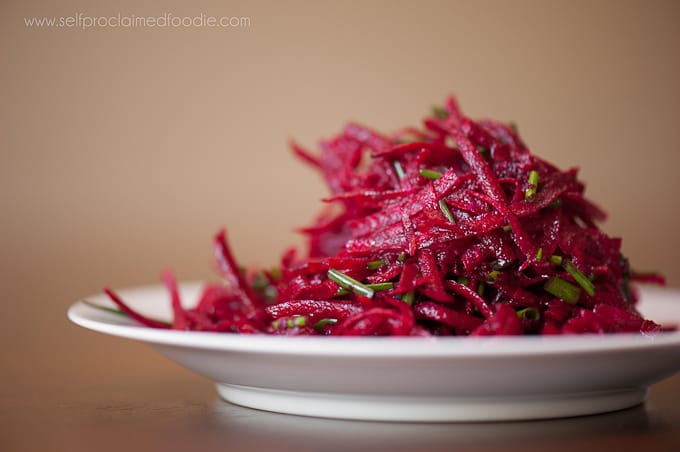 As with any plant based foods, you get the most health benefits when they are in their raw form.  Score another point for the Fresh Beet Salad!  The first time I made this was the first time my foodie-in-training kids, my convert foodie husband, and I, a self proclaimed foodie, had ever tried beets.  Everyone loved it.  I mean, it was such a hit that when it was gone, my then 4-year-old daughter picked up the large serving bowl and drank the inch of solid dark burgundy beet juice down, leaving only a bright pink stained ear-to-ear grin on her face from the rim of the bowl.
I must warn you: this recipe should start with a big CAUTION note.  The following day I had forgotten that we had all eaten so many raw beets.  When the first kid went to the bathroom (we're talking #2 here), everything that came out was blood red in color.  My instinct was to make a mad dash to the ER.  Fortunately, it took only a minute to remember the large quantities of beets that were consumed the day before.  They stain EVERYTHING.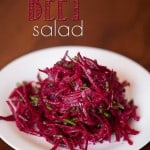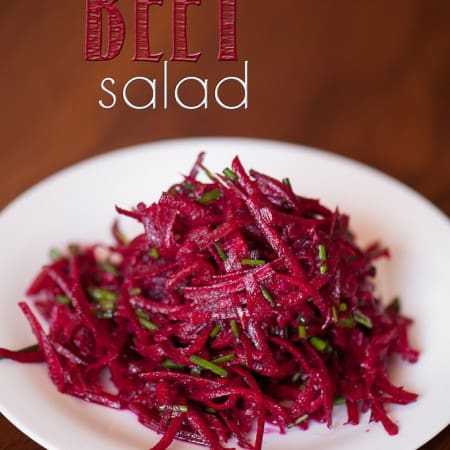 Raw Citrus Beet Salad
Fresh beets have never tasted so good. This vibrant fresh beet salad will even have non-beet lovers asking for more. This is a gorgeous bright super easy to make super food side dish.
Ingredients
3

medium to large beets

peeled and trimmed*

1

valencia orange with zest

1

lime with zest

2

tablespoons

olive oil

salt to taste

1/2

cup

chives

minced
Instructions
Shred beets and add to bowl. Add zest and juice from entire orange. Add zest and juice from lime to taste (this amount is subjective).

Add olive oil and toss to combine. Add salt to taste and toss to combine.

Add chives just before serving.
Recipe Notes
* I always use the food processor grater to avoid staining everything in my kitchen bright pink.
** The grated beets can be dressed and kept in the refrigerator, covered well, for a couple of days. They become more tender but don't lose their texture, and the mixture becomes even sweeter as the beet juices mingle with the citrus. Toss again before serving.
Nutrition Facts
Raw Citrus Beet Salad
Amount Per Serving
Calories 110
Calories from Fat 63
% Daily Value*
Total Fat 7g 11%
Sodium 48mg 2%
Potassium 291mg 8%
Total Carbohydrates 11g 4%
Protein 1g 2%
* Percent Daily Values are based on a 2000 calorie diet.
Are you a Foodie? We have a group that's just for you!
I invite you to join so you can share your love of food and cooking with other foodies.
We're building a community one meal at a time!