Fresh Beet Soup is a healthy, vibrant, gorgeous soup that is perfect during summer, fall, winter or spring. Serve with hot crusty bread and enjoy!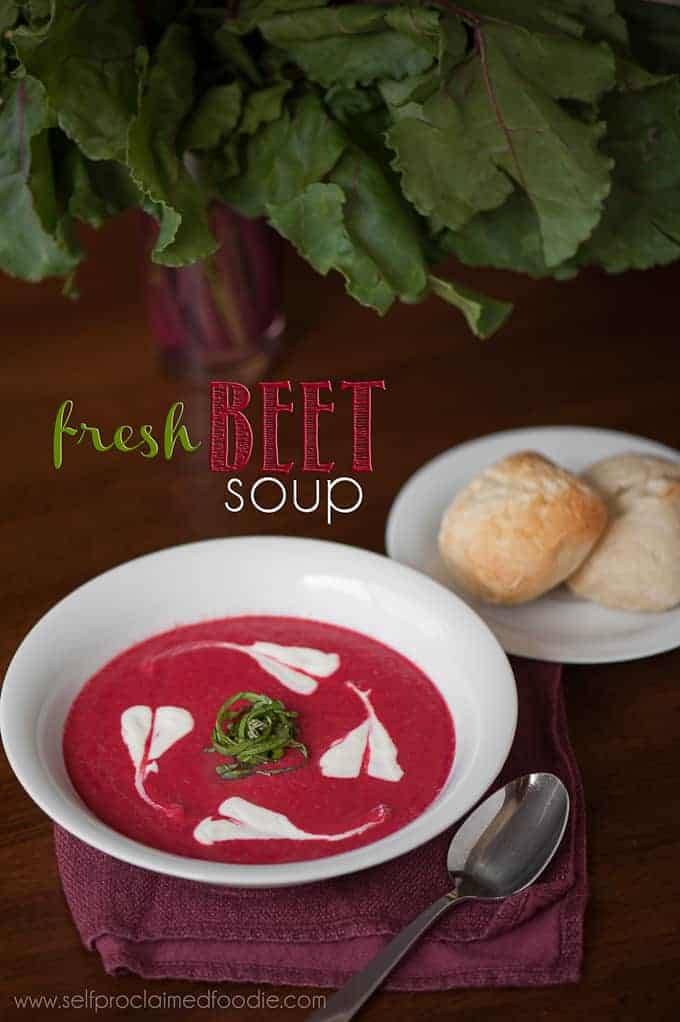 I'm sad to say I had never eaten a beet in my life until I was 33 years old.  I missed out on 33 years of that gorgeous earthy bright super food.  I'm making up for it now by consuming truckloads of beets.  I actually find myself craving this soup.  Can you imagine yourself ever craving fresh beet soup?  Weird, I know.  Try this, and you might.
Here are you veggie ingredients.  I promise you that the yellow white thing is a carrot.  I buy the multi-colored pack at Trader Joes because I think they look super cool and people must only assume I'm a foodie when they see me eating 4 different colors of carrots and dipping them into what can only be homemade hummus.  You can use more beets than what I had.  Most of my recipes consist of what I actually already have because I hate running to the store for a single ingredient.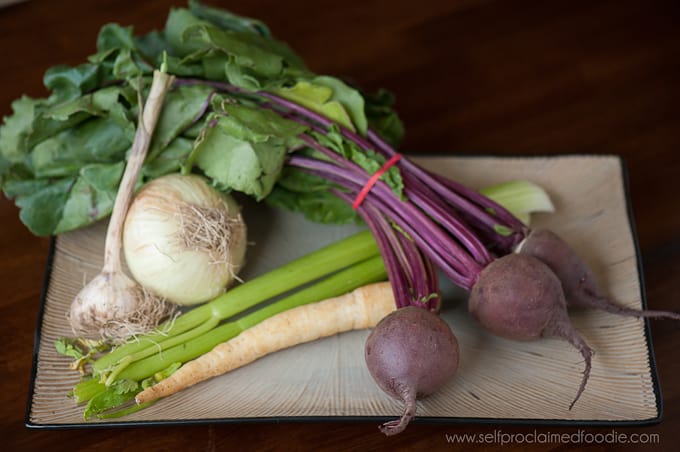 When I first started eating beets, it was because they showed up in my farm box and I had no idea what to do with them.  If you are super bored with your own cooking, I highly recommend signing up with a CSA if they're offered in your area.  Its like getting to be on Chopped in your own kitchen every week.  I used to cut the greens off and toss them.  I beg of you - don't do this.  Beets are incredibly good for you.  I list all the health benefits in my raw citrus beet salad  post.  Now, I cut the greens off and use them in my smoothies.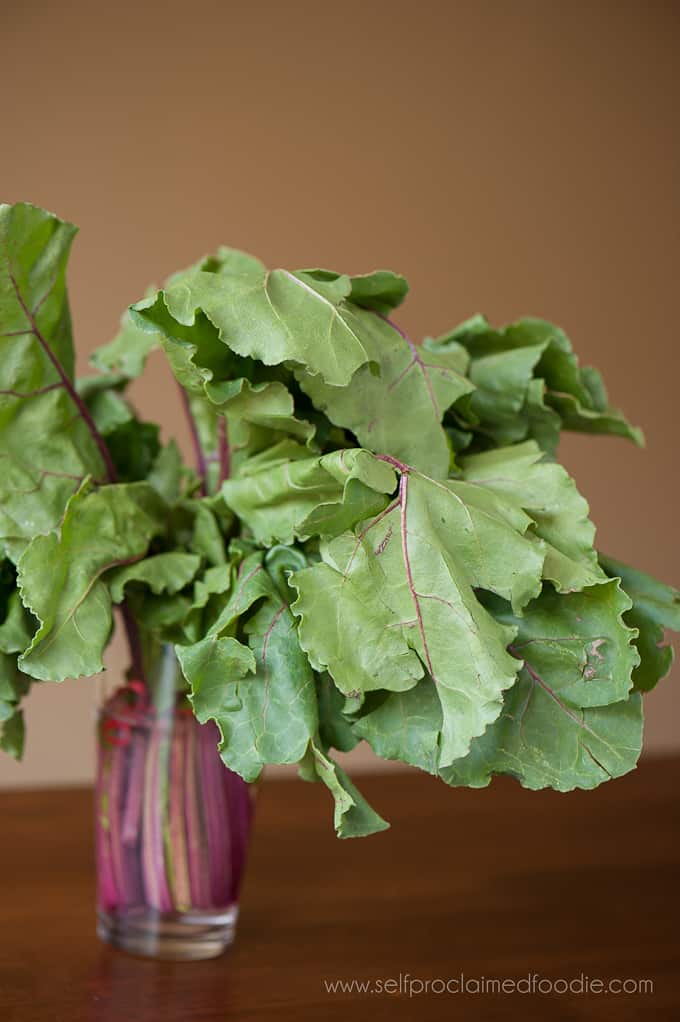 I beg of you to find a more gorgeous root vegetable.  Impossible.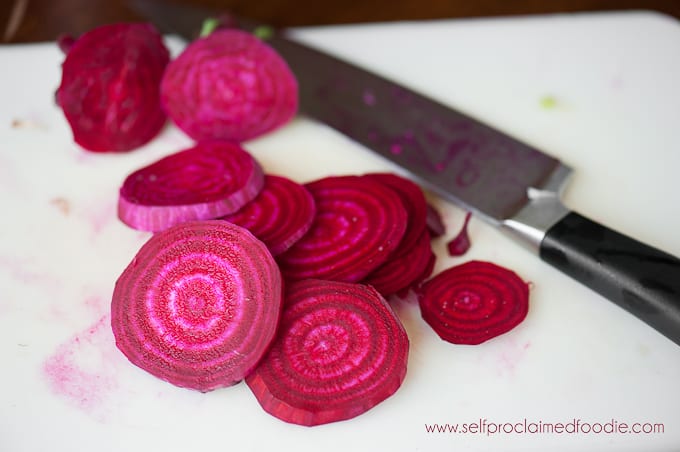 This soup definitely requires some sort of cream to finish it.  I used sour cream, put it in a plastic baggie, snipped the tip off, and squirted (sounds appetizing, I know) some sour cream rings around the soup.  Then I drug a knife through it to make an interesting, or so I thought, pattern.  Make this soup for company when you entertain and dazzle them with a bright pink bowl of YUM!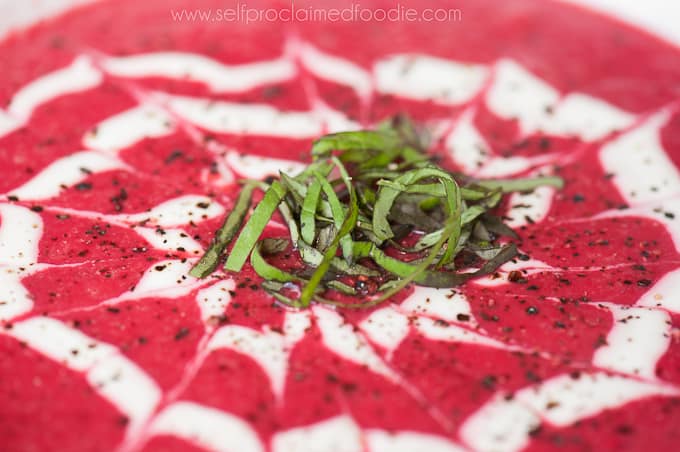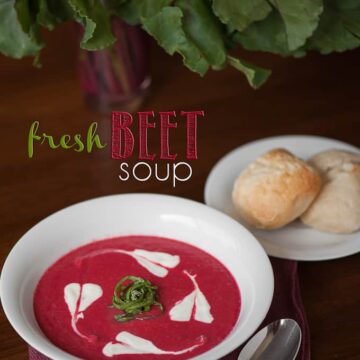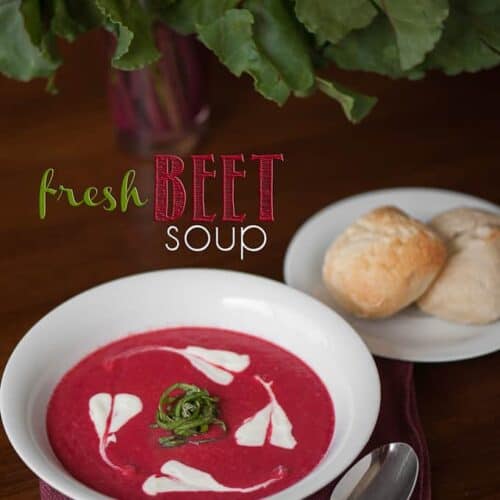 Fresh Beet Soup
Fresh Beet Soup is a healthy, vibrant, gorgeous soup that is perfect during summer, fall, winter or spring. Serve with hot crusty bread and enjoy!
Print
Pin
Rate
Ingredients
2

tablespoons

olive oil

1

medium onion

(chopped)

2

stalks celery

(chopped)

1

carrot

(peeled and chopped)

3

cloves

garlic

(chopped)

3

large or 6 small beets

(peeled and thinly sliced)

4

cups

chicken stock

salt and pepper to taste

sour cream or heavy whipping cream to finish

garnish with fresh basil
Instructions
In a heavy bottom stockpot or dutch oven, heat oil on medium high heat. When hot, saute onion, celery and carrot until soft, stirring occasionally, for about 5 minutes. Add garlic and cook for another minute. Stir in beets and cook for another 2-3 minutes.

Stir in stock, bring to a boil, cover and reduce heat to a simmer. Cook on low heat for 20-30 minutes until beets are tender.

Use an immersion blender or high powered blender to blend until smooth.

Season with salt and pepper and serve hot. Garnish with sour cream or heavy cream and ribbons of basil. Pairs well with a warm crusty bed. Can be served as an appetizer or a light main entree.
NUTRITION INFORMATION
Calories:
172
kcal
|
Carbohydrates:
13
g
|
Protein:
6
g
|
Fat:
9
g
|
Saturated Fat:
1
g
|
Cholesterol:
7
mg
|
Sodium:
371
mg
|
Potassium:
401
mg
|
Fiber:
1
g
|
Sugar:
6
g
|
Vitamin A:
2635
IU
|
Vitamin C:
4.7
mg
|
Calcium:
31
mg
|
Iron:
0.6
mg