Heart Beet Pancakes are the made with sweet roasted beets and make the most delicious red velvet pancakes that are perfect for Valentine's Day.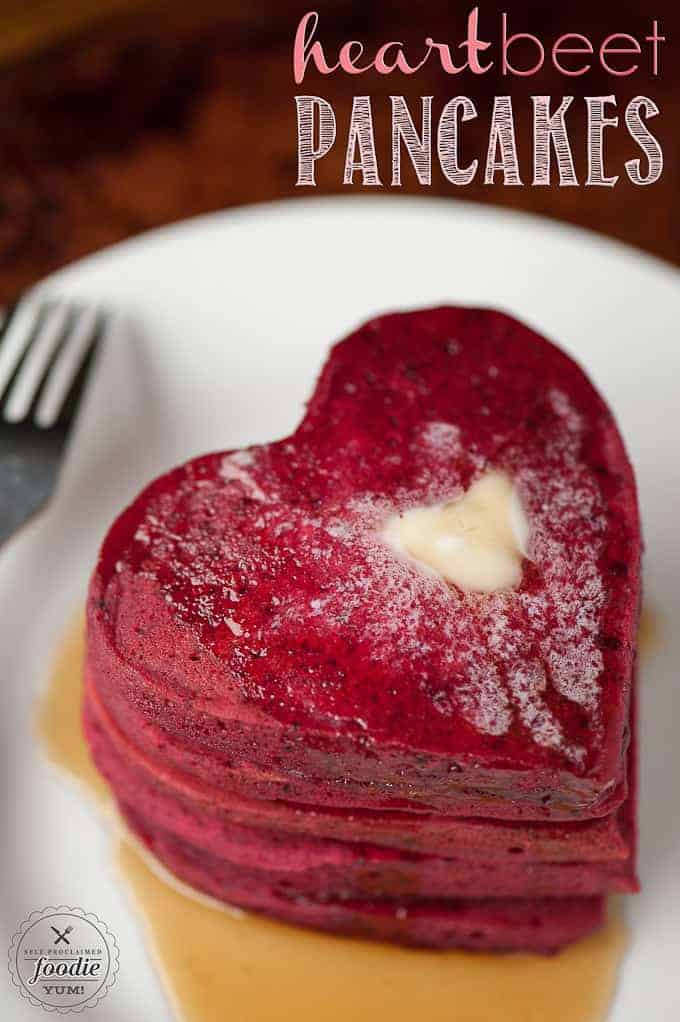 I'm pretty darn proud of myself for this recipe. I honestly thought they were maybe the best pancakes I had ever eaten. That's saying a lot considering the vast amount of pancakes I've shoved into my mouth over my lifetime. They were so soft and velvety – they completely melted in my mouth. I'm not gonna lie. You can taste the beets. If you don't like beets than go pop a frozen waffle into the toaster. If you like beets, or think you don't like beets but wouldn't bet your life on it, you need to make these pancakes.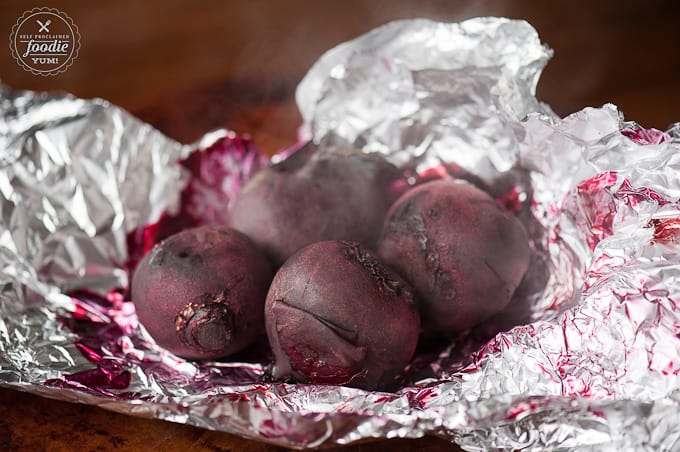 I started by roasting my beets in the oven for an hour. You see four beets but I only used two in this recipe (the other two were for a salad coming soon to the blog). I wrapped them up in aluminum foil so that they would steam. I didn't remove the peel until they were done roasting. Then, I blended them up with the milk in my well loved Blendtec. Isn't it pretty? Leave it to nature to create such a stunning color!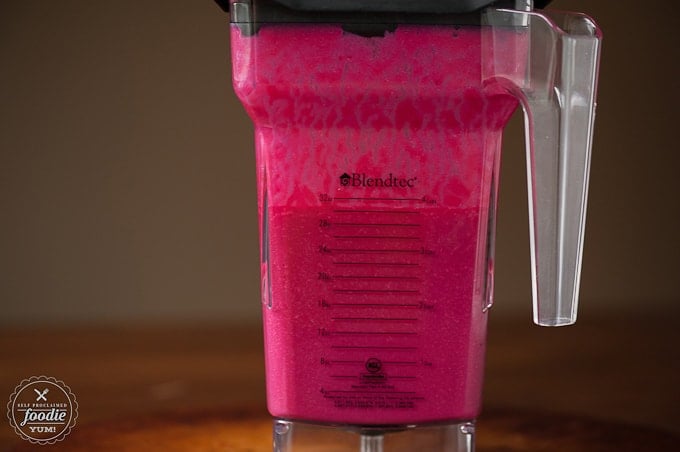 There are several tricks to a good pancake. First, don't over mix it. There's a sweet spot between well mixed and lumpy. Then, cook them over low heat. This allows most of the cooking to be done before flipping without burning the bottom, and also makes it so that you don't have everything run out after you flip the pancake. Now, since I was making pink pancakes, and I fell in love with the ever-so-clever name of heart beet pancakes, I had to make them heart shaped. I don't trust my creative pancake pouring abilities, so I cheated and used this heart pancake mold. It worked like a charm. I took a photo of the pancakes without the butter and syrup because I wanted you to see how pretty they turned out. Can you spot the teeny specs of cocoa?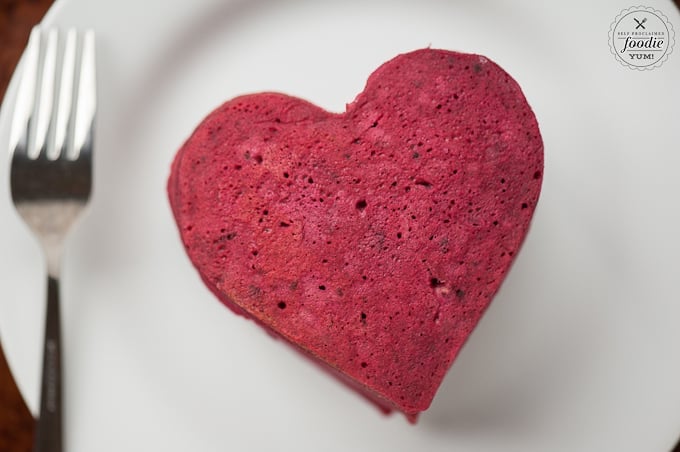 As with any pancake, a thin pad of butter and the right amount of real maple syrup makes them complete. Can you think of a better way to show your sweetheart that you love them on Valentine's Day than with bright red heart shaped pancakes?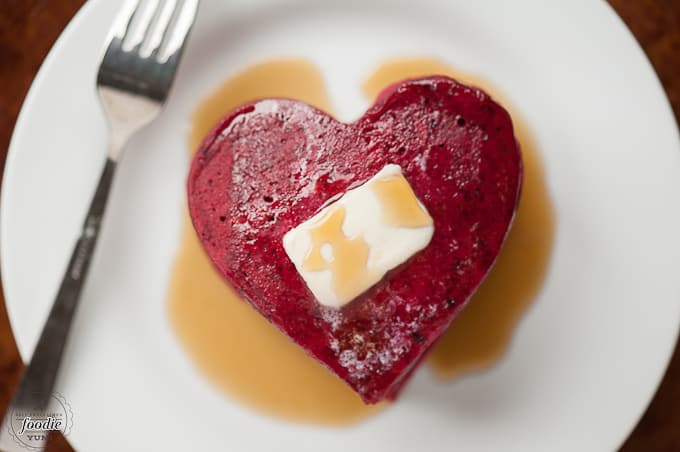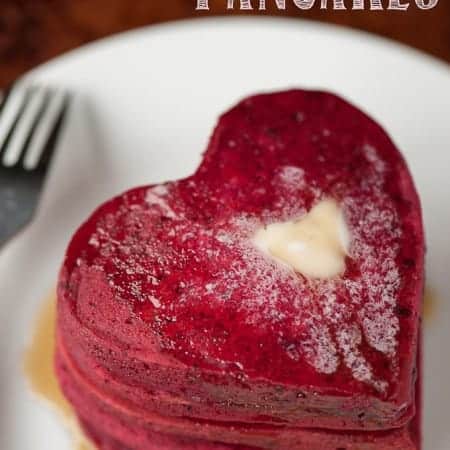 Heart Beet Pancakes
Heart Beet Pancakes are the made with sweet roasted beets and make the most delicious red velvet pancakes that are perfect for Valentine's Day.
Print
Pin
Rate
Cook Time:
1
hour
15
minutes
Total Time:
1
hour
30
minutes
Servings:
18
four inch pancakes
Ingredients
1

cup

mashed beets

2 large roasted beets

2

cups

milk

2

large eggs

beaten

4

tablespoons

butter

melted

1

tablespoon

vanilla extract

2

cups

all purpose flour

1 1/2

tablespoons

baking powder

2

tablespoons

cocoa powder

2

tablespoons

brown sugar

1/2

teaspoon

kosher salt

butter for cooking
Instructions
To roast the beets, removed the stems (make a

not-so-green green smoothie

with them) and wrap in aluminum foil. Cook in 350 degree F oven for one hour or until very soft to the touch. Once cool enough to handle, remove skin.

Process peeled and roasted beet with milk in a blender until smooth. Add in eggs, melted butter, and

vanilla

and process on low until well combined.

In a medium sized bowl, thoroughly combine flour, baking powder, cocoa powder, brown sugar, and salt.

Pour in the wet ingredients and stir to combine. Do not over stir and like with any pancakes, a few small lumps are fine.

Heat griddle over low heat and grease with butter. If using

heart pancake molds

, use a silicon brush to grease inside edge of mold. Cook until pancake starts to set, 5-10 minutes, then flip and allow to finish cooking, another 2-3 minutes.

Serve with a pad of butter and real maple syrup.