This post is sponsored by Barber Foods
Fall is the perfect time to enjoy a rainbow of healthy Roasted Root Vegetables as a perfect side dish to any weekday family dinner or holiday meal.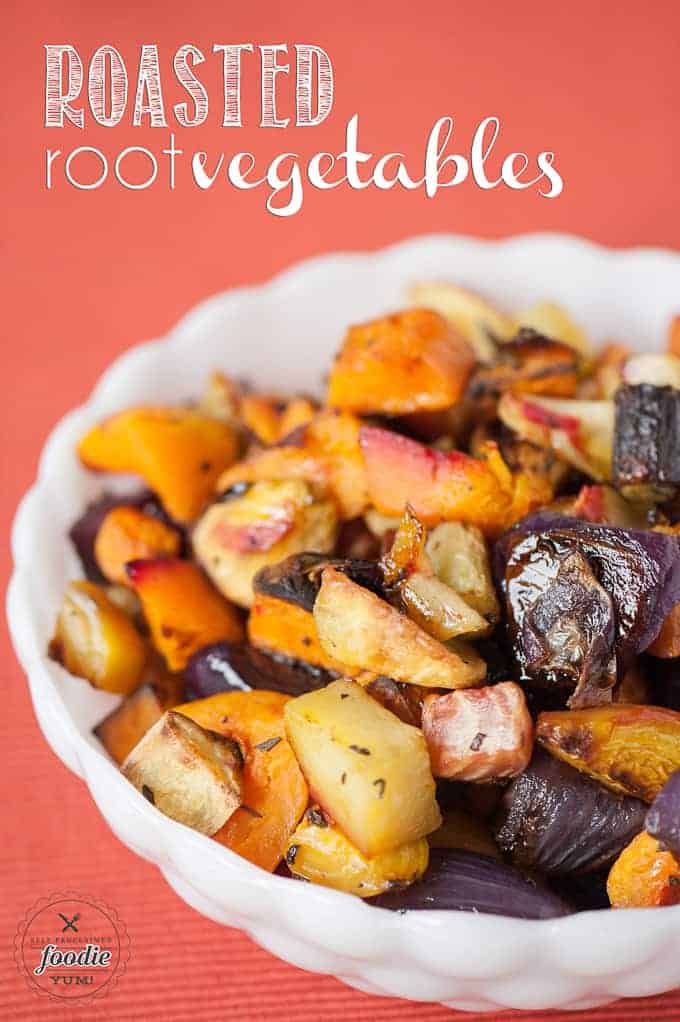 I know I'm probably starting to sound like a broken record, but fall really is my favorite time of year for cooking. Heck, it just may be my favorite time of year for a lot of reasons! Its the time of year when my brain switches from making vibrant green salads and serving as many raw side dishes and grilled up main dishes because of the summer heat to roasting everything and using the toasty warm oven.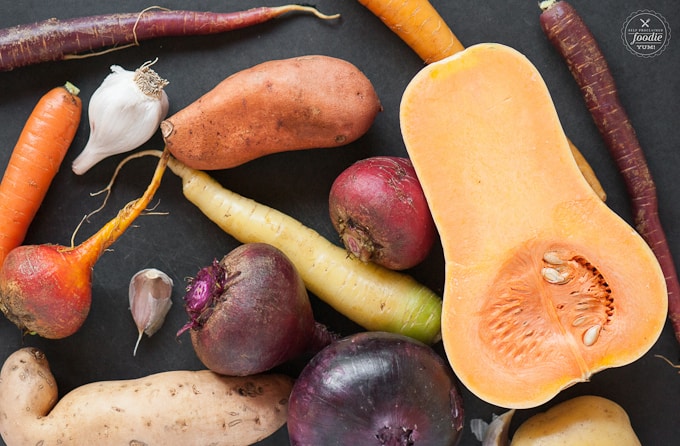 MY OTHER RECIPES
So, I think a root vegetable is basically any veggie that grows beneath the ground with roots pointing down. You know, things like onion, garlic, beets, carrots, and potatoes – all of which I used in this recipe. But wait a minute!  Butternut squash grows on top of the soil like a pumpkin. I know. I know. I just couldn't resist using it in this recipe because a) I already had it in my refrigerator and it needed to be used up and b) I love LOVE love butternut squash. Sue me.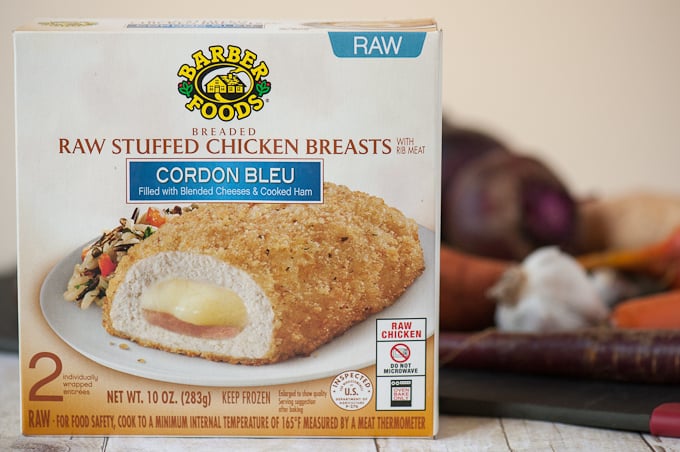 The roasted root veggies make an easy, healthy, and delicious side dish… but what to serve as the main course?  I found these Barber Foods Chicken Cordon Bleu raw stuffed chicken breasts and knew they'd make a tasty dinner for my family. I had a hard time deciding between this flavor and the Broccoli & Cheese variety. These stuffed chicken breasts created quality time via a simple knife-and-fork meal. Instead of laboring over a complex chicken cordon bleu recipe, I was able to pop these Barber Foods stuffed chicken breasts in the oven and 35 to 40 minutes later, dinner was ready. With a few quick sides like these roasted root veggies, the family can sit down and share a quality meal around the table, and you know that's my thing.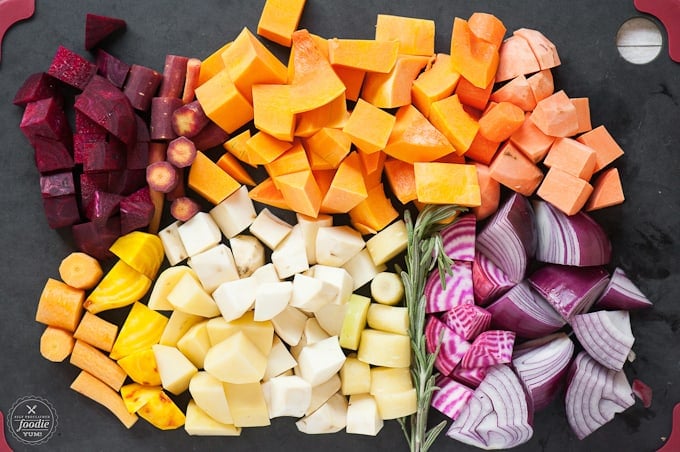 You've heard "eat the rainbow", right? Well, I tried my best. I went for the rainbow beets and the rainbow carrots. I even chose three different varieties of potatoes – one orange sweet potato, one white sweet potato, and one golden potato. I got darn near close to having a complete rainbow. You tell me which blue vegetable would have made this complete! I couldn't think of one, otherwise I would have used it simply to say I had every single color in the rainbow.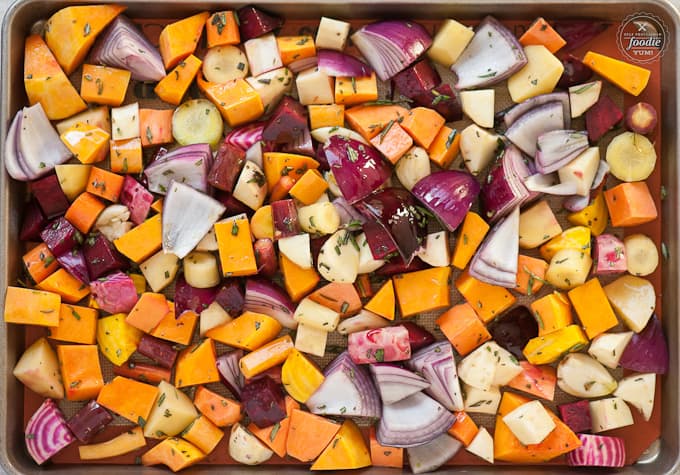 The amount of veggies I used fit perfectly on my large baking sheet. You want to make sure that they fit on a single layer so that they properly roast and not just steam.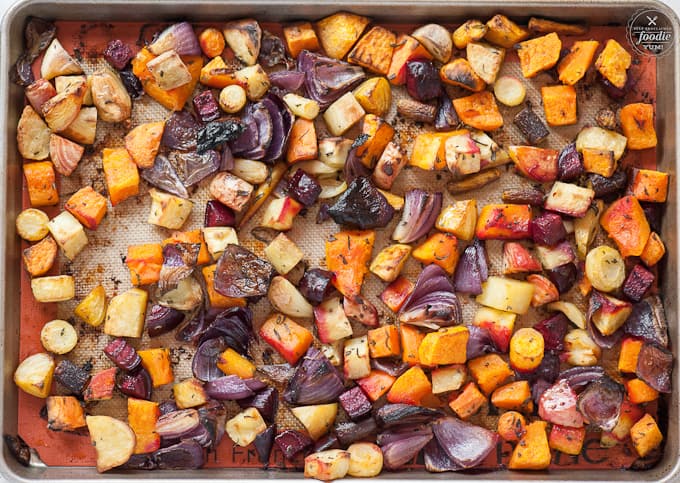 Give them one quick stir half way through their cooking time and let the oven do the rest. The result is an incredibly flavorful and healthy side dish.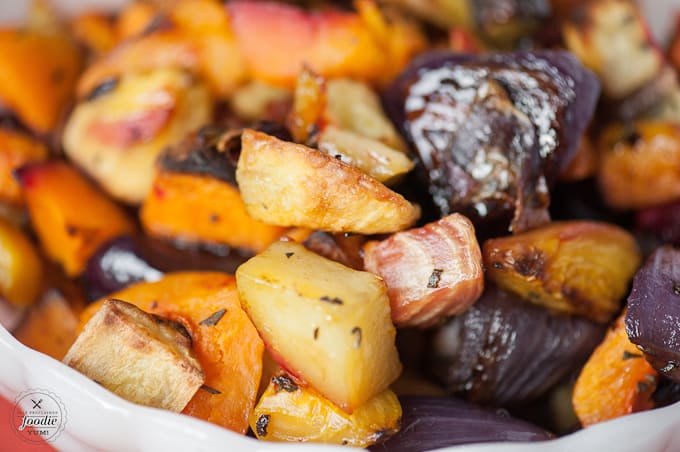 These veggies taste great leftover too, so don't be afraid to make an extra big batch and heat them up for lunch throughout the week. They just might be making an appearance on my table this Thanksgiving too!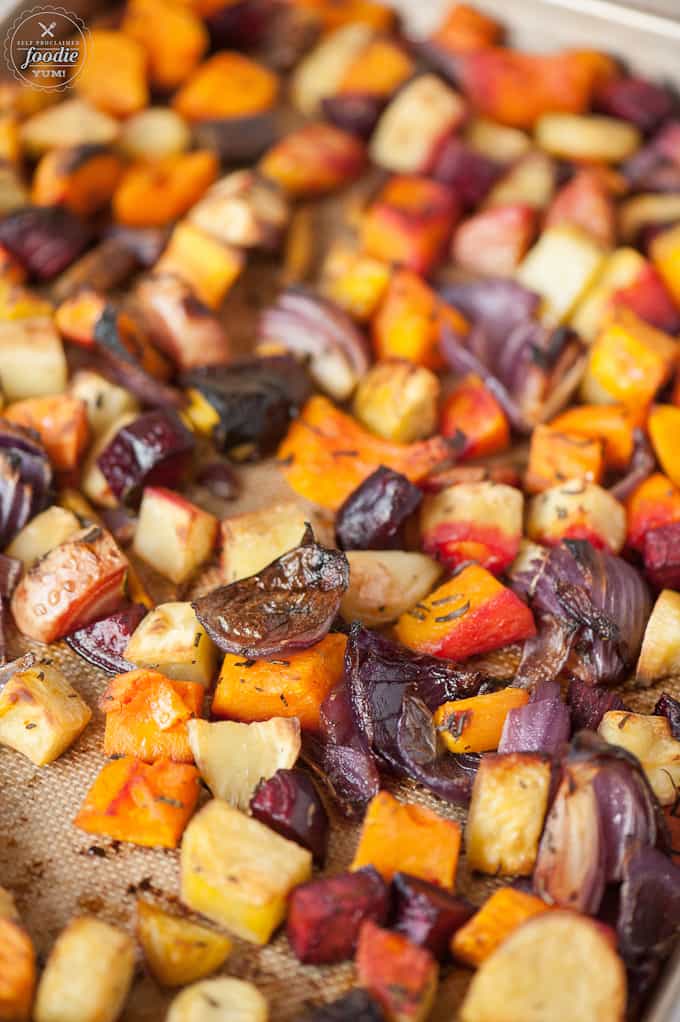 Enjoying Chicken Cordon Bleu doesn't happen too often in my house because stuffed chicken isn't the easiest meal to prep. Who's got time for that on a busy weeknight when you're competing with homework and soccer practice! A main dish like this that takes no effort to produce is worth its weight in gold!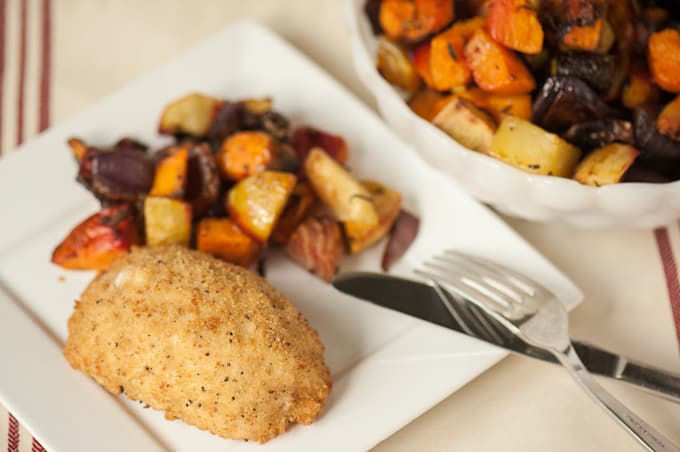 These stuffed chicken breasts are so easy to make. Inside the box, each breast is individually wrapped. All you need to do is remove them from their wrapping and space them a couple of inches apart on a metal baking sheet (I actually used a loaf pan), then bake in a preheated 375 degree F oven for a little more than a half hour. You always want the internal temperature of chicken to reach 165 degrees F, so I double checked with an instant read thermometer before removing from the oven. Then, just let the stuffed chicken breasts rest for a solid three minutes and you're ready to serve!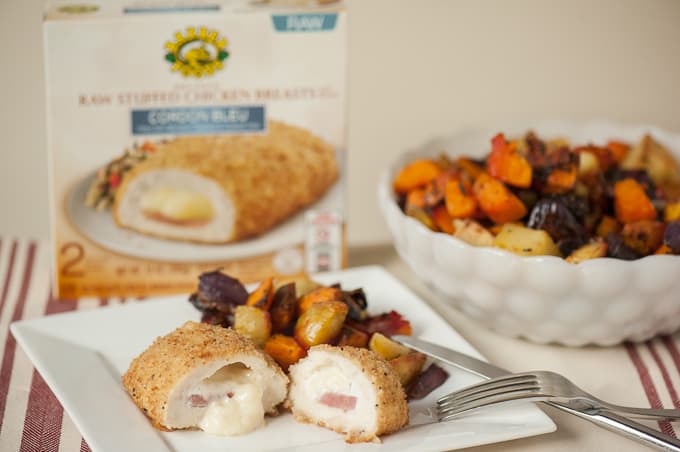 My family absolutely loved Barber Foods Chicken Cordon Bleu and were quite disappointed when I didn't have more. I found them in the freezer section at Fred Meyer… I guess I'm heading back to stock up on more!  Be sure to check out this Product Locator so you can find these tasty Barber Foods stuffed chicken breasts at a store near you!  Go grab some so you can say it's Barber night! Whether it's just for you and your partner, for the grandkids, or for a busy family weekend, Barber Foods is here to help you make dinner a special experience.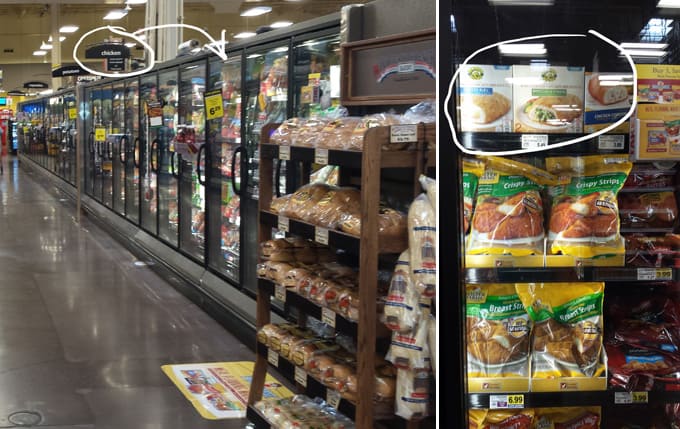 Roasted Root Vegetables
Fall is the perfect time to enjoy a rainbow of healthy Roasted Root Vegetables as a perfect side dish to any weekday family dinner or holiday meal.
Ingredients
half butternut squash, peeled with seeds removed
3 small potatoes (sweet or golden), peeled
3 beets, peeled
3-5 small carrots, peeled
1 red onion, peeled
1 head of garlic, cloves peeled and smashed
4 sprigs fresh rosemary, stems removed, minced
2-4 tablespoons olive oil
salt and pepper
Instructions
Chop all of the vegetables into one inch cubes. Combine with smashed garlic cloves and minced rosemary in large bowl. Cover with olive oil and toss to combine. You want just enough olive oil to lightly coat the vegetables without having any excess at the bottom of the bowl.
Using on large or two small lined baking sheets, spread vegetables out into a single layer.
Roast in preheated 425 degree F oven for 45 minutes to 1 hour, tossing once half way through cooking time, until veggies are fork tender.
Season with salt and pepper, as desired