This Cobb Salad has everything you want in a delicious salad including lots of greens, crisp bacon, shredded chicken, bleu cheese, hard boiled egg, ripe avocado, and tomatoes!
This salad recipe is super easy to make and makes for an incredibly satisfying low carb complete meal.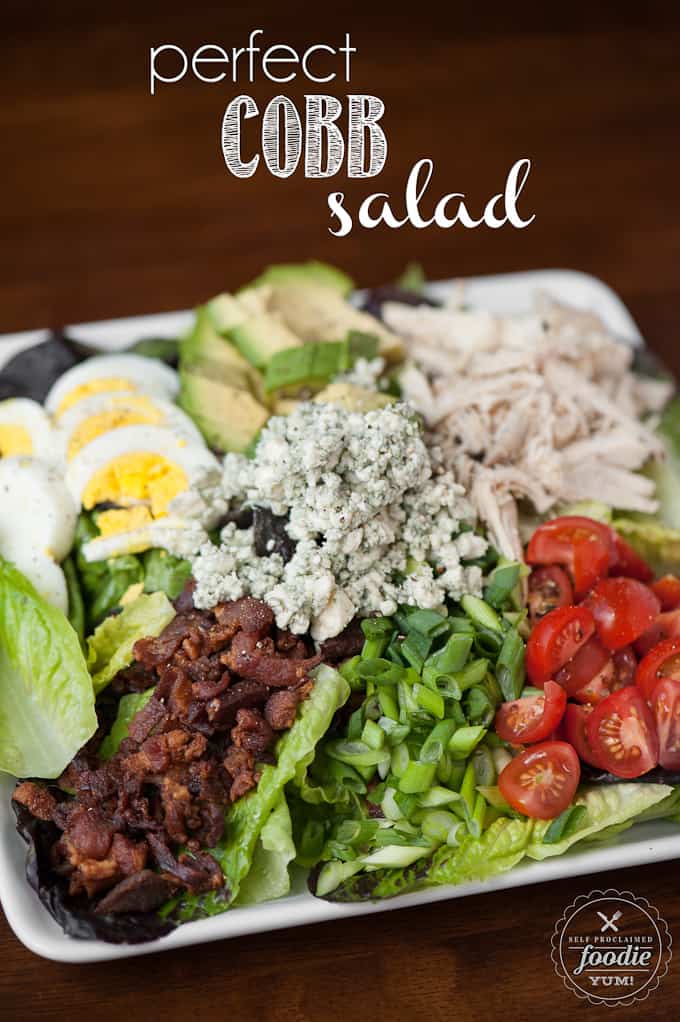 Perfect Cobb Salad is my absolute favorite salad. Most of the time, I consider salad something I eat before or alongside my meal. Not cobb salad. It is definitely a complete meal all by itself.
Its not every day when you already have all the ingredients ready to go in your refrigerator to make a delicious cobb salad. But, given the fact that I'm always the one the grocery store clerk asks "stocking up?" while I'm going through the checkout line, and my answer is always "sort of, but I'll buy this same amount next week, and this is how much I bought the week before." Yeah, so to say that I already had all of these ingredients in my frig isn't that shocking.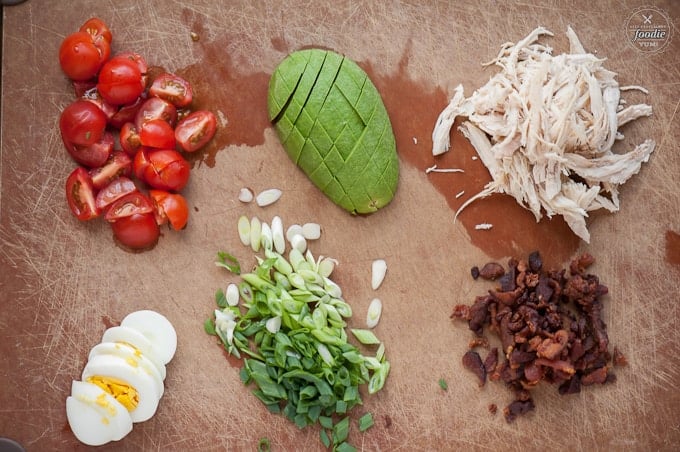 How do you make the Perfect Cobb Salad?
First, I must tell you that this was the best damn cobb salad I've ever had. Hands down. You can pretty much see how to make it based on the photos, but I figured I'd better walk you through the process in case you've never done it before. The only equipment you need is a cutting board and a sharp knife.
Most salads start with lettuce. I used both romaine and baby red lettuce. The romaine is hidden under the red lettuce because 1) it was getting old and was no longer photo worthy and 2) don't you just want to make an art project out of those baby red leaves? They're just so darn pretty. Next, you have a wide variety of toppings.
Tomato – I prefer cherry and I like them to be quartered. They're easiest to stab and shove in my mouth that way.
Avocado – go with a California avocado if possible. I grew up on these and they are hands down the best.
Shredded chicken – do yourself a favor and make a whole chicken in the crockpot. It will be the most flavorful and moist shredded breast meat you will ever use. You can also just buy a rotisserie chicken if you're going for easy.
Hard boiled egg – these are my true nemesis, although I'm finally getting the hang of it after decades of trying. I need to update that post, however, because I now only make hard boiled eggs in my Instant Pot. You can also buy hard boiled eggs now. Weird, right?
Green onion, or scallion – whatever, they're the same thing.
And cooked bacon ends and pieces. I pretty much always have some on hand.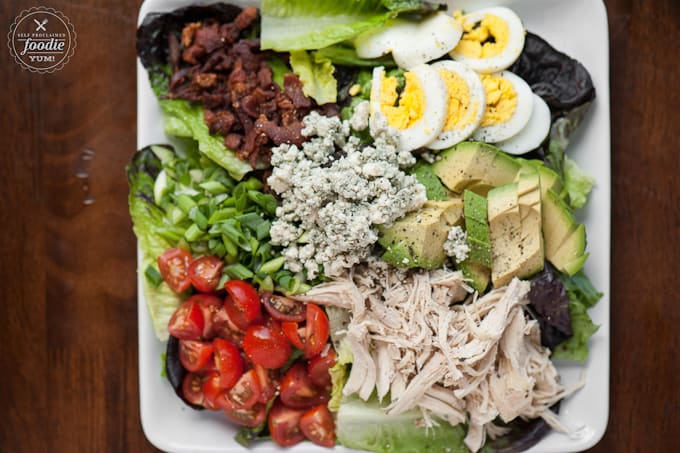 What kind of dressing do you put on a Cobb salad?
I decided to make my own bleu cheese dressing for my salad because I knew it would taste best and, well, I have a food blog. Oh yes, it was good.
One mustn't forget the additional crumbled bleu cheese on top. Present your salad like this, but be sure to give it a good toss before serving.
I crave this salad. If you make one salad this summer, please oh please let it be this one!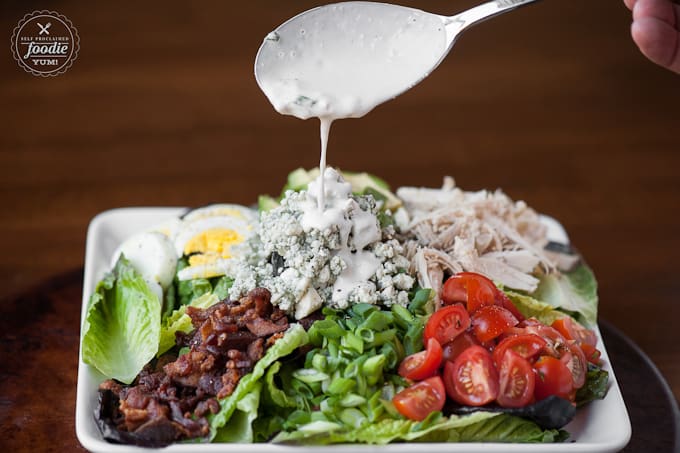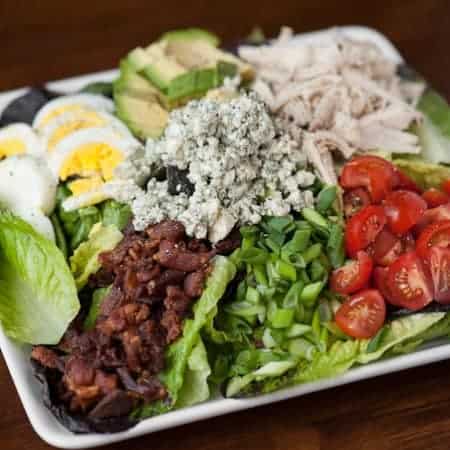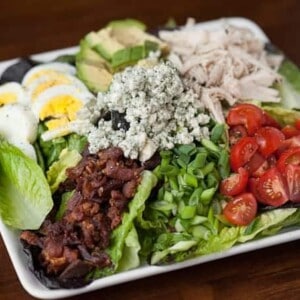 This easy to make Perfect Cobb Salad has everything you want in a delicious summer salad including lots of greens, protein, and bacon!
Ingredients
1

small head red leaf lettuce

2

cups

romaine

1

cup

sliced cherry tomatoes

1

cup

shredded chicken breast

1/2

cup

sliced green onions

1/2

cup

cooked bacon ends and pieces

1/2

avocado

chopped

2

ounces

crumbled blue

bleu cheese

buttermilk bleu cheese dressing
Instructions
On large plate or platter, arrange romaine and dark red lettuce. Top with separate piles of all chopped ingredients as shown in photos. Pour buttermilk bleu cheese dressing over salad. Toss well before serving.
Nutrition
Calories:
381
kcal
,
Carbohydrates:
11
g
,
Protein:
28
g
,
Fat:
25
g
,
Saturated Fat:
9
g
,
Cholesterol:
173
mg
,
Sodium:
688
mg
,
Potassium:
858
mg
,
Fiber:
5
g
,
Sugar:
3
g
,
Vitamin A:
5165
IU
,
Vitamin C:
28.6
mg
,
Calcium:
218
mg
,
Iron:
2.2
mg
Nutrition information is automatically calculated, so should only be used as an approximation.