If you're in a race against some of the most talented food bloggers, which five ingredients would you choose to make your Competition Worthy Guacamole?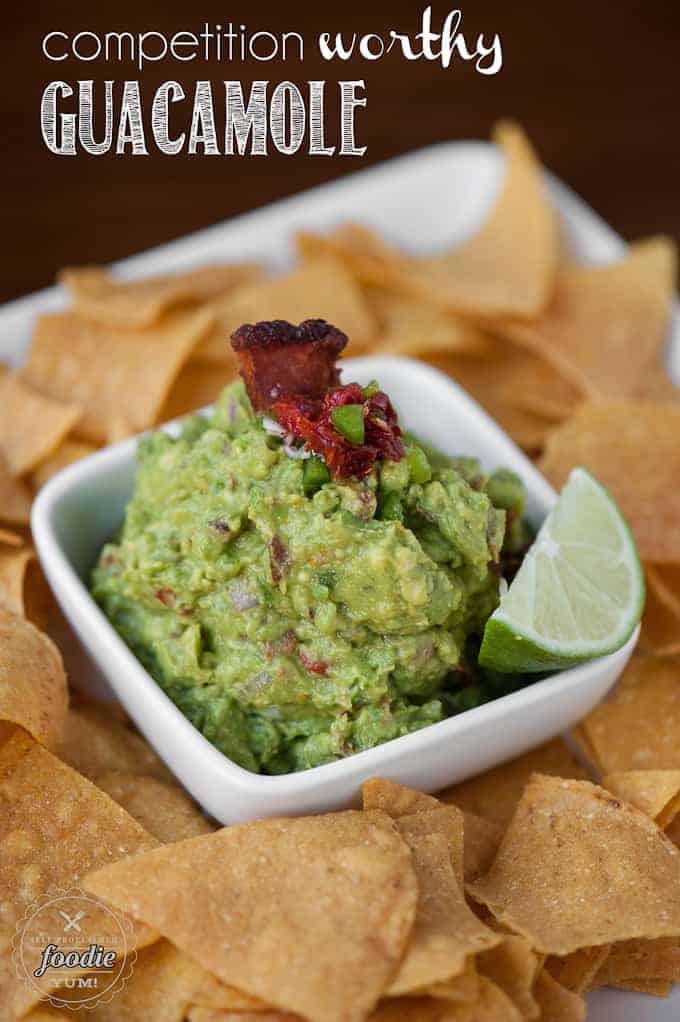 MY OTHER RECIPES
This post completely deserves the full background story, starting from my childhood leading all the way up to just a few weeks ago. Perhaps I'll go in reverse order. Last month I had an incredible experience. I got to attend my first food blogger conference, Indulge, right here in the best city on the planet – Portland, Oregon. To say that I enjoyed every aspect of this conference would be an extreme understatement, and I'm sure this will not be the last post where I talk about my experiences. After a day of jam packed learning, we took an afternoon break for a Guacamole Competition sponsored by none other than California Avocados. This was near and dear to my heart. You see, I was raised in Southern California and grew up on locally grown avocados. I just assumed that's where all avocados came from until I moved away for school and career, at which point my culinary dreams were shattered when I experienced avocados that were not grown with love in my home state. Let me tell you, friends, there is a HUGE difference in taste, texture, and quality. So if you love food like I do, you can imagine my excitement when I found out that California Avocados was a sponsor of the conference!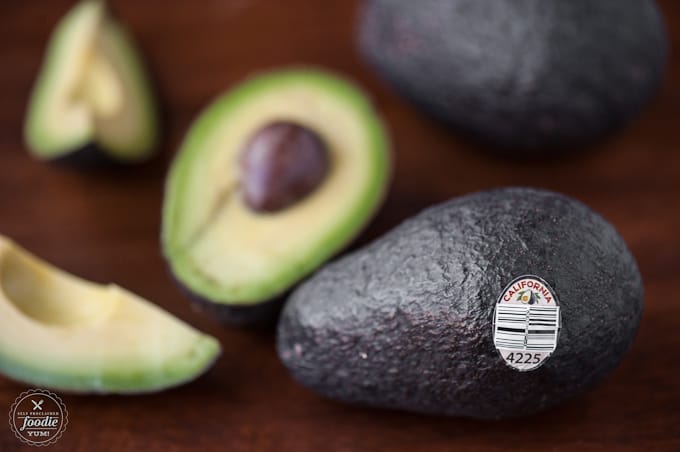 I was so pleased with how ours turned out, I recreated it at home. It was so good that I'm quite confident that this is pretty much how I'll be making my go-to-guac in the future.  Here's how the competition worked: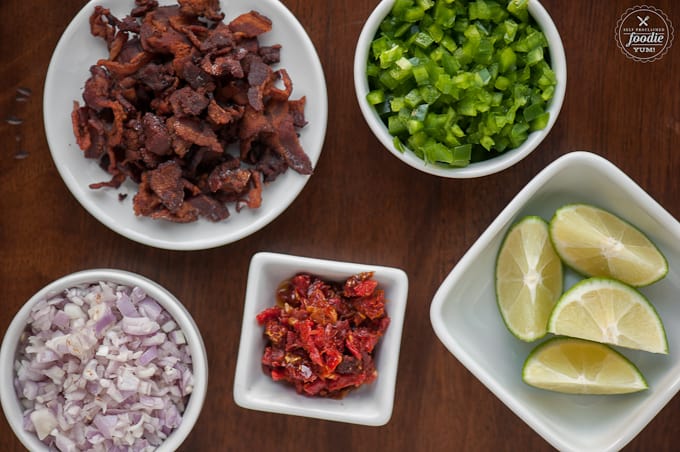 First, we were randomly divided into groups of five and were given a sticker, A-E
At our table was a bowl of the most beautifully ripe quartered California Avocados along with some lemon (not lime) wedges and salt
On a long table in the center of the room stood small containers of all sorts of ingredients from fresh and dried fruit, different varieties of vegetables, meats, and sauces, and ingredients with varying amounts of spice and sweet.
When the competition started, they called out one letter and if that corresponded to your sticker, you ran to the table and picked up an ingredient. Repeat. Repeat. Repeat. Repeat.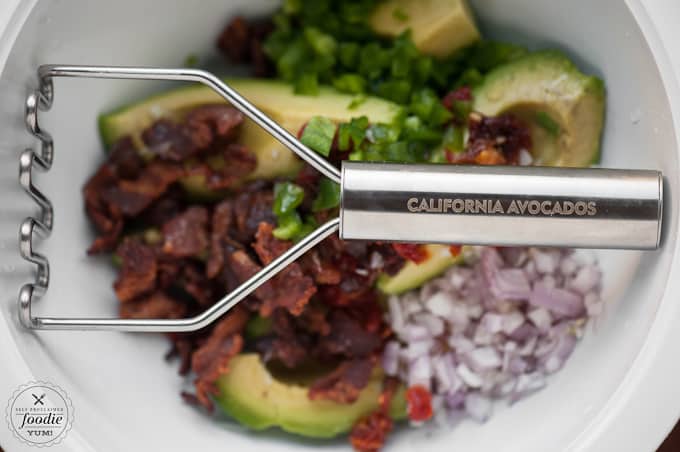 I have to tell you that my heart was racing. I have a few amazingly talented friends who have competed on the Food Network and this challenge was me pretending to be them for 15 minutes. It was fun! Before the ingredient grabbing, our group did a little strategizing. We knew one of two options would win the judges over – it would either have to be tried and true ingredients that we knew would pair well together but you might not have thought of using before, or it would be a completely out-of-the-box idea that would take the gold. Either way, as a team we knew we'd have to choose five ingredients that all went together.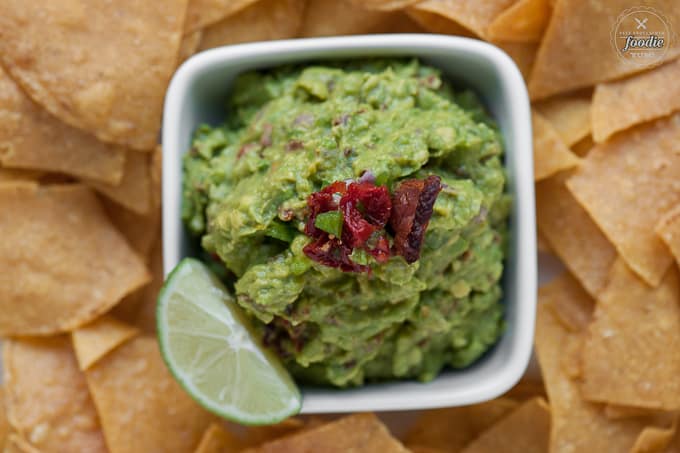 I couldn't believe how well ours turned out. I can't tell you which order we picked up our ingredients because it all happened so fast it was like a blur, but to get bacon and jalapeno (one of the best flavor and texture combinations ever) along with diced shallot, sun dried tomato, and lime (because everyone knows lime is better in guacamole than lemon) – I think we got the best tasting combination on the table! We even went for presentation points at the end by cleaning off one of the plates and transferring our guac from the large messy bowl to a crisp white plate, complete with garnish on top. I know what you're wondering: did we win? Well, no. I did tell you our competition was a very large room full of extremely talented food bloggers, didn't I?  The winning guacamole was one of those out-of-the-box ideas I told you about, but I tasted it and I'm not surprised they won. I'm trying not to be a sore loser, but I really wanted to win because the winning team got a box of California Avocados shipped to them! Did you know I prefer to be paid in consumables? Spoken like a true Foodie, eh? Long story short: the guacamole you see here was by far one of the best I've ever had and you'll be delighted when you make it!!!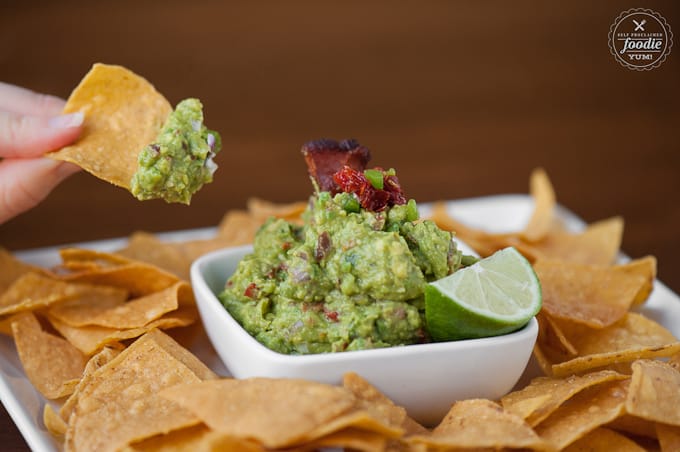 Ingredients
2

ripe California avocados

juice from half a lime

1

tablespoon minced shallot

1

tablespoon (or more) minced jalapeno

1

tablespoon (or more) cooked bacon ends and pieces

1

tablespoon sun dried tomatoes packed in oil, chopped

1/2

teaspoon kosher salt
Instructions
Quarter avocados, twist away from pit, peel off skin. Add avocado to remaining ingredients in bowl. Mash all ingredients together until you reach desired consistency. Serve with outstanding tortilla chips or just eat it with a spoon!