This is a sponsored post written by me on behalf of Tyson Foods, Inc. All opinions are entirely my own. #sponsored #ad
Because bacon makes everything better, enjoy grilling or baking this 4 ingredient Bacon Wrapped Jalapeno Popper Chicken for dinner or a game day feast.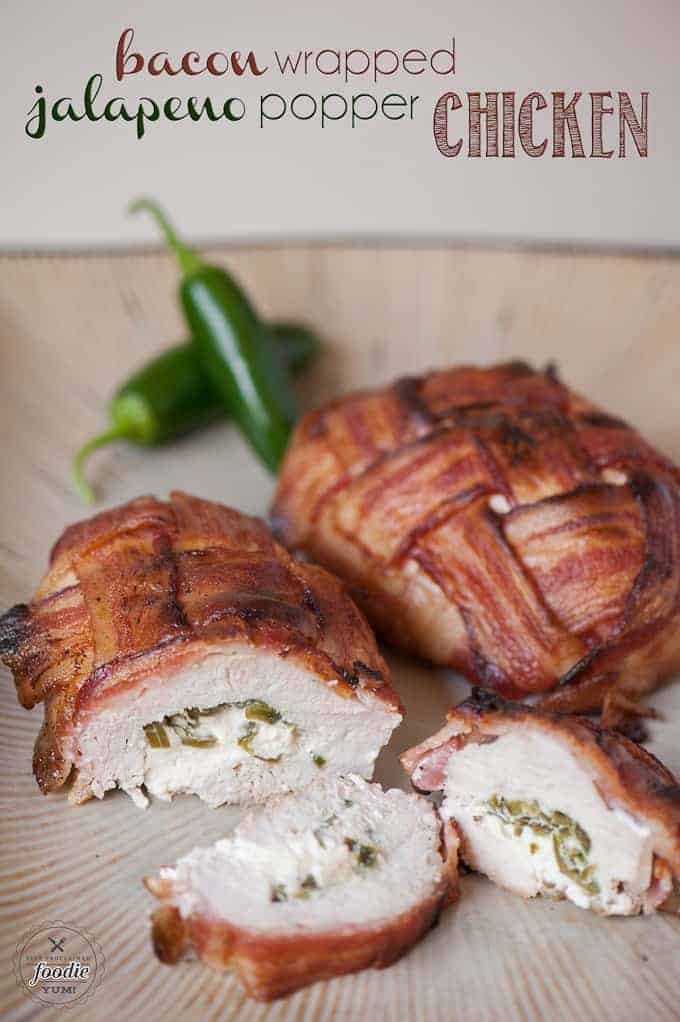 MY OTHER RECIPES
You know I love to cook. I live to eat. I buy food based on taste. To me, food equals comfort and connection. It is my belief that when you take the time to make things from scratch and look for high-quality brands and ingredients, it is always worth the effort you put in. I also believe that bacon deserves its own food group.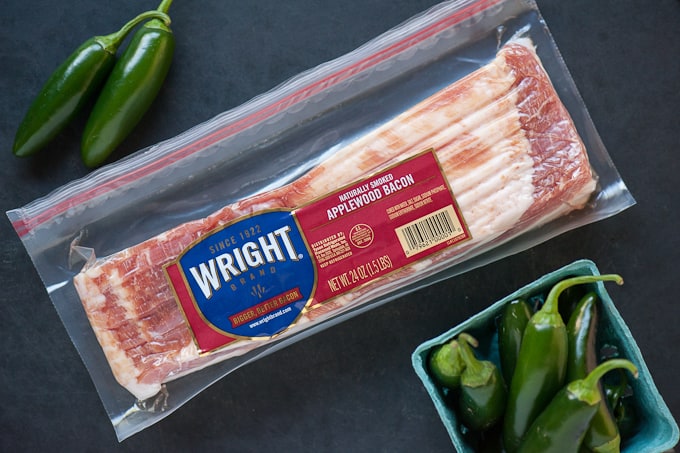 Let's face it – bacon makes just about every meal better. I think a bacon jalapeno pairing is one of the best flavor combinations in the world, so it only made sense to make a bacon wrapped jalapeno popper chicken breast for dinner. I picked up this package of Wright® Brand Bacon at the Kroger store near my house. I knew it would be perfect for this dinner because they do Bacon The Wright Way™. Wright Brand Bacon is a great choice for any meal – breakfast, lunch, or dinner! I went with the Applewood Smoked flavor, but did you know they also make Hickory Smoked, Smoked Brown Sugar Bacon, Bourbon Barrel Smoked, and Oak Barrel Smoked?  If you've never tried Wright Brand, know that it is masterfully crafted for a richer bacon experience, thick-sliced, hand-selected & hand-trimmed, naturally smoked with wood chips, and is made from the best cuts of high-quality premium meat.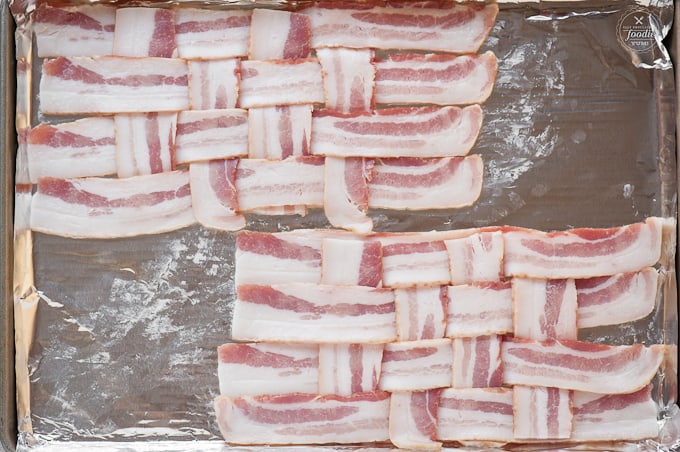 I thought about simply wrapping the bacon around the chicken, but quickly came to the realization that I could make dinner a lot more interesting while using even more bacon if I did a bacon weave instead! More bacon is always the better choice.  I never limit myself or feel guilty when I indulge – in fact, I encourage you to do the same. Life is too short for only one piece of bacon.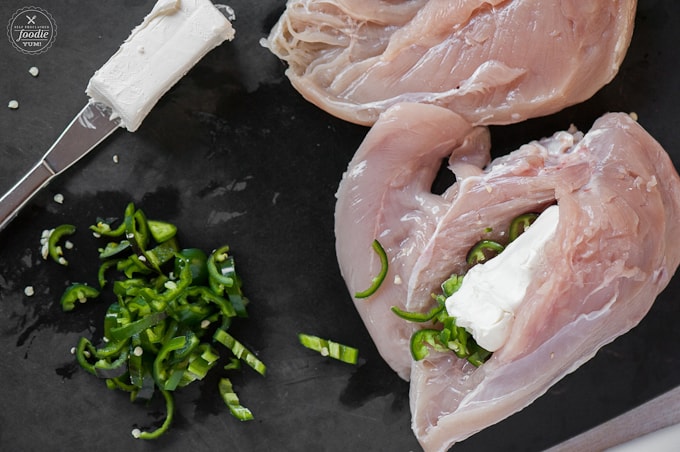 There's a trick to stuffing the chicken breasts so that the cheese doesn't ooze out when you cook it. Lay the breast on a cutting board so that you open up the small piece with the chicken tender like a book. Be sure to keep this piece attached. Then, using a small, sharp knife, cut a pocket in the thick part of the breast, taking care to not cut all the way through. Use your fingers to reach in and make the pocket as big as possible without tearing it. Then, stuff your cream cheese and jalapenos in the center and use the chicken tender part to wrap around and seal the opening. Pretty cool trick, eh? In the photo below, the breast on the right has already been stuffed and wrapped.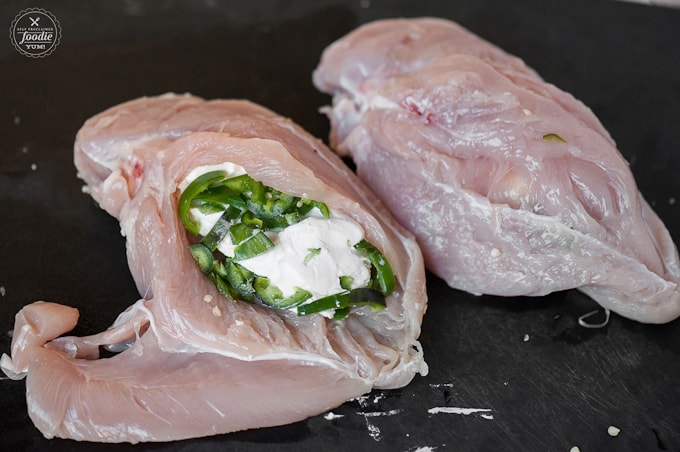 Lay that stuffed sealed chicken breast on top of that lovely bacon weave that you made and then roll it on over. Tuck the ends of the bacon underneath as best as you can and secure  with toothpicks where needed.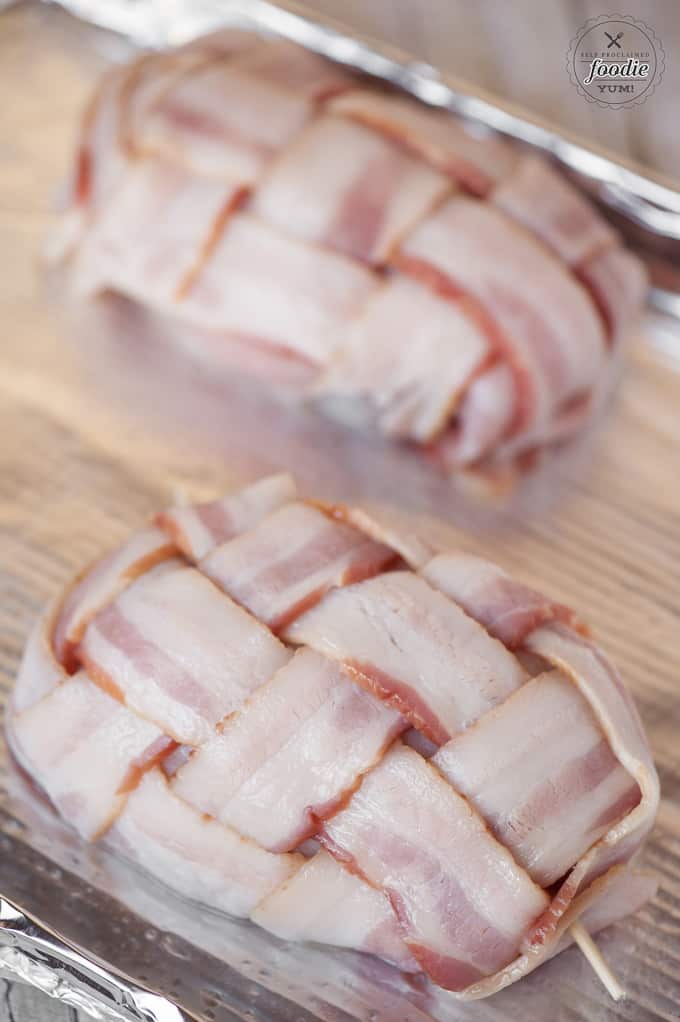 Funny story (sort of) – I was planning on baking these in the oven but my lower heating element broke when I was preheating the oven. Awesome, right? Not really. Fortunately our barbecue was a few steps away and it was a gorgeous day to be cooking outside. Basically, you can cook these in the oven or the barbecue and they will turn out perfectly. I highly recommend using an internal thermometer so you know exactly when they are cooked. Although the bacon will be fully cooked and rendered by the time the chicken is cooked, it may not appear done as it won't be dark and crispy.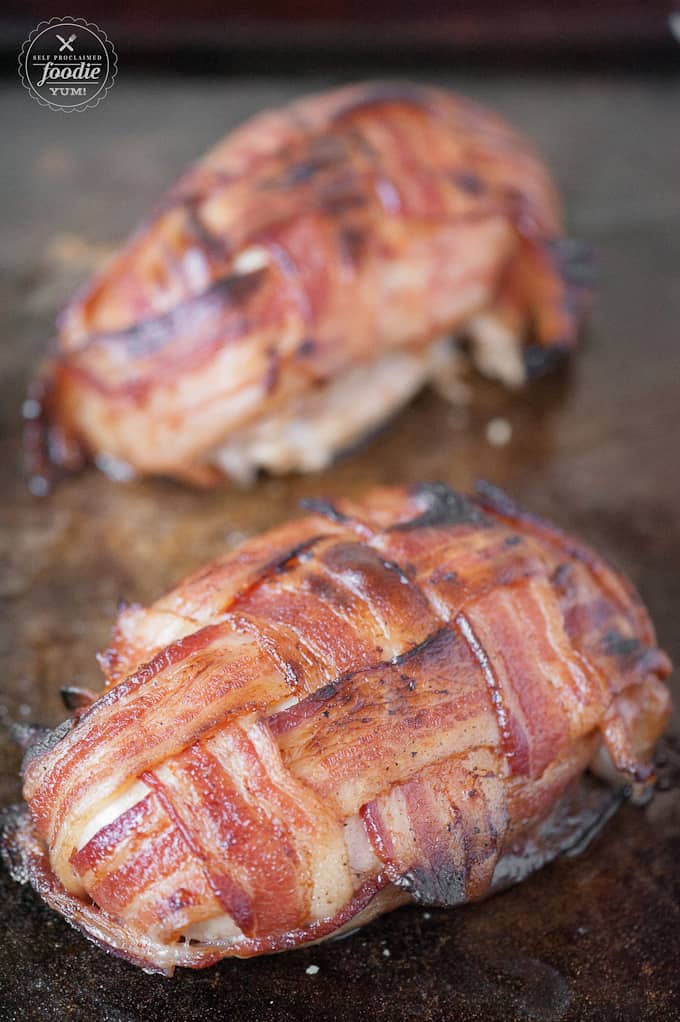 If you prefer your bacon to finish off with a little sizzle and a beautiful golden brown finish, you're going to want to pop it in the oven under the broiler for 5-10 minutes to finish it off. Just be sure to start this process at least 5 degrees before it reaches final cooking temperature and crack that oven door to get the nice brown without over cooking it, if needed. Fortunately – it was my lower heating element that broke so I was able to use my broiler without any issue.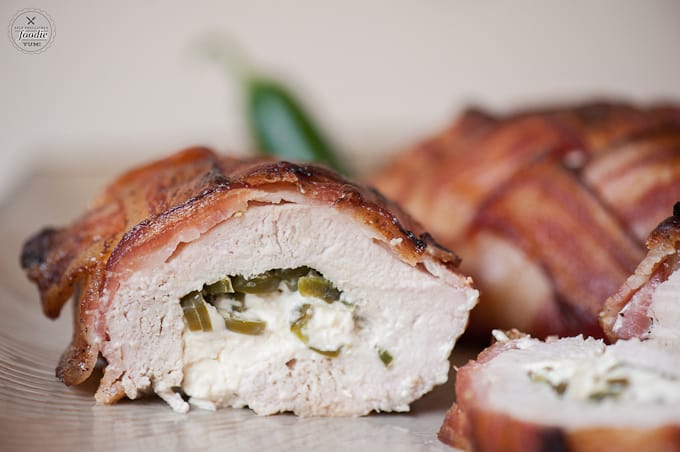 I was worried my jalapenos were going to be too spicy because my fingers and nostrils were burning when I was cutting them, but by the time they cooked, it was perfect. I honestly can't even begin to tell you how delicious this dinner was. It really was incredibly easy to make. I served it up with some smashed potatoes and sautéed fresh corn. These would be perfect for tailgating too! Just prepare them ahead of time, wrap tightly in plastic wrap to store in your cooler during transport, and then cook them up on the grill. The smell is amazing and you will certainly have everyone wishing you were their best friend at the game!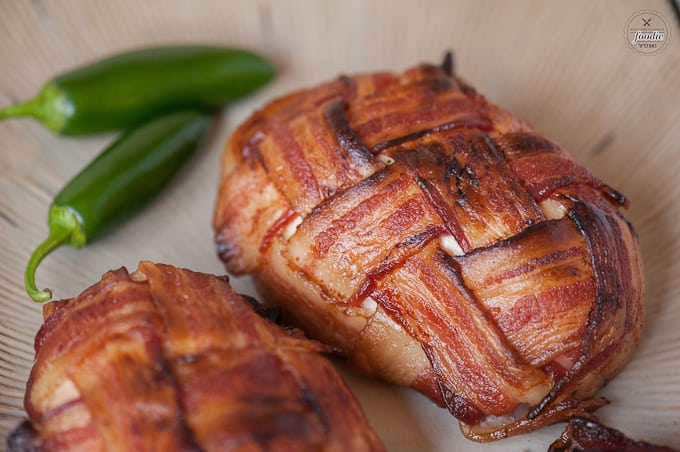 I'd love for you to share your favorite recipes with bacon as the main ingredient and hashtag it #VoteWrightBrandBacon @WrightBacon!  Head over to this poll to vote for your favorite flavor!  www.votewrightbrandbacon.com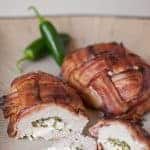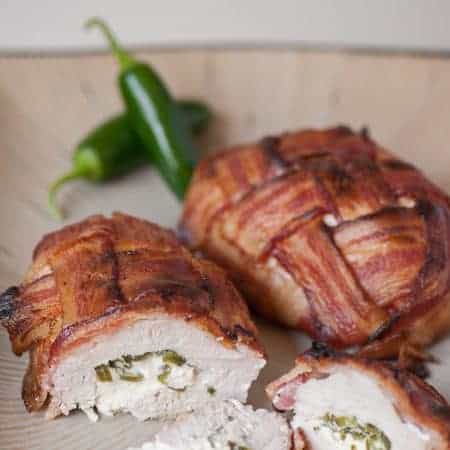 Bacon Wrapped Jalapeno Popper Chicken
Because bacon makes everything better, enjoy grilling or baking this 4 ingredient Bacon Wrapped Jalapeno Popper Chicken for dinner or a game day feast.
Total Time
1
hour
15
minutes
Ingredients
1

pound

bacon

12 slices

2

about 1.5 pounds large boneless skinless chicken breasts

2-4

jalapenos

stems and seeds removed, chopped

4

ounces

cream cheese
Instructions
To arrange the bacon in the basket weave pattern, lay four slices lengthwise. Then cut two slices in half to create four short slices. Weave the four short slices through the long slices.

To stuff the chicken, pull the tender away from the main breast but leave it attached. Then, using a small sharp knife, create a pocket starting near the chicken tender. You want this pocket to be as big as possible without cutting all the way through the chicken.

Divide the cream cheese and jalapenos evenly between the two breasts and stuff them in the pocket you cut. Then, take the attached tender and roll it over the opening to seal it.

Place the stuffed breast on top of the bacon weave and roll it over so that the bacon is on top. Secure any loose pieces of bacon with a toothpick. Insert a meat thermometer into the thickest piece.

Bake in a preheated 375 degree oven or grill for 50-55 minutes or until the internal temperature reads 160 degrees F. For the final few minutes of cooking, place the bacon wrapped breasts under the broiler to give them a nice brown. You want your final cooking temperature to reach 165 degrees F, so once you hit that, broil with the oven door open if you prefer more browning.

Allow chicken to rest for at least five minutes. Slice with a serrated edge knife.