Jalapeño Bacon Wrapped Scallops, broiled to perfection, are one of the easiest and most delicious appetizers you can enjoy!
The highest quality ingredients make all the difference, especially when you're cooking seafood and bacon!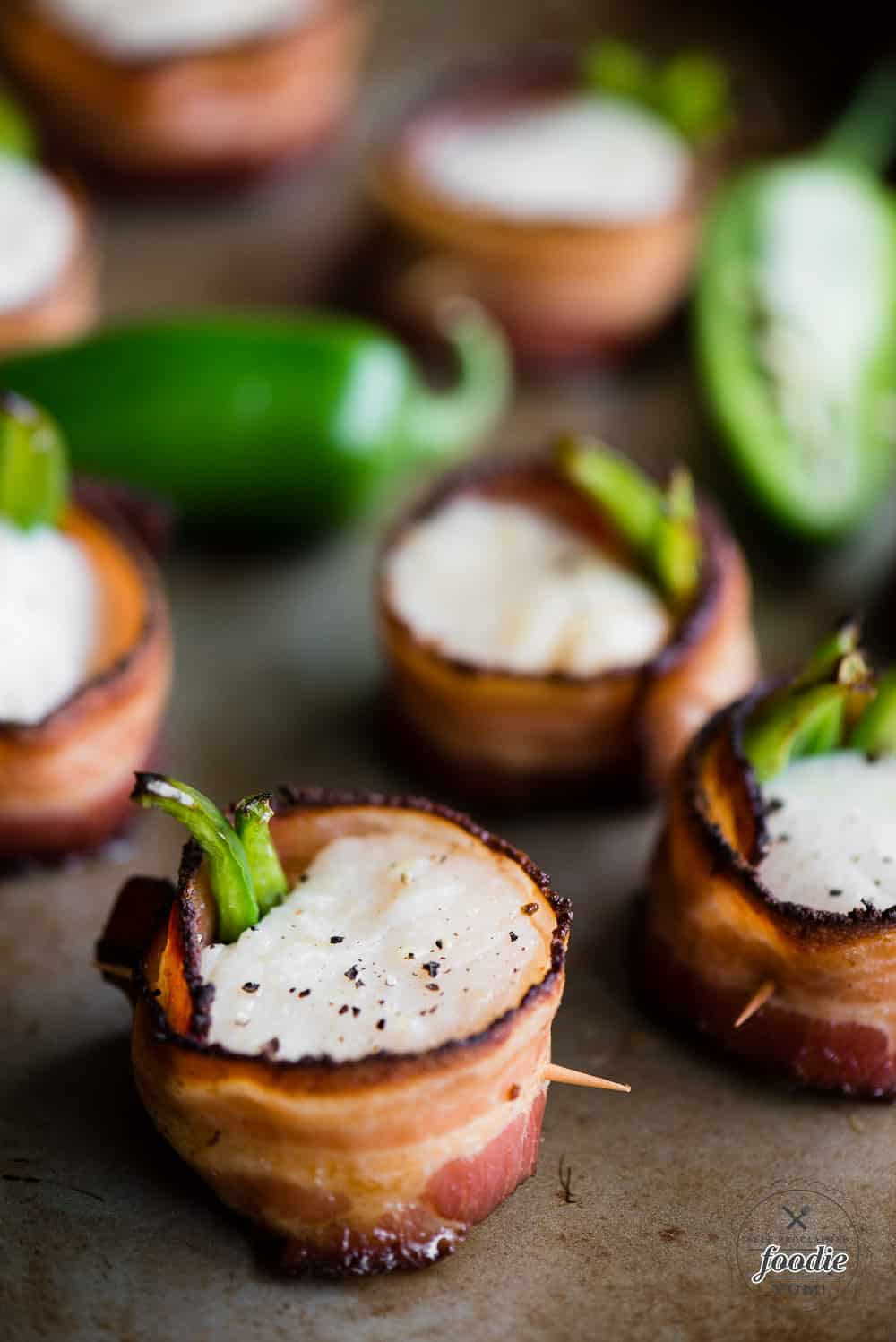 Bacon and scallops taste amazing together.
Bacon is chewy, smoky, salty, and this particular bacon has a spicy kick.
Scallops of soft, tender, and succulent.
Together, the flavors and textures unite in perfect harmony. Jalapeño Bacon Wrapped Scallops are the perfect two-bite appetizer. Serve up a fresh green salad and some scalloped potatoes and you have the perfect dinner!
I can't wait to make my bacon wrapped mini meatloaf with this Jalapeño Bacon!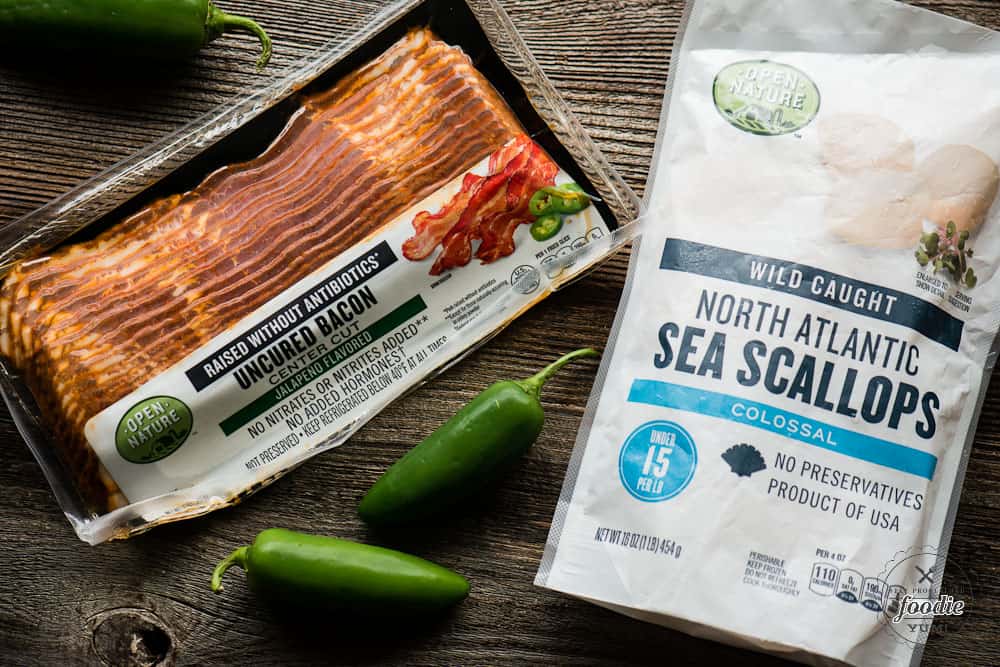 What are scallops?
It's a commonly asked question.
The official definition of a scallop is an edible bivalve mollusk with a ribbed fan-shaped shell. Scallops swim by rapidly opening and closing the shell valves. Sounds yummy, right?
I'm guessing most people who ask the question really want to know what a scallop tastes like.
A wild caught sea scallop has a very mild seafood taste. The texture is completely consistent all the way through. They are soft yet firm and incredibly succulent.
Scallops are incredibly simple to cook and only take a few minutes from raw to perfection, but you need to take great care to not over cook them.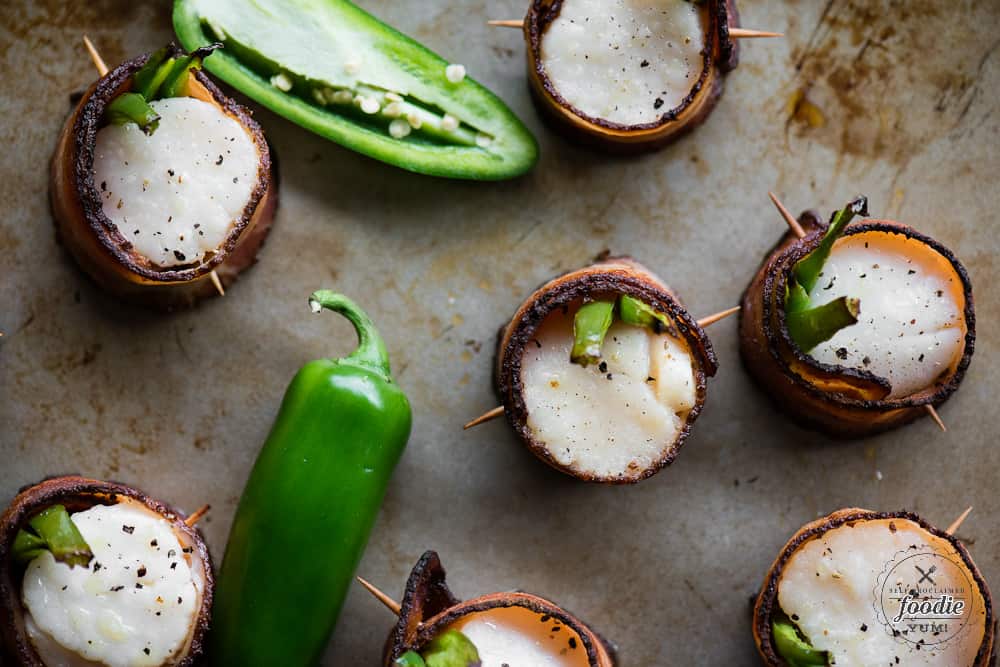 How to cook bacon wrapped scallops:
I'm sure there are many different methods, but mine worked perfectly so that is what I'll explain.
I have seen many recipes that simply state to wrap the raw bacon slices around the scallop and then broil. The problem with that method is that the bacon takes much longer than the scallops to cook. You either end up with perfectly cooked bacon and overly cooked scallops, or more likely a perfectly cooked scallop and raw bacon. Eeeew.
I have the perfect cooking tip and will create perfect results:
You must cook the bacon first. Not all the way, but enough to mostly render the fat. That way, once you wrap the partially cooked bacon around the scallop, they  will both be perfectly cooked at the same time. Cooking on a rack and baking sheet is highly recommended for the most even cooking.
I also recommend wrapping the bacon with the fat side up. This is the side facing the heating element of your broiler and it, along with the jalapeno tips, will get the most beautiful browning action.
I highly recommend checking the temperature of your scallop to know when it's done. Experienced chefs can go by feel, but you certainly can't tell by site.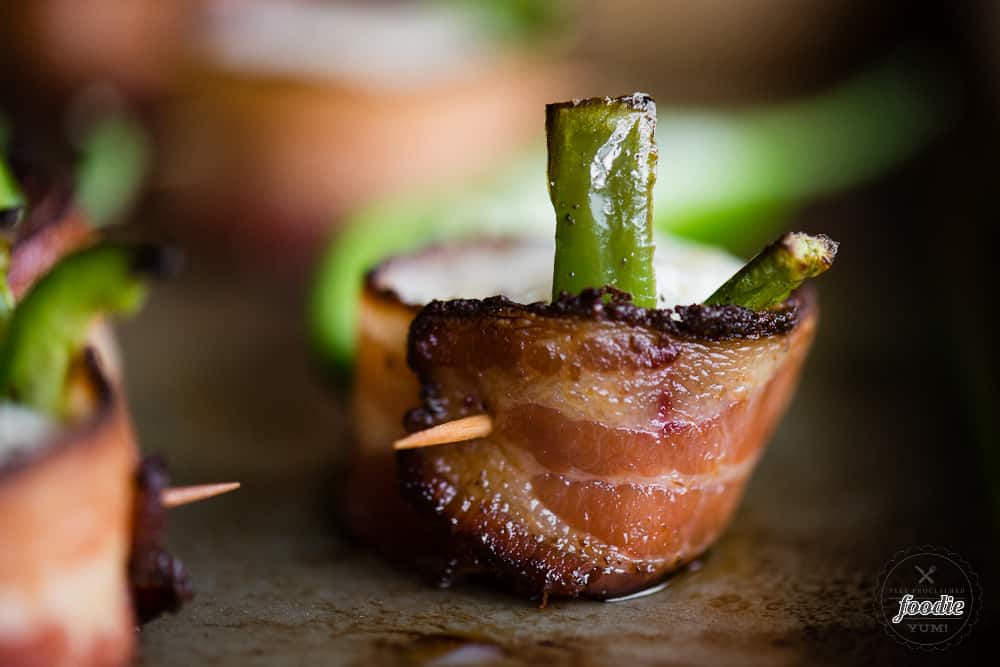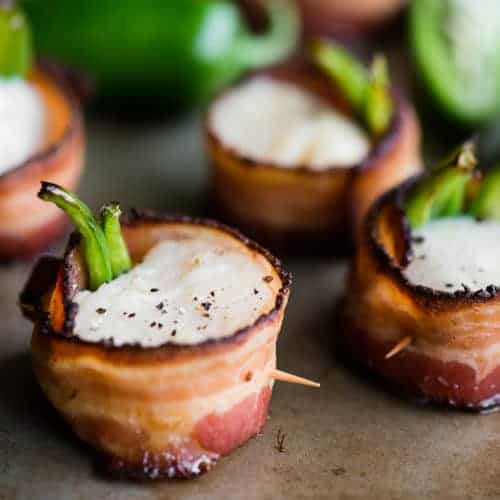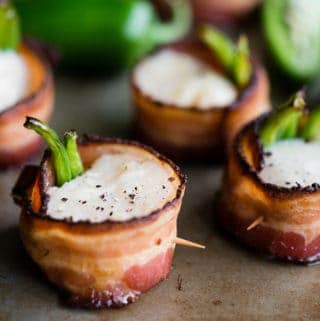 Jalapeño Bacon Wrapped Scallops
Jalapeño Bacon Wrapped Scallops, broiled to perfection, are one of the easiest and most delicious appetizers you can enjoy!
Print
Pin
Rate
Hover to scale:
12
scallops
Ingredients
12

ounces

bacon

(Open Nature Uncured Jalapeno flavored)

1

pound

sea scallops

(Open Nature North Atlantic wild caught, thawed)

1

jalapeno

(stem and seeds removed, sliced into thin 2 inch long pieces)

1

tablespoon

olive oil

(or olive oil spray)
Instructions
Preheat oven to 350 degrees F. Arrange an oven safe rack on top of a baking sheet (line baking sheet with foil first for easy clean up). Arrange bacon on rack in a single layer. Bake in preheated oven until fat is mostly rendered but bacon is still very flimsy, about 20 minutes.

Wrap a piece of bacon around each scallop with a couple pieces of jalapeno. I recommend having the meat side of the bacon down as the top will get more browned. Secure by piercing with a toothpick all the way through. Set on rack you cooked bacon on (to avoild smoking, replace foil). Drizzle olive oil (or spray) over tops of scallops.

Set oven to broil with the rack in the middle. Once hot, add bacon wrapped scallops. Broil until internal temperature reads 145 degrees F. This should take 5-10 minutes.
Notes
Number of scallops will depend on size, so you can get anywhere from 10-15.
My package had 11 scallops and 14 pieces of bacon, so I got to eat the leftover bacon!
NUTRITION INFORMATION
Calories:
154
kcal
|
Carbohydrates:
1
g
|
Protein:
8
g
|
Fat:
12
g
|
Saturated Fat:
3
g
|
Cholesterol:
27
mg
|
Sodium:
335
mg
|
Potassium:
133
mg
|
Vitamin A:
25
IU
|
Vitamin C:
1.4
mg
|
Calcium:
4
mg
|
Iron:
0.3
mg