Roasted Brussels Sprouts with Bacon and Balsamic are an easy and flavorful side dish perfect for a weekday family dinner or a Thanksgiving or Christmas holiday meal.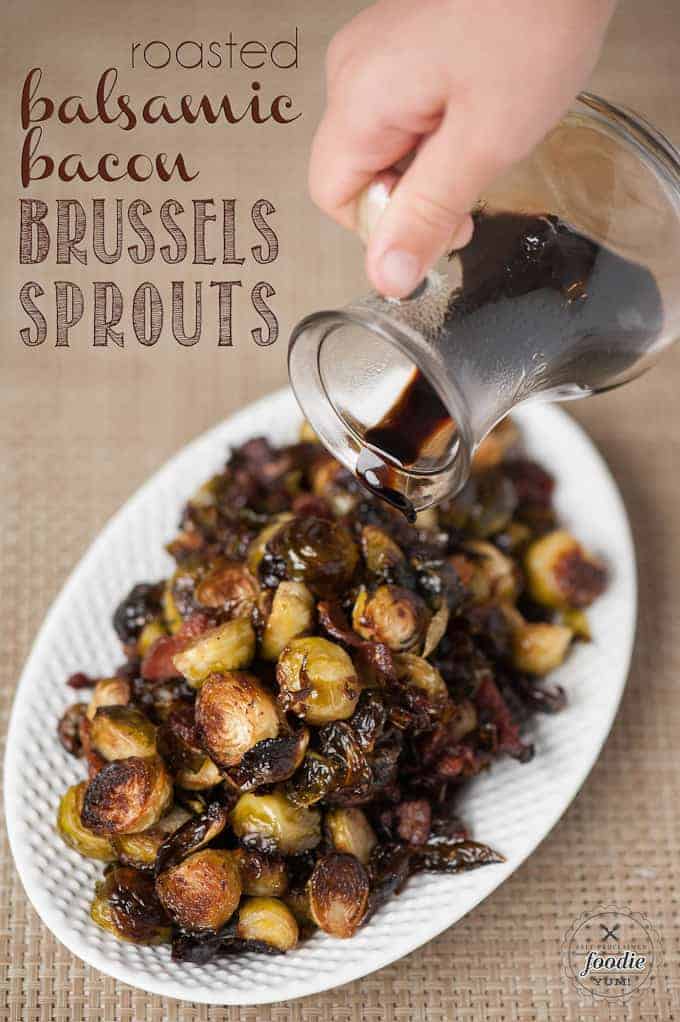 Why this recipe works:
Roasted Brussels Sprouts with Bacon and Balsamic are downright delicious. Tiny little heads of cabbage, made crispy by being roasted at a high temperature in bacon fat are a wonderful thing. Brussel sprouts are a pretty bitter vegetable and roasting them takes some of that bitterness away, but a sweet and tangy balsamic glaze balances out that bitterness almost immediately.
Have you ever made brussels sprouts with balsamic glaze? Roasted brussel sprouts with balsamic is one of those flavor combinations that tickles your taste buds. Combine that strong, dark, intense flavor of the balsamic with roasted brussels sprouts with balsamic and you have a side dish that's worthy of any dinner table.
There are so many ways to cook and serve Brussels sprouts and I love trying new methods. I've served them on top of chicken breasts with sauteed mushrooms and a mustard sauce, shaved them and then roasted them for a delicious winter salad, and I've smothered them with cheese (of course). As long as brussel sprouts are cooked properly and served with the right flavors, you will love them too.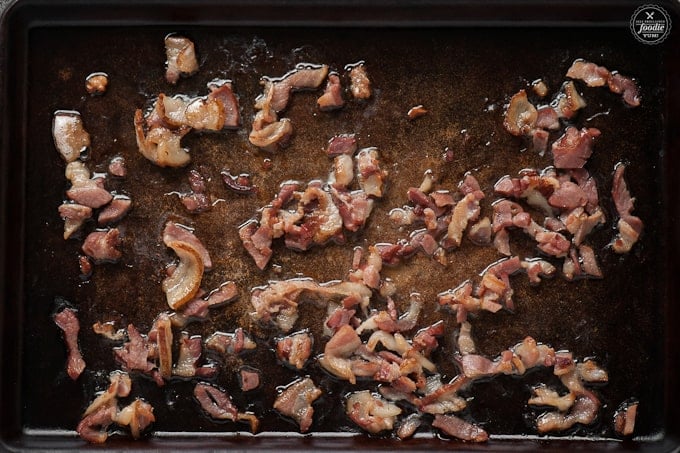 How to make brussels sprouts taste good:
The answer, more times than not, is bacon. Brussels sprouts, much like beets, are a vegetable that I never even tried until well into my adult years. Now, every time I eat them I seem to love them more and more. Now, don't get me wrong. Put a plate of boiled Brussels sprouts in front of me and I will likely gag, but deep fry them, smother them with cheese, or make balsamic roasted brussel sprouts with a wonderful smoked meat like bacon and I'm a happy girl.
I decided to partially bake the bacon on my baking sheet first because I simply can't stand bacon when the fat hasn't been completely rendered. Along those same lines, I didn't want to scorch the heck out of my sprouts in order to get the bacon to the proper doneness. This method proved to work perfectly.
Doesn't that just make you feel more comfortable knowing that the bacon is already well on its way to perfection by the time you mix it with the raw sprouts? I know it gave me the warm and fuzzies.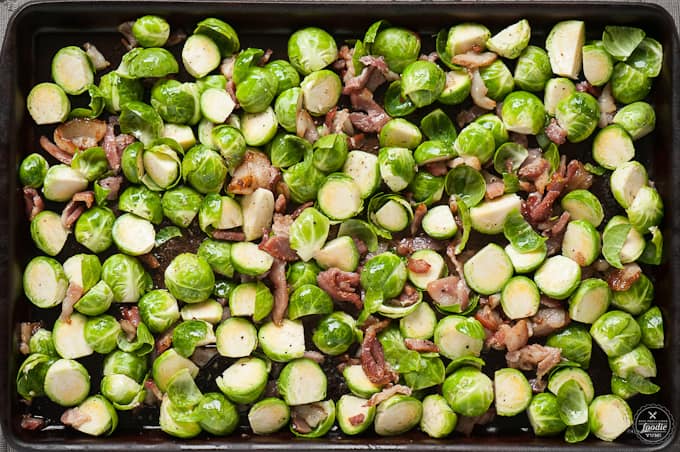 How to make them crispy:
There are two needed components to turn any vegetable, including brussel sprouts, crispy: fat and heat. My preferred fats are almost always butter, bacon, or olive oil, but I also know many people who cook exclusively with coconut oil, avocado oil, or ghee. No matter what your fat choice is, you need it, or the roasted Brussels sprouts will never get crispy. Second, you need heat. Not only do you need heat, but you need the fat to be screaming hot when they meet the brussel sprouts, otherwise you'll end up with greasy sprouts, and that's just gross. The hotter your fat, the nicer the sear you'll get.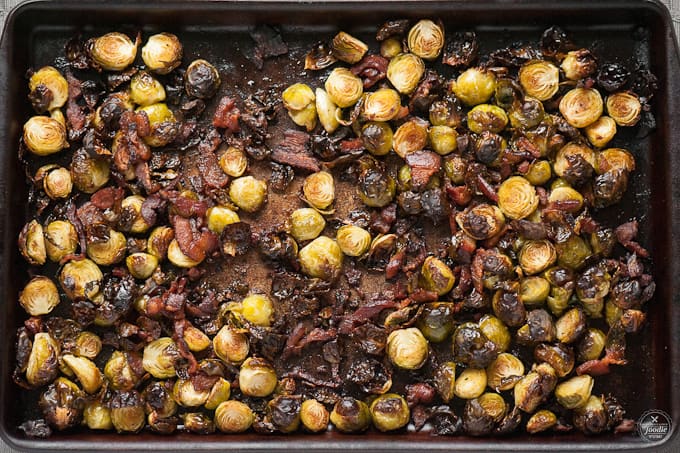 By the way, do you call them brussel sprouts or Brussels Sprouts? I admittedly had to turn to the internet to explain it to me, because I didn't want to look like a total dummy by forever immortalize my lack of knowledge by spelling it wrong on my photos. Don't my roasted brussels with bacon look yummy? Now imagine how good they were with that balsamic reduction drizzled on top. YUM!
Balsamic Roasted Brussel Sprouts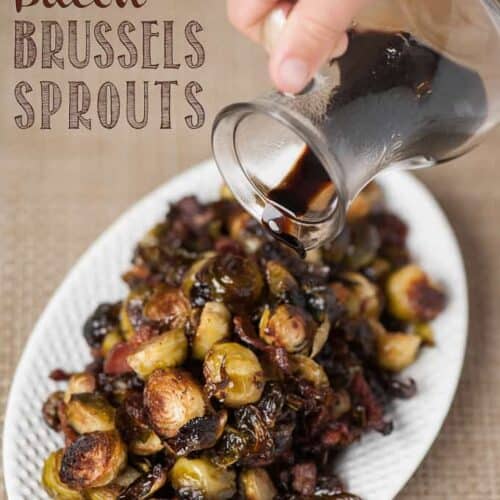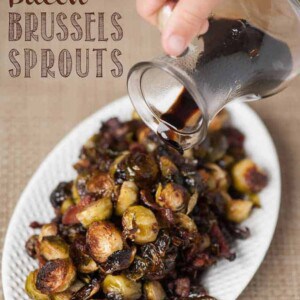 Roasted Balsamic Bacon Brussels Sprouts are an easy and flavorful side dish perfect for a weekday family dinner or a Thanksgiving or Christmas holiday meal.
Instructions
Preheat oven to 400 degrees F. Add chopped bacon pieces to baking sheet and bake for about 15 minutes.

While bacon is cooking, toss Brussels sprouts in olive oil and salt and pepper to taste. After 15 minutes of cooking, remove bacon from oven and add Brussels sprouts to the baking sheet. Toss with the bacon and continue cooking for 30-40 additional minutes until the sprouts are golden brown.

While the bacon and sprouts are cooking, heat balsamic vinegar in small saucepan over medium heat until reduced by half.

When sprouts and bacon are done, remove from oven and transfer to a serving dish. Cover with reduced balsamic and serve hot.
Nutrition
Calories:
354
kcal
,
Carbohydrates:
18
g
,
Protein:
12
g
,
Fat:
26
g
,
Saturated Fat:
8
g
,
Cholesterol:
37
mg
,
Sodium:
421
mg
,
Potassium:
791
mg
,
Fiber:
6
g
,
Sugar:
6
g
,
Vitamin A:
1305
IU
,
Vitamin C:
144.6
mg
,
Calcium:
79
mg
,
Iron:
2.7
mg
Nutrition information is automatically calculated, so should only be used as an approximation.