Chicken and Brussel Sprouts with Mustard Sauce is a healthy and low carb meal option that tastes amazing and is easy to prepare for your next family dinner.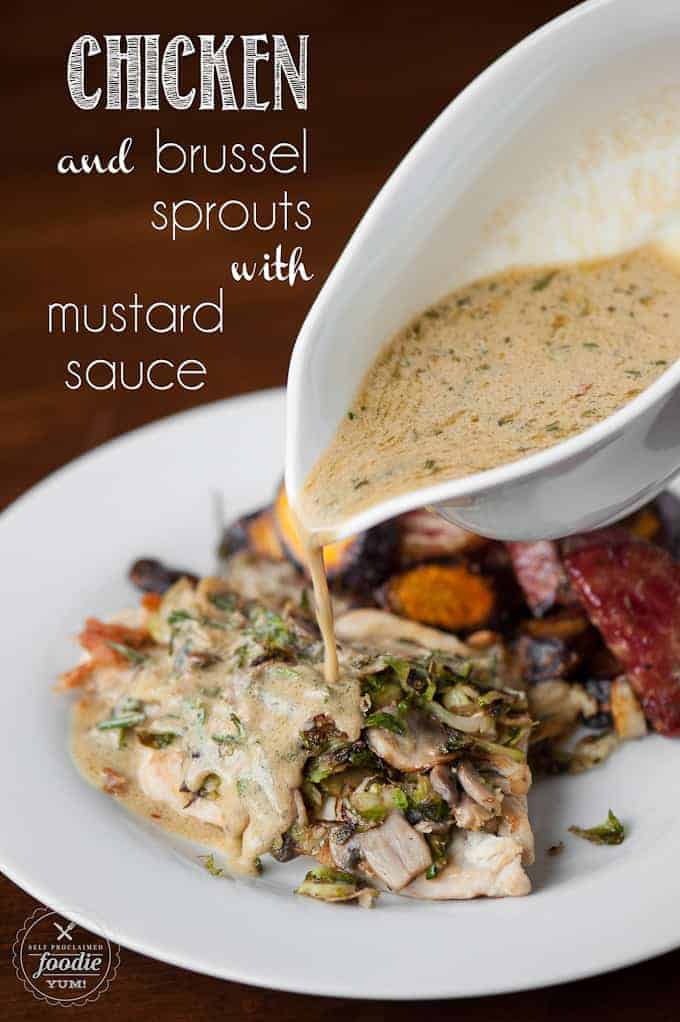 Just about everything I do has to do with food. I buy the food for our household. I make my family's breakfast, lunch, dinner, and snacks. When we travel, my main concern is what and when will we eat. I am totally okay with the fact that my mind is constantly thinking about our next meal because the food we put into our bodies is so incredibly important. When I met my husband, he regularly ate fast food and put so much garbage into his body. Years of food documentaries and tasting amazing home cooked meals from fresh and wonderful ingredients have truly changed his mind and now he is just as passionate about the food our family eats as I am.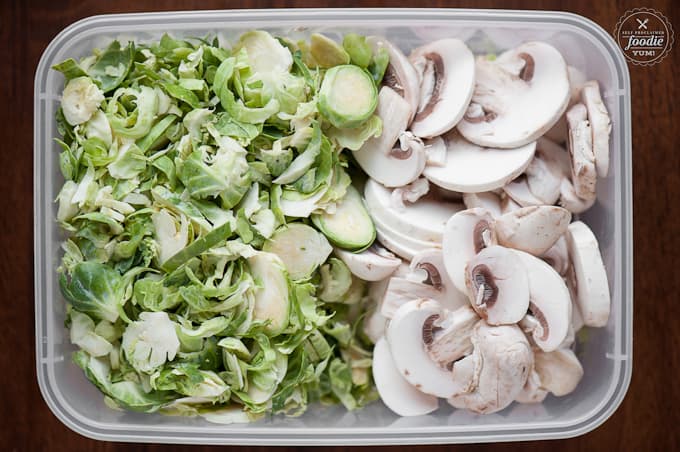 MY OTHER RECIPES
I present to you: a plain chicken breast. Not very appetizing, right? Lucky for me and you that this chicken can be dressed up with the most mouthwatering veggies and sauce.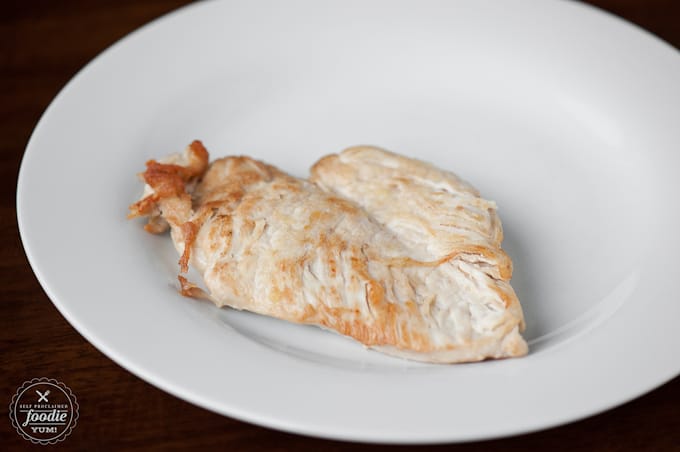 I've written about how my husband detests brussel sprouts. He is a veggie lover, but he detests these micro cabbages. Needless to say he wasn't pleased when he saw what I was making for dinner. Boy did his tune change when he actually took a bite. I wanted to make a healthy low carb meal that would taste really good. Nailed it. First of all, the chicken was perfectly cooked and extremely tender because I pounded it nice and flat before cooking. I love pounding chicken.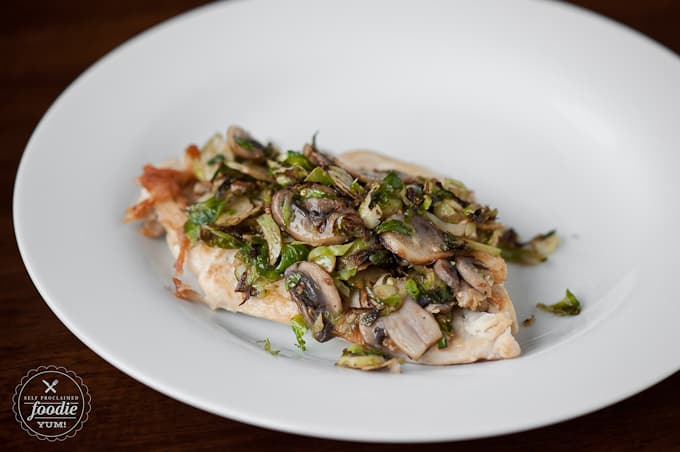 Next, I topped the chicken with the sauteed sprouts and mushrooms. This, alone, would be a fabulous low carb meal, however I don't think it would taste very good.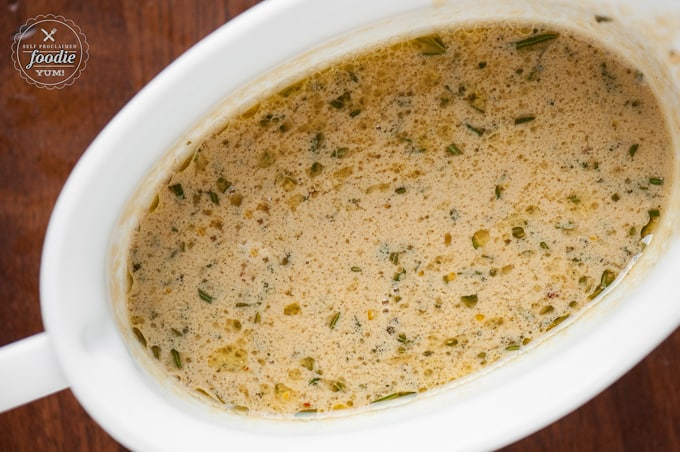 Enter the butter sauce. Mmmm. Butter sauce. You make it in the pan that you cooked the chicken in so you get all that yummy flavor, and its a combination of chicken broth, apple cider, dijon mustard, butter, and rosemary. The sauce not only adds the most delicious and intense flavor, but it is still very low in carbs and is an outstanding addition to the chicken and brussel sprouts.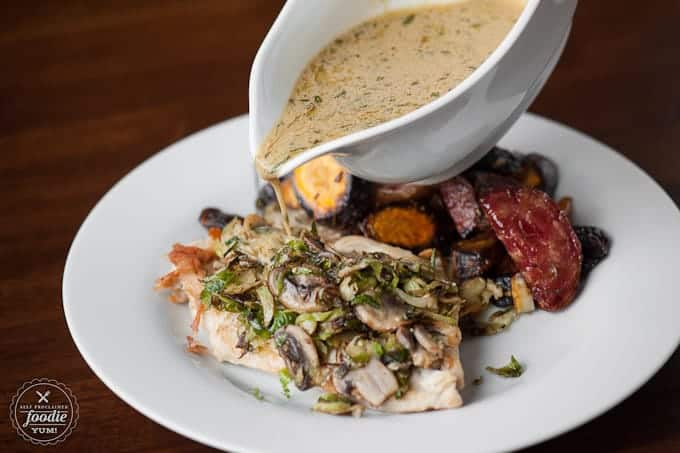 I served this chicken up with the most beautiful roasted rosemary carrots and beets. Roasted root vegetables are an outstanding choice for a healthy, low carb side, and they compliment the protein in this meal beautifully.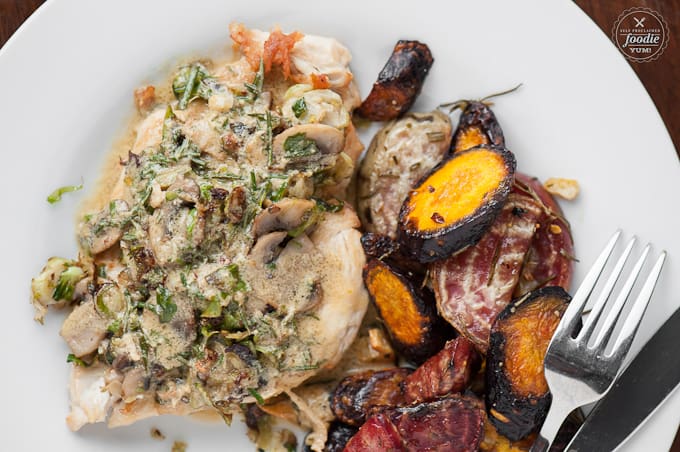 Doesn't that meal look delicious?  I absolutely love it when I'm able to put dinner on the table knowing it not only tastes good, but is healthy fuel for our bodies. I had the leftovers the next day for lunch and they were just as good, if not better.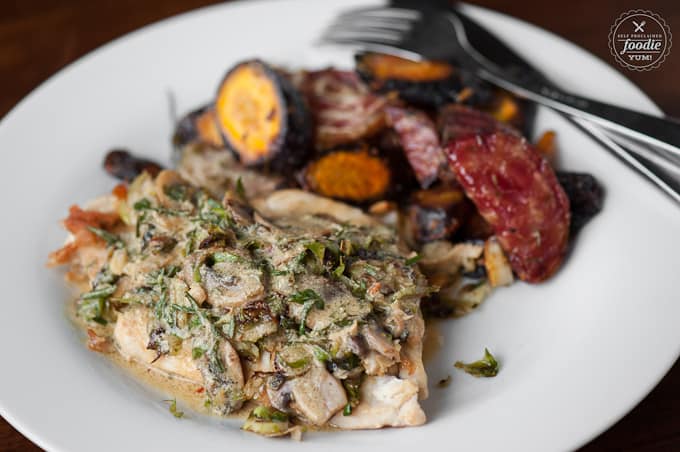 Chicken and Brussel Sprouts with Mustard Sauce
Chicken and Brussel Sprouts with Mustard Sauce is a healthy and low carb meal option that tastes amazing and is easy to prepare for your next family dinner.
Ingredients
1 tablespoon olive or avocado oil
4 (6 ounce) skinless, boneless chicken breast halves
salt and pepper, as desired
3/4 cup chicken broth, divided
1/4 cup unfiltered apple cider
2 tablespoons Dijon mustard
2 tablespoons butter, divided
2 tablespoons fresh rosemary, minced
12 ounces Brussels sprouts, trimmed and sliced
6 ounces mushrooms, sliced
Instructions
Preheat oven to 450°.
Place chicken breasts in a large plastic storage bag and flatten to uniform 1/2 inch thickness using a meat mallet or a rolling pin. Season meat with salt and pepper.
Heat a large ovenproof skillet over high heat. Add oil and tilt pan so that oil covers base of pan. Add chicken to hot skillet and allow to cook for 3-4 minutes or until browned. Turn chicken, taking care to lift any pieces that may have stuck to the pan. Immediately place the pan in the preheated oven. Bake at 450° for 9 minutes or until done. Remove the chicken from pan and transfer to a plate. Keep warm by loosely tenting with aluminum foil.
While the chicken is cooking, heat one tablespoon of butter in a large skillet over high heat. Add the brussel sprouts and mushrooms. Allow to cook, stirring only occasionally, until wilted and slightly brown, about 10 minutes.
Using the pan from the chicken, heat over medium-high heat. Add chicken broth and apple cider. Bring to a boil and scrape pan to loosen browned bits. Reduce heat to medium-low and simmer for about 5 minutes. Whisk in mustard, remaining 1 tablespoon butter, and rosemary.
To serve, top chicken breasts with brussel sprout and mushroom mixture, and then smother with sauce. Serve with roasted vegetables for a delicious, healthy, and low carb meal.