I made the most Perfect Chicken Parmesan that's full of flavor, only takes minutes to cook up for a quick and easy dinner, and is the best comfort food!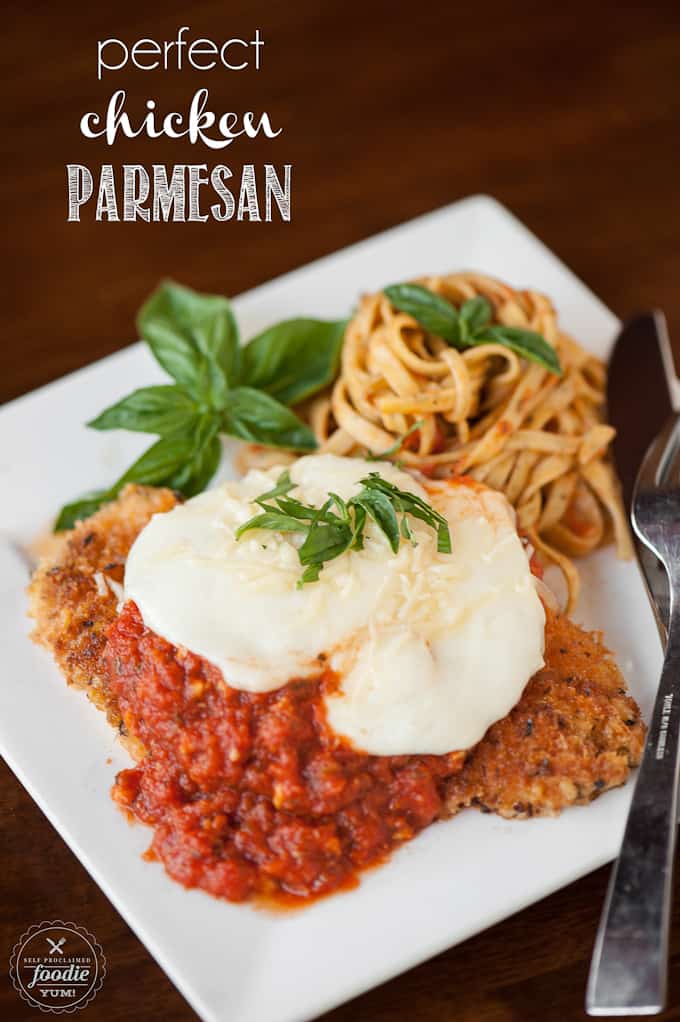 This post was made possible by my all time favorite pasta sauce – Mezzetta!
I'm super excited for two reasons: 1) I made chicken parm for dinner. If you've ever had chicken parm, you'd know that's a reason to celebrate. 2) I found a new favorite pasta sauce. Yay!

MY OTHER RECIPES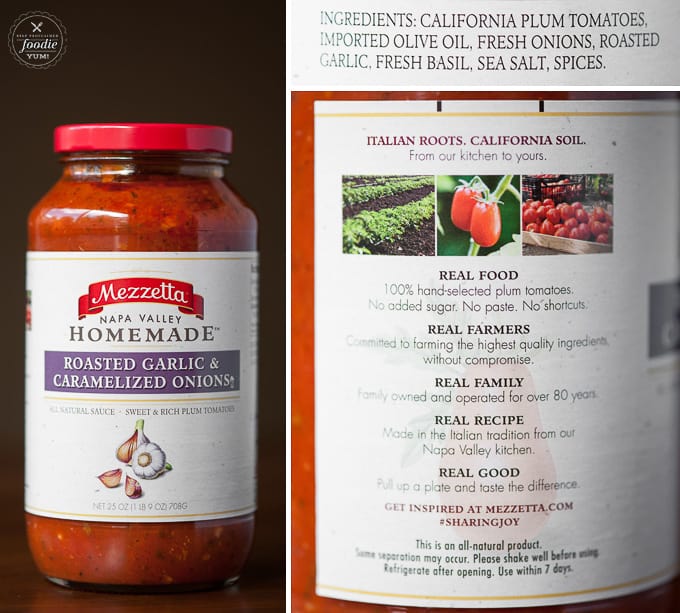 Have you ever heard of Mezzetta?  I hadn't until I brought it home last night. I always look at labels when I buy my food. Do you know that there are still pasta sauces on the shelves out there that have high fructose corn syrup in them? Yuck. When I looked at the label on this sauce, I was so pleased to find that not only does it not have anything nasty like HFCS or even sugar, but its non GMO, there's no tomato paste, and made in Napa Valley.  I was actually really excited to try it, and thought chicken parmesan would honor it well.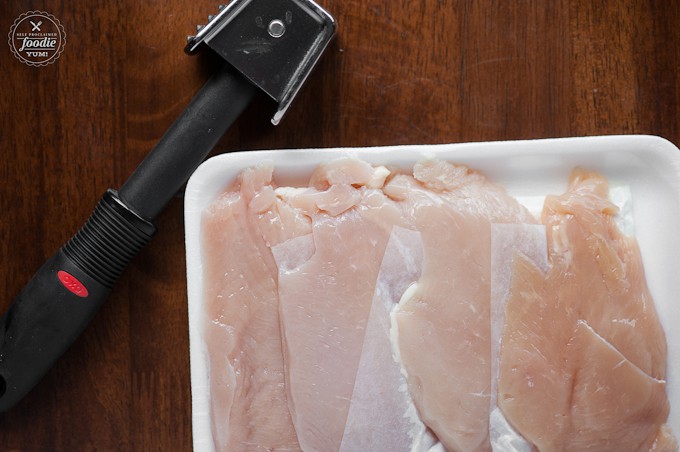 I usually don't post photos of raw meat because, well, it never looks very appetizing. I did, however, want to show you my meat tenderizer. You want your chicken to be thin for several reasons. First, when you pound it with a mallet or roll it with a rolling pin, you break up the tissue and it makes it more tender. So much so that you can easily cut it with the side of your fork. I prefer to pound my meat over rolling it because its fun. Second, you want your meat to be of uniform thickness so that it cooks evenly. And third, the thinner the meat, the faster it cooks, and during school and sports season, we all need meals that can be cooked quickly.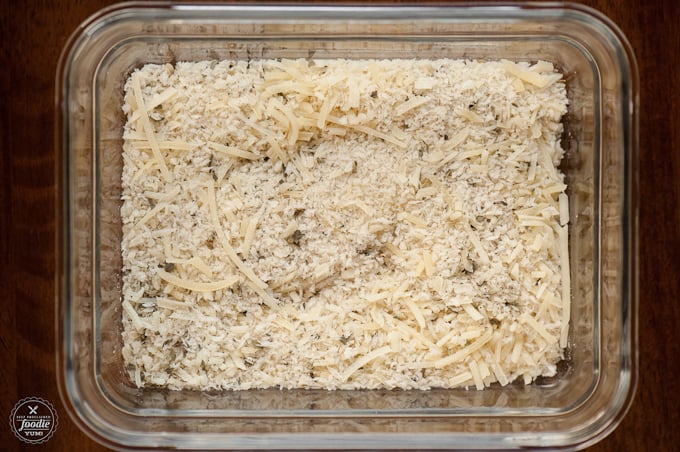 I always choose to put my crumb mixture in a rectangular dish that's the exact size of the chicken breast. It makes coating the chicken oh-so-easy.  Below, you can see how beautiful the breasts cook up after just a few minutes in the frying pan. I apologize for not having any photos of the crumb coating or frying process – working with raw chicken and egg doesn't pair too well with holding a nice camera. Don't worry… there are lots more photos below once I washed my hands and cracked open that jar of sauce.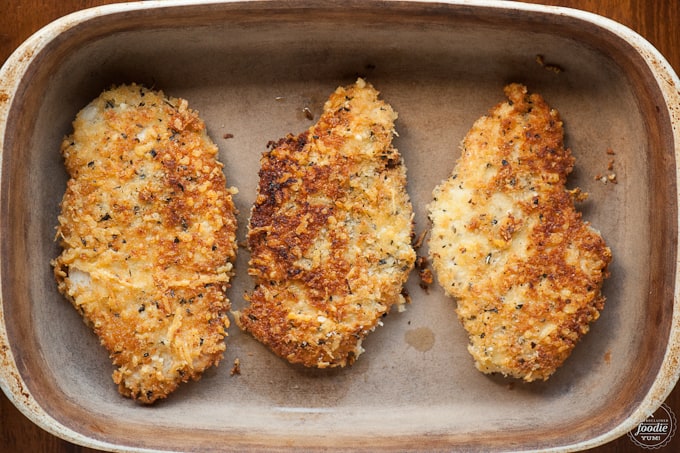 So, I was pretty confident that I was going to love this pasta sauce just by the ingredients, but as soon as I opened up the jar and poured it onto the chicken, I was so pleased. You know I get excited about food. Much more than the average Joe, I'm sure you'd agree. But I really can't remember the last time I was excited about a pasta sauce.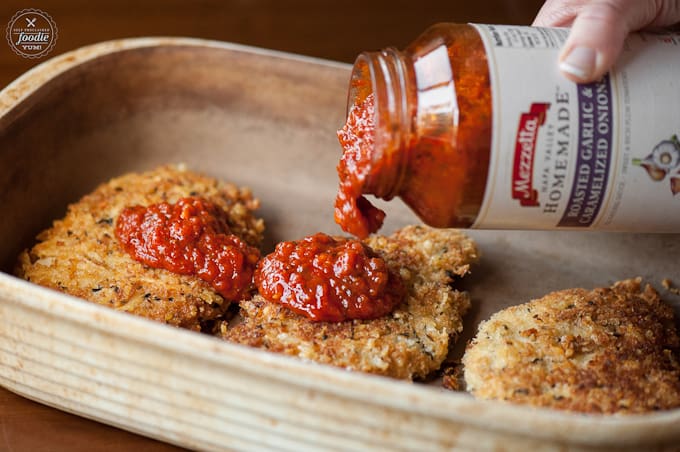 You can just see the high quality ingredients in the sauce. This is the kind of product that I am so thrilled to buy and will even make a separate trip to the store for if I run out. Soooo good.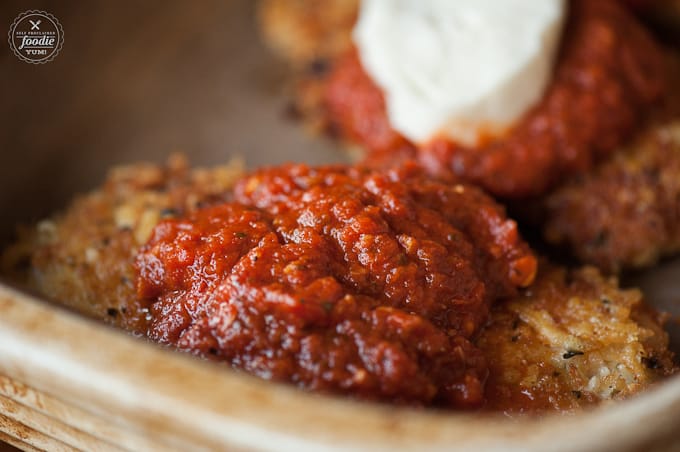 Fun little fact: I made four chicken breasts but didn't want to cram all of them in for the photo, so I pretended that I only had three to make my photos look prettier. As soon as I was done taking my photos, I rearranged them and all four breasts actually fit perfectly in my 11×17 dish. If you're wondering, I cook on stone. No particular reason except that I really like the way it cooks.  Anyway, to finish off your chicken parm, all you need to do is top those crispy seasoned chicken breasts with a healthy portion of that amazing sauce and then top that with some slices of fresh mozzarella along with some grated parmesan. Finish the whole thing off in the oven to get the cheese all nice and melty.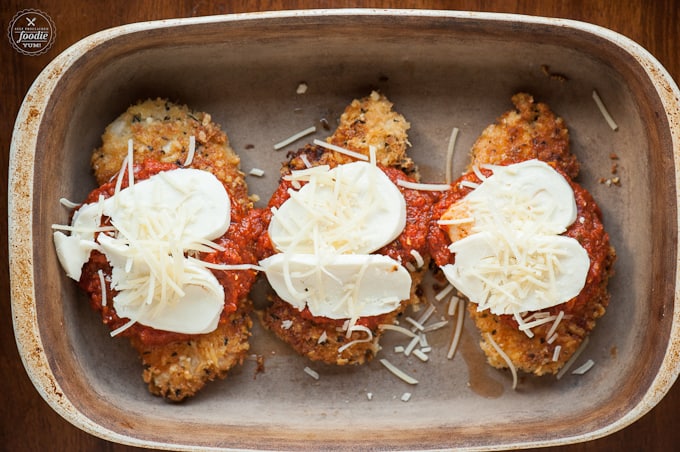 I served my chicken parm up with some basil pasta that I tossed in some of the reserved pasta sauce. My husband agreed that it was the best pasta sauce he had ever eaten, and the kids really loved this meal too. If you've never made chicken parmesan, or its been far too long since the last time that you have, then this is the recipe you need to try!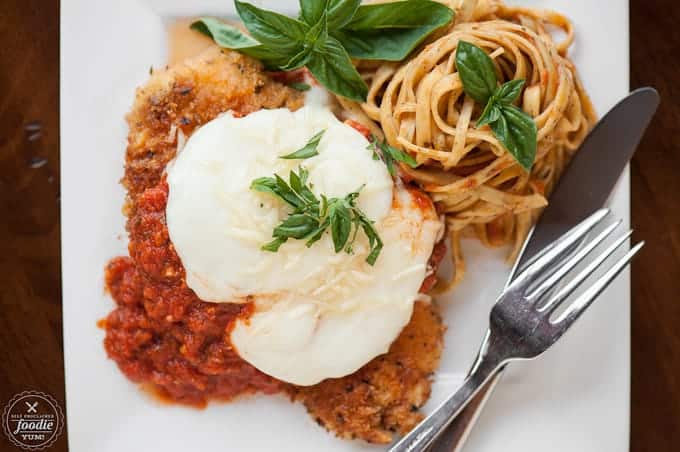 Perfect Chicken Parmesan
I made the most Perfect Chicken Parmesan that's full of flavor, only takes minutes to cook up for a quick and easy dinner, and is the best comfort food!
Ingredients
1 pound boneless chicken breasts (skinless)
salt & pepper
1/2 cup all purpose flour
1 egg, beaten
1 cup panko bread crumbs
1/2 cup grated parmesan cheese, divided
1 teaspoon dried basil
1 teaspoon dried oregano
1/4 cup olive oil*
1 (25 ounce) jar pasta sauce
8 ounces fresh mozzarella, sliced
Instructions
Preheat oven to 400 degrees F.
Using a large plastic bag or plastic wrap, cover chicken and flatten to half inch thickness using a meat pounder or a rolling pin.
Sprinkle salt and pepper on both sides of chicken.
Add flour to bowl. Add beaten egg to another bowl. Combine bread crumbs with 1/2 cup parmesan (reserving the other half for later) along with the basil and oregano in a dish large enough for the chicken breasts.
Heat oil in a very large skillet over medium high heat.
Dredge chicken in flour, then coat with egg, then cover with bread crumb mixture. Press coating onto chicken to get as much as possible to stick. When the oil is very hot, just below the point where it begins to smoke, add your coated chicken. Continue with the remaining chicken breasts.
Cook each breast until golden brown, about 2 minutes on each side. Remove from pan and transfer to baking dish.
Cover each breast with Mezzetta Napa Valley Homemade pasta sauce as well as a couple slices of mozzarella and the remaining parmesan cheese. You may reserve some of the sauce to serve with pasta on the side, if desired.
Cook in preheated oven until cheese has melted, about 5-10 minutes.
Notes
* I used a combination of olive oil with avocado oil because it tolerates high temperatures better