My Eggplant Parmesan recipe starts with fresh eggplant that is sliced, battered, fried, layered with cheese and marinara, and then baked to perfection in the oven.
This is the absolute best recipe and it's just like mom used to make it! Much like chicken parmesan or homemade pasta, this meal is the ultimate Italian comfort food.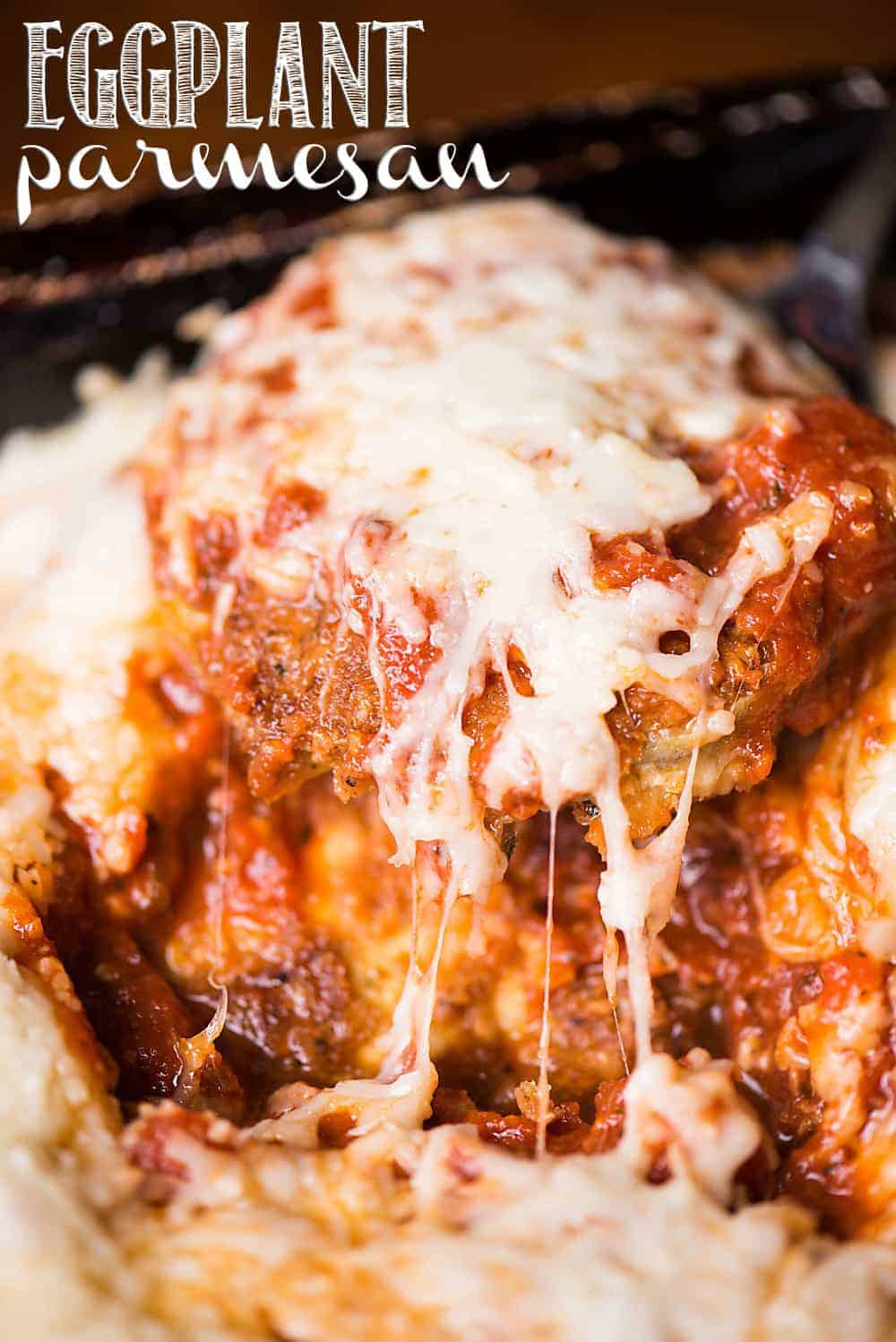 Homemade Eggplant Parmesan is one of my favorite Italian vegetarian comfort food dinners. Just slice, fry, and bake to perfection!
I crave this meal on a regular basis. I crave all Italian recipes like homemade pasta, ridiculously good alfredo sauce, spaghetti with meat sauce, pasta carbonara, lasagna, and zuppa toscana soup on a regular basis (mostly because I enjoy drinking red wine with them).
But, although my husband and two kids love to eat as much as I do, they all detest eggplant. No idea why. I can't even wrap my head around it. What that means, however, is that I got to eat this baked eggplant parmesan all by myself over the course of four days and I was still wishing I had more!
Do you have to peel eggplant before you cook it?
Whether or not you should peel your eggplant is a commonly asked question. Like with most vegetables, that there are tons of health benefits to eating the skin. With that dark purple eggplant skin comes fiber, potassium, magnesium, and cancer fighting antioxidants.
When I order eggplant parmesan in a restaurant, the skin is still on most of the time.
Me? I like to peel it. I want to be able to taste soft eggplant without having to fight with the tough skin.
How thick do you cut eggplant?
Now when considering how thick to slice it, I personally like to cut my eggplant slices about a half inch thick. Anything thinner falls apart and anything thicker does not cook through the center enough for my tastes. Of course, I eyeball it. No rulers in my kitchen!
How to make Eggplant Parmesan:
This recipe for eggplant parmesan starts out by dipping the peeled and sliced eggplant rounds in a beaten egg. The next step is to dredge the coated slices in a mixture of panko bread crumbs, parmesan, basil, and garlic powder.
Make sure your oil in your large fry pan is screaming hot before you start cooking the eggplant, because eggplant is like a sponge. If you set the slices of eggplant in not-so-screaming-hot oil, they will suck up all the oil in the pan.
Next, you layer those fried breaded eggplant rounds with your favorite marinara sauce and grated cheese and then you bake until melty perfection is achieved.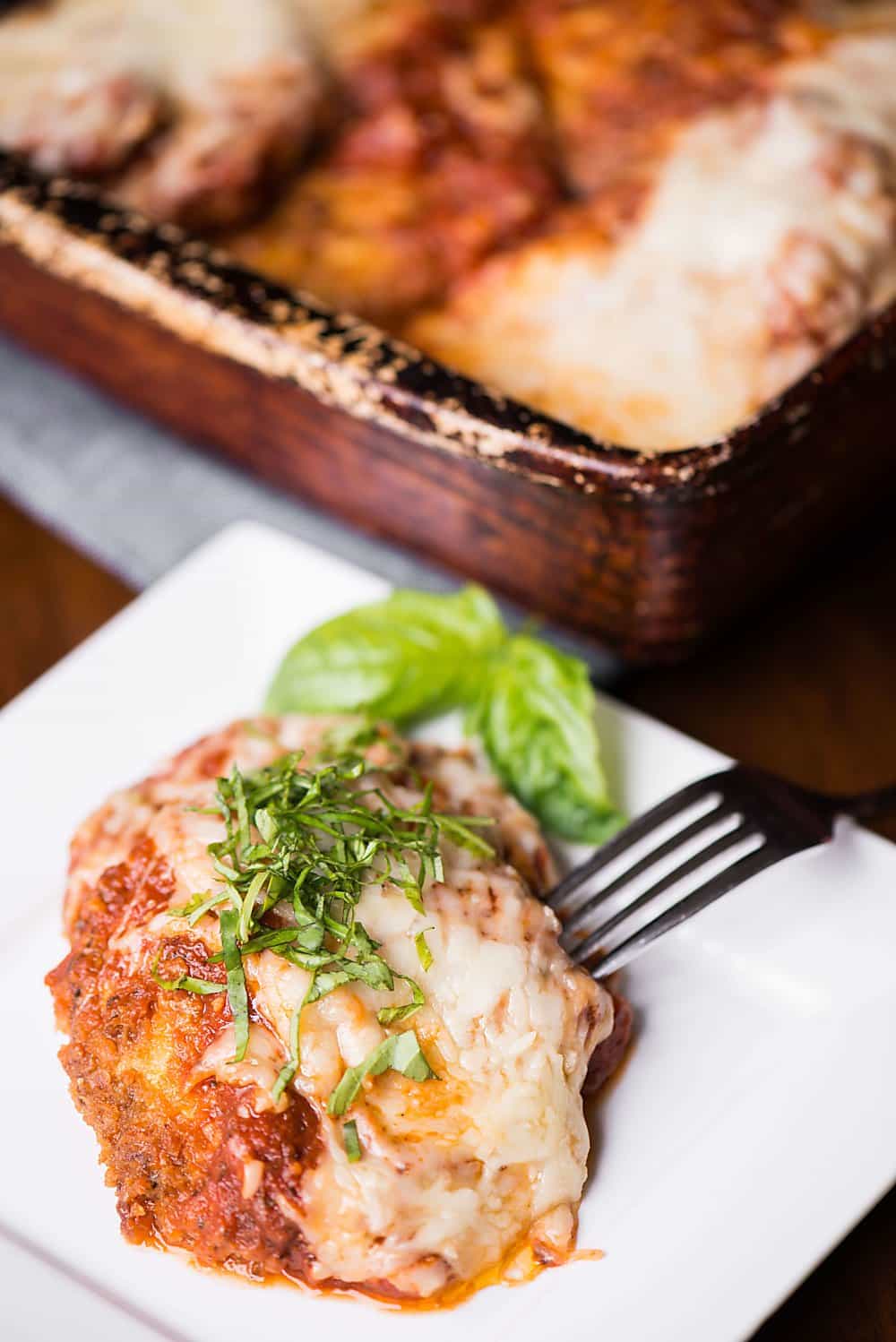 Is Eggplant Parmesan good for you?
My version? Not so much. But it can be...
Why is my recipe not super healthy? Because I remove the skin, cover it with panko bread crumbs, fry it, and then smother it with cheese.
Sure there are healthy components to my version, but this particular recipe focuses more on taste and less on health.
If you want a healthier version...
There are some major changes to can make to my version of the recipe. It will still taste amazing because, well, if you love eggplant, you'll love different versions.
First, leave the skin on. There's more nutrition in the skin. Cut the slices twice as thin.
Second, skip the part where you dip it in egg, coat it in bread crumbs, and fry it. Instead, lightly brush olive oil on the slices. Work quickly because eggplant sucks up oil like a thirsty man would suck up water if he were stuck in the desert. No joke.
Finally, layer the oiled eggplant slices with marinara sauce (homemade if you're going for bonus points) and real aged parmesan cheese. No mozzarella.
Okay. Well. That healthy version is pretty far from my recipe, but I like to give you options!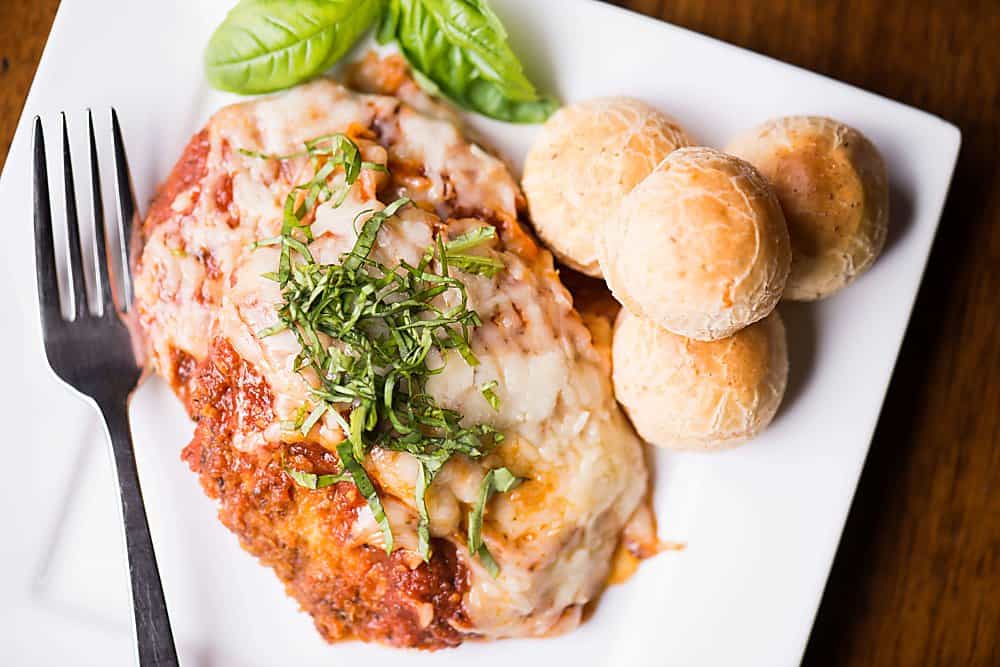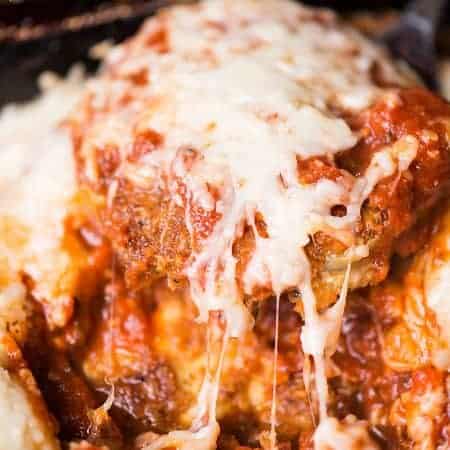 Eggplant Parmesan
Homemade Eggplant Parmesan is one of my favorite vegetarian comfort food dinners. Just slice, fry, and bake to perfection!
Print
Pin
Rate
RECIPE VIDEO WILL AUTOPLAY
Hover to scale:
4
servings
Ingredients
1

large eggplant

(peeled and sliced into 1/2" thick rounds)

2

eggs

1

cup

panko bread crumbs

1

cup

fresh parmesan

(grated)

1

tablespoon

basil

1

tablespoon

garlic powder

1

cup

olive oil

(more if needed (I use equal parts olive and avocado oil))

24

ounces

marinara sauce

2

cups

grated Italian cheese

(mozzarella, provolone, parmesan, asiago)
Instructions
Preheat oven to 400 degrees F.

In a shallow dish, beat eggs.

In another shallow dish, combine panko bread crumbs, parmesan, basil, and garlic powder.

In a large skillet with enough oil to cover entire base of pan, heat over high heat.

Dip each slice of eggplant in the egg, then coat both sides in the bread crumb mixture. Add to the hot oil in the pan. Add eggplant to pan until you have a single layer. Once the bottom browns, flip slices and cook the other side until they get a nice golden brown color (3-4 minutes per side). Remove from pan and allow to drain on paper towel lined plate.

Add additional oil to pan before cooking next batch, but be sure to allow oil to get screaming hot before adding the eggplant. Continue cooking until all of the eggplant has been breaded and cooked.

Layer eggplant in casserole dish. Cover with marinara sauce and shredded cheese. Cook, uncovered, in preheated oven until heated through and cheese has fully melted, about 15 minutes.

Serve hot on it's own or with pasta.
Notes
Be sure the oil is very hot before frying the eggplant, otherwise the eggplant will absorb it like a sponge in water. Add additional oil to the pan, as needed, but make sure it's hot before you continue cooking.
NUTRITION INFORMATION
Calories:
480
kcal
|
Carbohydrates:
30
g
|
Protein:
29
g
|
Fat:
27
g
|
Saturated Fat:
13
g
|
Cholesterol:
143
mg
|
Sodium:
1787
mg
|
Potassium:
974
mg
|
Fiber:
6
g
|
Sugar:
13
g
|
Vitamin A:
1480
IU
|
Vitamin C:
14.4
mg
|
Calcium:
651
mg
|
Iron:
3.7
mg
This post was originally created in April 2017 and has been updated with more fun facts and tidbits for your reading pleasure.