Homemade Eggplant Parmesan is one of my favorite vegetarian comfort food dinners. Just slice, fry, and bake to perfection!
I participated in Mom Blog Tour Winter Fancy Food Show (#MomBlogTourFF) 
on behalf of Wendy's Bloggers. I received Brazi products to facilitate my review, but my opinions and the recipe are my own.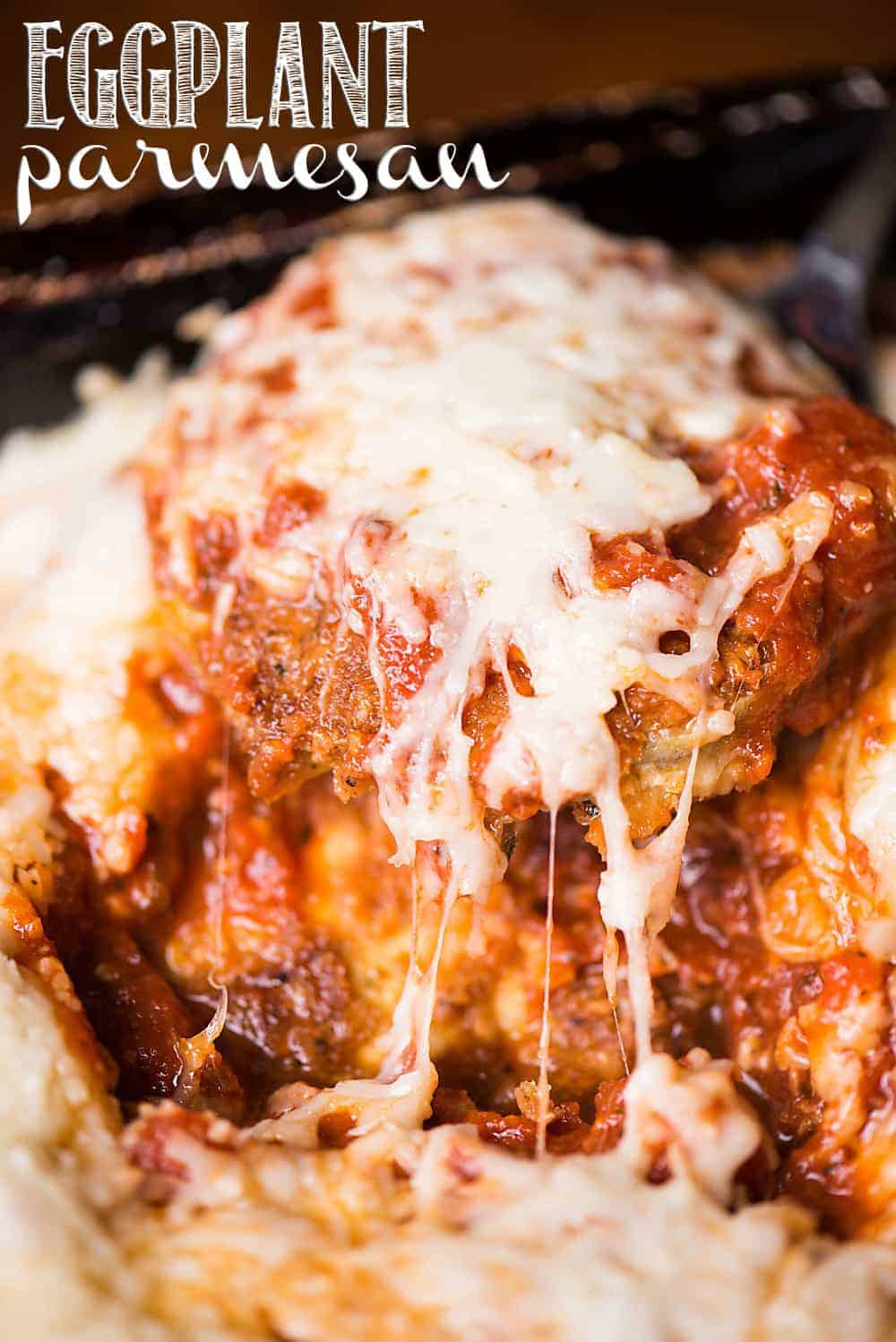 MY OTHER RECIPES
Before I start telling you about how much I love this dinner, and it seriously ranks in my top 10 (which is hard to do considering how much I adore the act of eating), I must go into my inspiration for this meal.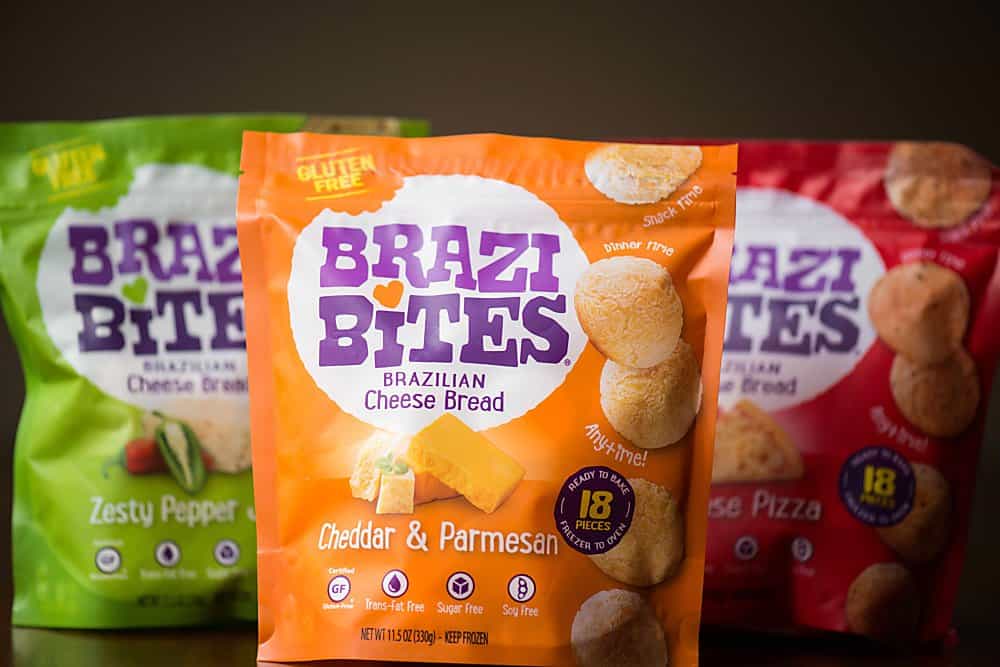 I needed to make something to go with my FAVORITE Brazilian Cheese Bread – Brazi Bites. My freezer is stocked with all of the different flavors they make: Cheddar & Parmesan, Zesty Pepper Jack, Garlic Asiago, and 3 Cheese Pizza. I love them all. Crave them, in fact. I had the hardest time not only figuring out which flavor I wanted to use in this post, but what to make to go along with them! I'm especially fond of this brand because a) they are based right here in Portland and b) I discovered them while sampling at Whole Foods before they catapulted to their crazy level of success after their appearance on Shark Tank.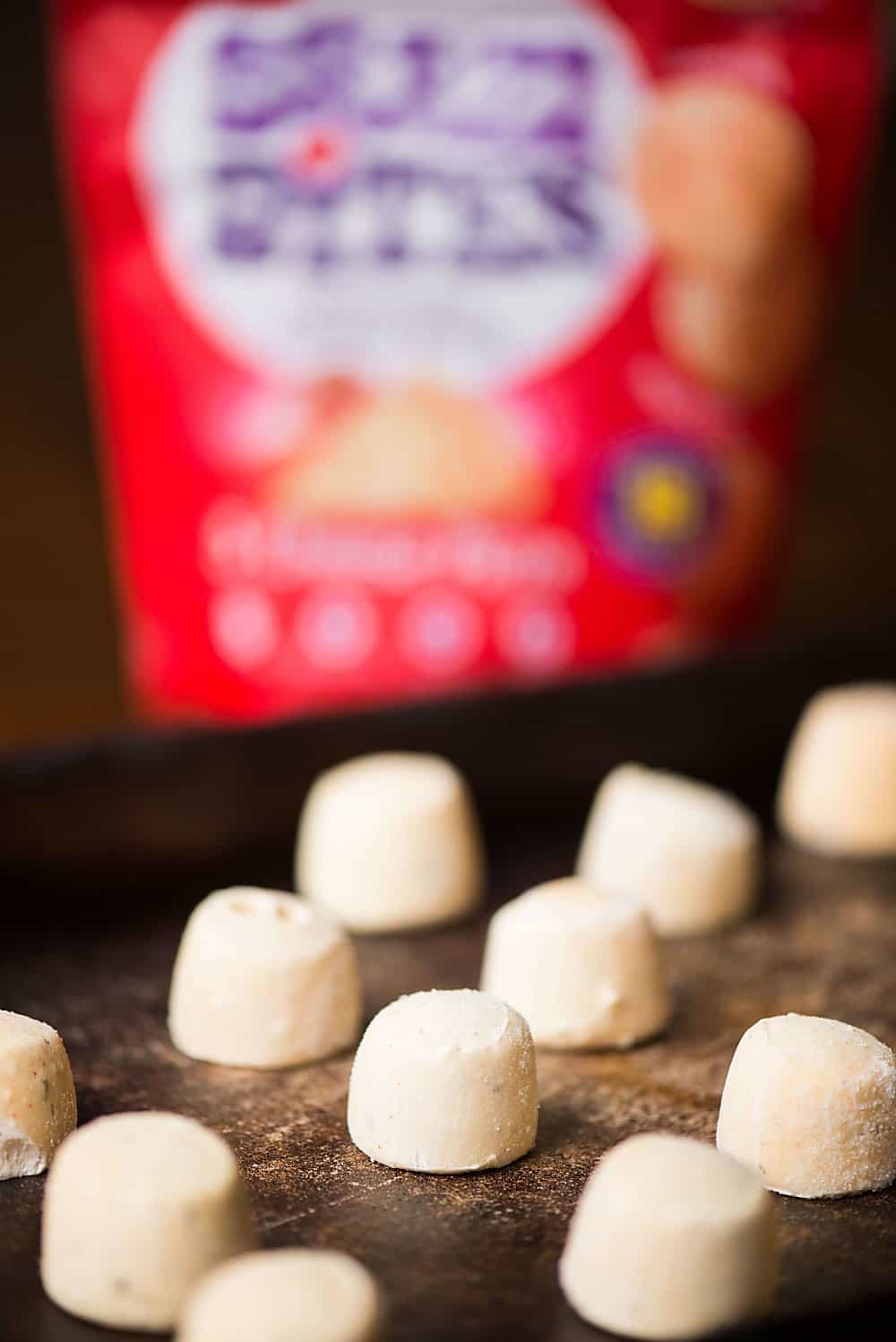 I didn't want to make any recipes that altered the Brazi Bites. At first I thought I would make teeny tiny little sandwiches by slicing them in half and adding some kind of filling. Then I thought about flattening them to make some kind of mini pizza. But after eating each flavor with various dinners at home, it broke my heart to think of doing anything with them other than baking and then shoving them straight into my mouth. You can definitely do that with these little bites, and I've seen some really awesome recipes, but I didn't want to. You see, all you have to do is spread the frozen Brazi Bites out onto a baking sheet, bake at 400 degrees F for 20 minutes, and then enjoy! They turn out perfect every single time. And when I say  perfect, I mean perfectly golden and crispy on the outside and heavenly soft on the inside. Ugh. I'm craving them right now!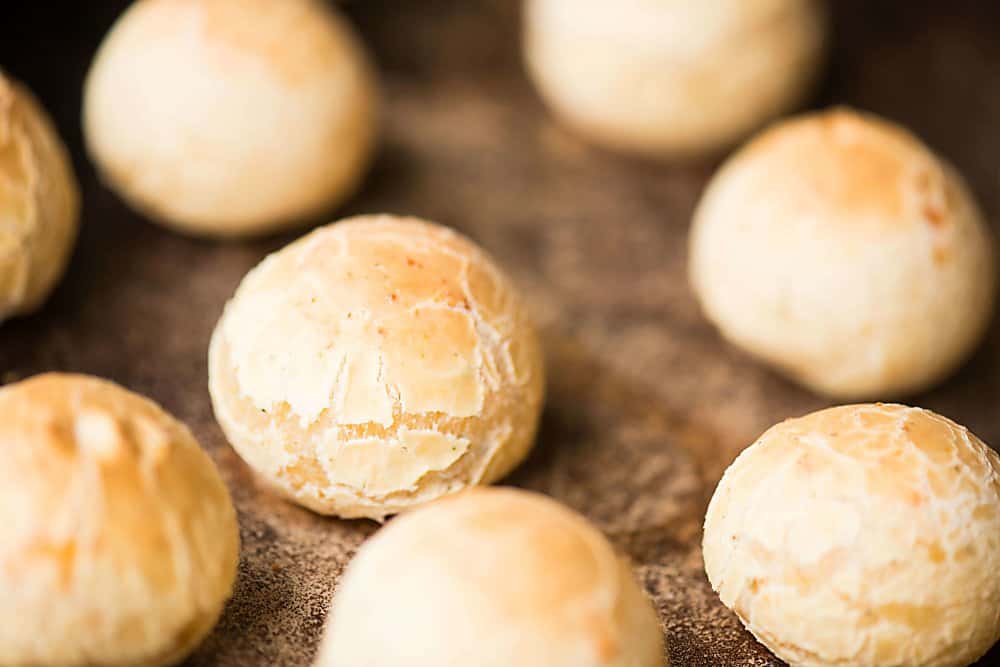 So, knowing that I just wanted to pair my Brazi Bites with a recipe rather than use them in a recipe, I decided to create one of my favorite meals: Eggplant Parmesan. You see, this meal is funny because I love it so much I actually crave it. On a regular basis. But, although my husband and two kids love to eat as much as I do, they all detest eggplant. No idea why. I can't even wrap my head around it. What that means, however, is that I got to eat this Eggplant Parm all by myself over the course of four days and I was still wishing I had more!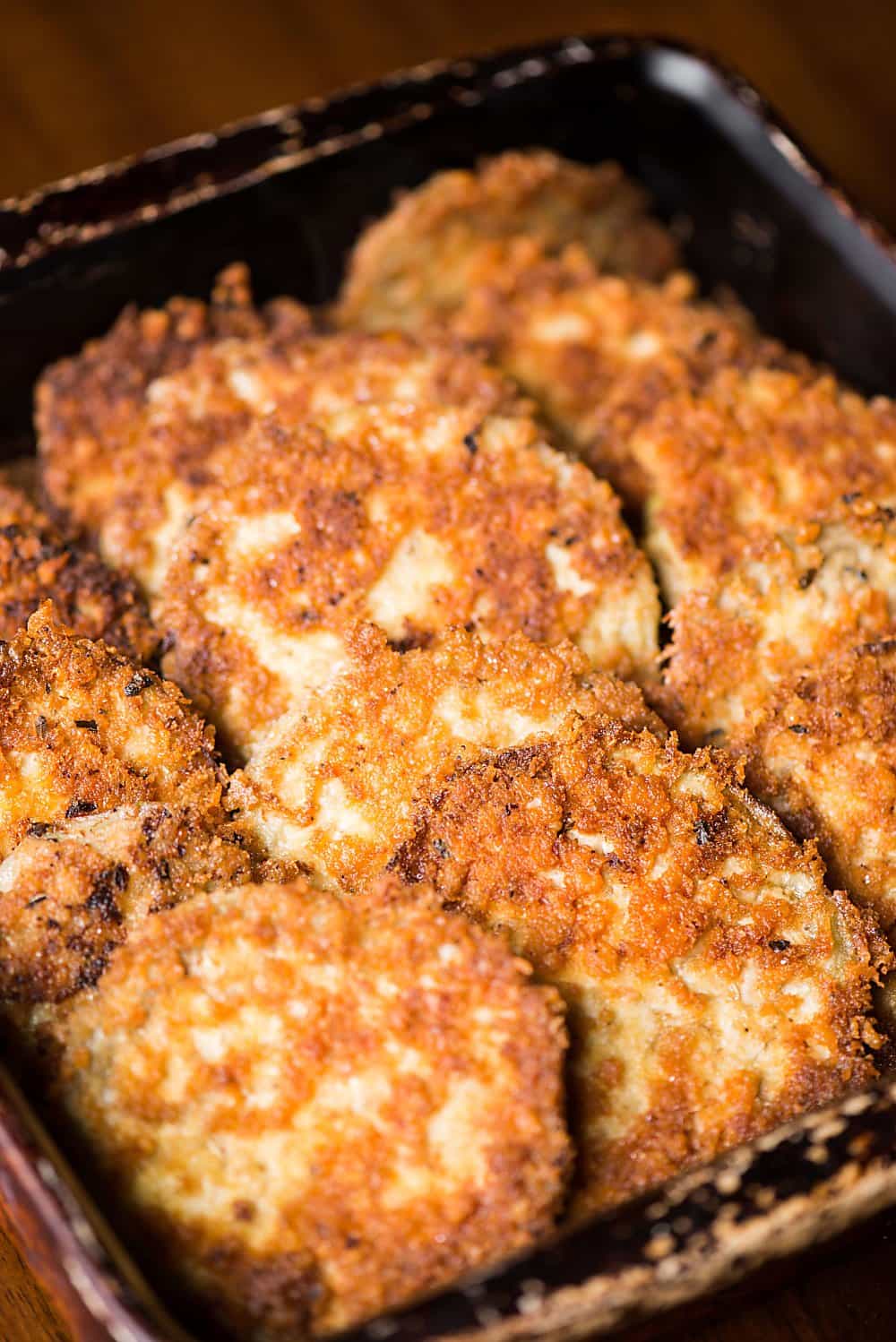 This recipes starts out by peeling a large eggplant and slicing it into half inch rounds. Then, you dip it in a beaten egg and dredge it in a mixture of panko bread crumbs, parmesan, basil, and garlic. Make sure your oil is screaming hot before you start cooking the eggplant, because eggplant is like a sponge and if you set them in not-so-screaming-hot oil, they will suck up all the oil in the pan. I'm not a gluten free person, but if I had gluten free bread crumbs on hand, those totally would have worked and then both the eggplant and the Brazi Bites would have created a gluten free meal. I found out from Brazi Bite's owner, Junea, that Brazilian cheese bread is naturally gluten free. Its always been made with tapioca flour. I thought that was so interesting in today's world that we had a bread that was naturally gluten free rather than a bread that's never been gluten free but someone figure out how to make it gluten free.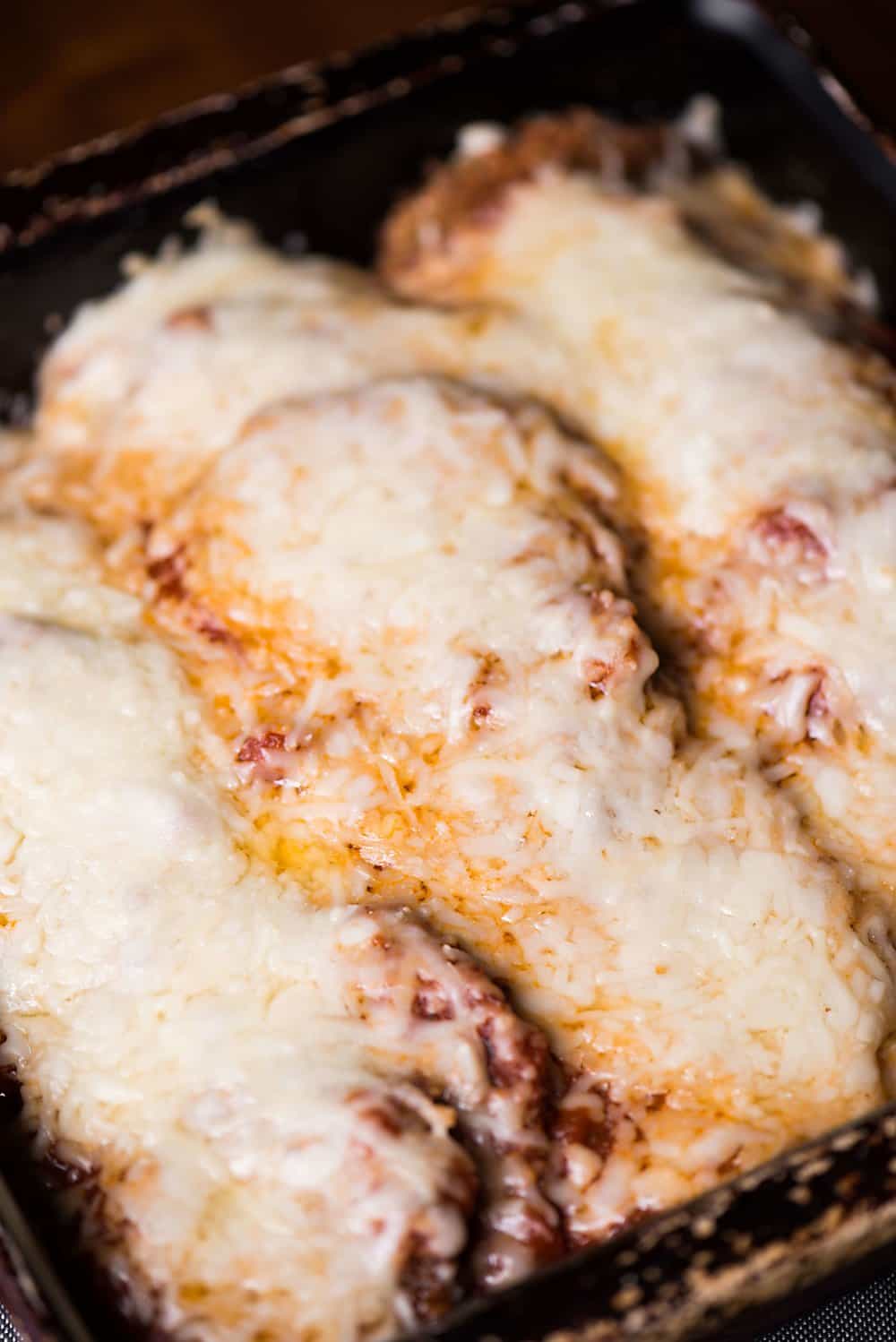 Next, you cover those fried breaded rounds with your favorite marinara sauce and grated cheese and then you bake until melty perfection is achieved.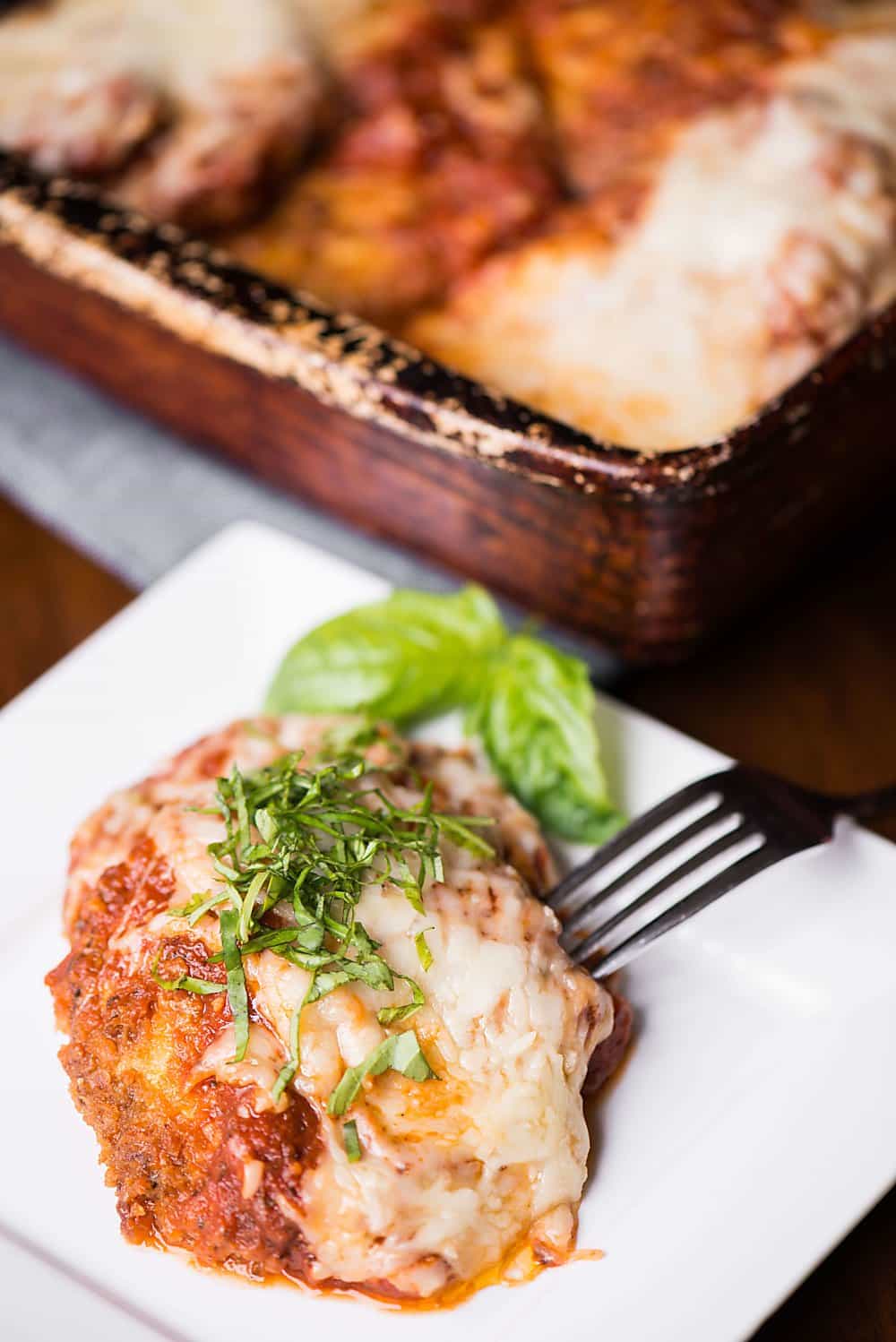 I present to you – perfection.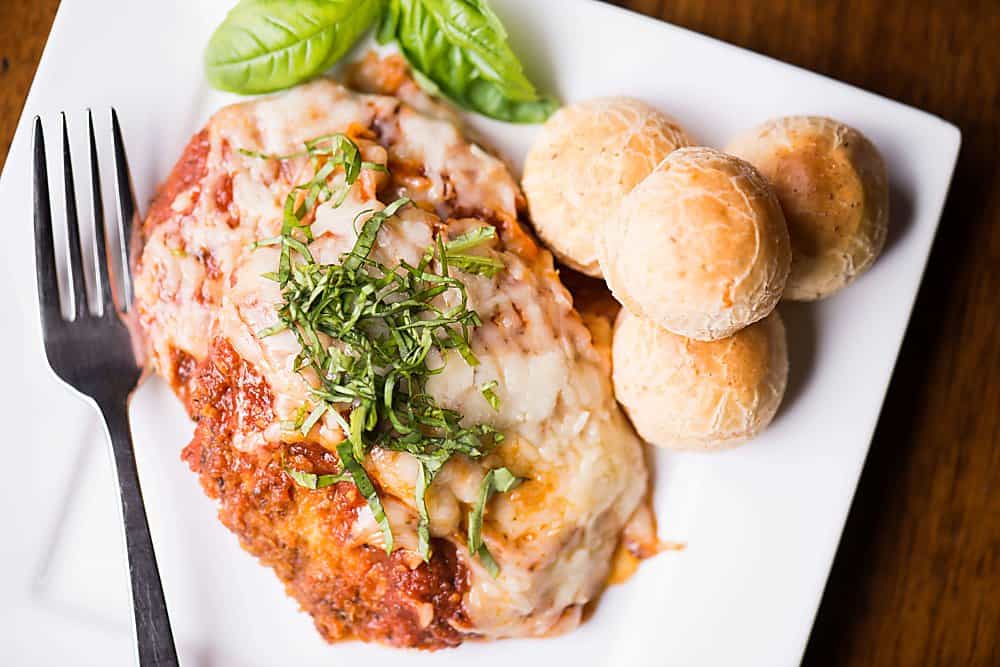 Now, you can use those Brazi Bites to help shovel copious amounts of eggplant parm onto your fork.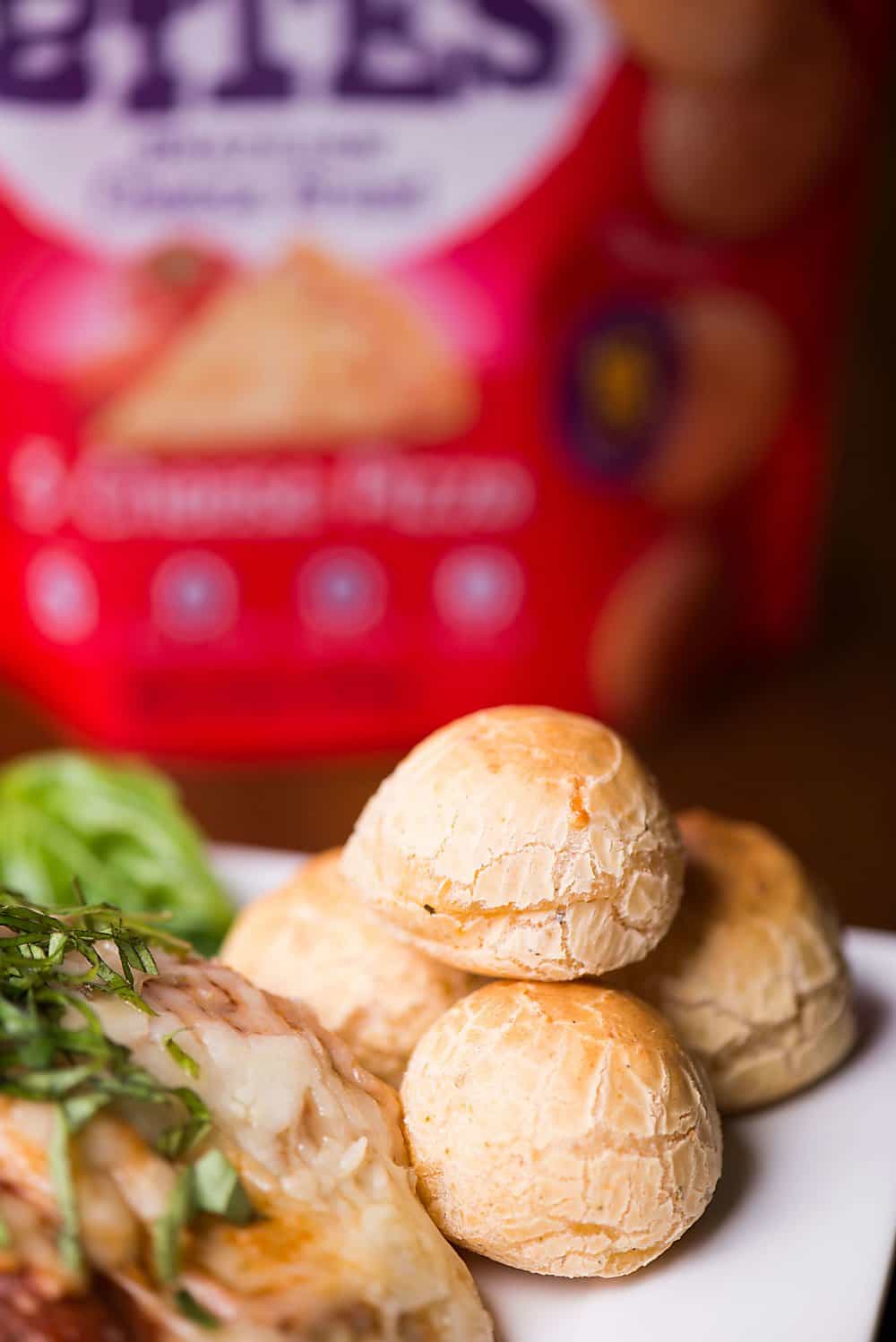 See what I'm talking about? Crispy on the outside and pillowy soft on the inside. YUM!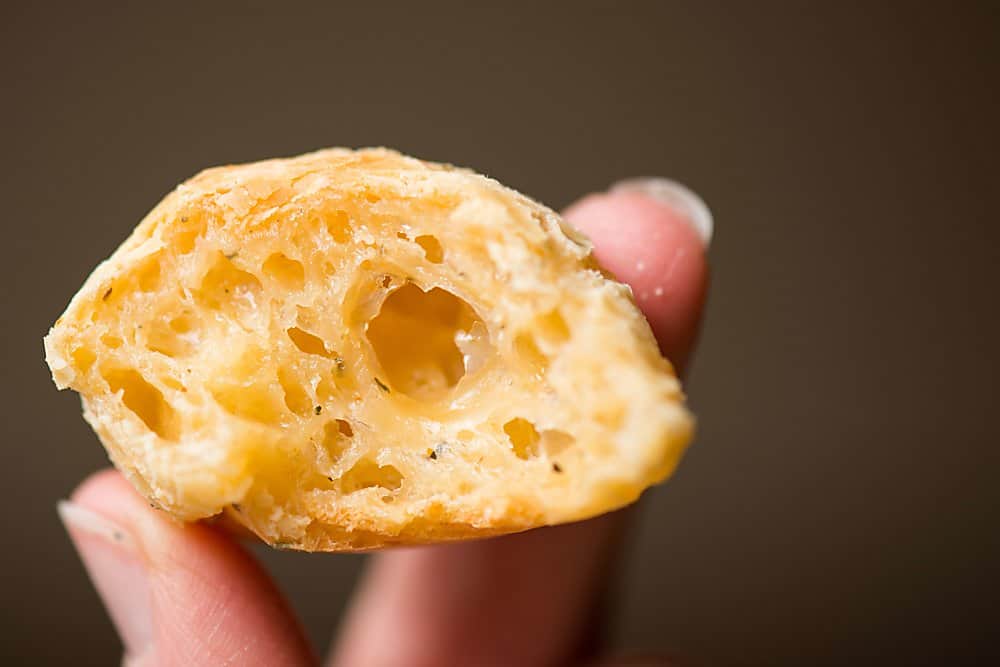 Want some of these tasty assorted flavors of Brazi Bites delivered straight to your house? Just enter the giveaway below!  There are several ways to increase your chance of winning.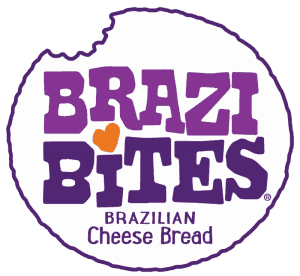 To learn more about Brazi Bites, please visit their website or follow them on facebook, twitter, and instagram!
Giveaway Disclaimer
One winner per household, email address, or home address. If you have won this prize on another blog you are ineligible to win again.
Winner must have a U.S.-based address to receive the prize.  Winner will be randomly selected and notified on May 15, 2017.
Homemade Eggplant Parmesan is one of my favorite vegetarian comfort food dinners. Just slice, fry, and bake to perfection!
Ingredients
1

large eggplant, peeled and sliced into 1/2" thick rounds

2

eggs

1

cup panko bread crumbs

1

cup fresh parmesan, grated

1

tablespoon basil

1

tablespoon garlic powder

1

cup oil, more if needed (I use equal parts olive and avocado oil)

1

(24 ounce) jar marinara sauce

2

cups grated Italian cheese (mozzarella, provolone, parmesan, asiago)
Instructions
Preheat oven to 400 degrees F.
In a shallow dish, beat eggs.
In another shallow dish, combine panko bread crumbs, parmesan, basil, and garlic powder.
In a large skillet with enough oil to cover entire base of pan, heat over high heat.
Dip each slice of eggplant in the egg, then coat both sides in the bread crumb mixture. Add to the hot oil in the pan. Add eggplant to pan until you have a single layer. Once the bottom browns, flip slices and cook the other side until they get a nice golden brown color (3-4 minutes per side). Remove from pan and allow to drain on paper towel lined plate.
Add additional oil to pan before cooking next batch, but be sure to allow oil to get screaming hot before adding the eggplant. Continue cooking until all of the eggplant has been breaded and cooked.
Layer eggplant in casserole dish. Cover with marinara sauce and shredded cheese. Cook, uncovered, in preheated oven until heated through and cheese has fully melted, about 15 minutes.
Serve hot with any variety Brazi Bites for an amazing meal!