Homemade Bourbon Bacon Brittle with toasted pecan and spicy candied bacon is the perfect holiday sweet treat! Satisfy all those sweet bacon cravings! If you're looking for a recipe that your guests will love during your holiday entertaining, Bourbon Bacon Brittle won't disappoint!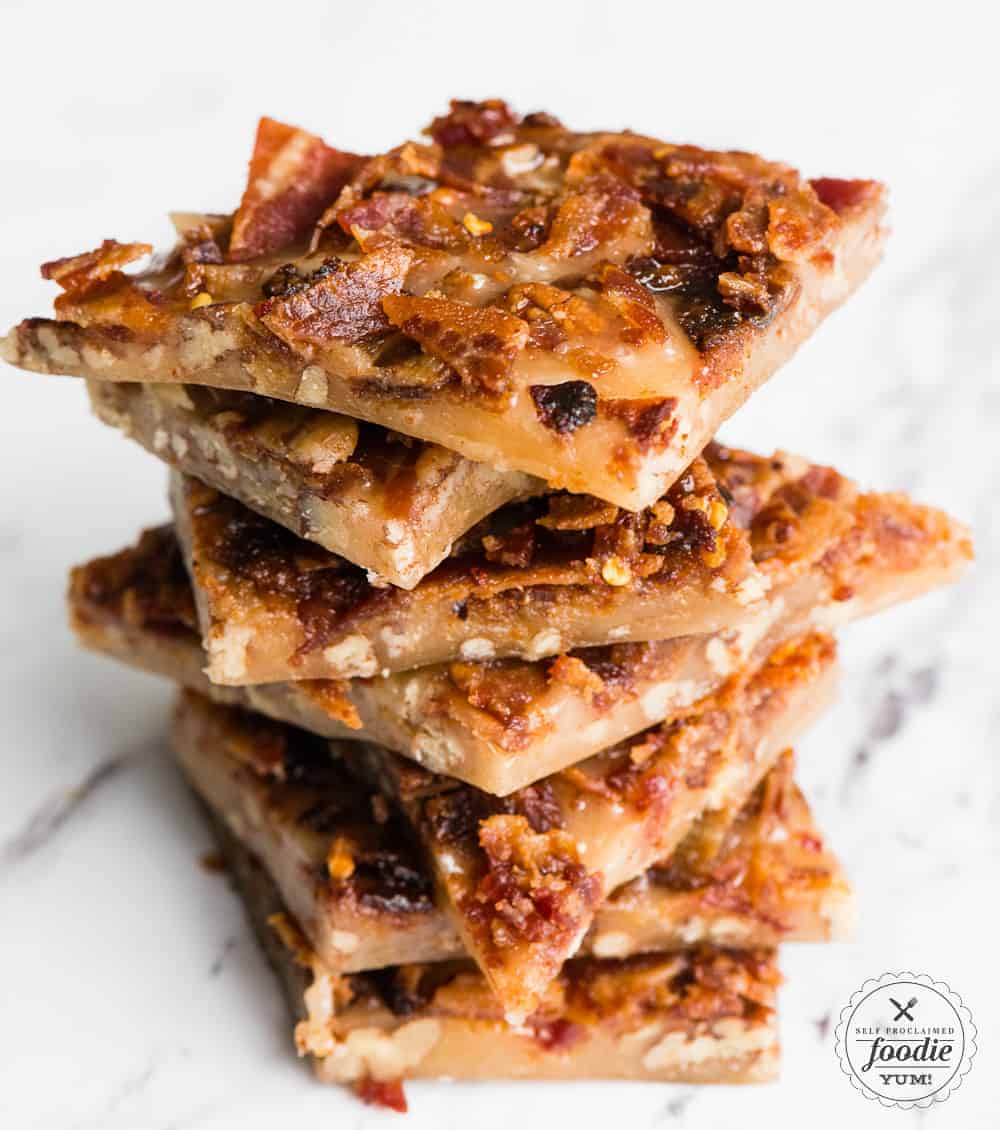 It's that time of year again where holiday entertaining is abound. Whether you're hosting your own gathering or are heading to a potluck holiday party, there isn't a single head that won't turn when they see this Bourbon Bacon Brittle!
The best part is that its a simple and easy recipe to make that uses ingredients that you most likely already have on hand! This recipe has it all – both crunchy and chewy texture and a ton of flavors ranging from super sweet to salty with the occasional bit of spice mixed in. This isn't just a boring pecan brittle recipe either. It's topped with bacon. Not just bacon, but candied bacon.
How to make Bourbon Bacon Brittle:
This sweet recipe is super simple, but it is a two step process. The first step is to make the candied bacon and the second step is to make the brittle.
You'll want to make sure the candied bacon is fully cooked and chopped before you start making the brittle, because once the brittle is ready to pour, you'll need to work fast in order to get the bacon to stick on top!
To make the candied bacon, you'll want to lay your bacon in a single layer on a baking sheet. I recommend lining the baking sheet with either parchment paper or foil for easy clean up. I also prefer to use a rack under the bacon. You'll cover the bacon with some bourbon whiskey, brown sugar, and red pepper flakes and then bake it.
You'll make the brittle on the stove top. You do this by combining sugar, corn syrup, butter and water in a pan. Be sure to have a handy candy thermometer, because you'll want to take your boiling brittle mixture off the heat as soon as it hits 300 degrees F. This is the part where you'll have to work super fast. You'll add baking soda, vanilla, toasted pecans, and more bourbon whiskey to the boiling brittle mixture. You'll quickly pour it onto a parchment lined baking sheet and then top it with your candied bacon pieces.
Did I mention how delicious those candied bacon pieces are? Must be that hardwood smoked goodness! Now's the hard part. You have to wait for the brittle to set. The colder your house, the quicker it will set. You can either brake it into pieces or use a large sharp knife.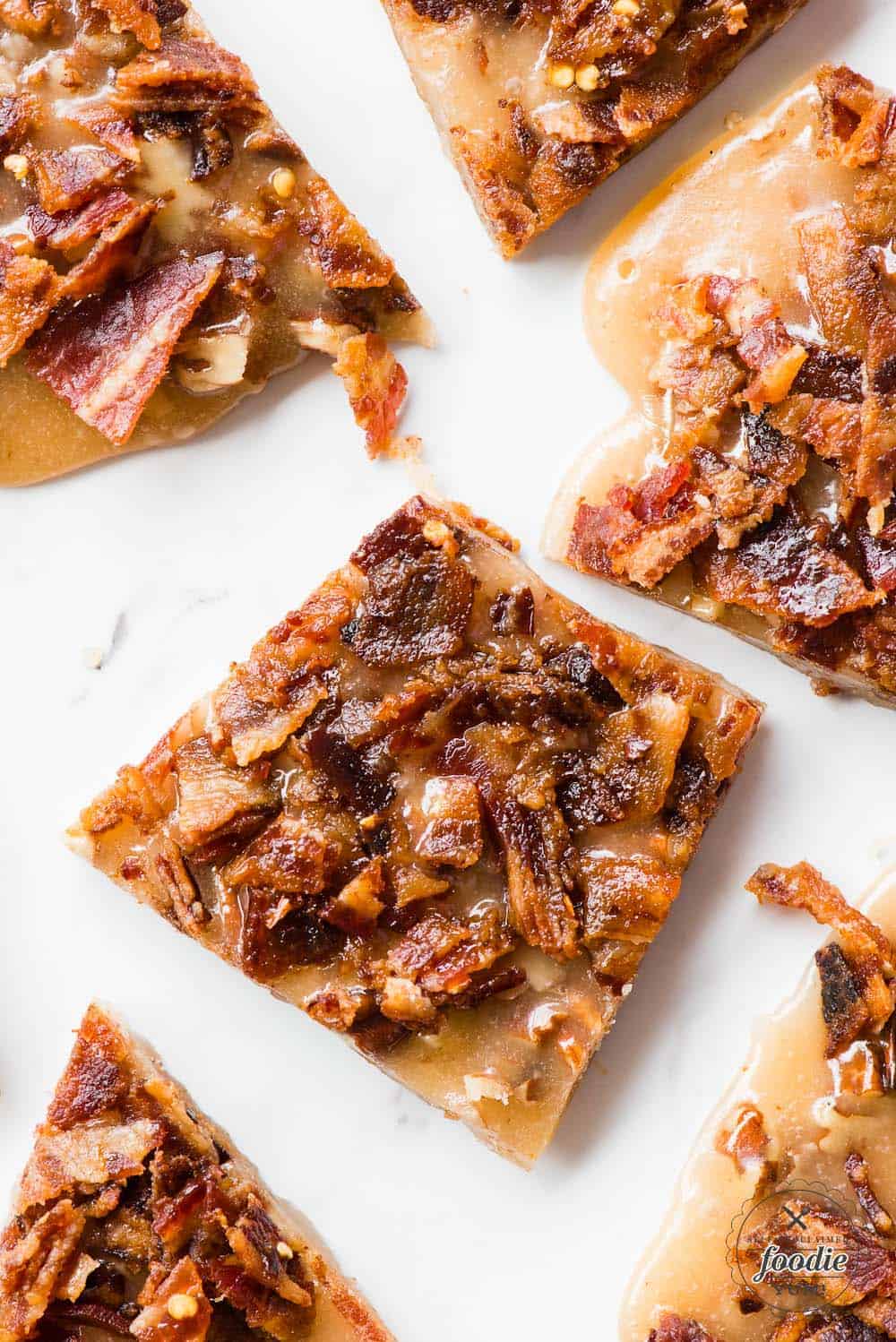 If you love homemade brittle, you'll definitely want to make my Hazelnut Brittle.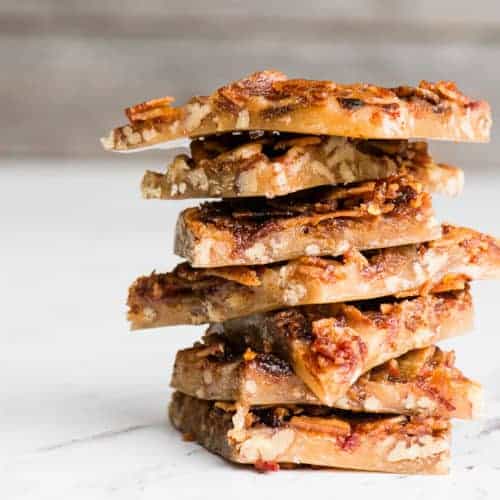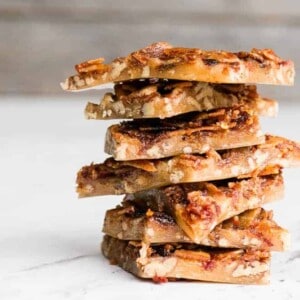 Homemade Bourbon Bacon Brittle with toasted pecan and spicy candied bacon is the perfect holiday sweet treat! Satisfy all those sweet bacon cravings!

Instructions
To make the Bacon:
Line a large baking sheet with parchment paper. Set oven safe cooking rack inside. Arrange bacon in single layer on baking sheet.

Top bacon with two tablespoons bourbon whiskey, brown sugar, and red pepper flakes. Cook in preheated 400 degree F oven per package instructions for 13 to 15 minutes. Alternatively, you can cook low and slow in preheated 300 degree F oven for 50-60 minutes.

Once cool enough to handle, roughly chop candied bacon. Set aside.
To make the brittle:
In a large saucepan, combine the sugar, water, butter and corn syrup and bring to a boil. Cook over medium high heat, stirring occasionally, until the caramel is light brown and reaches 300° F on a candy thermometer, about 10 minutes. Note that around 250° F the mixture will start to thicken.

Remove from the heat and carefully stir in the remaining tablespoon of bourbon, plus the vanilla and baking soda. Stir in the nuts, then immediately scrape the brittle onto lined baking sheet. Spread the brittle into a thin, even layer. Work fast – it will set quickly. Sprinkle with chopped candied bacon.

After the brittle cools for at least 30 minutes, you can break it into large chunks.

Best if eaten on same day.
Nutrition
Calories:
417
kcal
,
Carbohydrates:
40
g
,
Protein:
5
g
,
Fat:
27
g
,
Saturated Fat:
8
g
,
Cholesterol:
34
mg
,
Sodium:
231
mg
,
Potassium:
123
mg
,
Fiber:
1
g
,
Sugar:
38
g
,
Vitamin A:
214
IU
,
Vitamin C:
1
mg
,
Calcium:
20
mg
,
Iron:
1
mg
Nutrition information is automatically calculated, so should only be used as an approximation.