Bacon Wrapped Dates stuffed with cream cheese, dried cranberries and candied pecans are the perfect recipe to make for an easy holiday appetizer.
Although these little tasty appetizers seem fancy, they are very easy to make. When you serve bacon wrapped anything, people go crazy, and homemade bacon wrapped dates are no exception!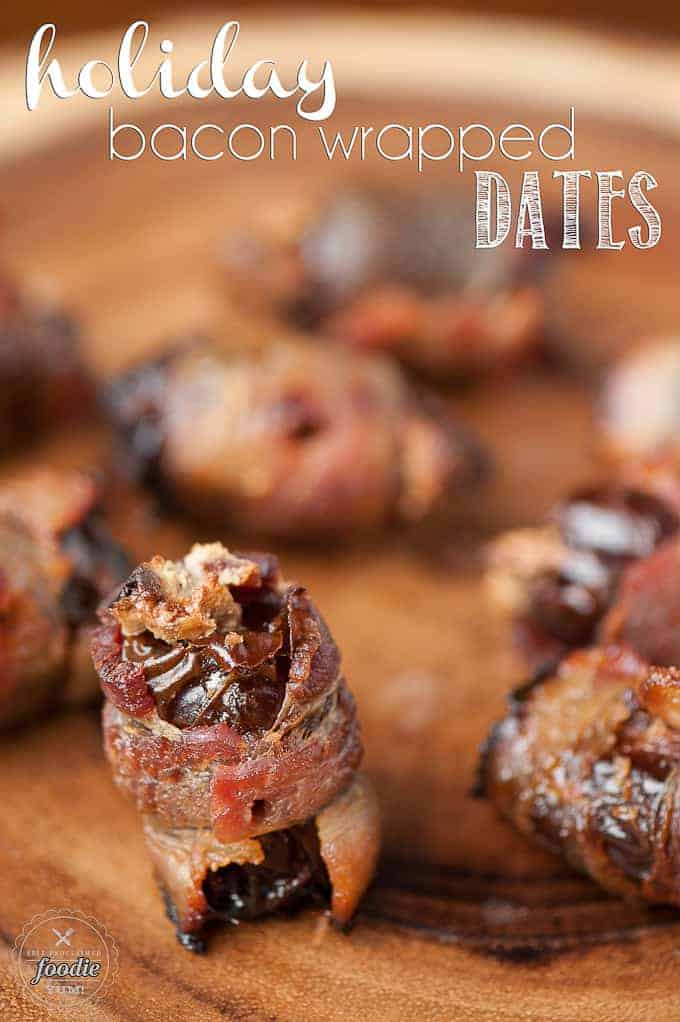 BACON WRAPPED DATES
These mouth-watering Bacon Wrapped Dates are stuffed with cream cheese, dried cranberries and candied pecans to make the perfect appetizer for any of your holiday festivities.
If you're new to hosting, you should know that snacks and appetizers are a MUST during any kind of party. Your guests are sure to be a little hungry before you serve your meal, so it's important you have a few things available for them to munch on beforehand. These are sure to be a favorite!
Oh how I love bacon wrapped dates! There are many ways to make bacon wrapped dates including my traditional blue cheese almond stuffed bacon wrapped dates. These bacon wrapped dates, however, make the perfect addition to any Thanksgiving, Christmas, and/or New Year's Eve celebration with their sweet and savory flavor.
How to make bacon wrapped dates:
When preparing the dates you'll want to slice them lengthwise, cutting to, but not through, the other side to remove the pits.
You'll combine the cream cheese, dried cranberries and candied pecans in the food processor. Pulse until you achieve your desired consistency. The smaller the pieces, the easier they are to stuff, but you still want the chunks big enough to add some crunch and texture.
Next you'll add this sweet delectable filling into each of the dates. Wrap the bacon around each date and hold it together with a skewer. These are easily baked in the oven, on a rimmed baking sheet. Set apart so neither are touching.
These bacon wrapped dates offer an explosion of flavor. The final result is a salty-sweet, melty-cheese, mouth watering appetizer that your guests are sure to love.
How to get crisp and fully cooked bacon when making bacon wrapped dates:
Let's talk about bacon! While I love bacon, I can't stand it to be under cooked or unevenly cooked.
The way to achieve perfectly cooked bacon where the fat is fully rendered is to stuff the dates, wrap the raw bacon around them, and then skewer these little gems. This technique allows the bacon wrapped dates to be spaced far enough apart so that they aren't touching one another. It also makes it so that the bacon is fully exposed in the oven and not laying fat on your baking sheet.
When I make bacon wrapped dates, I want them all to cook evenly and for the fat to drip to the bottom of the pan. The result, when you use this method, will be beautiful golden brown bacon that is chewy and delicious.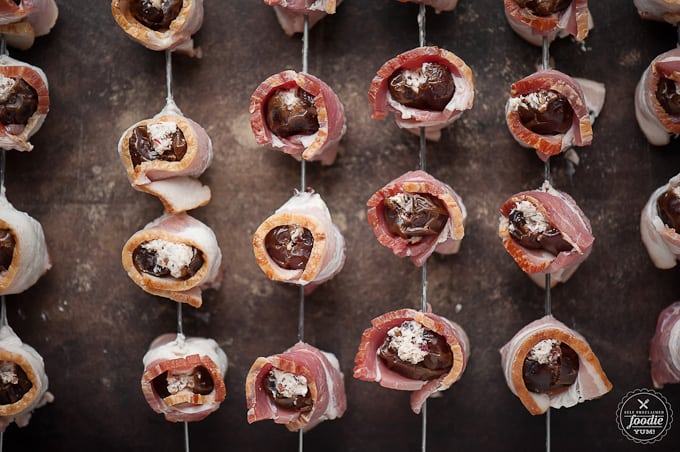 These are so delectable I can hardly control myself! But if by some chance you have the self control I lack, and don't end up eating the entire batch in one sitting, or you need these prepared ahead of time, they can be frozen and served at a later date.
How to freeze Bacon Wrapped Dates to be enjoyed at a later time:
To freeze homemade bacon wrapped dates, you will prepare and cook them, but plan on slightly undercooking the bacon because they will continue to cook during the reheating process.
Let the bacon completely cool before freezing. Using an air-tight container, place the prepared and cooked bacon-wrapped dates in a single layer. Add some parchment or wax paper over the top and continue layering until the container is filled. Once frozen, make sure to eat them within three months for the best flavor.
Thawing and reheating bacon wrapped dates:
Make sure to transfer the bacon wrapped dates from the freezer to the fridge about 24 hours before you plan to serve them. Then, about 20 minutes before you wish to serve, preheat your oven to 400 degrees. Arrange the bacon wrapped dates on a lined baking sheet in a single layer. Cook for six to eight minutes until the bacon is crisp on the outside. Serve and enjoy!
Goodness gracious they are good! These two bite treats are incredibly sweet with a salty kick. While you may already have your traditional holiday menu planned, just in case you're looking for something a bit different, these bacon wrapped dates have got you covered. They are a real crowd pleaser, so be sure to make a batch to bring to your next holiday party or celebration!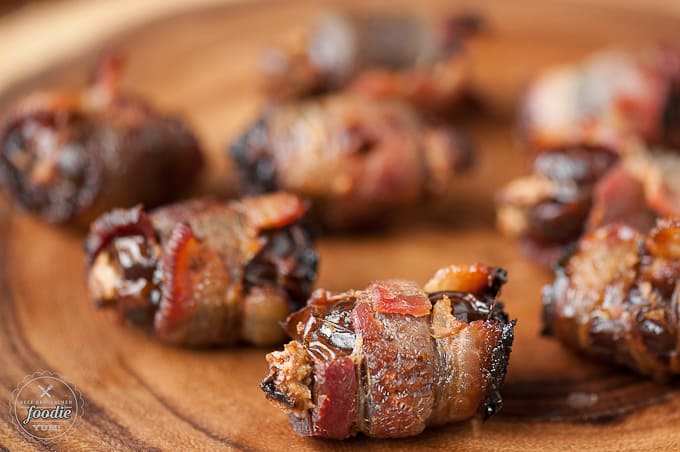 Holiday Bacon Wrapped Dates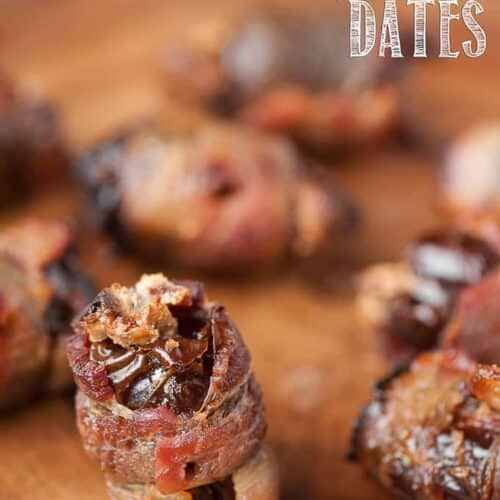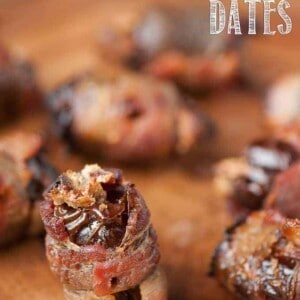 These tasty Holiday Bacon Wrapped Dates are stuffed with holiday goodies like dried cranberries and candied pecans to make the perfect holiday appetizer.
Ingredients
24

whole pitted dates

about a pound

4

ounces

cream cheese

1/3

cup

dried cranberries

1/3

cup

candied pecans

see notes for link to recipe for candied pecans

8

slices

bacon

strips cut into thirds (12 ounces – recommend TJ's applewood bacon)

6

metal skewers needed
Instructions
Preheat oven to 350°.

Slice dates lengthwise, cutting to, but not through, other side. Remove pits and discard.

Combine cream cheese, dried cranberries, and pecans in food processor. Pulse until you achieve desired consistency (large or small chunks – personal preference). first 4 ingredients in a small bowl, stirring with a fork. Open dates and place filling (about 1 teaspoon) cheese mixture into each date.

Cut bacon slices into thirds so that you have 24 pieces that are about 3 inches long. Wrap bacon around date such that the stuffed section is facing the middle of the bacon and the ends wrap around the other side and barely overlap. Use metal skewer to stab through overlapped bacon and through the stuffed date (stuffed date should be vertical on skewer). If using six metal skewers, fit each skewer with 4 dates and space them out such that they are not touching. Balance skewers on a rimmed baking sheet such that the dates are either not touching the bottom of the pan or only the bottoms are touching. Basically, you want the bacon entirely exposed and not touching another wrapped date.

Bake at 350° F until bacon fat is rendered but still chewy (mine took 50 minutes). Serve immediately.

-50min
Notes
* Okay to use raw pecans in lieu of candied pecans
Homemade candied pecans recipe: https://selfproclaimedfoodie.com/homemade-candied-pecans/
Serving size based on one bacon wrapped date.
Nutrition
Calories:
80
kcal
,
Carbohydrates:
7
g
,
Protein:
1
g
,
Fat:
5
g
,
Saturated Fat:
1
g
,
Cholesterol:
10
mg
,
Sodium:
70
mg
,
Potassium:
66
mg
,
Sugar:
6
g
,
Vitamin A:
65
IU
,
Calcium:
8
mg
,
Iron:
0.1
mg
Nutrition information is automatically calculated, so should only be used as an approximation.
This post was originally created in December 2014 and has been updated with more fun facts and tidbits for your reading pleasure.