Fresh Broccoli Salad has so much flavor because of it's tangy creamy dressing, crisp bacon, chewy raisins, crunch almonds, and flavorful onions. YUM!
This is the perfect recipe to bring to a summer potluck and even makes a great side dish during holiday dinners.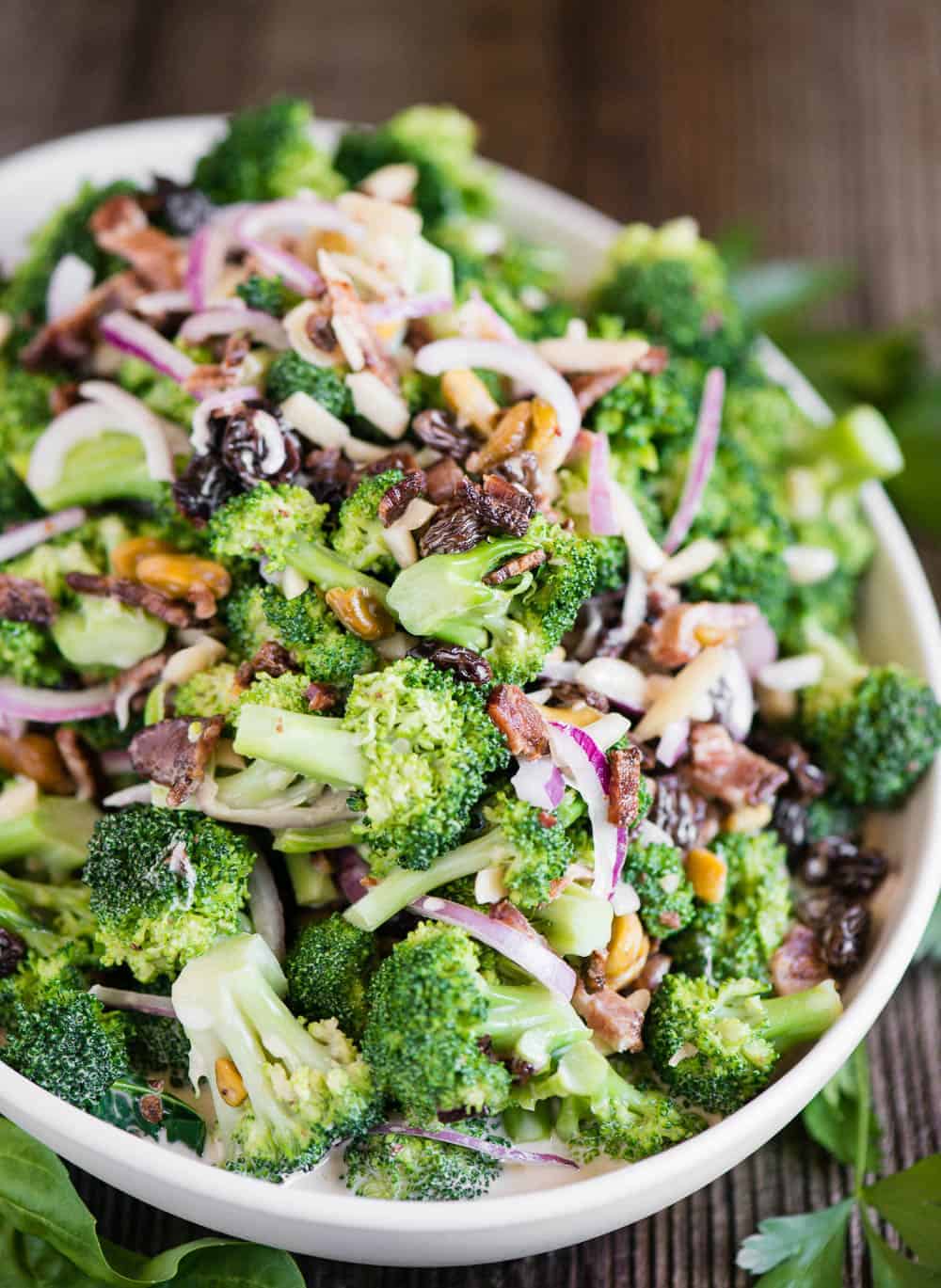 Why this recipe works:
I had been hesitant to make this recipe because the thought of a broccoli raisin salad never really appealed to me. Raisins don't belong in anything except on top of bran flakes, for crying out loud!
I had something similar at a potluck, however, and was delighted to find out how incredibly delicious a broccoli bacon salad was with raisins.
You see, a broccoli salad with bacon was a no brainer, but it was the addition of raisins and a creamy dressing that I was unsure of. Two (or maybe three) servings later, I regret not trying this recipe years ago.
This was one of those potluck recipes, much like Three Bean Salad, that I thought I wouldn't like and ended up loving.
Ingredients needed:
I put a lot of thought into making this the best broccoli salad recipe you'll find. It was important to strike the right balance with flavor, texture, quantity, and nutrition.
For the salad:
Fresh broccoli - you can buy a bag of broccoli crowns or buy a couple heads of broccoli and break the crowns off yourself
Bacon - Any time a recipe uses chopped bacon, I prefer to use bacon ends and pieces because it's less expensive than sliced bacon.
Red onion - Slice them real thin and soak them in water to make the flavor a bit more mild.
Raisins - I still can't believe I liked them in the salad
Sliced almonds - or you can use other nuts like pistachios
For the dressing:
Mayonnaise - Even better when you use your own homemade mayonnaise
Sour cream - Instead of just using mayo, I like to cut it with some sour cream. Trust me on this one.
Sugar - a little bit of sweet balances everything out
Apple Cider Vinegar - this adds just the right kind of tart.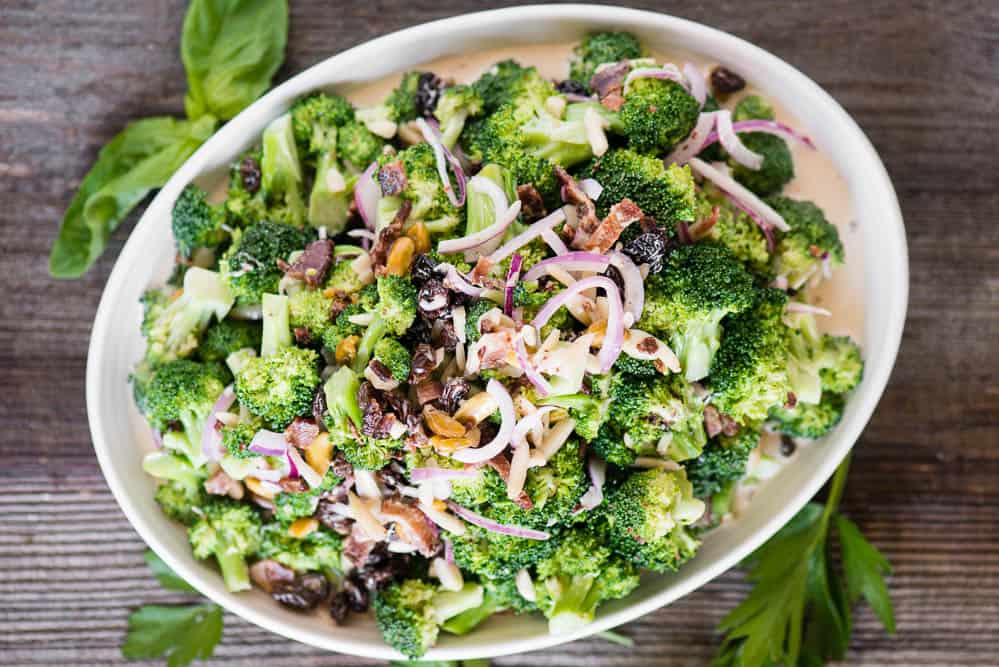 How to make this recipe:
There's a little prep work needed to make my cold broccoli salad. Some of the steps can be skipped and you can even buy pre-cooked bacon pieces, but if you want to make it exactly as I did, here's how:
First step is to cook the bacon. I always cook a couple pounds at a time and keep the bacon pieces in the refrigerator. That way, when I make breakfast or a salad, I can just heat them up for a few seconds and sprinkle them on.
Next you will blanch the broccoli. This step is optional, however I think a broccoli salad with bacon made with raw broccoli is a bit harder to eat. Taking the time to blanch your broccoli will make it super vibrant green and will also make it easier to eat.
I also soak the red onion. This step, too, is optional. It makes the onion slightly more mild while still delivering that fantastic flavor.
Finally, all you need to do is combine the dressing ingredients in a small bowl and the salad ingredients in a large bowl and toss them all together.
Broccoli Salad Dressing:
I knew I wanted something creamy and vegetable side dish salad recipes like this and many coleslaw recipes use mayonnaise as a base. I have no problem with that as I love a good mayo.
I did, however, want to cut the mayo with something. It had to be thick, so I chose sour cream. You can also use plain greek yogurt, if you prefer.
You always need some kind of acid in a salad dressing. Something like lemon juice or a white vinegar would have worked, but I love the flavor that a good quality raw apple cider vinegar adds.
Because the dressing is otherwise a bit tart, you need some sweet to balance it out. I chose to add some sugar, but you can also mix in some raw honey instead.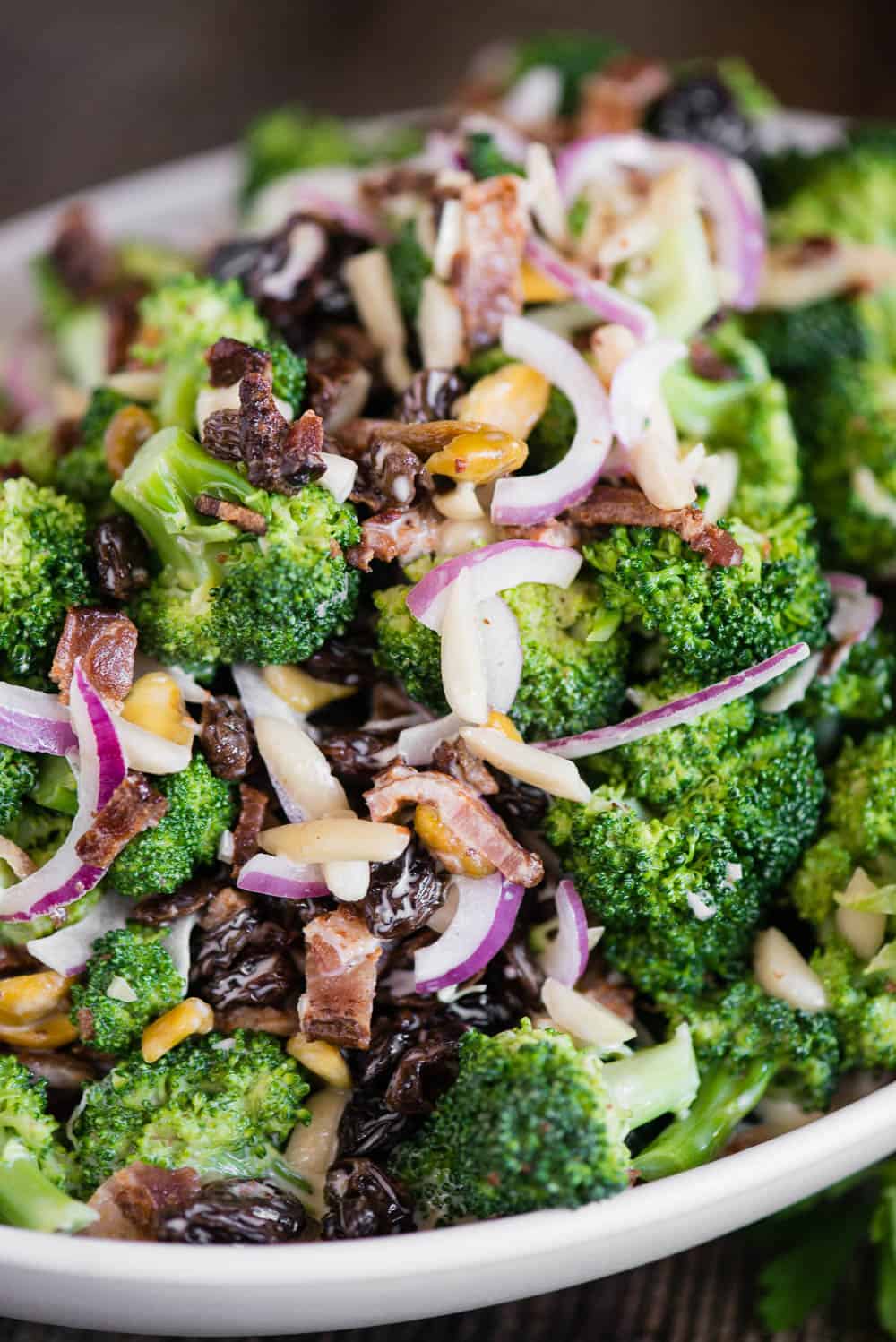 Recipe tips:
A lot of readers ask if you can you make this recipe with frozen broccoli.
I wouldn't. Frozen broccoli is a great choice in casseroles and as a veggie side dish to go with your dinner.
Because you want the broccoli in this salad recipe to be crunchy, thawed frozen broccoli simply won't work.
I love to make this easy broccoli salad along with some Jalapeno Honey Lime Grilled Chicken and some delicious Homemade Lemon Bars for dessert!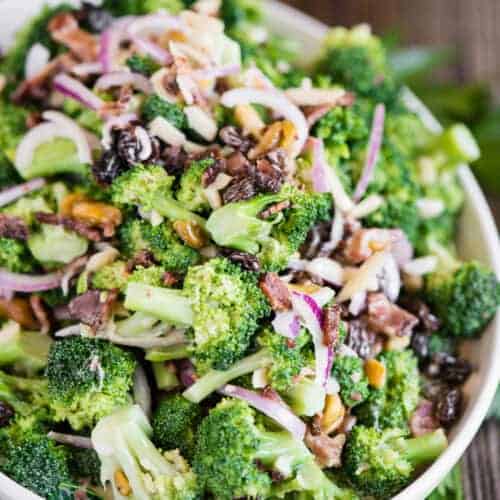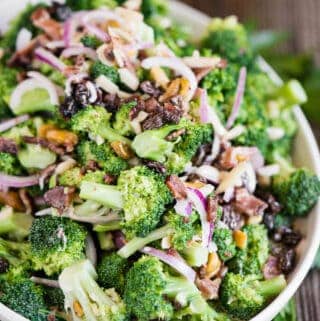 Fresh Broccoli Salad
Fresh Broccoli Salad has so much flavor because of it's tangy creamy dressing, crisp bacon, chewy raisins, crunch almonds, and flavorful onions. YUM!
Print
Pin
Rate
RECIPE VIDEO WILL AUTOPLAY
Hover to scale:
12
people
Ingredients
Salad:
1/2

pound

bacon

(chopped into very small pieces (about 3/4 cup cooked))

2

heads

fresh broccoli

(cut into bite sized pieces with stems discarded (I had about 10 cups))

1/2

red onion

(sliced thin)

3/4

cup

raisins

(I used half raisins, half dried cherries)

3/4

cup

sliced almonds

(I used half almonds, half pistachios )
Dressing:
3/4

cup

mayonnaise

1/4

cup

sour cream

1/4

cup

white sugar

2

tablespoons

apple cider vinegar
Instructions
Place bacon pieces in a heavy bottom skillet or dutch oven and cook over medium high heat, stirring occasionally. Once the bacon starts to brown and the oil starts to bubble, reduce heat to medium. Continue to lower heat and stir bacon until all of the fat has rendered and it is fully cooked. Drain and set aside.

Cut the broccoli into bite-size pieces. Prepare a large bowl of ice water. Boil a large pot of water and cook the broccoli for about 30 seconds and immediately transfer to the ice water. Drain and set aside.

Cut the onion into very thin slices. This step is optional but encouraged: soak onion in a bowl of cold water for about 30 minutes. This will make it less intense but still give you that great onion flavor.

To prepare salad, combine blanced broccoli with cooked bacon, raisins, almonds, and onions.

Prepare the dressing by mixing the mayonnaise, sour cream, sugar and vinegar together until smooth.

Add the dressing to the salad. Toss to combine.
NUTRITION INFORMATION
Calories:
314
kcal
|
Carbohydrates:
21
g
|
Protein:
8
g
|
Fat:
24
g
|
Saturated Fat:
5
g
|
Cholesterol:
21
mg
|
Sodium:
254
mg
|
Potassium:
509
mg
|
Fiber:
4
g
|
Sugar:
7
g
|
Vitamin A:
675
IU
|
Vitamin C:
91.2
mg
|
Calcium:
82
mg
|
Iron:
1.4
mg
Related recipes:
Love broccoli recipes? Then you'll definitely want to try these: