Chicken Divan is an easy dinner recipe your family will love.
Tender chicken, fresh broccoli, and a cheesy cream sauce come together in a tasty casserole. If you like to make complete meals that have everything you need, this is a great option!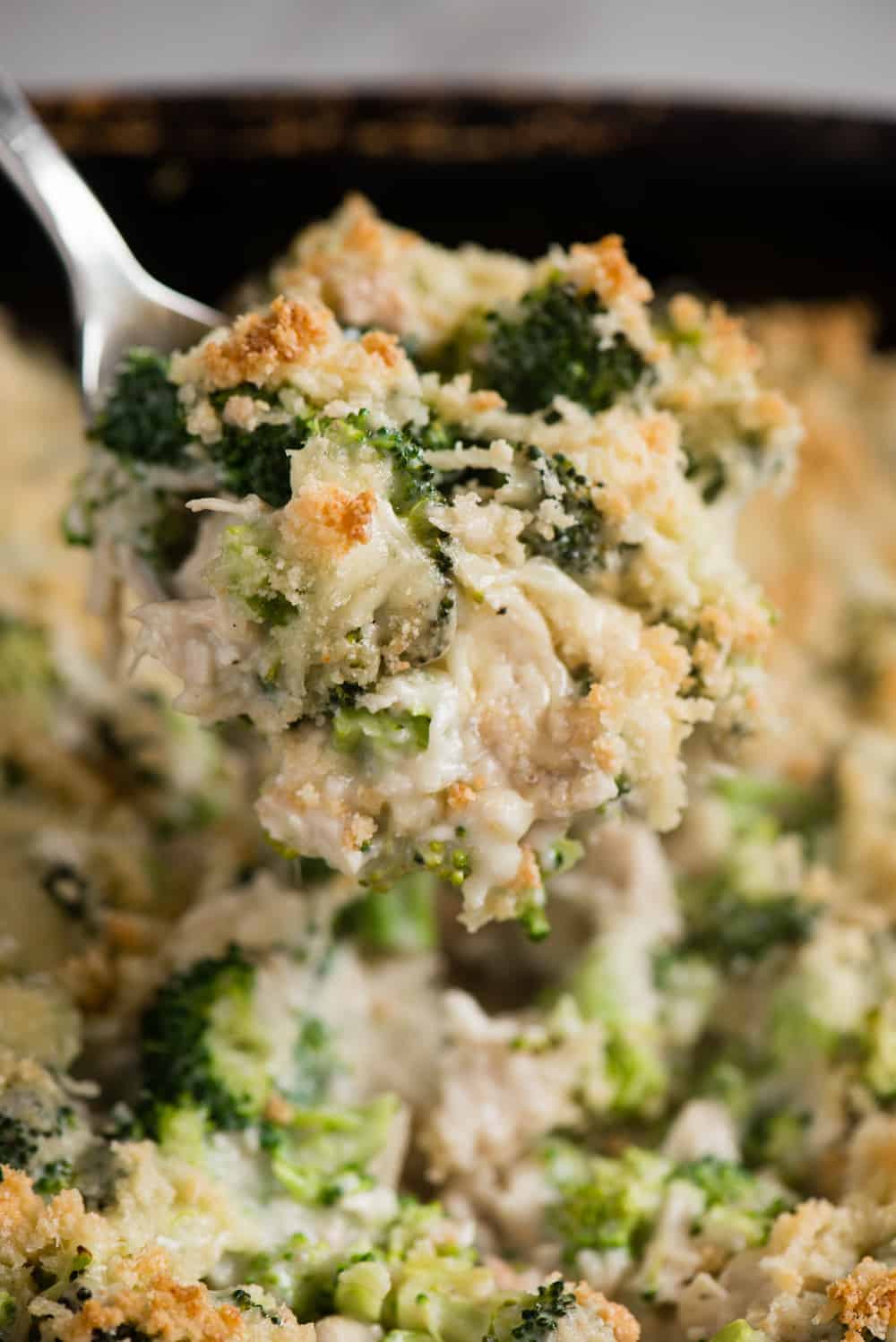 I'll be the first one to admit that Chicken Divan isn't the prettiest recipe in the world to photograph. This isn't that kind of recipe.
Instead, chicken divan is one of those meals that you make so that you can put a hot, convenient, reasonably healthy meal on the table for your family. You know those recipes come in handy, especially on a busy weeknight!
If you're looking for a way to use up leftover chicken or an easy rotisserie chicken you picked up from the store, look no further. If you're looking for a way to incorporate lots of fresh broccoli into your kids' dinner, look no further. If you're looking for an easy recipe that translates to easy lunch leftovers, you've found it.
What is chicken divan?
Or, basically, why is this chicken and broccoli dish called chicken divan? I had to consult Wikipedia for that one!
Turns out my version of this recipe is a very loose interpretation of the original. I think if you do a search online for chicken divan recipes, they will vary widely but the only thing they will have in common is that they are recipes for chicken casserole with broccoli. After that, all bets are off.
This recipe originated in the Divan Parisieene Restaurant in New York City at the Chatham Hotel. Chicken Divan was their signature dish in the early twentieth century. The word divan, in French, means meeting place or great hall. Hmmm. Who knew?
This recipe has long since been making appearances on busy family dinner tables. Although this, and most other, recipes have varied greatly from the original, you'll find that the modern version of Chicken Divan is equally tasty and convenient.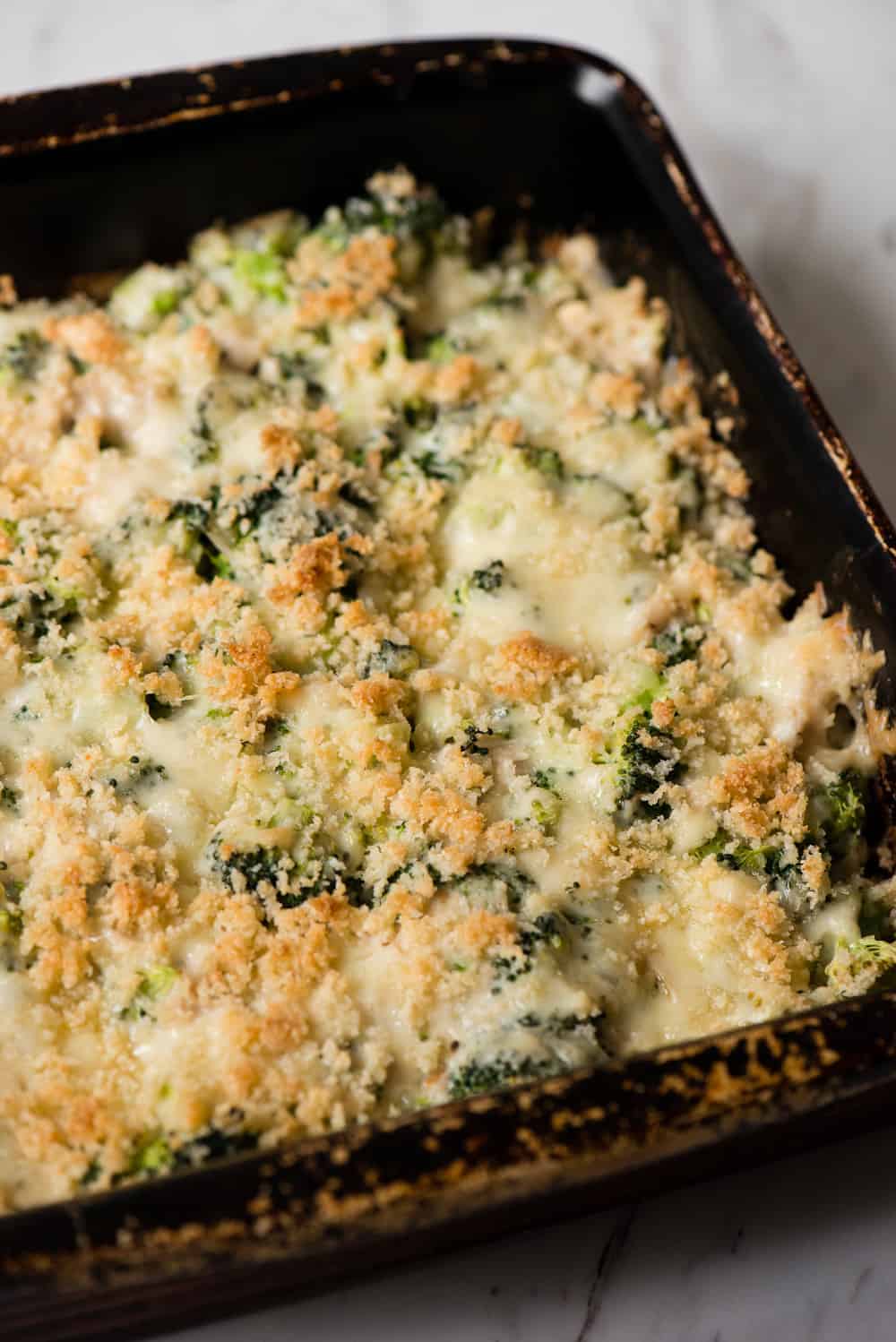 How to make chicken divan:
This is one of those easy dump, stir, and cook casserole recipes.
First step is to combine all of the ingredients except some of the grated cheese and the crispy topping in a casserole dish. The main casserole consists of cooked chicken, fresh broccoli, grated cheese, cream of chicken soup, and some seasonings.
The crisp topping consists of equal parts panko bread crumbs and parmesan cheese. This is held together with a bit of melted butter. The topping, along with the remaining grated cheese, is sprinkled on top prior to baking.
All you need to do is stick it in the oven and bake!
Time saving tips when making chicken divan:
You can certainly make your own chicken like I did, but I personally prefer rotisserie chicken. Not only is it already cooked, but I think it has the best flavor!
You can buy a pre-cut pre-washed bags of broccoli florets instead of buying a huge stalk that you have to trim. I get my bags at Trader Joe's.
I usually prefer to grate my own cheese, but if you're in a hurry, a bag of pre-shredded cheese is a super easy option.
Want to make the meal more filling? You can dump a bag of microwave rice in with the other casserole ingredients. This is the kind of rice that's already cooked and frozen and it only requires heating. Again, I get this at Trader Joe's.
What to serve with chicken divan:
You can serve chicken divan as is with no other sides, if you prefer. It does have meat for your protein, broccoli as your veggie, a thick creamy sauce for your fat, and a bit of bread crumbs for some starch.
If you're anything like my family, you want more starch on your plate to call it dinner. A nice side of brown rice is a favorite with this recipe.
And I'll never not recommend serving a nice green salad alongside your dinner.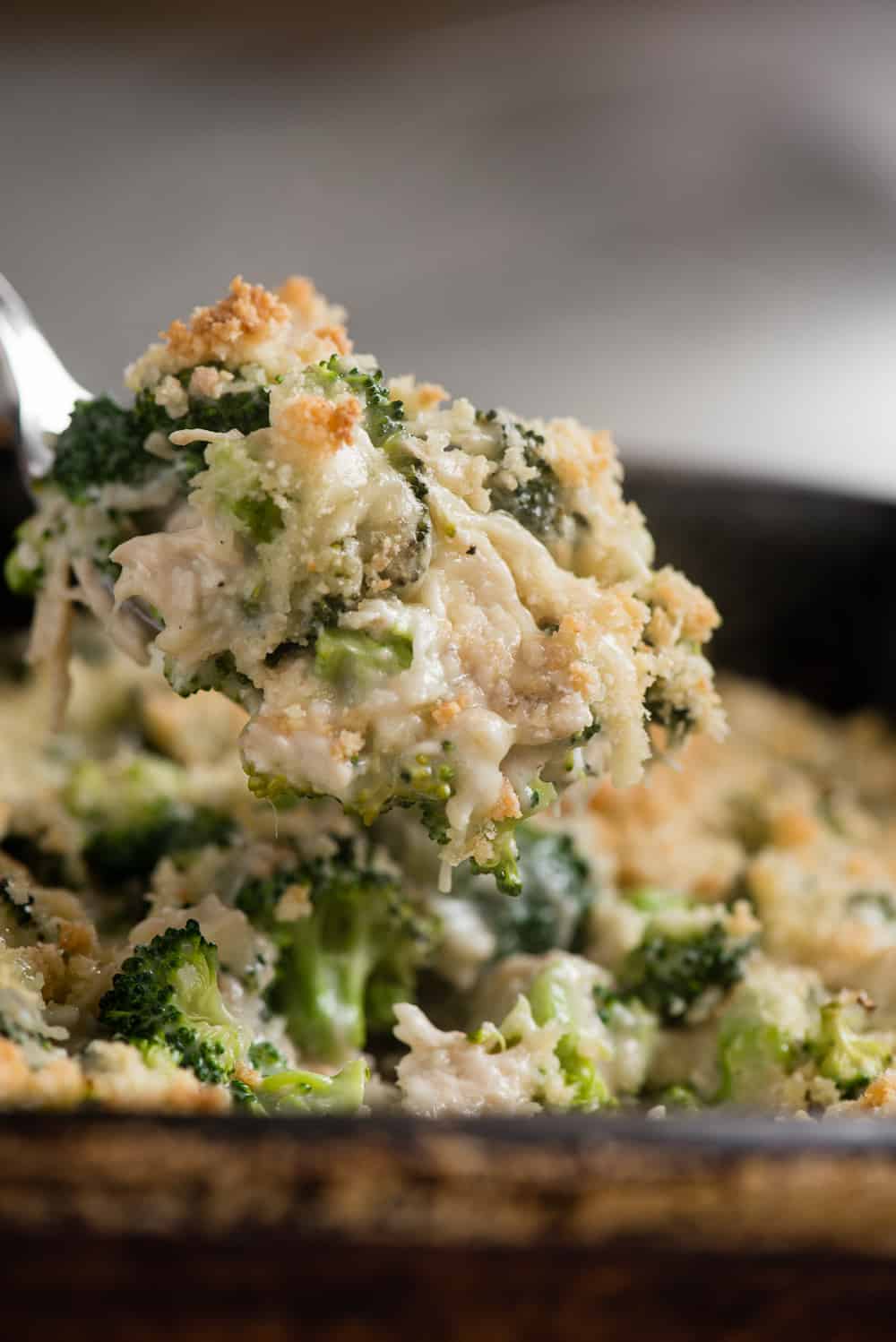 How to reheat chicken divan:
Chicken divan is super easy to reheat. I'm not normally a fan of reheating meat in the microwave, but since the chicken is covered in sauce, it works out okay. To reheat these leftovers in the microwave, I typically heat low and slow, meaning 50% power for a longer time, stirring half way though. This will reheat your leftovers without over cooking it.
If you have the time, reheated leftovers in the oven are usually the best. Just be sure to cover it with foil to retain the moisture. Toaster ovens work great for reheating smaller portions. 350F for about 15 minutes should do the trick.
Love easy chicken dinner recipes?
You'll want to try these classic meals for sure!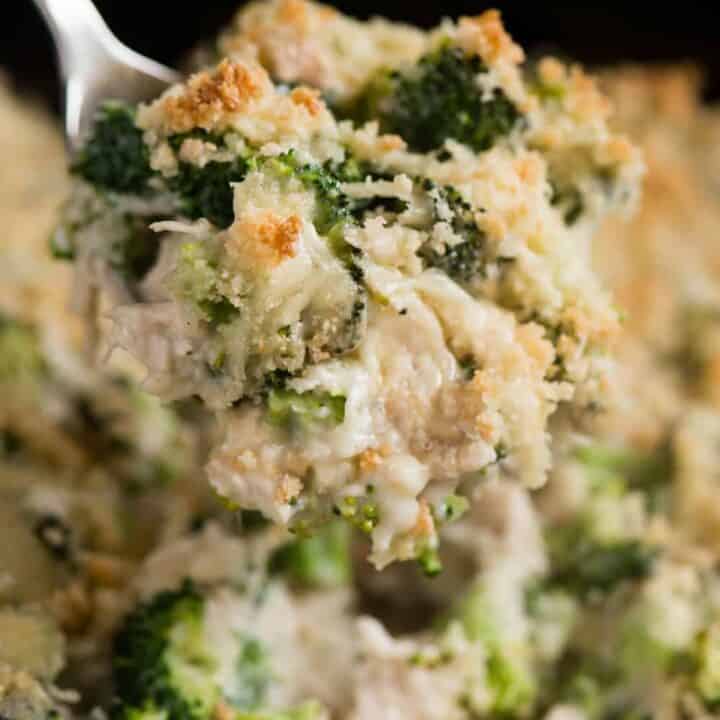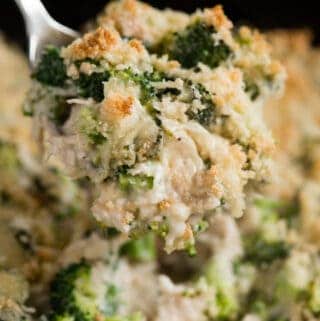 Chicken Divan
Chicken Divan is an easy dinner recipe your family will love. Tender chicken, fresh broccoli, and a cheesy cream sauce come together in a tasty casserole.
Print
Pin
Rate
Hover to scale:
4
servings
Ingredients
12

ounces

broccoli

(fresh, cut into bite sized pieces)

1 ½

cups

cooked chicken

(chopped into small bite sized pieces)

¾

cup

cheddar cheese

(grated and divided (I used a cheddar gruyere blend))

⅓

cup

sour cream

10.5

ounces

cream of chicken soup

¼

teaspoon

garlic powder

¼

teaspoon

onion powder

¼

teaspoon

mustard powder

¼

teaspoon

salt

¼

teaspoon

pepper

(freshly ground)
Topping:
3

tablespoon

panko bread crumbs

3

tablespoon

parmesan cheese

(finely grated)

1

tablespoon

butter

(melted)
Instructions
Preheat oven to 400 degrees.

In a 9x9 inch casserole dish, combine all ingredients except for ¼ cup of the shredded cheese and the topping ingredients.

In small bowl, combine topping ingredients. Spread remaining shredded cheese and topping mixture evenly over the contents in the casserole dish.

Bake in preheated oven for 18-20 minutes until golden brown and heated through.
Notes
I like my broccoli fairly tender and not soggy, so I use fresh broccoli and don't pre-cook it. If you prefer soft broccoli, you may steam the fresh or frozen broccoli first before adding to the casserole.
Rotisserie chicken works great for this recipe, however I poached some chicken breasts in my instant pot by combining with 1 cup of chicken broth and cooking on high pressure for about 12 minutes.
NUTRITION INFORMATION
Calories:
290
kcal
|
Carbohydrates:
17
g
|
Protein:
12
g
|
Fat:
19
g
|
Saturated Fat:
10
g
|
Cholesterol:
48
mg
|
Sodium:
983
mg
|
Potassium:
367
mg
|
Fiber:
2
g
|
Sugar:
3
g
|
Vitamin A:
1115
IU
|
Vitamin C:
75.9
mg
|
Calcium:
282
mg
|
Iron:
1.9
mg