Cheeseburger Casserole combines pasta with all of your favorite cheeseburger ingredients.
Instead of a bun, you get a meal full of hot cheesy pasta loaded with ground beef, onion, mushrooms, ketchup, mustard and topped with pickles. You will love at how similar this pasta casserole tastes compared to the real thing!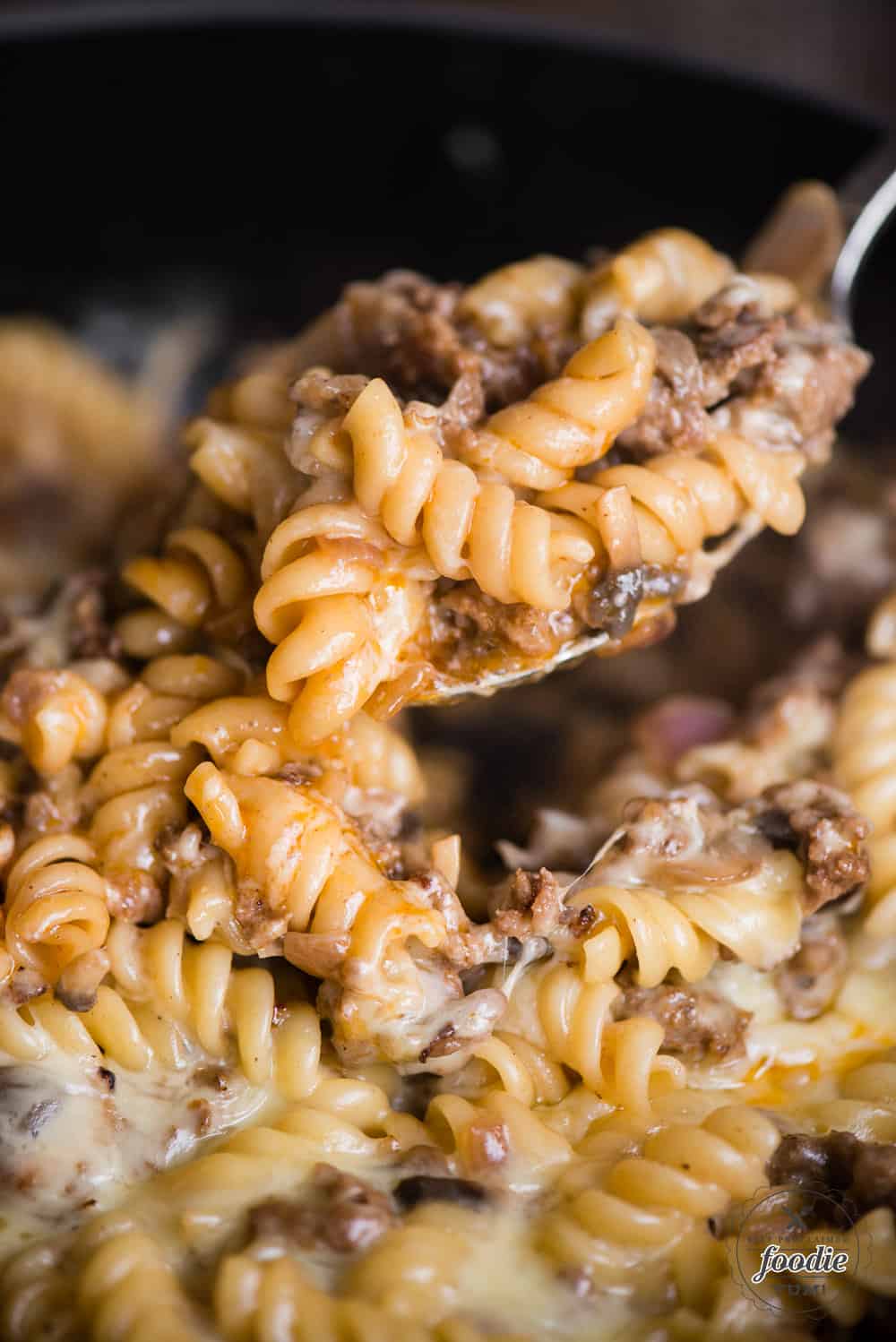 Why this recipe works:
Cheeseburger Casserole combines the best of both worlds. This easy dinner recipe has two main components that make their way into our family dinners on a weekly basis – ground beef and pasta. I grew up on those two main ingredients.
As much as I like to branch out and be creative in the kitchen, I always end up serving at least one meal who's main ingredient is ground beef or pasta every single week. What can I say? I'm a creature of habit!
This easy cheeseburger casserole checked all of the right boxes. Quick and easy to make? Yes. Was I able to sneak in some vegetables that my kids couldn't pick out? Yep! Did the meal turn out hot and delicious? Oh yes.
Cooking tips for perfect results:
Be sure to heavily salt the water when cooking pasta. A good rule of thumb is at least 1 tablespoon per pound of pasta. This will infuse flavor into the pasta so that less salt is needed at the end.
Since the pasta will continue cooking once combined with the ground beef and sauce, you want to ensure that you under cook the pasta when you boil it in the water.
Be sure to cook the ground beef until it's perfectly browned and crumbly. This will also perfectly cook the onion and mushroom while blending all of the flavors together.
Freshly grated cheese always tastes better than the stuff you'll find in the bag, but pre-shredded is convenient and saves on time.
Be sure to add pickles!
Yes! You will find a lot of recipes out there that tell you to use relish. I do not recommend using relish because it is incredibly sweet. Besides, relish is for hot dogs, not cheeseburgers!
The first time I made this recipe, I decided to add the pickles at the very end when I served up the cheeseburger casserole instead of incorporating them into the recipe. I did this for two reasons. First, I didn't want the pickles to get soggy by cooking them. I like my pickles to have some bite to them. Second, people's love of pickles can vary. If you serve them as an "extra" to the meal, they can eat as many or as few as they like.
Have you ever made your own homemade pickles? If not, you'll need to stock up on some fresh pickling cucumbers this summer and make a big batch of easy refrigerator dill pickles. You'll never want store bought again!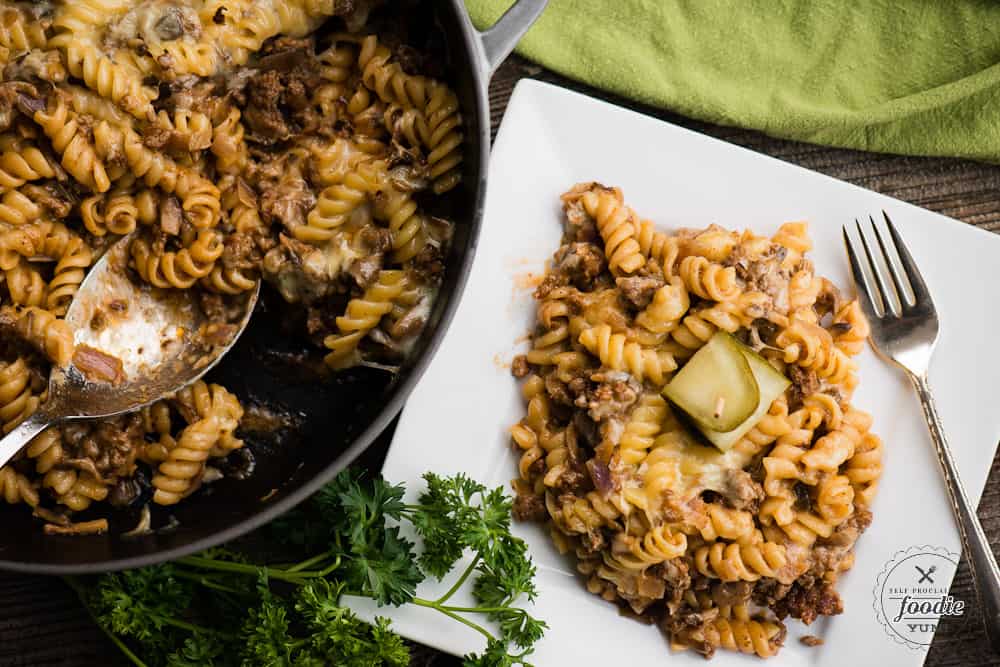 What ground beef is best for casseroles?
I prefer lean ground beef when making casseroles. In fact, I stock my freezer with the leanest beef you can find which is from pasture raised grass fed cows.
The reason I recommend using a lean ground beef when making a casserole is because a fatty ground beef will create grease which will pool on the top of your casserole. When you add three cups of shredded cheese like I did in this recipe, you don't need any additional fat from the meat.
I recommend saving the fattier portions of ground beef for a juicy burger that gets cooked on the grill. That way any excess fat will melt away and not end up on your plate.
Kitchen Tools needed to make Cheeseburger Pasta:
Casserole Dish: This one is on my wishlist!
Cutting Board: These are my go-to cutting boards. They are super easy to clean, never hold a smell (onion transferred to apple is gross), and because they are so thin, they are really easy to store.
Knives: There is nothing more frustrating than having to use a poor quality knife. I've been using this set for years. I found it to be affordable yet incredibly durable and versatile. Whether you're filleting a salmon or slicing a super ripe tomato, these are great knives for the everyday chef.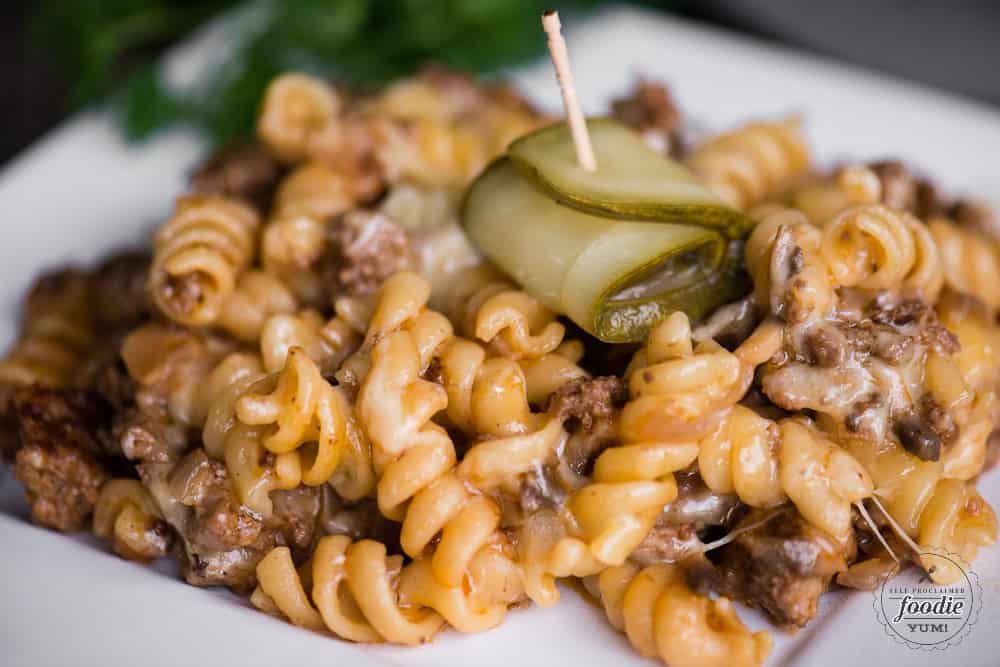 Cheeseburger Pasta Casserole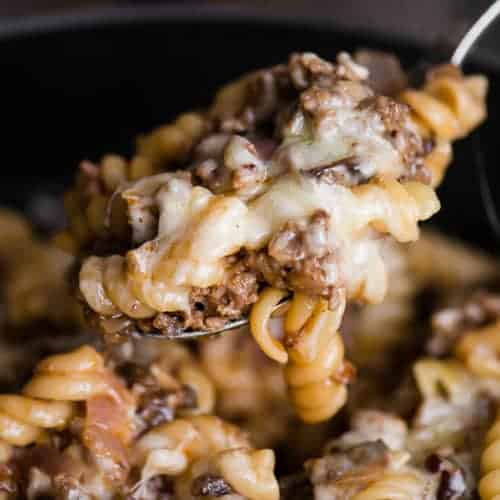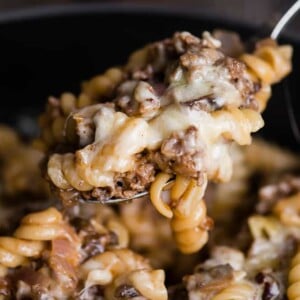 Cheeseburger Pasta Casserole is filled with all of your favorite cheeseburger ingredients, Instead of a bun, it's served in a hot cheesy pasta meal! Loaded with onion, mushrooms, ketchup, mustard, cheese, and topped with pickles, you will love at how similar this pasta casserole tastes compared to the real thing!
Instructions
Bring a pot of salted water to a boil and cook the pasta al dente, about a minute less than the recommended cooking time. Drain and set aside.

In a large skillet or dutch oven, cook the ground beef, onion, and mushrooms over medium high heat until the meat is browned and crumbly, about 10 minutes.

In a separate bowl, combine beef broth, ketchup, mustard, Worcestershire sauce, and corn starch. Mix well to ensure mixture is smooth.

Once meat mixture is fully cooked, add beef broth mixture and stir to combine. Heat over medium heat until the mixture bubbles. this should only take a couple minutes.

Toss in the cooked pasta and gently stir to combine.

Reduce heat to low, top with shredded cheese, and cover until cheese is melted. Alternatively, casserole can be made ahead by covering and refrigerating without the cheese. Then, when ready to serve, allow casserole to warm to room temperature, add cheese, cover, and heat in 300 degree oven for 30 minutes or until heated through.

Top with sliced pickles and serve hot!
Nutrition
Calories:
437
kcal
,
Carbohydrates:
27
g
,
Protein:
25
g
,
Fat:
24
g
,
Saturated Fat:
12
g
,
Cholesterol:
81
mg
,
Sodium:
445
mg
,
Potassium:
410
mg
,
Fiber:
1
g
,
Sugar:
3
g
,
Vitamin A:
410
IU
,
Vitamin C:
1.8
mg
,
Calcium:
335
mg
,
Iron:
2
mg
Nutrition information is automatically calculated, so should only be used as an approximation.