Easy Salisbury Steak is the best Salisbury steak recipe you'll find. Super easy and delicious.
Easy Salisbury steak is one of my favorite dinners. I love me some comfort food. Salisbury steak ranks right up there with a hot plate of Perfect Chicken Parmesan. Yeah, sometimes I'll try to cook something healthy and other times I'll try to make something fancy, but nothing beats good old fashioned comfort food.
I haven't always loved cream of mushroom, but it's what puts the easy in this easy Salisbury steak. But the day I found Trader Joe's Cream of Portabella Mushroom soup? Game over. I LOVE this stuff. I won't make tuna casserole without it. If you've never tried it, you must. And, because I love you, I'm going to tell you a secret - they only carry it around Thanksgiving time. Its one of their seasonal items that you have to stock up on because you won't see it for a year. Lucky for us, this boxed soup has an expiration date of well over a year, so stock up, my friends! If you're not fortunate enough to live near a Trader Joe's, you can definitely make this recipe, the best Salisbury steak recipe, with something different.
What is Salisbury Steak?
I'll summarize what found from wikipedia. Salisbury steak is a dish made from a blend of ground beef and other ingredients and is usually served with gravy or brown sauce.
The term "Salisbury steak" has been in use in the United States since 1897. The dish is named after an American physician, James H. Salisbury (1823–1905).
Salisbury served as a physician during the American Civil War, and became convinced that diarrhea suffered by the troops could be controlled with a diet of coffee and lean chopped beefsteak. Makes sense, right?
He believed that our teeth demonstrated that humans were meant to eat meat, and sought to limit vegetables, fruit, starches, and fats to one-third of the diet.
The Salisbury steak, his means of achieving this goal, is ground beef flavored with onion and seasoning and then deep-fried or boiled, and was introduced in 1888. Salisbury believed that beef was excellent defense against many different physical problems.
He suggested that Salisbury steak should be eaten three times a day, with lots of water to cleanse the digestive system. He was an early American proponent of a low-carbohydrate diet for weight loss, and he promoted his diet for that purpose. Who knew, right?!?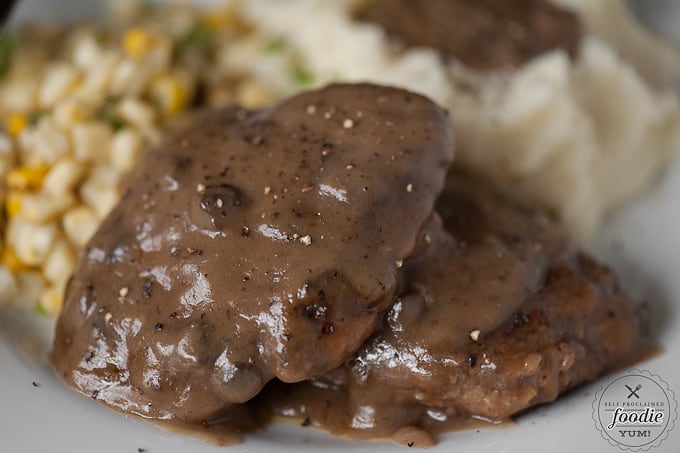 How to make Salisbury steak:
Salisbury steak is one of those recipes you can make a million different ways and there's no right way or wrong way. Basically, Salisbury steak is a dish made from a blend of minced beef and other ingredients, which is shaped to resemble a steak, and is usually served with gravy or brown sauce. There you have it!
I've never made Salisbury steak without mushrooms. To me, ground beef and mushrooms are the perfect combination. You can definitely use fresh mushrooms and onions and then make a brown gravy using beef broth, but if you're looking for super easy Salisbury steak, you should try my recommendation of using the cream of mushroom soup.
Mix your Salisbury steak ingredients together and form your patties. I tend to form them into an oval shape because it visually resembles a steak. Sort of. I guess. Because this is such an easy Salisbury steak recipe, no cutting boards or knives are needed.
Cook your Salisbury steaks on the stovetop in a screaming hot fry pan to give them a nice seared crust on the outside. Then smother them with the cream of mushroom and some red wine and you've got your brown gravy.
You'll want to serve the best Salisbury steak recipe with some mashed potatoes and I recommend peas or sauteed corn as well. Mmmmm. Comfort food.
And this, my friends, is the final product. So, if you've ever wondered how to make Salisbury steak or are a true history buff and wanted to know what is Salisbury steak and where it came from, hopefully this recipe post gave you some good info. Now what are you waiting for? Go make some easy Salisbury steak for dinner!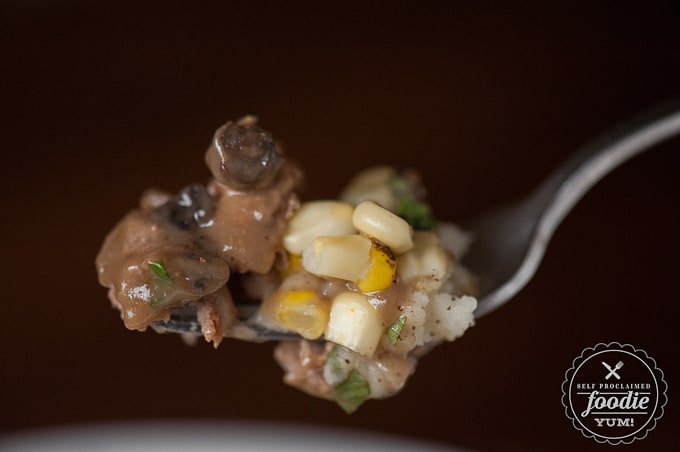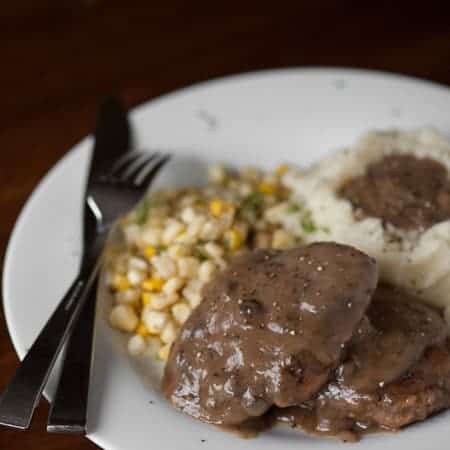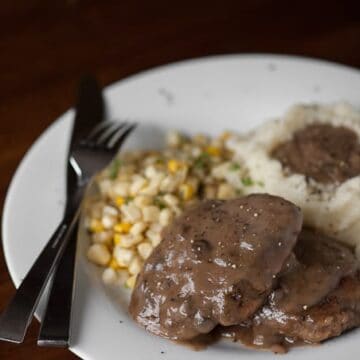 Easy Salisbury Steak
This Easy Salisbury Steak is one of those meals that is easy to make, tastes amazing, and just makes you feel good because its pure comfort food.
Print
Pin
Rate
Hover to scale:
6
servings
Ingredients
1 ½

pounds

ground beef

1

egg

1

package onion dip mix

½

cup

panko bread crumbs

2

tablespoons

ketchup

1

tablespoon

Worcestershire sauce

1

tablespoon

olive oil

2

11 ounce boxes condensed cream of portabella mushroom soup*

½

cup

red wine
Instructions
In a medium sized bowl, use hands to thoroughly combine meat, egg, onion dip mix, bread crumbs, ketchup, and Worcestershire. Divide mixture into six equal portions and form each portion into an oval sized patty, about ¾ inch thick.

In a large skillet, heat olive oil over medium high heat. When oil shimmers, add patties in single layer to pan. Allow to brown, about 5 minutes. Turn, and allow other side to brown, 3-4 minutes.

In a small bowl, stir together portabella soup and red wine.

Cover patties with mushroom soup and wine mixture to coat. Reduce heat to low, cover, and allow to simmer about 10 minutes. Turn patties, cover again, and allow to simmer for another 10 minutes.

Serve with mashed potatoes and a veggie, if desired, and be sure to spoon extra gravy over everything.
Notes
* Available at Trader Joes only around Thanksgiving time so stock up!
NUTRITION INFORMATION
Calories:
363
kcal
|
Carbohydrates:
6
g
|
Protein:
21
g
|
Fat:
25
g
|
Saturated Fat:
9
g
|
Cholesterol:
107
mg
|
Sodium:
199
mg
|
Potassium:
389
mg
|
Sugar:
1
g
|
Vitamin A:
65
IU
|
Vitamin C:
0.6
mg
|
Calcium:
37
mg
|
Iron:
2.8
mg