Skillet Beef and Broccoli is a quick and easy stove top dinner that is bursting with flavor.
A variety of tasty ingredients come together to create an intensely delicious sauce. The meat is perfectly lean and tender. The vibrant green broccoli rounds out the meal. Beef and broccoli stir fry will be a family favorite!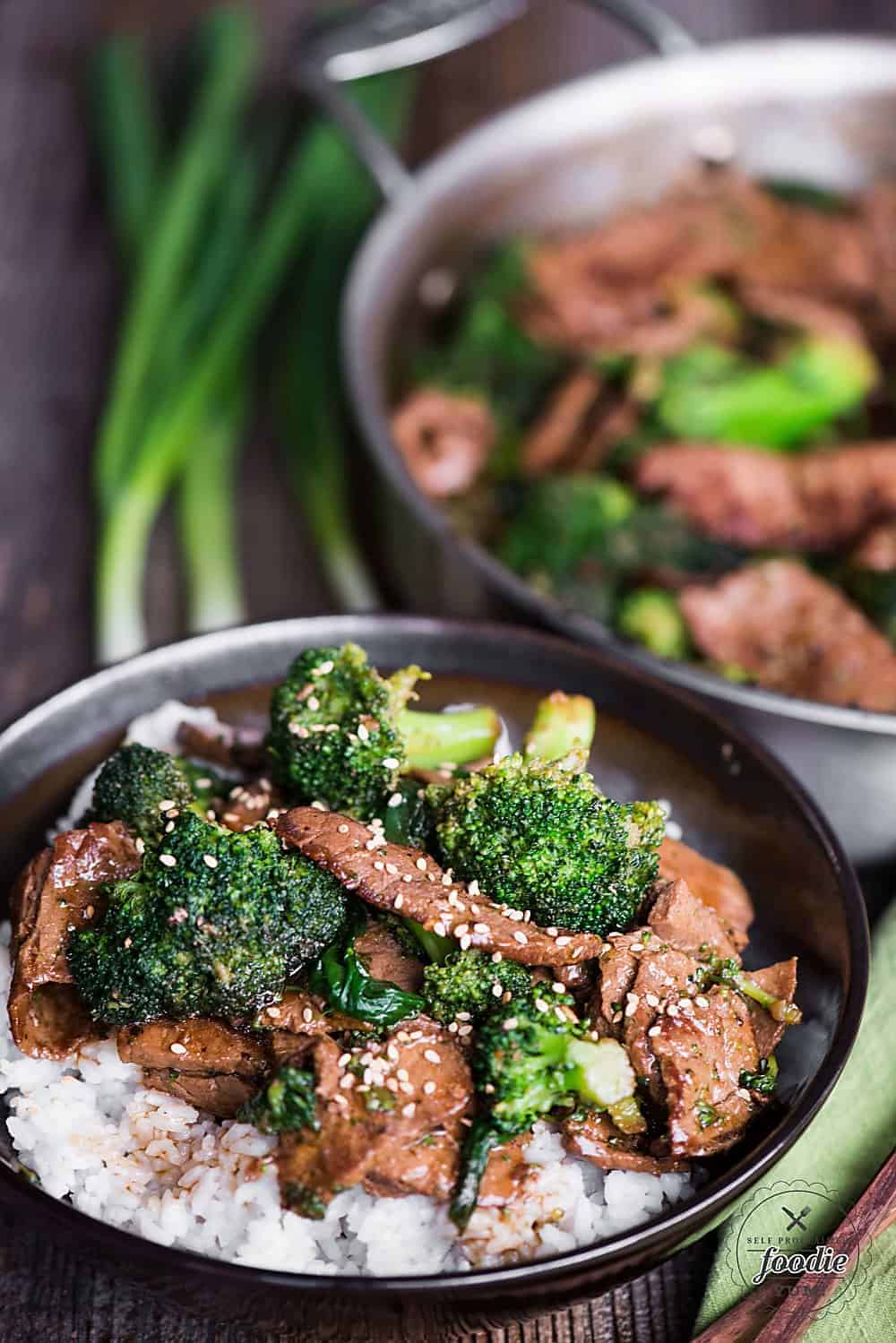 MY OTHER RECIPES
Beef and broccoli was one of the best dinners I have made in a long time. Most of my cooking is based on the type of food I ate growing up in our house. It's not based so much on meals we ate in restaurants because, well, we didn't eat out too often. When we were lucky enough to go out for Chinese food, however, beef and broccoli stir fry was one of our favorite choices.
Since we buy our beef straight from the farm, I always have a variety of cuts to choose from. Whether I grab a pack of ground beef to make a killer burger or a chuck roast for beef stew or barbacoa quesadillas, I always seem to have something on hand that will make a delicious dinner for the family. Thankfully I had the perfect cut of meat ready to go when my craving for beef and broccoli stir fry took full hold.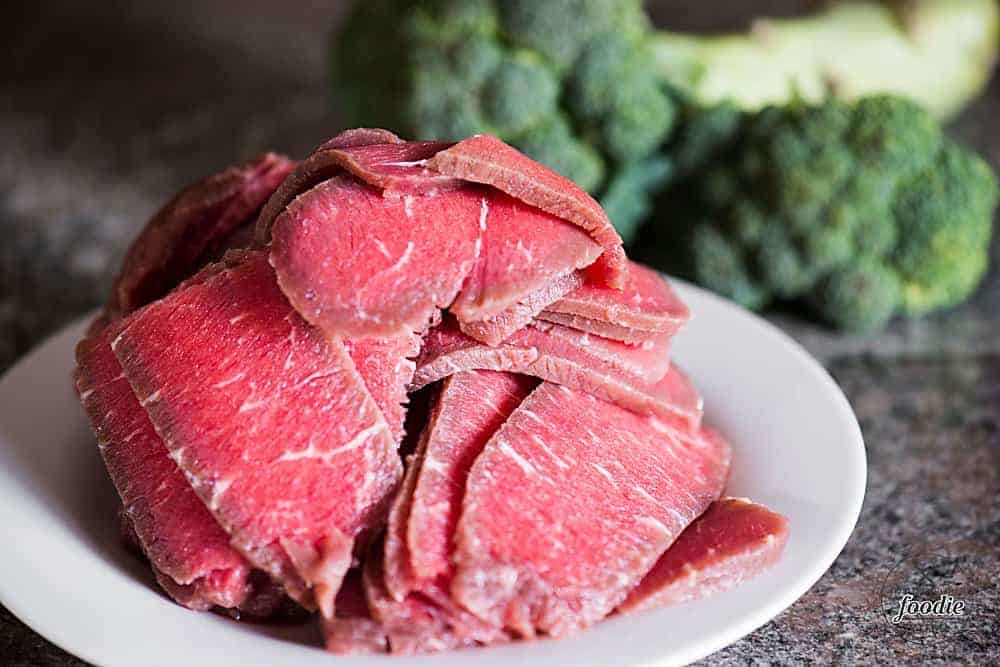 What kind of meat is used for beef and broccoli?
Most beef and broccoli recipes will recommend flank steak. When I surveyed my freezer, I didn't have flank steak, but I did find a London broil. Upon my research, I found that the term London broil refers to the technique of broiling or grilling beef over high heat. It does not actually refer to a specific cut of meat, but more so the cooking technique. So, my London Broil really shouldn't have been named that. Some butchers sell flank steak under the name "London Broil," while others use that term for cuts from the round (that's the butt of the cow).
The flank is super lean on its own without too much trimming, but needs a little work to make it tender. Flank steak, which is cut from the steer's abdomen, is leaner than more expensive cuts, and much less expensive. To cook this cut of meat, you need to use a quick cooking method such as broiling or grilling. Or, in the case of this broccoli beef, stir fry. Do not overcook or the meat will be too tough to eat. When properly cooked, this cut will yield fork tender bites.
One tip for slicing: a cut of meat that is very cold, if not slightly frozen, will slice the best. Also, be sure to cut against the grain.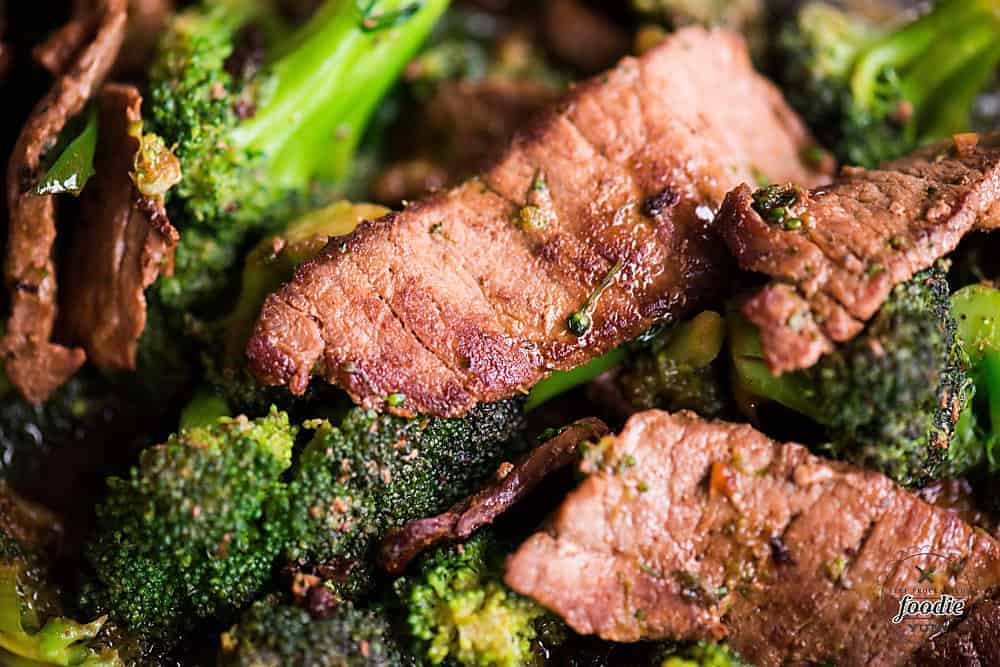 What is in beef and broccoli?
Besides the obvious? Well, a delicious skillet beef and broccoli meal is all about the sauce. I think you'll find most recipes out there call for some kind of combination of soy sauce, garlic and ginger. My approach was to add a few more ingredients that pulled everything together and really made me salivate. I used both soy sauce and sherry in the meat marinade to tenderize the meat, but also in the sauce. A little brown sugar sweetened things up and toasted sesame oil added depth. To add volume without diluting the flavor, I added beef broth. I also used fish sauce. Most recipes call for oyster sauce, which intensifies the flavor, but I had fish sauce on hand and it worked equally well. Finally, some corn starch was needed in order to thicken the sauce and really get it to stick to the beef and broccoli.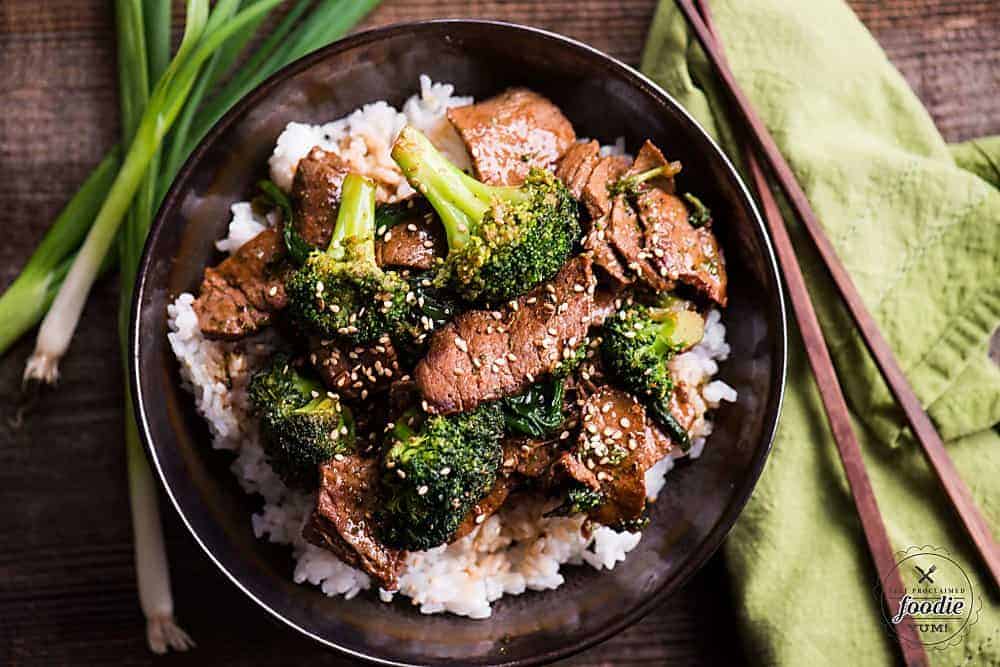 How do you make Chinese beef and broccoli?
This recipe starts by marinating thinly sliced beef in a bit of soy sauce and sherry. I just throw everything in a gallon sized freezer bag. That seems to distribute the marinade the best. To make the slicing easy, I recommend having the meat be partially frozen. A good set of knives and an outstanding cutting board doesn't hurt, either.
While the meat is marinating, mix all the sauce ingredients together in a bowl. Easy.
When you're ready to cook, be sure to have all of your ingredients ready to go. I also recommend having your rice hot and ready because the broccoli beef really doesn't take much time to cook.
The trick to having perfectly cooked beef and broccoli is to do it in stages. You also must take great care not to over cook anything. First goes the beef at a high temperature. Next comes the broccoli. Finally comes the sauce. Then you throw it all back in the skillet to mix before serving. That's it!
Ingredients
4 tablespoons soy sauce, divided
2 tablespoons sherry, divided
1 pound London broil, flank steak, or top round steak, sliced thin against the grain
1 tablespoon corn starch
1 tablespoon brown sugar
1 tablespoon sesame oil
1 tablespoon fresh ginger, minced
3 cloves garlic, minced
8 green onions, sliced
1/4 cup beef broth
1/4 cup fish sauce or oyster sauce
3 tablespoons peanut oil (or similar oil with a high smoke point)
additional green onions and sesame seeds for garnish
1 pound fresh broccoli florets
Directions
Combine one tablespoon of the soy sauce and one tablespoon of the sherry in a resealable storage bag. Add sliced meat and allow to marinate for 30min.
While the meat is marinating, combine the sauce ingredients which includes the remaining soy sauce and sherry plus the corn starch, brown sugar, sesame oil, ginger, garlic, green onions, beef broth, and fish/oyster sauce. Set aside.
In large skillet, heat oil on high heat. Drain off any marinade from meat. Just before the oil starts to smoke, add the meat to the skillet in a single layer. Cook just a minute or two on each side. Transfer to a large plate or bowl.
Reduce heat to medium and add broccoli. Cover and allow to steam for a couple minutes. You want the broccoli to be bright green and crisp tender. Do not over cook as it will continue cooking later in the sauce. Transfer broccoli to the plate with the meat.
Add the sauce to the skillet. Allow to cook and thicken for several minutes while scraping the bottom of the pan to release anything that might have stuck. Once the sauce begins to boil and thicken, add the meat, broccoli, and any juices that may have developed on the plate back to the skillet with the sauce. Toss to coat.
Serve with cooked short grain rice and top with additional green onions and sesame seeds, if desired.