This is the best recipe you'll ever find to make the most beautiful, delicious, and perfect Chocolate French Macarons that everyone will love.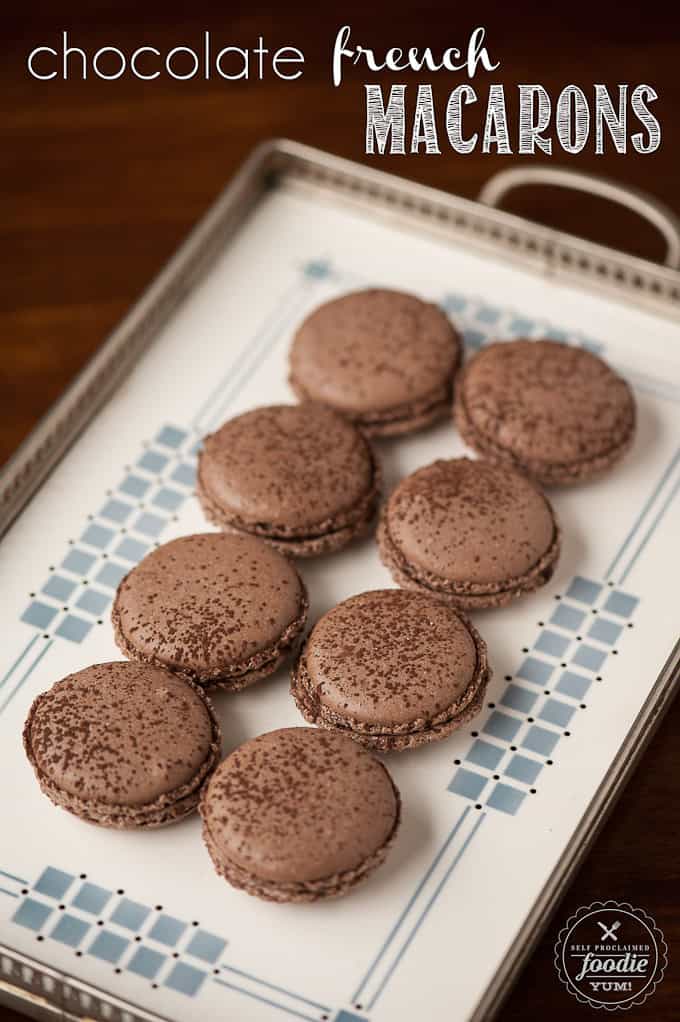 What is a French Macaron?
A French or Parisian Macaron is an almond meal ­based meringue cookie that's sandwiched with a filling. They are generally smaller and more flavor­packed than a typical American cookie. They should actually be thought of as a confection, rather than a cookie. Macaron is spelled with one 'o', unlike its classic Jewish deli counterpart, the coconut macaroon.
Macaron vs. Macaroon:
While both macarons and macaroons are egg white­ based, they taste nothing alike.
An ideal macaron should be slightly crisp on the outside, soft on the inside, with a slight chewy tooth ­feel. You must use a food scale when making macarons. Sorry, volume measurements are too imprecise for these finicky little fellows.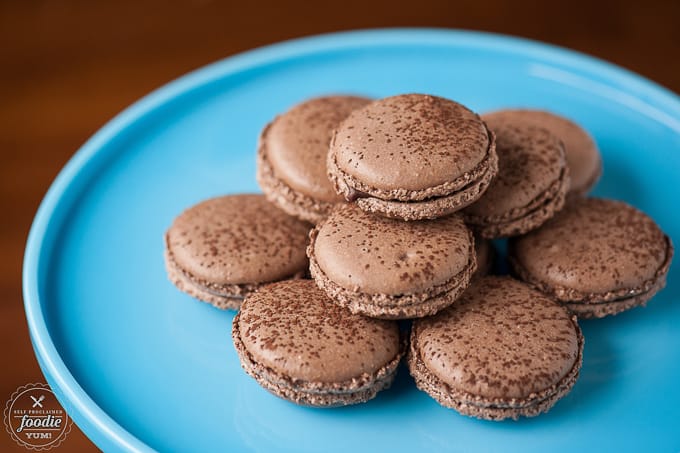 Are macarons hard to make?
If you've heard stories that macarons are difficult to make, don't fear!  If you've ever wanted to try and make them but didn't want to attempt this culinary feat because of the macaron pinterest fails you've witnessed, I can tell you that you can proceed with confidence. This recipe has been made countless times and as long as you follow the recipe, it should turn out.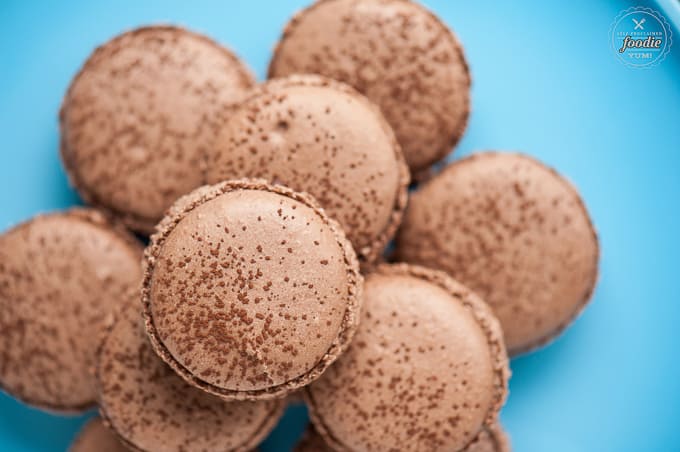 Not only do I give you the secret recipe to the most amazing confections man has ever known, but I'm not forcing you to stare at the same old dishes and trays I always use.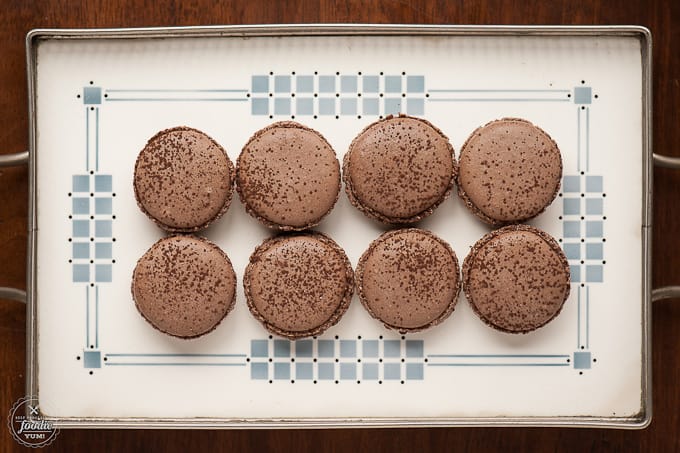 Aren't they the most beautiful thing you've ever seen?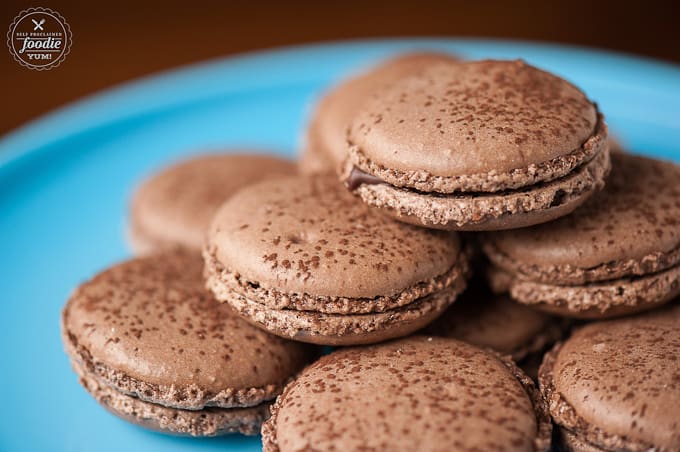 I can tell you that they taste even better than they look.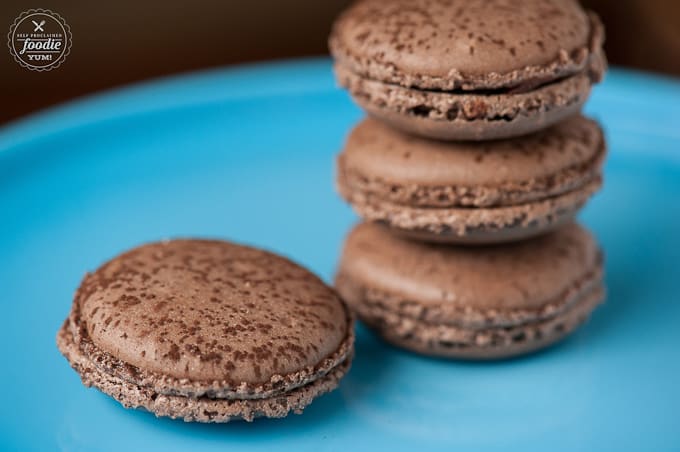 Here's an extreme close up to show the detail. Can you feel yourself begin to salivate?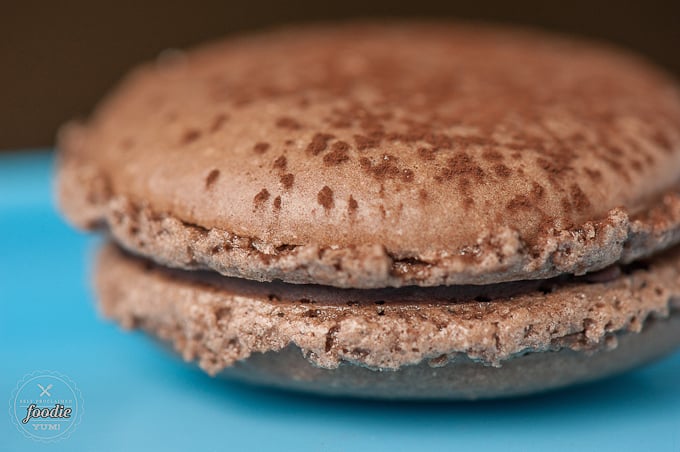 And of course I always like to show you a bite photo. I took this picture not to show you what a pig I am based on the huge bite you see missing, but to show you how the ideal macaron has a crisp outer shell but is soft and chewy on the inside. YUM!!!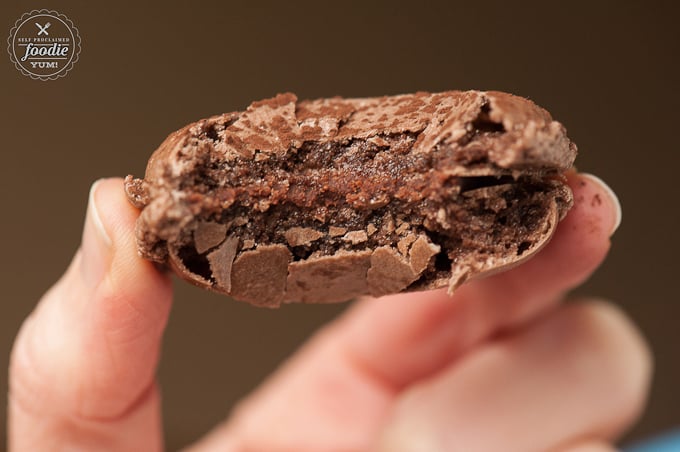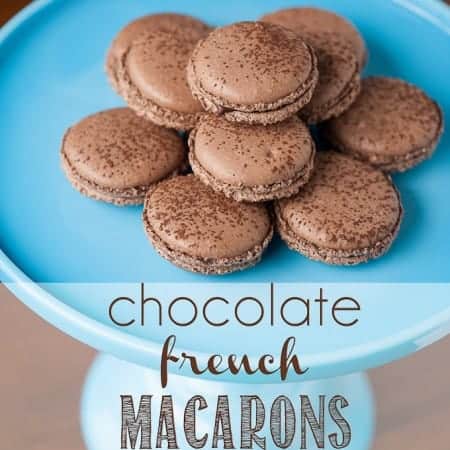 Chocolate French Macarons
This is the best recipe you'll ever find to make the most beautiful, delicious, and perfect Chocolate French Macarons that everyone will love.
Print
Pin
Rate
Hover to scale:
48
macarons
Ingredients
The chocolate macaron shell recipe:
5

ounces

egg white

(pasteurized is highly preferred)

2.1

ounces

granulated sugar

5

ounces

almond meal

(blanched, no almond skins, aka almond flour (I prefer Bob's Redmill))

10

ounces

confectioners sugar

0.3

ounces

cocoa powder

(Dutch processed, sifted)
ganache filling:
4

ounces

heavy cream

4

ounces

chocolate

(high quality chips or bars chopped into small pieces)

1

ounce

of an invert sugar

(corn syrup, agave, pasteurized honey)

pinch

of salt
Instructions
Portion the egg white & sugar into the bowl fitted for your stand mixer. Give the mixture a quick stir with the whip attachment. Whip egg white mixture at a medium speed in your stand mixer. Pasteurized eggs take longer to whip than fresh eggs, this will take 5 minutes or so.

While the mixer is whipping away, blend the almond meal, powdered sugar, and sifted cocoa in a clean DRY food processor until just fully combined, about 30 seconds.

When the egg white meringue has reached medium peaks (the elf hat stage) dump all the meringue out into a big clean mixing bowl, preferably a shallower, wider bowl. In three stages, pour one third of the dry mixture into the meringue and fold until 90% incorporated. After the last third of the dry mix is incorporated, continue to fold until the 'dark ribbon stage' appears and the looseness of the batter increases slightly.

Line a nice dry, flat sheet tray with your 'tracer sheet' and a fresh piece of brown parchment (the tracer sheet should be UNDER the fresh parchment). If you are using brown parchment on a roll, pre­flatten it under some books in advance. With a medium­small round piping tip (I use 805), pipe the macarons in line with the tracer sheet. Remember not to 'drown your tip' and to pull away from each macaron using the 'doggie tail wag' motion. Rest the macarons in a non­drafty place for 30 minutes.

This is a good time to make the ganache filling for the macarons. Scald the cream, pour over the combined chocolate, syrup, and salt. Stir until completely combined. Place the mixture over a double boiler on low heat and continue stirring if stubborn chocolate chunks remain. The mixture should be smooth and glossy, and thicken slightly. Pour the ganache on a sheet tray or casserole dish so that it's spread thinly for quick cooling.

Bake macarons in preheated oven at 325 degrees F for 4 minutes with the convection off. Turn the macaron pan and bake for another 7 minutes with the convection on. Wait until the macarons have cooled completely before attempting to peel them from the parchment.

Once the macarons are cooled, and the ganache has set to a spreadable consistency, spread or pipe about a half teaspoon of ganache onto half of the macaron shells. Use the other half of the cookies to complete the macaron­ganache sandwiches. Drizzle the macarons with extra melted chocolate if desired (drizzling with extra ganache is not recommended) or dust lightly with cocoa powder.

Macarons are always best the second day when 'matured' overnight in an airtight container in a refrigerator. They freeze really well in airtight containers as well. Always serve macarons at room temperature.
Notes
Makes 42-48 macarons. Nutritional info based on a single completed macaron.
NUTRITION INFORMATION
Calories:
68
kcal
|
Carbohydrates:
9
g
|
Protein:
1
g
|
Fat:
3
g
|
Saturated Fat:
1
g
|
Cholesterol:
3
mg
|
Sodium:
6
mg
|
Potassium:
16
mg
|
Sugar:
8
g
|
Vitamin A:
35
IU
|
Calcium:
9
mg
|
Iron:
0.2
mg