Homemade German Chocolate Cake, with two layers of scratch made cake, a sticky coconut pecan topping, and fudge frosting is everyone's favorite cake!
Everyone loves a good homemade cake. Some may consider it the best dessert recipe there is. This recipe has everything you want a German Chocolate Cake to have, and it will knock your socks off!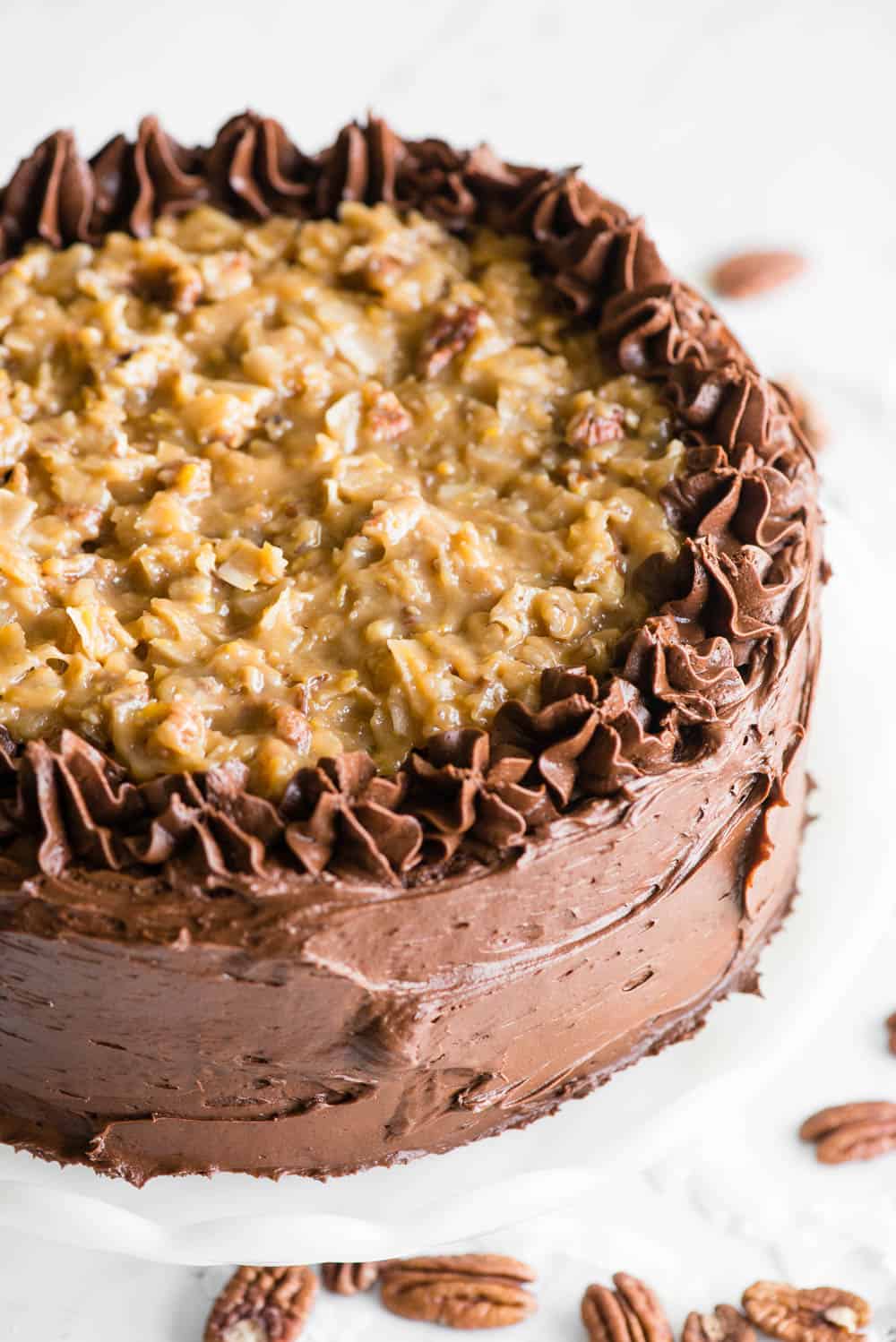 Why this recipe works:
I love homemade cake. I can always tell the difference between a homemade cake where everything was made from scratch.
The chocolate in the cake portion was intended to come from a sweet chocolate. I used a combination of semi-sweet and blonde chocolate to accomplish the perfect flavor and light brown color.
Buttermilk is a key ingredient to an authentic cake and this recipe definitely uses it.
The sweet custard-like topping is full of pecans and coconut.
This recipe uses a dark, rich, fudge like chocolate frosting that is the perfect compliment to the subtle chocolate flavor in the cake.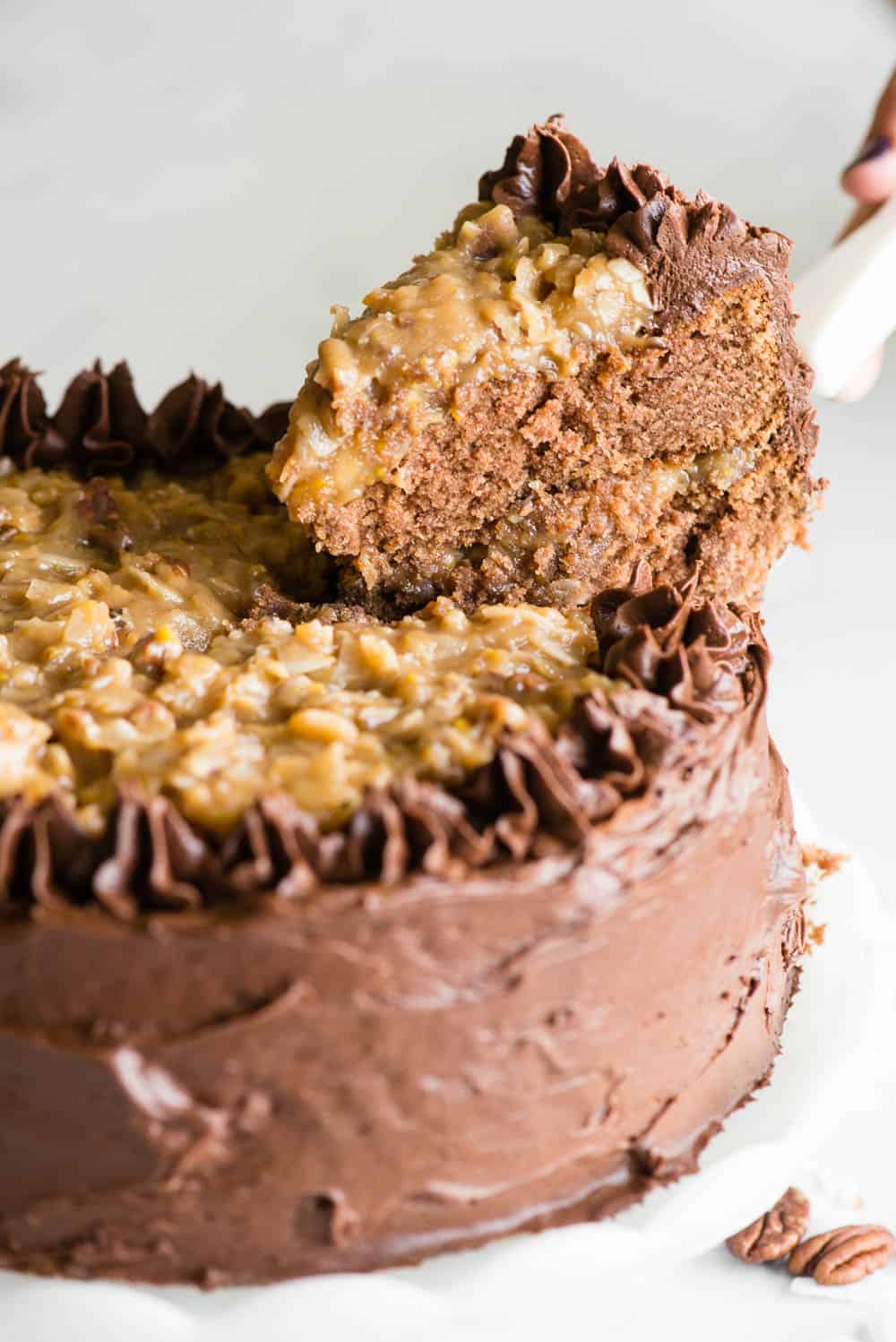 Ingredients needed for the cake:
There are a lot of different ingredients in this recipe so I'll break it down by cake, frosting, and coconut pecan topping. I never said this recipe was going to be easy… but it is well worth it!
Milk chocolate – or you can do as I did and use a combination of semi-sweet and blonde chocolate
Heavy cream – I use this so much in my cooking that I buy it by the half gallon
All-purpose flour – cake flour isn't necessary
Baking soda and salt
Granulated sugar
Butter – I always bake with unsalted and make sure it is room temperature
Eggs – I use the largest eggs I can find when I bake and always keep them at room temperature. You'll be separating the yolks from the whites but using all of it.
Pure vanilla extract
Buttermilk – This is a standard key ingredient in German Chocolate Cake. If you don't have any, you can add 1 tablespoon of lemon juice to whole milk and it will turn into something close enough to pass as buttermilk.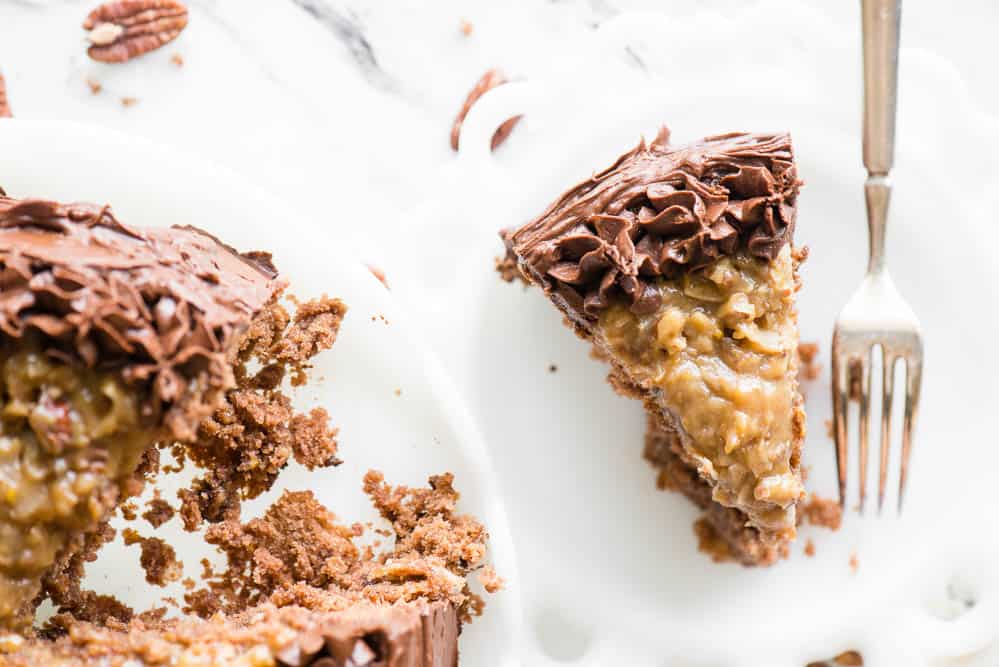 Ingredients needed for the topping:
Egg yolks
Granulated sugar and brown sugar
Butter
Evaporated milk
Pure vanilla extract
Coconut – flaked and unsweetened. If you're using sweetened coconut, you need to cut back on the sugars
Pecans – I like to use raw chopped pecans. You can lightly toast them if you prefer.
Ingredients needed for the frosting:
Again, I like a rich, dark, fudge like frosting for this cake. It may have been my favorite part! It really balances out the not-so-sweet cake with the super sweet chewy coconut pecan topping.
Butter
Cocoa powder – unsweetened
Powdered sugar – does not have to be sifted
Evaporated milk – this is what was left over from the can after I made the coconut pecan topping
Pure vanilla extract
How to make this recipe:
Okay, this is not what I'd consider a beginner recipe, however it really is a super easy cake to make. Full detailed recipe instructions are below, but I'll summarize here.
First step is to make the cakes. You can use three 8-inch pans, but I much prefer two 9-inch pans. You'll want to lightly grease and flour the pans but also use parchment paper rounds so they release easily. The mixing ingredients are a bit detailed, but worth it. You'll cream the butter and sugars, make a chocolate ganache with the chocolate and heavy cream, mix in the egg yolks, add the dry ingredients, and then fold in the egg whites.
While the cakes are baking, you can make the coconut pecan topping as well as the frosting. The coconut topping is made on the stove and takes about 10 minutes. It will need to cool for at least a half an hour before you add it to the cakes.
The chocolate fudge frosting is really easy to make, especially if you're using a stand mixer. Keep in mind this frosting is rather thick.
Once everything is made and everything has cooled, you can assemble them. You can arrange the frosting and coconut topping however you like. I prefer to add the coconut topping to the tops of each cake and then use the frosting to coat the sides and edge of the cake.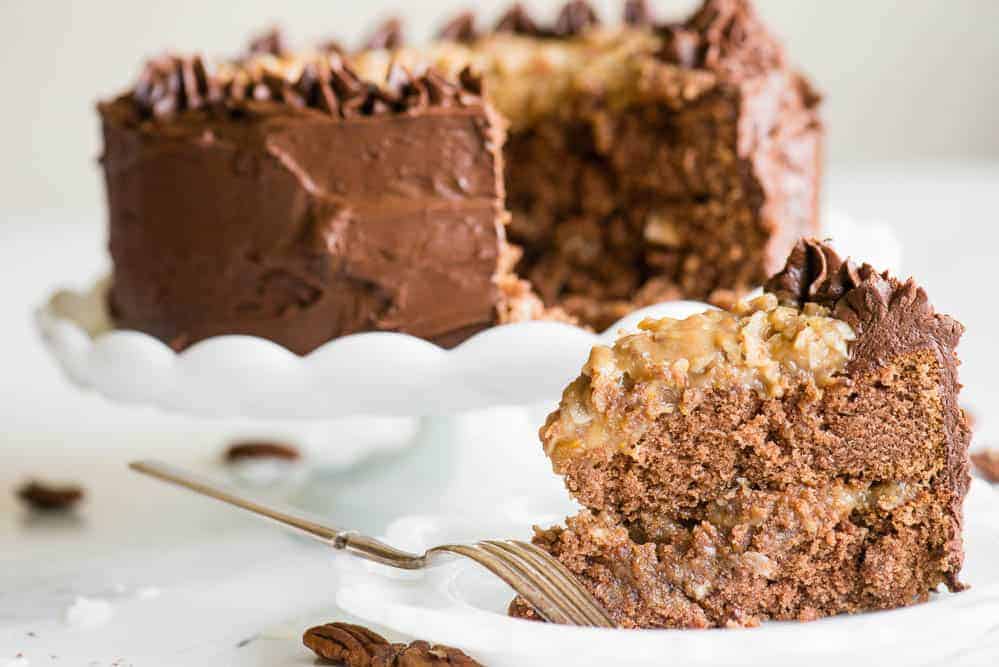 Storage tips:
This cake is most definitely best enjoyed right away, but I was surprised at how well it kept. I stored my cake in an air tight container at room temperature, and we were enjoying it for days.
If it makes you feel better to refrigerate the cake, you can certainly do so, but I kept it at room temperature and it was fine.
If you love homemade cakes, you'll also love making my Lemon Cupcakes and my Carrot Cake with Cream Cheese Frosting.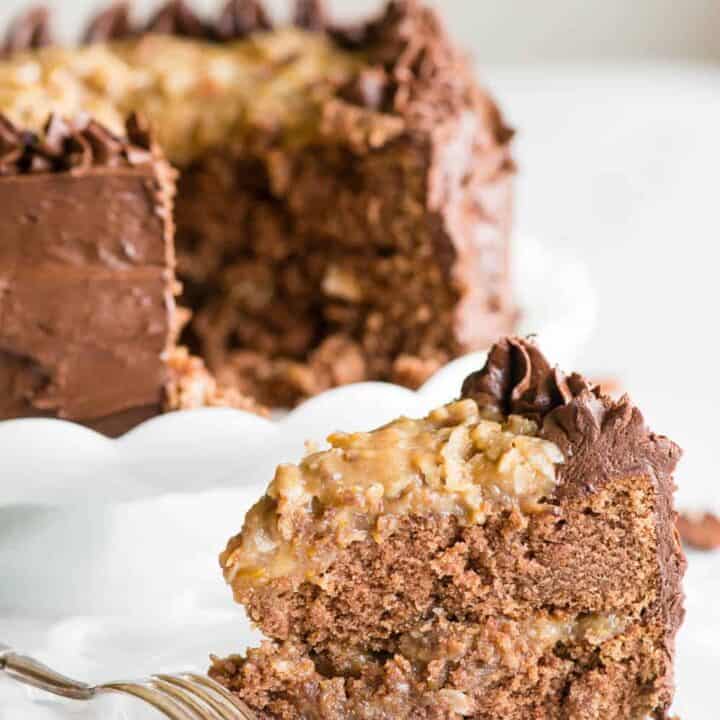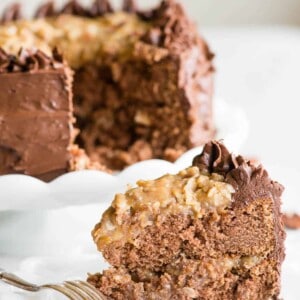 Homemade German Chocolate Cake, with two layers of scratch made cake, a sticky coconut pecan topping, and fudge frosting is everyone's favorite cake!

Ingredients
Cake
Cooking spray to grease pans

4

oz

milk chocolate

alternatively, I used a combination of semi sweet chocolate and 32% blonde chocolate

1/2

cup

heavy cream

2 1/4

cups

all-purpose flour

1

teaspoon

baking soda

1

teaspoon

kosher salt

2

cups

granulated sugar

1

cup

unsalted butter

room temperature

4

large eggs

yolks and whites separated

1

teaspoon

vanilla

1

cup

buttermilk
Coconut-Pecan Filling and Topping
For the Chocolate Frosting:
Instructions
To make the cakes:
Heat the oven to 350°F. Spray the bottoms of two 9-inch round cake pans with the cooking spray. Cut rounds of cooking parchment paper to fit each pan and then line bottoms of pans with the paper.

Coarsely chop the chocolate. Gently heat the heavy cream on the stove over medium heat or in the microwave on 50% power until almost boiling. Pour over chopped chocolate and allow to sit, undisturbed, for about 5 minutes. Stir to combine (chocolate should be fully melted by the time you stir. If not, you can heat in microwave on 50% power in 30 second increments). Allow mixture to cool.

In a medium bowl, whisk together the flour, baking soda and salt until mixed. Set aside.

In the bowl of a stand mixer, beat sugar and butter with paddle attachment on medium to high speed until light and fluffy; set aside. Note – you can't overmix the butter and sugar, so be sure to keep mixing until it is very light and fluffy, scraping the bowl as needed to ensure it is fully mixed.

Reduce speed to medium and add 1 egg yolk at a time into the sugar mixture until mixed. Reduce speed to low and mix in the melted chocolate and vanilla. With speed still on low, alternate adding the flour mixture and buttermilk until fully incorporated. Once all ingredients are mixed in, increase speed to high for just a few seconds to really whip it together. Transfer this batter to a large clean bowl and wash stand mixer bowl you were using.

Add the egg whites to the stand mixer and attach the whisk attachment. Beat on high speed until soft peaks form. Do not overmix. You basically want the whites to be light and fluffy so that when you stop mixing and pull the whisk out, the peak that it pulls on it's way out holds it's shape. If you over mix, the whites will break.

Add egg whites to the batter and genltly fold in using a rubber spatula to turn the batter over the egg whites, continuing until all of the egg whites are fully mixed in. Be sure to be as gentle as possible using the least amount of mixing required to fully incorporate.

Pour batter into pans, using a rubber spatula to scrape the batter from bowl. Spread batter evenly in pans and smooth top of batter.

Ensure oven racks are adjusted so that cakes bake in center of oven and bake in preheated oven 30 to 40 minutes, or until a toothpick inserted in the center comes out clean. Cakes should also start pulling away from sides of pan once cooked.

Cool cakes in pans on cooling rack. When pans and cake are still hot but cool enough to touch, flip cakes out of pan by placing your hand on the cake, inverting pan to release, then set back down on cooling rack with parchment round side down. Allow to fully cool on cooling rack.
To make the coconut topping:
In a medium sized saucepan, stir the egg yolks, sugars, butter, evaporated milk and vanilla until well mixed. Cook over medium heat about 10-12 minutes, stirring frequently, until thick and bubbly. Stir in the coconut and pecans. Cool about 30 minutes, beating occasionally with a spoon, until mixture is spreadable.
To make the frosting:
Add butter to bowl of stand mixer. Using paddle or whisk attachment, beat until light and fluffy. Add the cocoa powder and powdered sugar. Mix on low speed to combine. With the mixer running, add the evaporated milk and the vanilla. Once combined, increase speed to high and blend until fully mixed and smooth. Frosting will be thick.
To assemble the cake:
Remove parchment rounds from cakes. Place 1 cake layer, rounded side down, on a cake plate. To keep plate clean, you can slide strips of parchment paper under the edges of the cake while you frost and then remove once the cake has been decorated.

Spread half of the coconut mixture over the top of the cake. Add second layer and spoon the rest of the coconut mixture on top. I left about an inch of space around the edge of the cake for the frosting.

Add the chocolate frosting to a pastry back with a star tip. Pipe stars around the top edge of the cake. Pipe remaining frosting around the sides to coat and then use a spatula to smooth, taking care not to touch the stars on the top.

Store cake in airtight container.
Nutrition
Calories:
699
kcal
,
Carbohydrates:
84
g
,
Protein:
7
g
,
Fat:
39
g
,
Saturated Fat:
21
g
,
Cholesterol:
155
mg
,
Sodium:
326
mg
,
Potassium:
249
mg
,
Fiber:
3
g
,
Sugar:
66
g
,
Vitamin A:
995
IU
,
Vitamin C:
0.6
mg
,
Calcium:
105
mg
,
Iron:
2.2
mg
Nutrition information is automatically calculated, so should only be used as an approximation.
This post was originally created for The Recipe Critic where I'm a contributor and has been updated with more fun facts and tidbits for your reading pleasure.