Chocolate Hazelnut Nutella Stuffed Cookies combine a homemade chewy chocolate hazelnut cookie that is wrapped around a melted mouthful of creamy Nutella.
These rich and decadent cookies with a surprise in the middle are perfect any time of year, but are extra loved during the holidays. Warm or cold, they're delicious!
This post may contain affiliate links. That means that I will earn a teeny tiny (seriously, it's ridiculously small) commission on anything that you buy, at no added cost to you. By supporting me this way, I can deliver more delicious recipes! Read my disclosure policy here.
CHOCOLATE HAZELNUT NUTELLA STUFFED COOKIES
Pin it to your DESSERT BOARD to SAVE it for later!
Follow Self Proclaimed Foodie on Pinterest for more great recipes!
Chocolate Hazelnut Nutella Stuffed Cookies are the most satisfying craving satisfier there is out there. Craving satisfier? Is that a thing? Why, yes it is.
I have many craving satisfiers on my blog. You know the type of treat. The kind of recipe that has just the right amount of fat and sugar to extinguish the meanest of cravings. Yeah, that kind.
I can think of no greater craving satisfier than Granny's Monkey Bread, but these soft centered chocolate hazelnut cookies are a total deal breaker. Like, you take a bite and can hear the mic drop kinda cookie.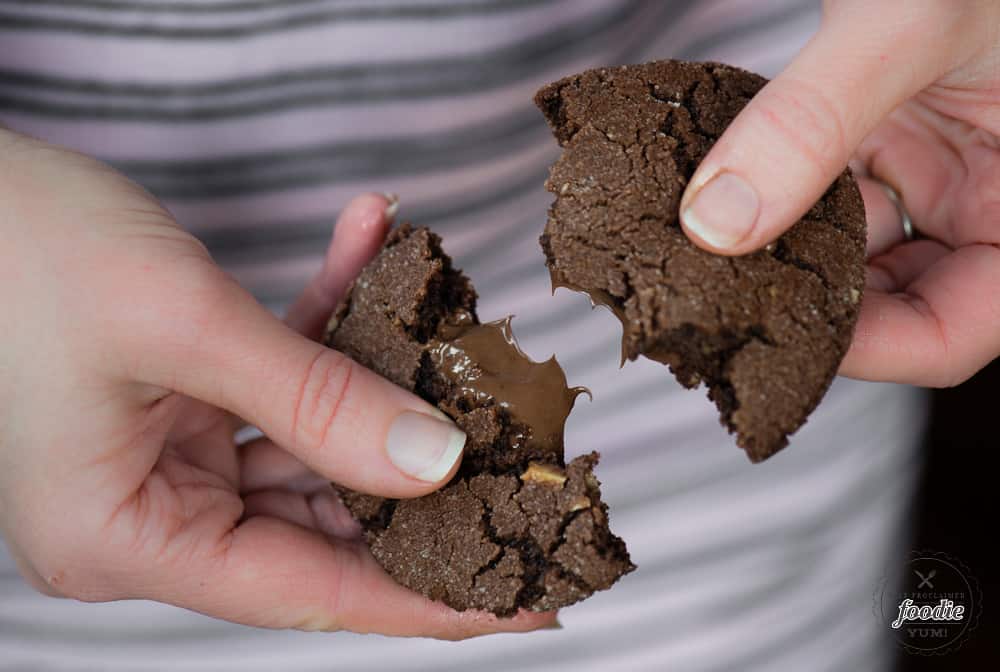 Is Nutella chocolate or hazelnut?
I'm going to assume that you've never had Nutella, although I'm guessing 99.5% of my readers have. Nutella is a chocolate hazelnut spread. So to answer the question, it's both.
Nutella is incredibly creamy and sweet. It is definitely more of a dessert spread than anything else. I would say it's about the consistency of a no-stir peanut butter; perhaps a bit thinner.
There are lots of different types of chocolate hazelnut spreads out there. They all vary in sweetness and consistency. To be honest, I don't buy Nutella unless I'm baking a naughty recipe like this. Why?
Well, first of all, a minute of Nutella on my lips equates to a lifetime on my hips, and my jeans are already pushing the comfort limits.
Secondly, Nutella contains palm oil, and if you care about orangutans, you should avoid using products that contain palm oil. I'll just leave it at that.
Like I said above, I usually only use Nutella when I'm baking a recipe like this because I've cooked with it before and know what kind of results I'll get. Plus, admittedly, it really does taste good.
How do you get the Nutella to melt and the cookie to bake?
If you've ever had a soft centered cookie or something like a lava cake, you might wonder how the center can be so melted and smooth while the outside is a completely cooked cake or cookie.
The trick, more often than not, is to freeze whatever if going in the center. Then, you wrap said frozen morsel with whatever sweet dessert is going on the outside and then you bake.
The result is that the frozen center takes longer to heat up, thus it won't bake at the same rate as the cookie or cake on the outside.
The Nutella center will stay soft even after the cookie has cooled!
You read that right. Even after the cookie has completely cooled, the Nutella center will remain smooth and creamy. Must be all that palm oil.
No need to burn your fingers and your tongue by eating one of these chocolate hazelnut cookies the second it comes out of the oven. Okay, you caught me. That's exactly what I did.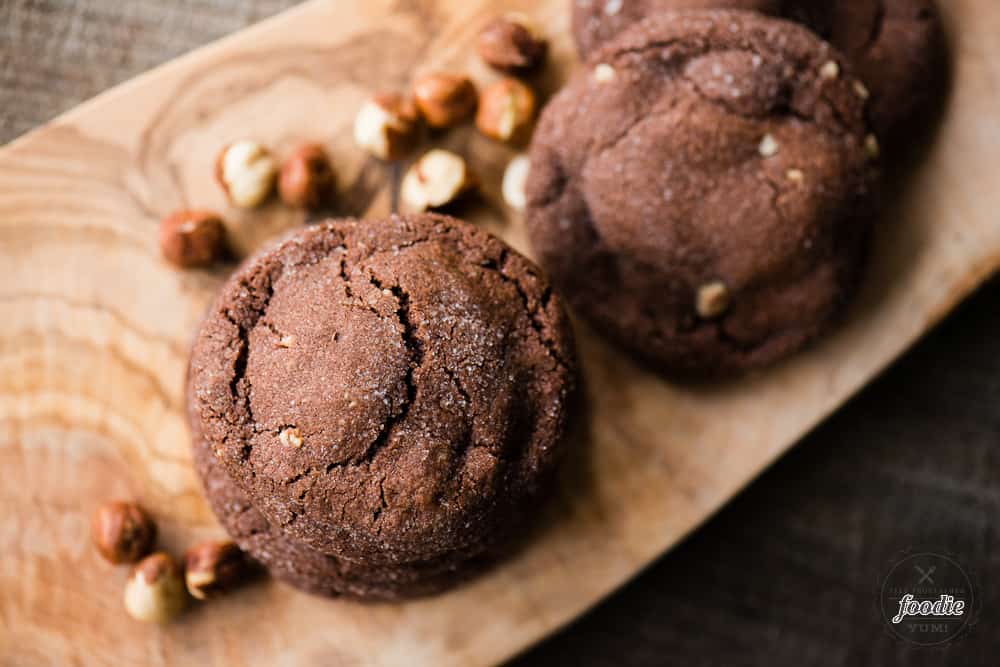 I was originally going to save this post for this coming Christmas to share with all of my other Christmas treat recipes. You know, things like Five Minute Fudge and the Ultimate Decorated Sugar Cookies.
I figured these were just too good not to share now. There's no reason they shouldn't be an everyday cookie, right? Aside from the fact that we want our jeans to still fit.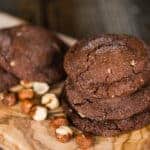 Chocolate Hazelnut Nutella Stuffed Cookies
Chocolate Hazelnut Nutella Stuffed Cookies combine a homemade chewy chocolate hazelnut cookie that is wrapped around a melted mouthful of creamy Nutella. These rich and decadent cookies with a surprise in the middle are perfect any time of year, but are extra loved during the holidays. Warm or cold, they're delicious!
Ingredients
26

ounces

Nutella

2-13 ounce packages

3 1/2

cups

all-purpose flour

1/2

cup

cocoa powder

1 1/5

teaspoons

baking soda

3/4

teaspoons

baking powder

3/4

teaspoons

salt

1 1/2

cups

unsalted butter

softened

2 1/4

cups

granulated sugar

plus more for rolling

1

egg

slightly beaten

1

egg yolk

slightly beaten

3

teaspoons

vanilla extract

1/2

cup

hazelnuts

crushed, toasted
Instructions
Line a baking sheet or cutting board that can fit into your freezer with parchment paper. Using a small cookie scoop, spoon small scoops of Nutella and drop onto the parchment. The rounder the shape, the easier it will be to form into cookies. Place tray into freezer.

Meanwhile, make the cookie dough.

Combine flour, cocoa powder, baking soda, baking powder, and salt in large bowl and set aside.

In the bowl of a stand mixer, cream together butter and the 2 1/4 cups sugar with the paddle attachment until light and fluffy. Start on low speed to combine and then crank it up to high speed. Scrape sides.

Reduce speed to low and add the eggs and vanilla. Mix until combined.

Slowly add the dry ingredients and mix on low just until combined. Fold in the crushed hazelnuts.

Cover and chill for at least one hour in refrigerator to firm up the dough.

When ready to bake, preheat oven to 350 degrees F. Line a large baking sheet with parchment paper or a silpat. Add a small amount of sugar to a small bowl for rolling. Remove Nutella balls from the freezer.

Using a large cookie scoop, scoop cookie dough and transfer it to your hand and flatten it to a disk. Place a frozen Nutella ball in the center and wrap the dough around, sealing all the edges and then rolling to make a nice smooth round ball. Set on the prepared baking sheet. Set cookies about 3 inches apart. Keep remaining Nutella balls in the freezer while not using.

Bake in preheated oven 14-16 minutes. The top of the cookies will begin to crinkle. Allow cookies to rest on the baking sheet about 5 minutes once removing from oven and then immediately transfer to a cooling rack.

Cookies can be stored in an air tight container at room temperature for several days or frozen and thawed later.
Recipe Notes
makes 4 dozen cookies
Nutrition Facts
Chocolate Hazelnut Nutella Stuffed Cookies
Amount Per Serving
Calories 216
Calories from Fat 99
% Daily Value*
Total Fat 11g 17%
Cholesterol 22mg 7%
Sodium 72mg 3%
Potassium 103mg 3%
Total Carbohydrates 26g 9%
Protein 2g 4%
* Percent Daily Values are based on a 2000 calorie diet.