Chocolate Fruit Dip tastes like a heavenly chocolate cheesecake. It's the perfect sweet appetizer or dessert when served with cookies and fruit.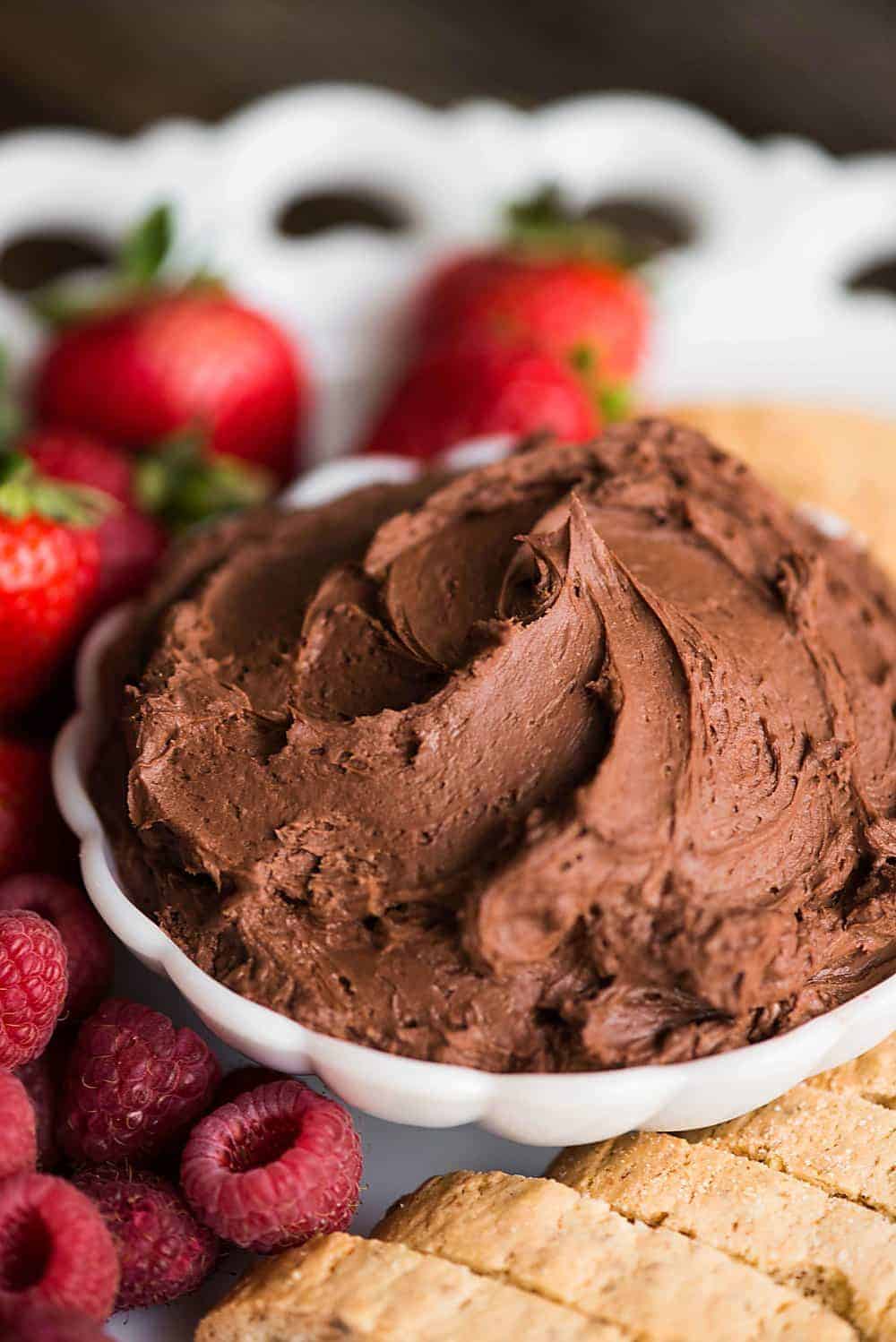 Chocolate Fruit Dip is heavenly. There's really no other way to describe it. By next summer, expect to see this recipe as the filling for a no bake chocolate cheesecake. Not sure if this recipe really qualifies as an appetizer or a dessert. I can definitely see it being a huge success at a party, but I tend to think of appetizers as more savory like my smoked salmon dip or a warm cheesy dip like my football fondue.

MY OTHER RECIPES
There are a lot of recipes out there for chocolate fruit dip and they all seem to vary a little bit. Some call for cocoa powder, some call for melted chocolate. I did what any chocolate lover would do and used both. This chocolate fruit dip is rather thick, especially if served colder than room temperature, so you'll need to serve it with a strong cookie that can put up a fight, like a biscotti, and if serving with soft fruit like strawberries and raspberries, your best bet is to serve it with a spreader. Or, you could be like me, and take the entire tray and a giant spoon and go watch an episode of some home remodeling show on HGTV.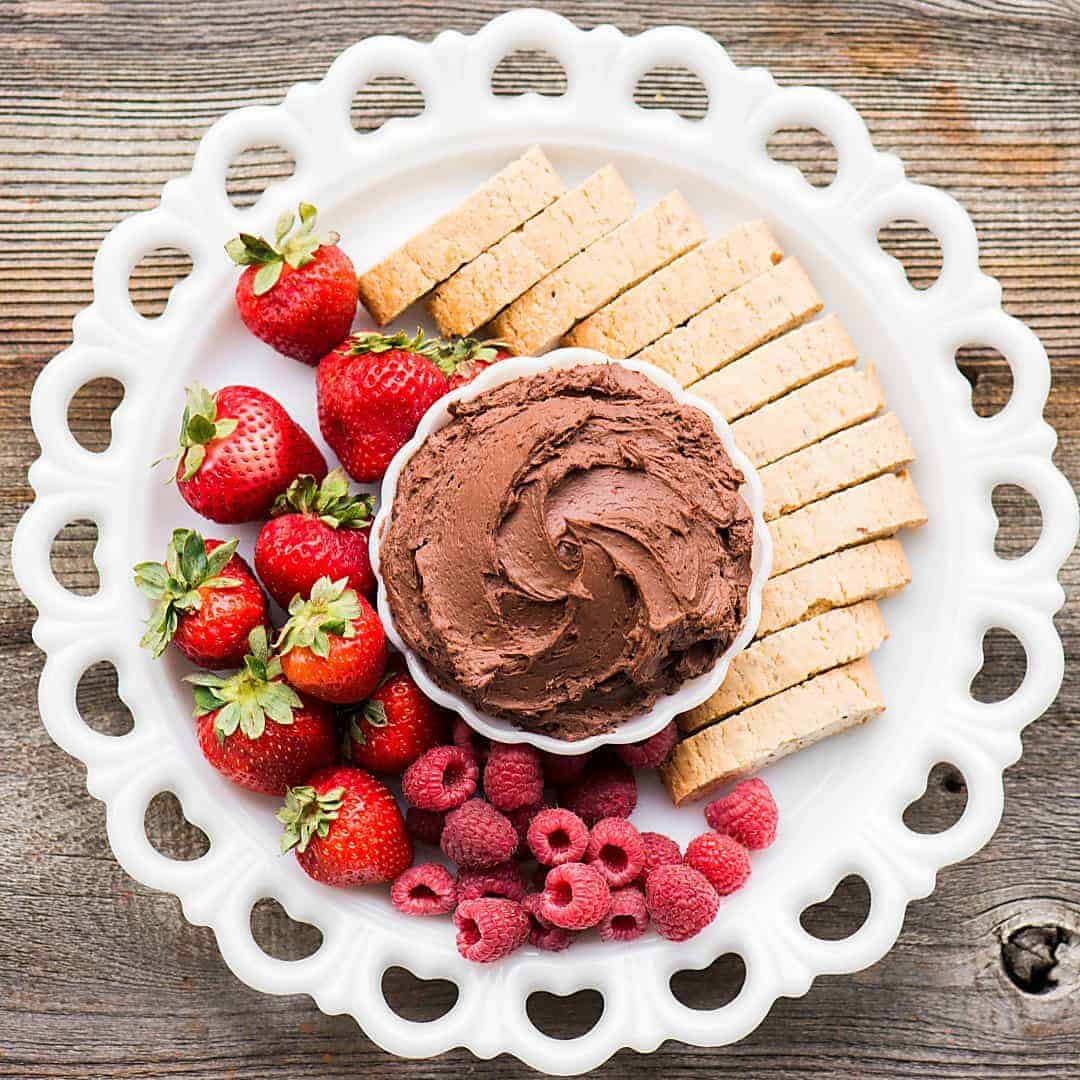 Easy appetizer ideas:
If quick and easy appetizers are what you're looking for, here's a list of suggestions including both hot and cold savory recipes.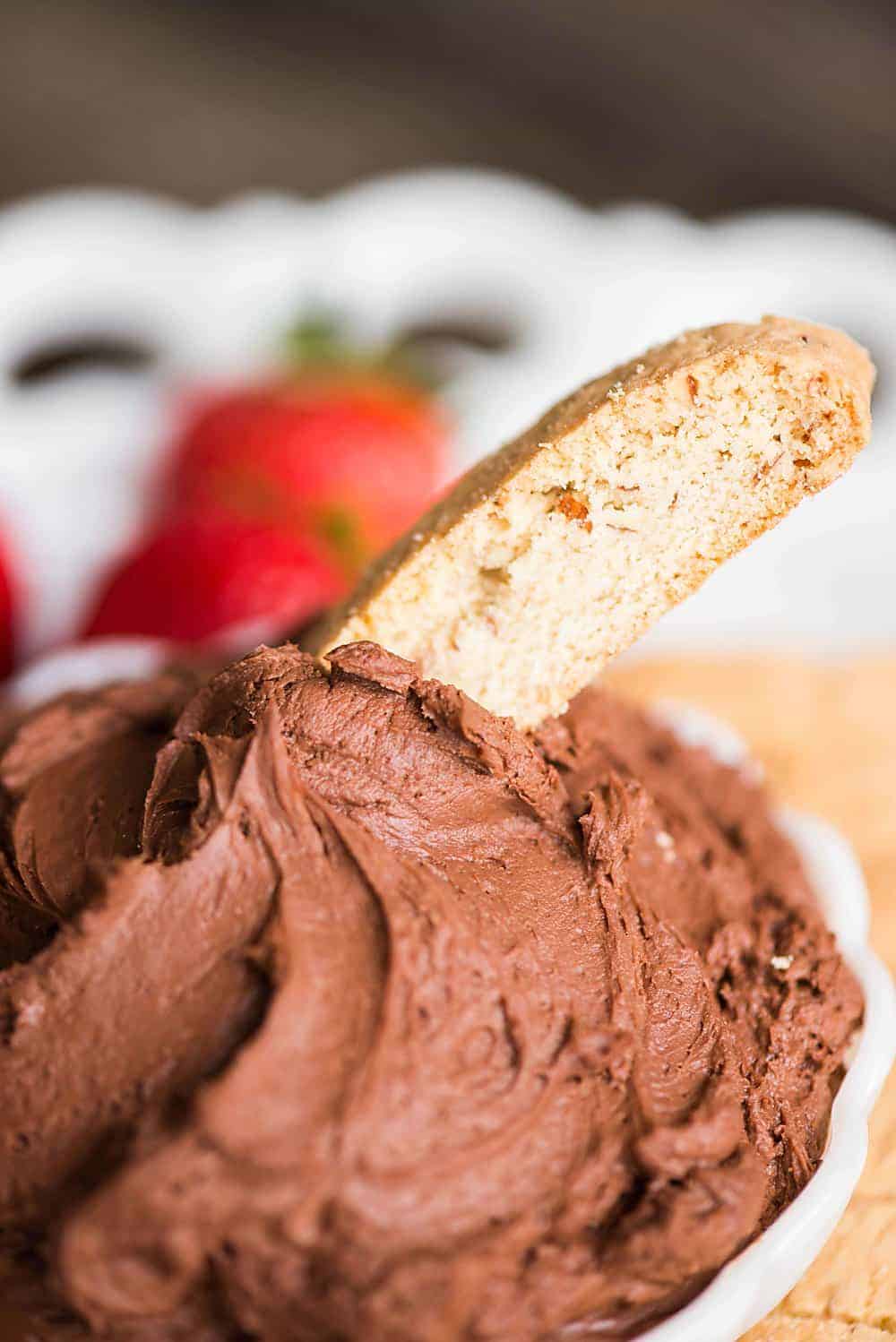 Tools used to make this Chocolate Fruit Dip:
Stand mixer: This is a kitchen must-have. I use mine almost any time I bake. It's one of the few appliances I will allow to always remain on the counter rather than be put away.
Silicone spatula: Any time you're working with a batter, you'll need a good quality scraper. These are the ones I use because they do the job right and don't leave a nasty silicone taste when I like the batter off at the end!
Ingredients
8

ounces cream cheese, softened

2

cups heavy cream

2/3

cup powdered sugar

1/3

cup cocoa powder

1/2

cup chocolate chips, melted

2

teaspoons vanilla
Instructions
To melt the chocolate chips, microwave using 50% power in 1 minute increments, stirring after each minute, until melted and smooth.
To make fruit dip, combine all ingredients. Mix together until smooth using electric hand mixer or stand mixer with paddle attachment.
Serve with biscotti cookies and fresh fruit. Dip will be very thick because of the melted chocolate, so a spreading knife is recommended if the fruit is soft.