Cream Cheese Fruit Dip Recipes are tasty appetizers that are made of a few ingredients and take just minutes to prepare. Everyone loves an easy fruit dip!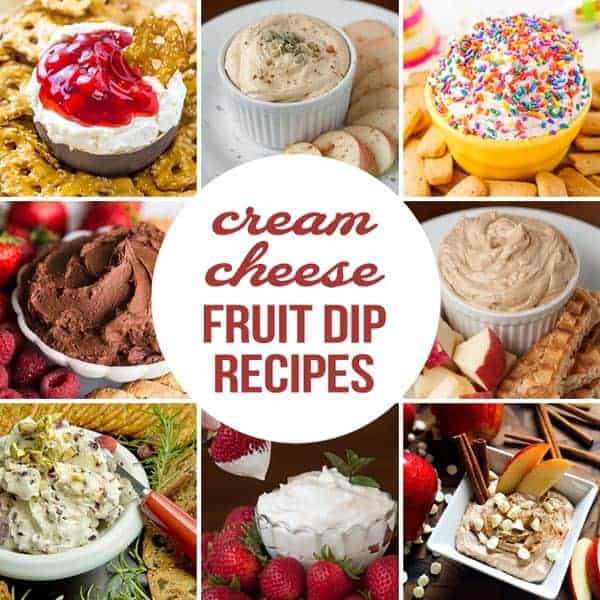 Cream cheese fruit dips are a lightly sweet and fluffy dip you'll love! These easy fruit dips range from seasonal appetizers to recipes that work year round. I find them highly addictive, so if you ever set out a fruit dip with cream cheese at a party, you might want to make sure I've eaten dinner first if I'm invited!  Seriously, my sister-in-law brought Cheesecake Fruit Dip to Thanksgiving once – it's a cream cheese marshmallow fruit dip with a hint of almond extract, and I must have eaten half of it.
How do you make cream cheese fruit dip?
One thing all fruit dip with cream cheese recipes have in common is, you guessed it, the cream cheese. In order to make your dip extra smooth and luscious, ensure your cream cheese is softened, or at room temperature, before mixing.
You'll want to use a stand mixer or a hand mixer in order to fully incorporate all of your ingredients.
These are super easy fruit dip ideas because they don't require baking, just a few minutes and often just a handful of ingredients.
Most fruit dip recipes that use cream cheese are sweetened using sugar, honey, maple syrup, etc. Especially tasty are cream cheese fruit dips with brown sugar. They are also usually thinned out until a desired consistency is reached using ingredients like heavy whipping cream or milk.
Fruit dips can also be served with cookies or even a salty savory option like pretzels.
Additional flavors and textures from other ingredients like nuts and dried fruit can be added to any cream cheese fruit dip.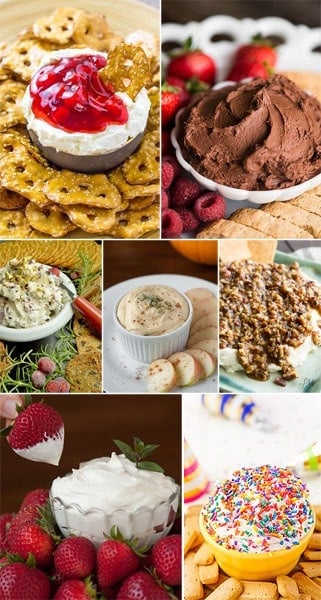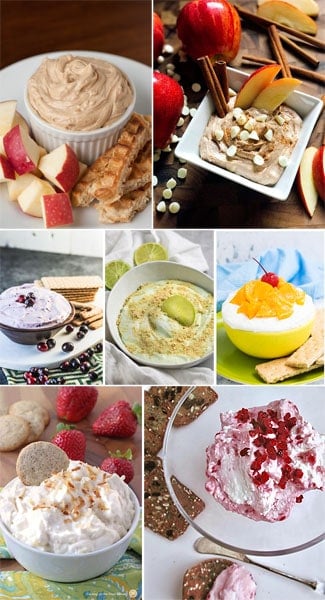 Create an easy-to-make snack and pair apple slices, waffle sticks and celery with this kid-friendly Peanut Butter Dip treat.
Cinnamon Apple Cream Cheese Dip is ready in minutes and a great sweet snack or dessert. Perfect for fall!
If you need an easy appetizer for the holidays, this Cranberry Cream Cheese Dip will do the trick! Just three ingredients including cream cheese, cranberry sauce and sugar.
Key Lime Pie Cheesecake Dip – A sweet and tangy dip that tastes just like key lime cheesecake!  This dip is no bake and super simple to whip up.  The perfect cool and creamy summer dessert!
Quick and easy peaches and cream dip recipe, made with simple ingredients. Rich and creamy and perfect filling for peaches and cream cream cake or pie.
Pina Colada Dip.  It only has 4 ingredients, comes together in 5 minutes and is soooo good.
Raspberry kefir cream cheese fruit dip is so tasty! Made from the best probiotic source, kefir cheese is your healthiest treat from parties to breakfast. This raspberry kefir cream cheese will help improve your gut flora and is easy on the digestive system. Use the full instruction to make this wonderful recipe from scratch using real milk kefir grains.
Watch the recipe video below of me making my favorite Cream Cheese Fruit Dip Recipes!