Heavenly Homemade Chocolate Cupcakes, made with cocoa and strong hot coffee, are the most decadent and moist chocolate cupcake recipe you'll ever enjoy!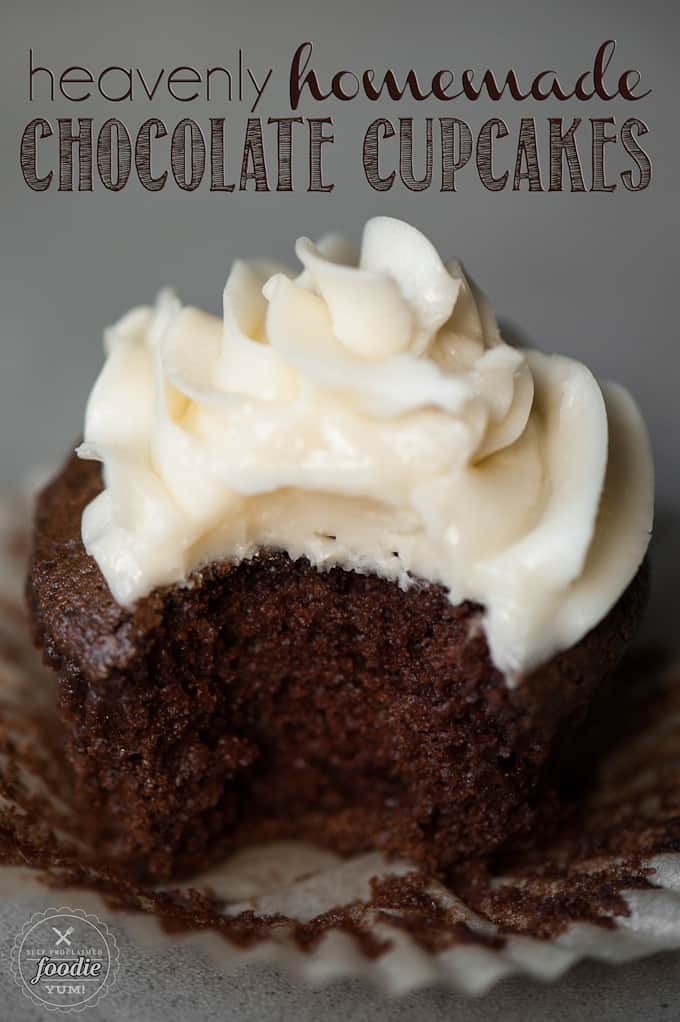 Chocolate cupcakes, the kind you dream about, are hard to find. Your quest can finally be over. You have found it. The be all, end all, of chocolate cupcakes. Never again will you need to search for a chocolate cupcake recipe, only to be sorely disappointed by the results. The days of resorting to a boxed mix are in the past forevermore. If you've ever asked how to make chocolate cupcakes from scratch, you've found your recipe. As much as I'd like to showcase this chocolate cupcake recipe, I'll tease you for a mere moment with my perfect buttercream frosting. I could stare at those luscious swirls for hours!
I would be doing you a disservice if I didn't share some other frosting ideas to go along with this chocolate cupcake recipe. One of my absolute favorites is my Brown Butter Vanilla Bean Frosting. If you're looking for something rich and decadent to top you're chocolate cupcakes, that one is a winning choice. Blueberry Cream Cheese Frosting would be an excellent choice to top these, or any, homemade cupcakes. That recipe uses freeze dried blueberries, so it doesn't just have to be a summer recipe. Finally, can you imagine how tasty homemade Eggnog Frosting would taste on these chocolate cupcakes? Is there a better word than heavenly?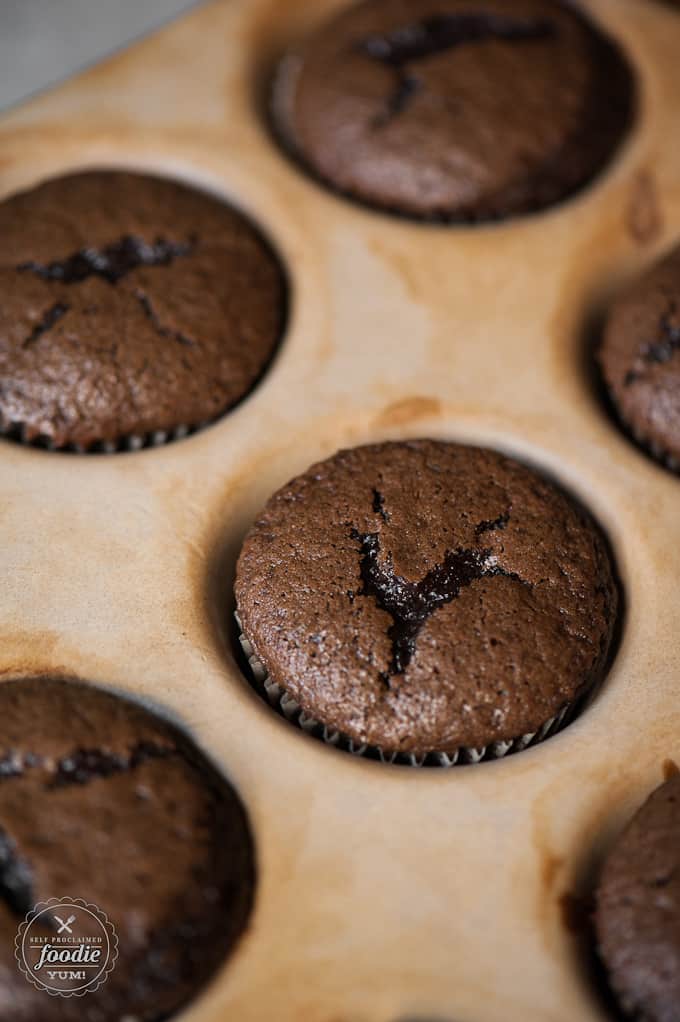 When I say these are the best damn chocolate cupcakes you will ever enjoy, I'm not kidding. My husband, who doesn't like sweets all that much, can't get enough. My kids, who ask for anything but cake on their birthdays (so strange, I know), think these homemade cupcakes are the best things that have ever come out of my oven.
What makes these homemade chocolate cupcakes so heavenly?
Think about all the wonderful things you'd want in a chocolate cupcake. Moist? Most certainly. Taste? There's cocoa, coffee, and sugar in these bad boys. What else could you ask for?  Rise and volume? Yes, and I believe this has to do not only with the mixing directions but also the baking process. I explain this more below when I talk about how to make cupcakes. There is no other way to describe them than heavenly.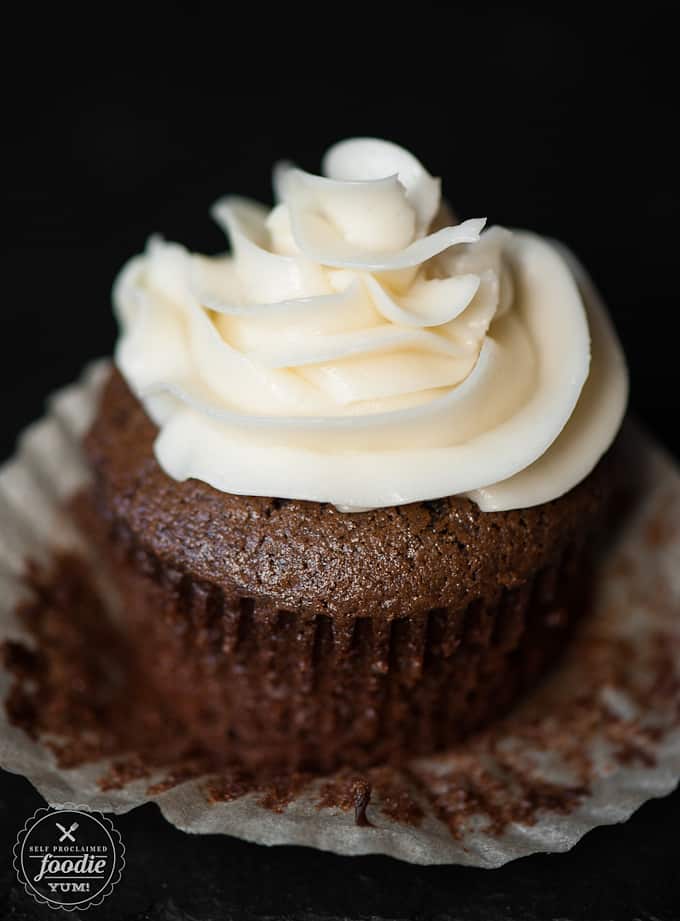 How to make cupcakes:
I follow the same mixing procedure with homemade cupcakes and homemade cakes that I learned from my master cake maker friend
The trick is to mix all of the dry ingredients and all of the wet ingredients in the cupcake recipe separately. Then, add just enough of the wet ingredients to the dry ones to have it form a thick batter and really mix it well
Finally, add the remaining liquid to the batter and mix to combine. This is the secret to not only this chocolate cupcake recipe, but for all homemade cupcakes.
Remember when baking to get them in the oven as soon as possible. This will maximize the amount your chocolate cupcakes rise.
One of my tricks for amazing homemade cupcakes to give them good rise is to start cooking them in a very hot oven and then to reduce the oven temperature.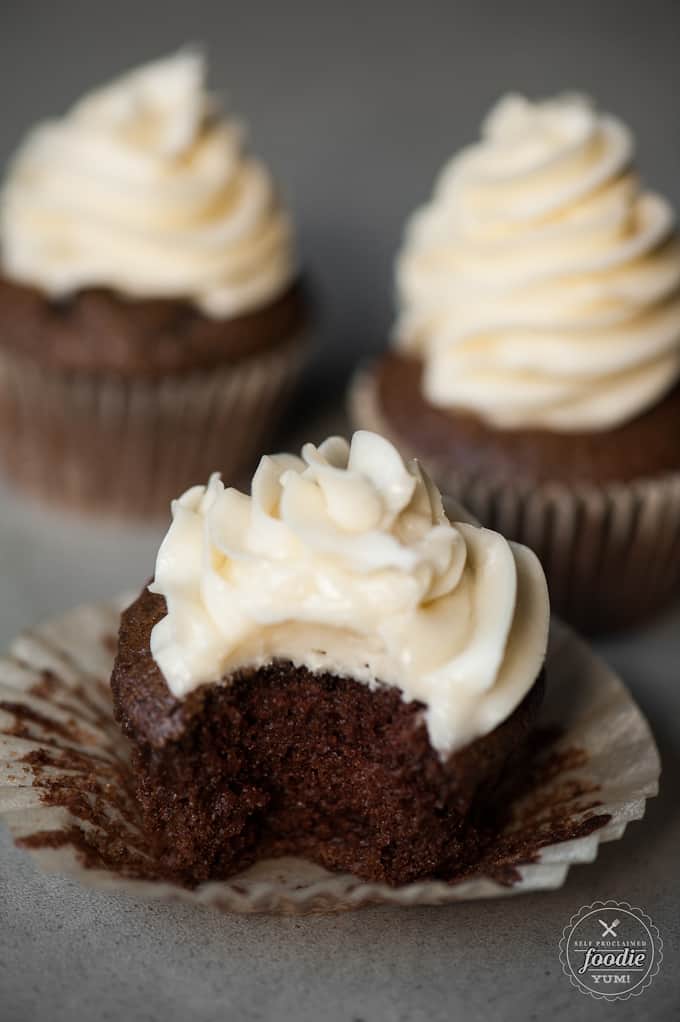 Can this chocolate cupcake recipe be used to make a cake?
I get asked this question all the time, and the answer is yes. My family loves these chocolate cupcakes so much that I often get asked to use this cupcake recipe but turn it into a cake. There are just a few things to consider when doing this:
Scale your cupcake recipe appropriately. This chocolate cupcake recipe yields 12 cupcakes which equates to one 9-inch round cake layer. If you were wanting to make a two layer 9-inch cake, you would have to double this cupcake recipe.
No need to change the chocolate cupcake recipe. Just don't. You wouldn't want to change the heavenly taste, would you?
No need to change the oven temperature. You would follow the same procedure to make a cake as you would these homemade cupcakes which involves starting it in a very hot oven to give it lift, and then reducing the temperature.
The baking time will change. Homemade cupcakes, on average, take about 20 minutes to bake. Cakes, however, take much longer. You can plan on two 9-inch baking pans taking about 30-35 minutes to fully cook. Be sure to test the center with a toothpick and do not remove from the oven if the batter still appears to be wet.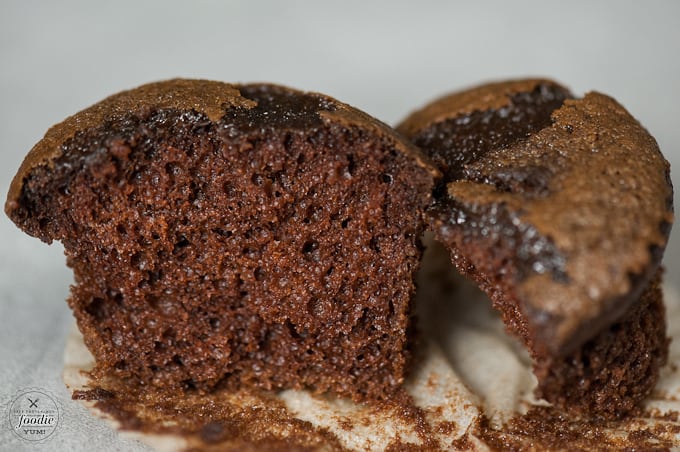 Just look at all of those lovely little air bubble pockets. Those are what give this cupcake that soft, pillowy, fluffy texture, while at the same time the top leads to the slightest bit of sweet crunch on top. You're totally starting to salivate, aren't you?  I just know it!
How full when filling cupcake batter?
Is this a question you ask yourself every time you try a new cupcake recipe? I do. The typical rule of thumb is 2/3 full. If you fill your homemade cupcakes only half full, the final cupcake will be to small and if you go over the 2/3 amount, they will likely spill over. If you find a really good chocolate cupcake recipe, however, you can start with your 2/3 full rule of them and then just keep distributing the remaining batter so that each one is the same size and they will cook up perfectly.
Kitchen tools used to make these Heavenly Homemade Chocolate Cupcakes:
Stand mixer: This is a kitchen must-have. I use mine almost any time I bake. It's one of the few appliances I will allow to always remain on the counter rather than be put away.
Silicone spatula: Any time you're working with a batter, you'll need a good quality scraper. These are the ones I use because they do the job right and don't leave a nasty silicone taste when I like the batter off at the end!
Flexible Measuring Cups – My sister and I first found these at a cooking class and we thought they were just the best invention. Any time you are measuring and/or pouring liquid, these are simply the best to have on hand. They make a great gift for your favorite cook, too!
Muffin Pan – This is the regular size, 12 muffin, standard pan. If you don't already have one (or two or three) of these in your kitchen, I'd be shocked.
Frosting Decorator Set: In a pinch you can always use a ziplock bag with the corner snipped off, but when I like to get fancy, I use a real metal tip!
Watch how I make my Heavenly Homemade Chocolate Cupcakes in the recipe video below!
Heavenly Homemade Chocolate Cupcakes
Heavenly Homemade Chocolate Cupcakes, made with cocoa and strong hot coffee, are the most decadent and moist chocolate cupcake recipe you'll ever enjoy!
Ingredients
1/2

cup

strong hot coffee

or 1/2 cup boiling water + 1 pack starbucks via instant coffee

1/2

cup

unsweetened cocoa powder

1

cup

all-purpose flour

1

cup

granulated sugar

1

teaspoon

baking powder

1/2

teaspoon

baking soda

1/4

teaspoon

salt

1/2

cup

whole milk

1/4

cup

vegetable oil

1

large egg

1

teaspoon

vanilla
Instructions
Preheat oven to 425º F.

Place cupcake liners in muffin tin. Spray lightly with cooking spray.

Combine hot coffee and cocoa powder. Mix well to dissolve and set aside.

In bowl of stand mixer, combine flour, sugar, baking powder, baking soda, and salt with paddle attachment.

In a separate bowl, combine milk, oil, egg, and vanilla. Mix well to combine.

Add about half of the milk mixture to the flour and mix on medium high speed for 2-3 minutes until light and fluffy.

Combine the chocolate mixture with the remaining milk mixture and add to the batter. Mix with batter on medium speed for about 30 seconds, scraping sides of bowl before turning mixer on.

Distribute batter evenly to the 12 muffin cups. Batter will be very wet.

Bake in preheated 425 degree F oven for 5 minutes, then reduce heat to 325 F without opening the oven door. Continue cooking at lower temperature for an additional 13-15 minutes until a toothpick inserted in the middle comes out clean.

Remove from the oven and transfer cupcakes to a cooking rack as soon as they're cool enough to be touched.

Prepare

buttercream frostin

g according to instructions or your other favorite frosting... or just devour it plain!
Video
Nutrition
Calories:
162
kcal
|
Carbohydrates:
27
g
|
Protein:
2
g
|
Fat:
5
g
|
Saturated Fat:
4
g
|
Cholesterol:
14
mg
|
Sodium:
105
mg
|
Potassium:
122
mg
|
Fiber:
1
g
|
Sugar:
17
g
|
Vitamin A:
0.7
%
|
Calcium:
3.4
%
|
Iron:
6
%
Are you a Foodie? We have a group that's just for you!
I invite you to join so you can share your love of food and cooking with other foodies.
We're building a community one meal at a time!