Perfect Buttercream Frosting is a rich, smooth, and incredibly delicious traditional icing that is the best choice to decorate cakes and cupcakes.
This is the same kind of buttercream frosting that you'll find on many wedding cakes. Its silky texture is unlike any other frosting or icing recipe that you'll ever find, it is gorgeous when piped, and can be flavored and colored in countless ways.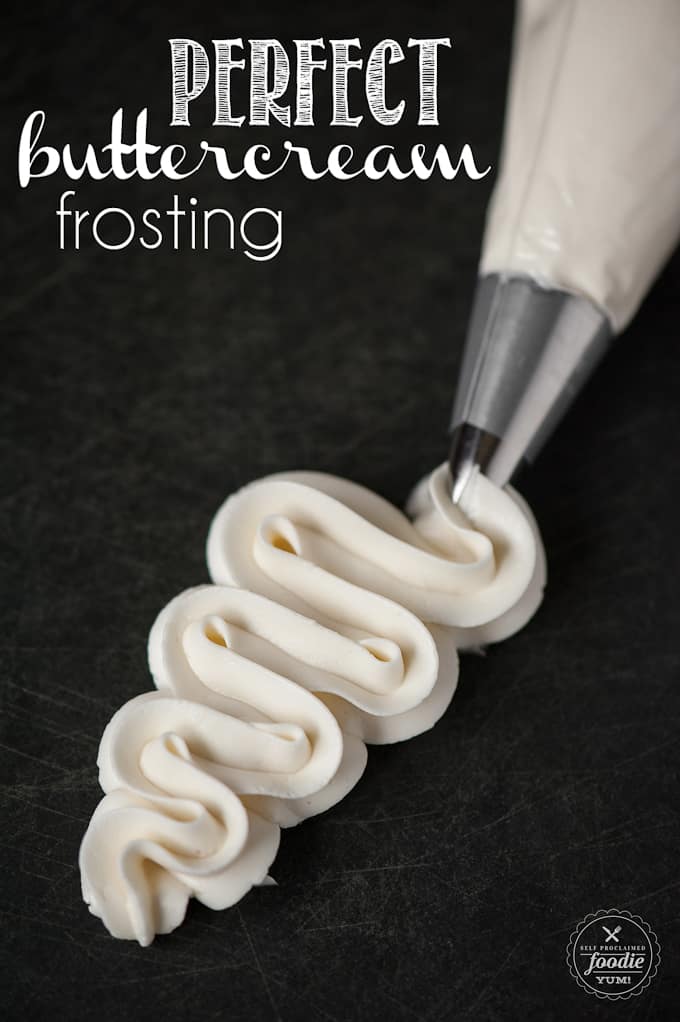 Perfect Buttercream Frosting was a first in my kitchen. I've always been a cream cheese frosting or butter frosting kind of girl and I probably always will be, like my brown butter vanilla bean frosting or my blueberry cream cheese frosting. Yum! I'll admit, I had never made a traditional Italian buttercream frosting before. This was the first time I had made frosting with a hot sugar syrup.
What are the different types of buttercream frosting?
AMERICAN: Powdered sugar + softened butter + milk + vanilla
SWISS: Egg whites + light corn syrup + white sugar + softened butter
FRENCH: Egg yolks + homemade sugar syrup + butter
ITALIAN: Homemade sugar syrup + egg whites + white sugar + softened butter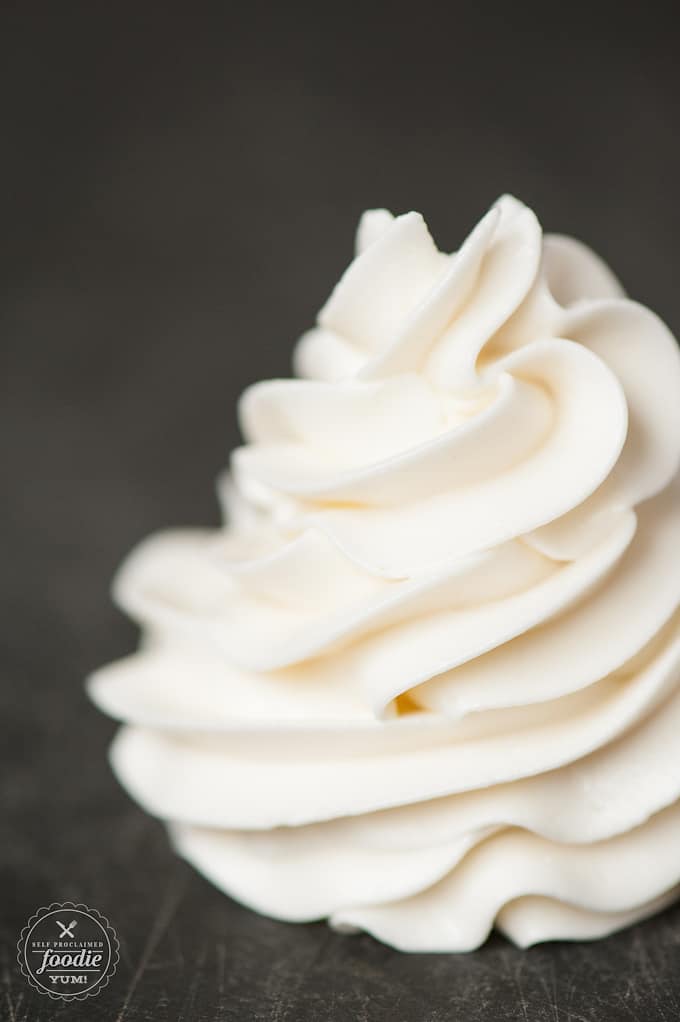 When you consider how perfectly smooth, rich, creamy, and heavenly this buttercream frosting is and how incredibly easy it is to use for decorating, it will soon be one of your favorites. Whether you use it for a dry crumb frosting base only before adding fondant and fancy decorations, or you cover the entire cake in buttercream frosting, it truly is one of the most gorgeous things you can put on a cake.
How to make this frosting recipe:
You must get your sugar to the soft-ball stage which is 235 degrees F. I live close to sea level, so this is the temperature I go by. At high altitudes, water boils at a lower temperature. For example, at 4500 feet above sea level, water boils at 204° F. If candy is cooked until it reaches the soft-ball stage on a candy thermometer, it will have cooked too long.
I add a bit of corn syrup because it adds a beautiful sheen, but this can be omitted if you want to make a pure Italian buttercream recipe.
When you whip your egg whites, you want them to have a lot of air and a beautiful sheen, but do not let them get to the stiff peak stage.
Remember to be patient. I've had a lot of readers who had this recipe turn out perfectly and others who couldn't get it to work. Once you start adding the butter, it will look awful, but you just have to keep mix and just like magic, you will end up with the best buttercream frosting.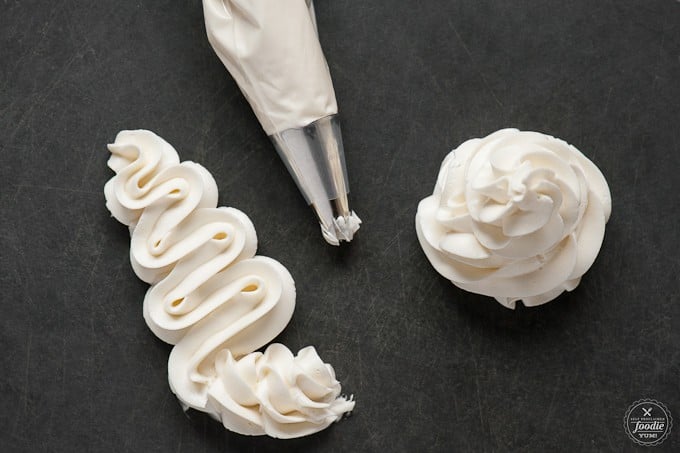 I've talked before about my fear of boiling sugar. I've since gotten over that fear because I've found making homemade marshmallows is worth it, and am so proud that I'm not longer afraid to face boiling sugar because that's how you make this buttercream. If you follow the directions exactly, you'll watch magic happen right before your eyes. To think, whisking in melted sugar at the exact right temperature into whipped egg whites and then adding an obscene amount of butter yields absolute perfection - its like a chemistry class right in your kitchen!
What else you can make with boiling sugar besides buttercream icing?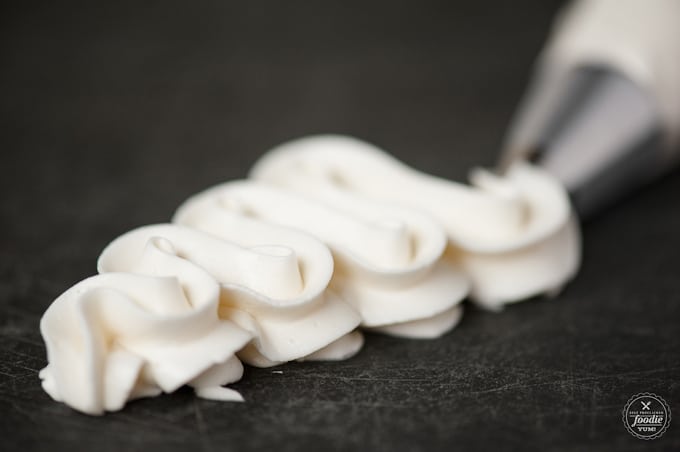 Some of the tools I used to make this Perfect Buttercream Frosting:
Stand mixer: This is a kitchen must-have. I use mine almost any time I bake. It's one of the few appliances I will allow to always remain on the counter rather than be put away.
Silicone spatula: Any time you're working with a frosting, you'll need a good quality scraper. These are the ones I use because they do the job right and don't leave a nasty silicone taste when I like the batter off at the end!
Icing decorating set: You can always use the old snip-the-corner-off-the-ziplock-bag method, but using a real bag and an official frosting tip makes it oh-so-pretty. I know it's wasteful, but I prefer the disposable bags for easy clean up.
Watch me make this amazing buttercream recipe!
Step-by-step recipe video below in recipe card.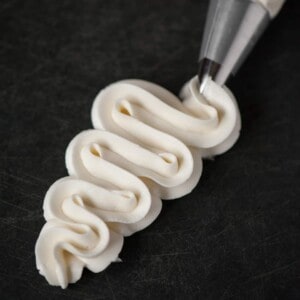 Perfect Buttercream Frosting
Perfect Buttercream Frosting is a rich, smooth, and incredibly delicious traditional icing that is the best choice to decorate cakes and cupcakes.
Print
Pin
Rate
RECIPE VIDEO WILL AUTOPLAY
Hover to scale:
12
servings
Ingredients
1 1/4

cups

granulated sugar

2

tablespoons

corn syrup

5

egg whites

(approx 185g )

1

lb

unsalted butter

(softened)

1

teaspoon

vanilla extract
Instructions
Portion the sugar and corn syrup in a small saucepan, drizzle a few tablespoons of water over the sugar, and stir together until the sugar is all moistened, it will have a wet sand feeling about it. Cook the sugar to the softball stage of 235 F using a candy thermometer, use a pastry brush to lightly water down the inner sides of the sauce pan to prevent crystallization. When the sugar is done, turn off the burner (if gas), or move the pan off the burner (if electric).

Begin to whip your egg whites with a whip attachment in a stand mixer. When the meringue begins to look opaque, but is not to any sort of 'peak' stage yet, slowly pour the cooked sugar syrup down the side of the mixing bowl, as the mixture is whipping on a medium speed. Allow the mixture to whip until glossy medium peaks form and the meringue is cool to the touch.

Turn the mixer on a low speed, and add the butter, one stick at a time. Mix until the mixture comes together, don't be scared! The mixture will separate and look terrible before it comes together again, which It will- I promise. Be patient.

Once the mixture is smooth and wonderful-looking, add the vanilla and whip just until combined.
Notes
Makes about 4 cups - more than enough to frost a two layer 9-inch cake
NUTRITION INFORMATION
Serving:
4
tbsp
|
Calories:
369
kcal
|
Carbohydrates:
23
g
|
Protein:
1
g
|
Fat:
30
g
|
Saturated Fat:
19
g
|
Cholesterol:
81
mg
|
Sodium:
27
mg
|
Potassium:
29
mg
|
Sugar:
23
g
|
Vitamin A:
945
IU
|
Calcium:
10
mg