This homemade Bourbon Nectarine Ice Cream is the perfect blend between sweet fresh fruit and creamy vanilla bean ice cream with a smooth bourbon finish.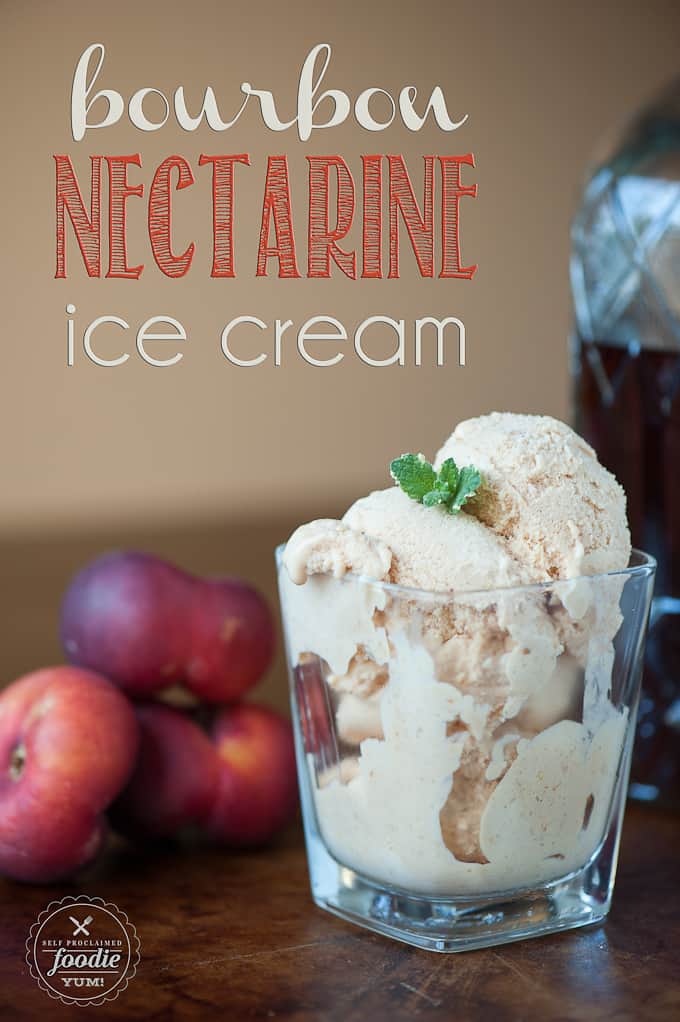 I'm not gonna lie. This was one of my most favorite things I've ever made. Everyone in the online world has moved on to sharing pumpkin recipes already, but nectarines are still in their prime where I live. I figured since the entire West Coast as well as the Southeast are feeling the effects of a heat wave right now, what better recipe to share than this spectacular ice cream!
Now your standard nectarine will do just fine, but I have a particular soft spot for globe, or saturn, nectarines. They're sweeter in my opinion and this late in the season they're almost always cling free, or free stone, meaning the flesh easily comes away from the pit.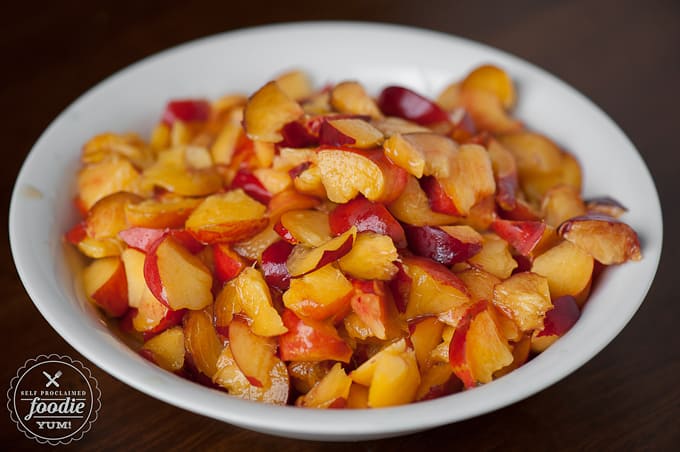 This was the first time I had ever flambéed. Granted, I just got little baby flames, but they were there and I felt like a professional chef for a brief moment. Now, I wasn't able to have the flames ignite simply by tilting the pan and allowing the flames to meet the alcohol vapor. I cheated a bit and held a lighter over the nectarines and then saw flames. Wikipedia states that by rapidly burning off the volatile alcohol, flambéing can infuse a dish with additional aroma and flavor, and moderates the harshness of raw, high-proof spirits. That it did, because the finished product was oh so good.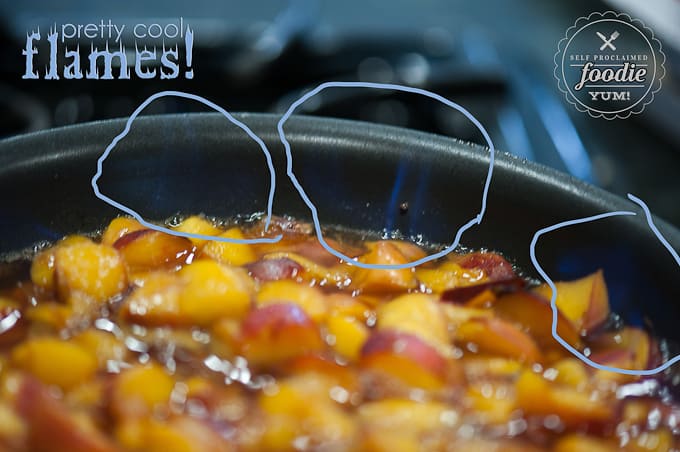 This ice cream ended up being so smooth and creamy. The nectarine flavor and the bourbon flavor were both mild and subtle, yet added this rich complexity that made me quite content. And, as with any recipe that calls for vanilla bean, those little black specs you see in the photo below perfectly finished the flavor.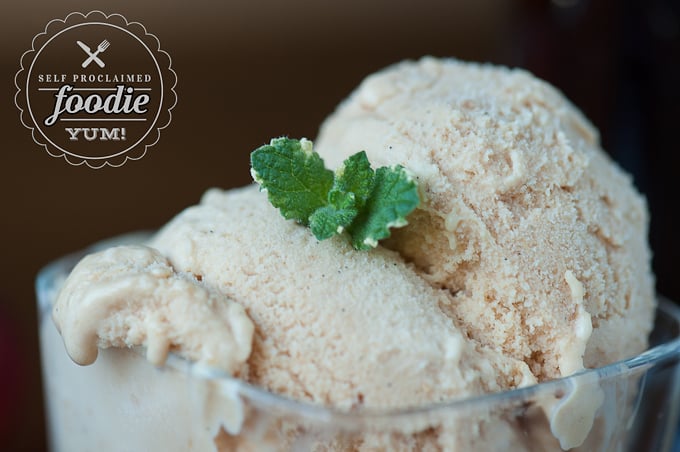 Although I could have easily eaten this entire batch of ice cream, and it made a fair amount but I have a high threshold for dessert consumption, I decided it was best to have an average sized portion. Stored in an air tight container, this ice cream keeps extremely well in the freezer. Just allow it to sit at room temperature for about 15 minutes before scooping it out and it will taste just as good as when you made it. Enjoy!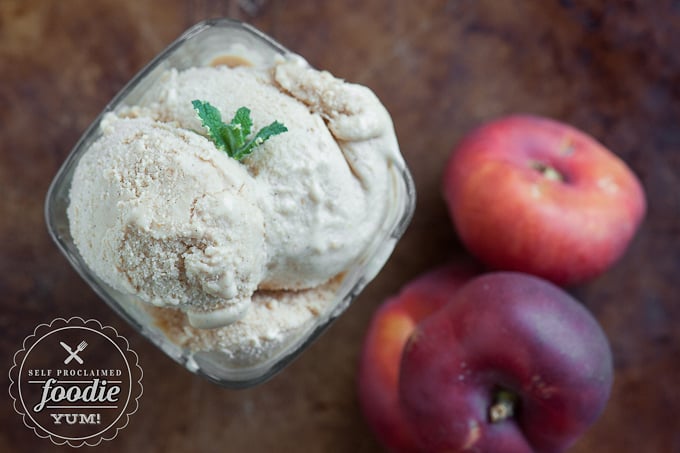 Bourbon Nectarine Ice Cream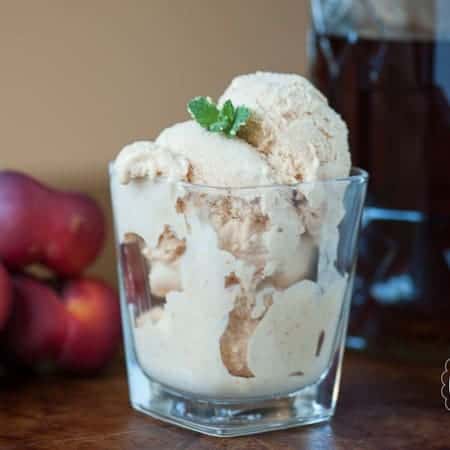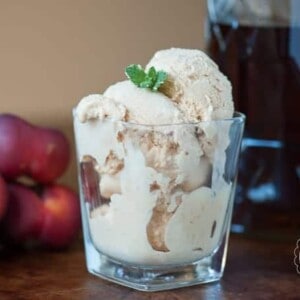 This homemade Bourbon Nectarine Ice Cream is the perfect blend between sweet fresh fruit and creamy vanilla bean ice cream with a smooth bourbon finish.
Ingredients
1 1/2

pounds

nectarines

pitted and chopped (peel on)

1/2

cup

brown sugar

1/3

cup

bourbon whiskey

1

tablespoon

lemon juice

3

large egg yolks

1/4

cup

granulated sugar

1

cup

heavy whipping cream

1

vanilla bean

split and seeded

1/2

cup

milk
Instructions
In medium sized skillet, cook nectarines over medium heat for about 5 minutes, stirring occasionally. Add in the brown sugar and lemon, stir, and turn heat off when sugar has dissolved.

Pour the bourbon over the top and do not stir. Turn heat to medium high. Tilt the pan slightly and carefully ignite the alcohol. You can use a lighter to do this as well. The flambe helps infuse the nectarines with additional aroma and flavor. Stir once flames are gone, and cook for 5 minutes.

Transfer to a bowl and cool in refrigerator.

Whisk egg yolks and granulated sugar until light yellow, about two minutes.

In medium saucepan, combine heavy whipping cream, milk, egg yolk and sugar mixture, and split vanilla bean with the seeds. Turn the heat to medium and whisk constantly. Cook for about 5 minutes, until the temperature is 170 degrees F. If you don't have a thermometer, you can test the temperature with your finger. It should be about as hot as you're willing to touch a liquid. It should start to smell like vanilla pudding and when you tilt the pan, it should coat the bottom.

Transfer to a bowl and cool in refrigerator.

When both the nectarines and cream mixtures are cool, transfer to a blender or a food processor. Pulse mixture if you want chunks or blend until smooth if you want a creamy ice cream.

Churn ice cream in your ice cream maker according to manufacturer's instructions. I had to divide mine into halves and process two separate batches due to the size of my ice cream maker.

Store in air tight container in freezer. Allow to sit at room temperature for 10-15 minutes before scooping. Makes about 1 quart.
Nutrition information is automatically calculated, so should only be used as an approximation.