Homemade Chicken Pot Pie made with all butter pie crusts, tender chicken thighs, a creamy sauce and tons of veggies is the best easy chicken pot pie recipe!
Sometimes you just can't beat a classic, and there's no better comfort food you can enjoy for family dinner than a homemade pot pie. If you like this recipe, you'll certainly like my turkey pot pie as well!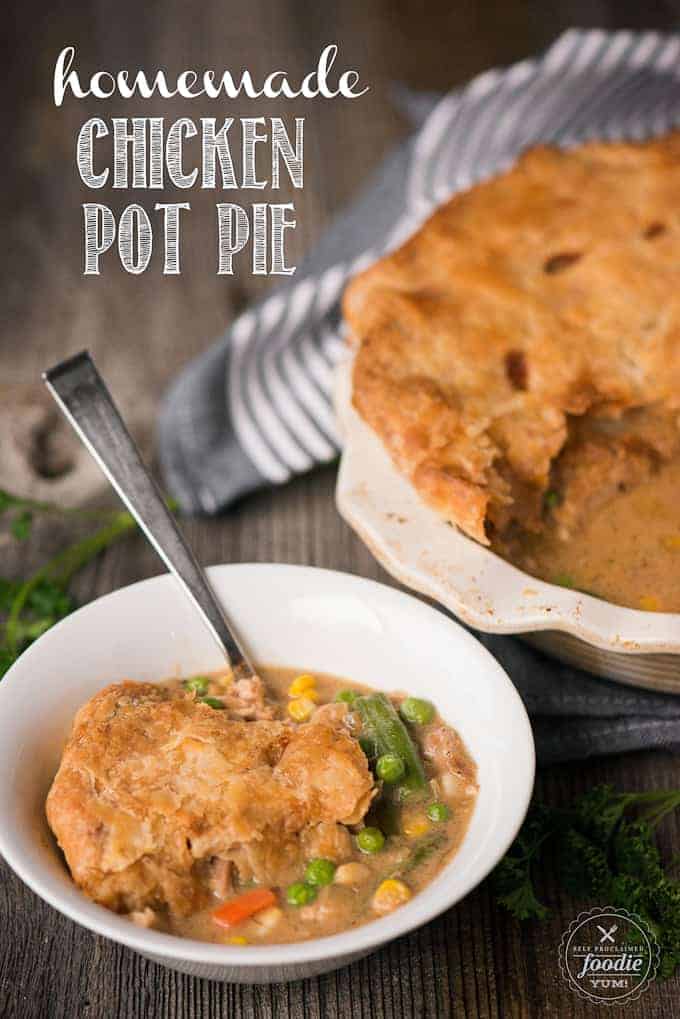 Homemade Chicken Pot pie is an amazing dinner recipe when done right, but not all recipes are created equally. I've had plenty of chicken pot pie in my day that wasn't good. That's being generous. Let's be real - I've had chicken pot pie that was flat out gross.
This chicken pot pie recipe, however, will knock your socks off.
How this is an easy recipe:
I love to mix up traditional homemade dinners along with a few healthy shortcuts. Using items from the freezer isle not only cut down on my prep time (hello, chopping), but frozen foods like vegetables are always flash frozen when they're at their peak ripeness, so I would say they're a much better option than the limp carrot or slimy asparagus in the bottom drawer of my refrigerator.
For this version of chicken pot pie, I found a couple bags of frozen veggies that had sweet peas as well as gold and white corn, carrots, and asparagus. I can't eat pot pie without a healthy amount of peas! If you can find a bag of mixed frozen veggies with green beans, those are great in chicken pot pie too. Aren't all those bright and colorful veggies gorgeous?
Now, I don't know about you, but those veggies sure look a whole lot better than what is even available right now due to it being the middle of the winter. Frozen is totally the way to go.
What kind of crust is best in a pot pie?
I went all out and made homemade pie crusts for this meal. You should definitely do this as well. But, I know as well as anyone how little time us moms have to make dinner, so feel free to take another awesome shortcut and use a premade pie crust from the freezer section!
I've seen chicken pot pie recipes where people use pre-made biscuits from a can or bisquick. I'm not a fan of either.
In my opinion, the very best chicken pot pie recipes are made with a homemade all-butter pie crust.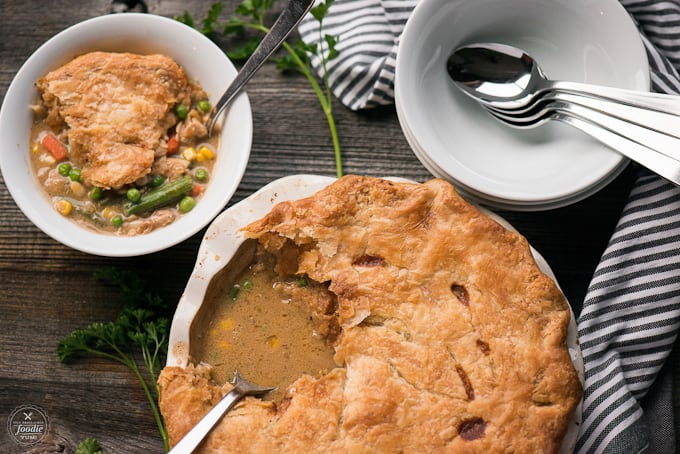 How do you make homemade Chicken Pot Pie?
To make your homemade chicken pot pie, you will need to start by preheating the oven.
After that, you will heat oil over a medium high heat in a heavy bottom pot or dutch oven. Once your chicken is a golden brown, remove it from the pan and let it cool for a bit. Then you will need to shred the meat.
Next, add the onion to the dutch oven and let them cook. You should scrape the pan while the onions are cooking to get off any of the chicken that may have stuck to the walls.
Then, you will add the butter and flour. Once they have cooked for several minutes, you should stir in the chicken broth and milk. Once they have come to a boil make sure to stir until it becomes a thick gravy. Then you will add in your chicken and frozen vegetables and stir until the vegetables are no longer frozen. You will then add salt and pepper to your taste.
The next step is to line your pie pan with the first part of your crust. Then you will fill the crust with your chicken gravy filling to as full as you can. You will then add the top crust and cut a few slits on top to all for steam to escape will the pot pie is cooking.
After cooking your chicken pot pie for around 15 minutes, you will reduce the heat and cook again until the crust is a golden brown color. This should take around 30 minutes. The last step is to serve up and enjoy!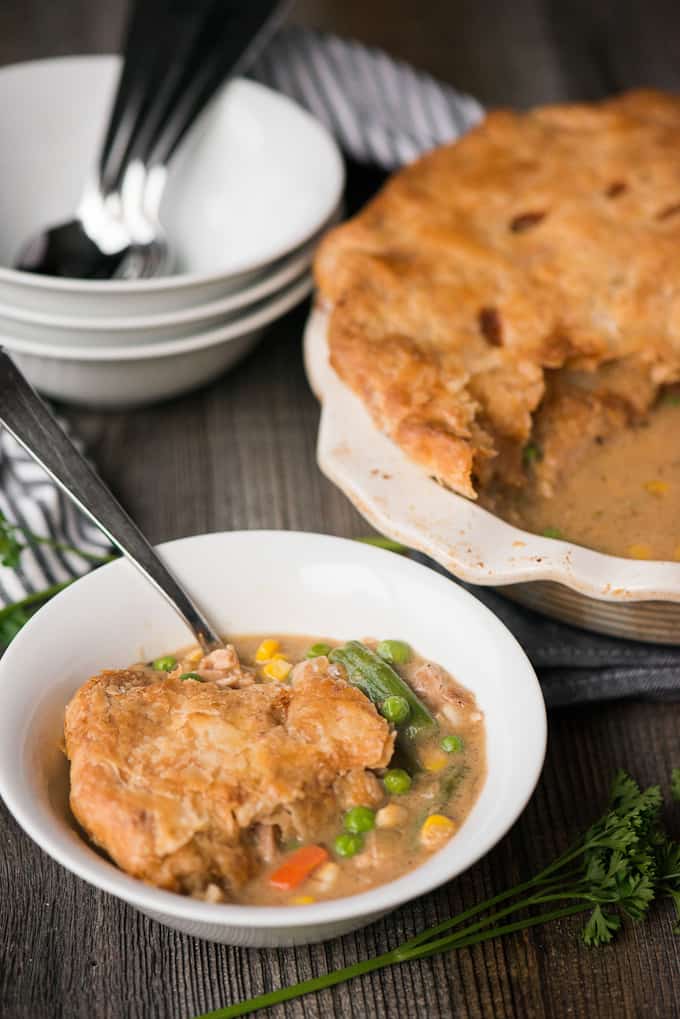 What kind of chicken works best?
My preference is to use boneless skinless chicken thighs. This kind of meat cooks up quickly and is tender and delicious. I also prefer to cook chicken thighs because they get nicely browned and that adds tons of flavor.
If you have leftover chicken from a different dinner or happened to pick up a rotisserie chicken, you can use that when making chicken pot pie as well. Just skip the step where you cook the chicken and throw it into the gravy when you add the frozen vegetables.
Reasons why this is the best homemade chicken pot pie recipe:
The chicken and vegetables are swimming in a flavorful gravy. I've had chicken pot pies that were dry and gross. This gravy makes everything better and is the best sauce for the crust too!
My chicken pot pie is made with not one, but two flaky butter pie crusts. These flaky crusts cook up to golden brown perfection.
Like I said above, I use frozen pre-cut vegetables. Not only does this make the recipe easier to make, but it will add perfectly fresh vibrant vegetables to your chicken pot pie.
I make my chicken pot pie with fresh chicken thighs. Sure, you can use pre-cooked or rotisserie chicken, but you know how good crispy chicken thighs are, right?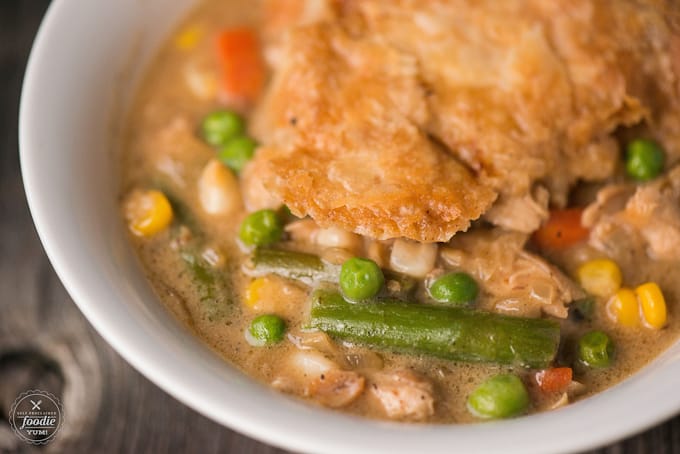 Love chicken dinner recipes?
You'll have to try these delicious comfort food chicken recipes:
Full Recipe Instructions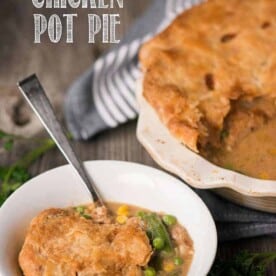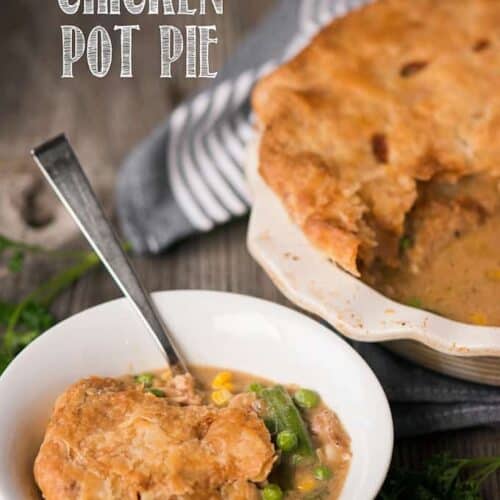 Homemade Chicken Pot Pie
Homemade Chicken Pot Pie made with all butter pie crusts, tender chicken thighs, a creamy sauce and tons of veggies is the best easy chicken pot pie recipe!
Print
Pin
Rate
Add to Collection
Go to Collections
Ingredients
2

9-inch pie crusts

(recipe link in notes)

2

tablespoons

olive oil

1 to 1 ½

pounds

boneless skinless chicken thighs

1

medium yellow onion

(diced)

3

tablespoons

butter

3

tablespoons

flour

3

cups

chicken broth

1

cup

milk

20

ounces

frozen vegetables

(my favorite mixture has green beans, peas, carrots, corn)

2-3

teaspoons

salt to taste
Instructions
Preheat oven to 425 degrees F.

Using a heavy bottom pot or dutch oven, heat oil over medium high heat. Cook chicken until golden brown, about 5 minutes on each side. Remove from pan and set aside on plate. Once chicken cools a bit, shred the meat.

Add onion to dutch oven. While the onions cook and release moisture, scrape the bottom of the pan to release any of the chicken that stuck.

Add butter and flour. Stir and allow to cook for several minutes until fragrant.

Stir in chicken broth and milk. Allow to come to a boil and stir well until the gravy thickens. Add shredded chicken and frozen vegetables and allow to cook in gravy just until vegetables are no longer cold. Add salt and pepper, to taste.

Line a nine inch pie pan with your first crust. Add the chicken filling as full as you can.

Add the top crust and pinch the edges together. Cut a few slits in top crust to allow steam to escape.

Cook in preheated 425 degree F oven for 15 minutes, then reduce the heat to 375 degrees F and continue cooking until the crust is golden brown, about 30 more minutes.
Notes
Pie crust recipe: https://selfproclaimedfoodie.com/not-your-mamas-all-butter-pie-crust/
NUTRITION INFORMATION
Calories:
421
kcal
|
Carbohydrates:
47
g
|
Protein:
9
g
|
Fat:
22
g
|
Saturated Fat:
9
g
|
Cholesterol:
19
mg
|
Sodium:
774
mg
|
Potassium:
429
mg
|
Fiber:
5
g
|
Sugar:
2
g
|
Vitamin A:
5040
IU
|
Vitamin C:
19.4
mg
|
Calcium:
93
mg
|
Iron:
2.8
mg
This post was originally created in January 2017 and has been updated with more fun facts and tidbits for your reading pleasure.