Thanksgiving is a time for cherished traditions, and nothing quite complements the centerpiece turkey like a delicious sausage stuffing. While some may debate whether it's technically stuffing or dressing, one thing is for sure — the savory, aromatic flavors of this dish have the power to elevate your Thanksgiving dinner to new heights.
It even tastes better when made the day before Thanksgiving, so do the prep work ahead of time!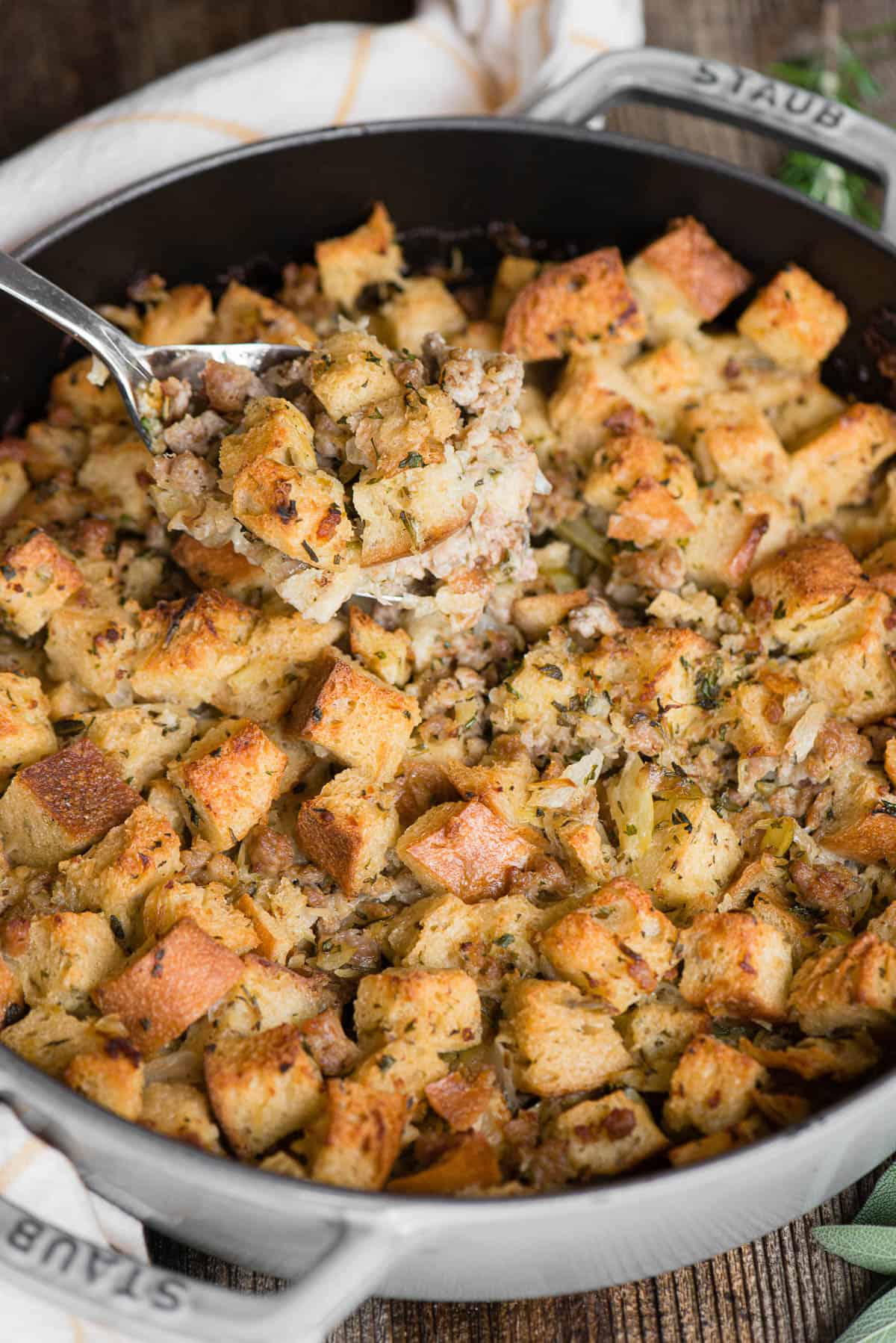 Why This Recipe Works
I really should have called this recipe Sausage Dressing because that's what it is: a dressing side dish. I do not stuff my turkey with anything other than aromatics. Ever.
Delicious flavor: If you've never made dressing from a real loaf of bread and have only used a stuffing mix (which are basically croutons), you're in for a real treat. Fresh bread soaks up all the flavor from the sausage, broth, vegetables, and butter. Plus, who can deny how delicious homemade sausage is?
Amazing texture: This sausage stuffing is crispy on the top and bottom and soft in the middle. A little bit of each. Plus, if you like one more than the other, simply change the size of your pan for desired crispiness.
Make it ahead of time: I've been making my dressing and most of my other Thanksgiving sides the day before. Not only does that leave you with a clean kitchen on Thanksgiving day, but it gives the food even more time to develop flavor!
Ingredients Needed
Exact quantities are listed in the recipe card below, but here is a summary.
Sausage: I prefer to make my own homemade breakfast sausage from ground pork and other seasonings, but you can also buy it from the grocery store
Bread cubes: Recommendations on what kind of bread works best can be seen in the FAQ section below
A large onion, stalks of celery, fresh herbs like parsley, rosemary, thyme, and sage
Chicken broth: Use store bought chicken stock or make your own homemade chicken broth
Butter
Egg: Helps bind everything together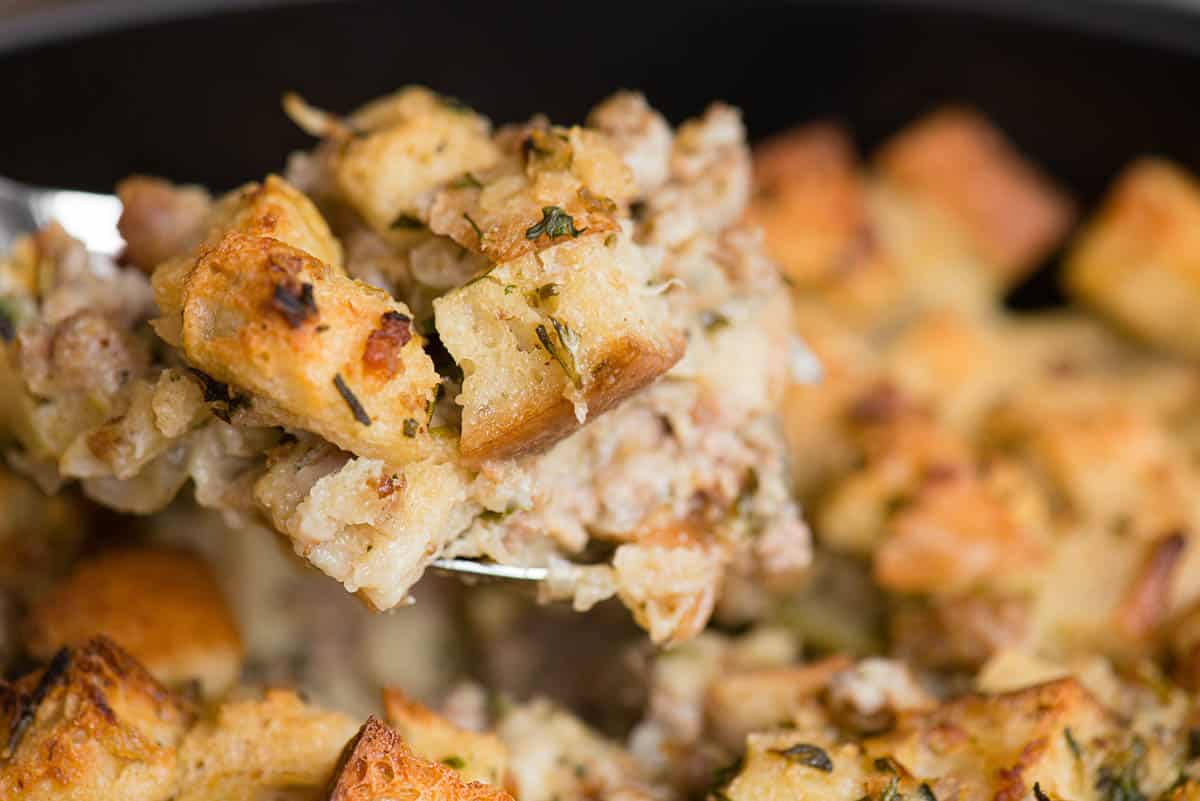 How to Make Sausage Stuffing
Full printable instructions are in the recipe card below, but here is a summary.
Step 1: Prepare the Bread
​Cut the 16-ounce loaf into small cubes. The bread cubes absorb the savory goodness of the sausage, fresh herbs, and chicken stock, creating a harmonious blend of flavors and textures. The result is a stuffing that's neither too mushy nor too dry but just right.
Step 2: Cook the Sausage
Thoroughly combine all of the sausage ingredients. Heat a skillet over medium heat. Cook the sausage until it gets brown and crumbly.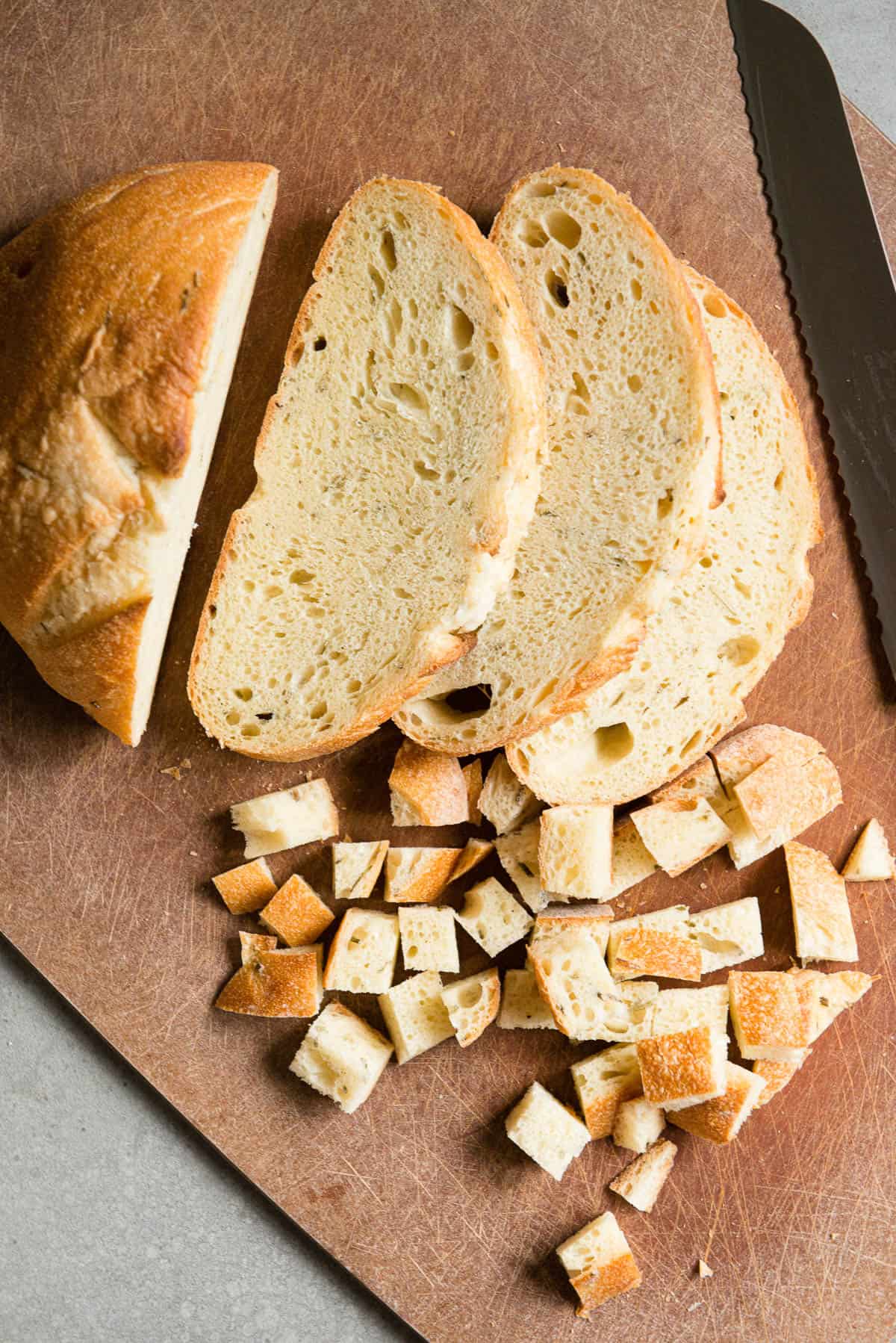 Step 3: Sauté the Vegetables
Melt a stick of butter in a large skillet over medium high heat. Add the diced onion, celery, and minced herbs (not the parsley). Stir to coat them in the melted butter and then sauté the mixture until the vegetables start to turn golden brown and develop deep, caramelized flavors. The aromas wafting through your kitchen will signal the beginning of a delicious Thanksgiving feast.
Add the broth to skillet and bring the mixture to a simmer. Remove the savory vegetable broth mixture from heat and set it aside. Allow it to cool enough so that the mixture is cool to the touch.
Step 4: Mix the Stuffing Ingredients
Beat the egg and mix it with the minced parsley. Add the cubed bread to a large bowl and toss it with the egg mixture.
Add the cooked sausage and the cooled broth mixture to the bread and toss to combine.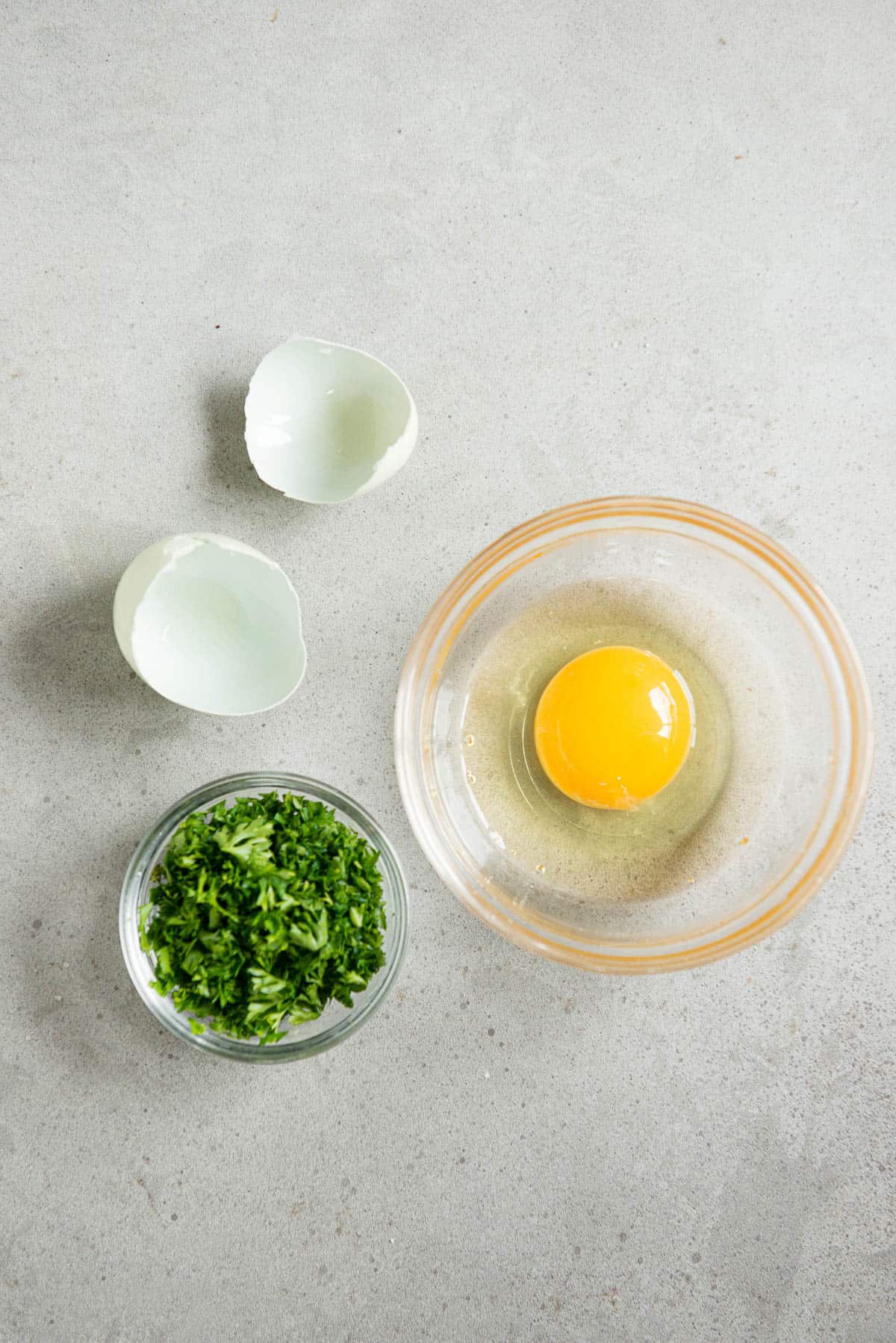 Step 5: Transfer to a Casserole Dish
Spread the mixture into a greased prepared baking dish or a large Dutch oven and top with more butter. At this point, the Thanksgiving stuffing can be kept in the refrigerator overnight and baked the next day.
Step 6: Bake the Stuffing Recipe
Bake the stuffing, covered with a lid or aluminum foil, and then remove the cover towards the end to get the top nice and crispy.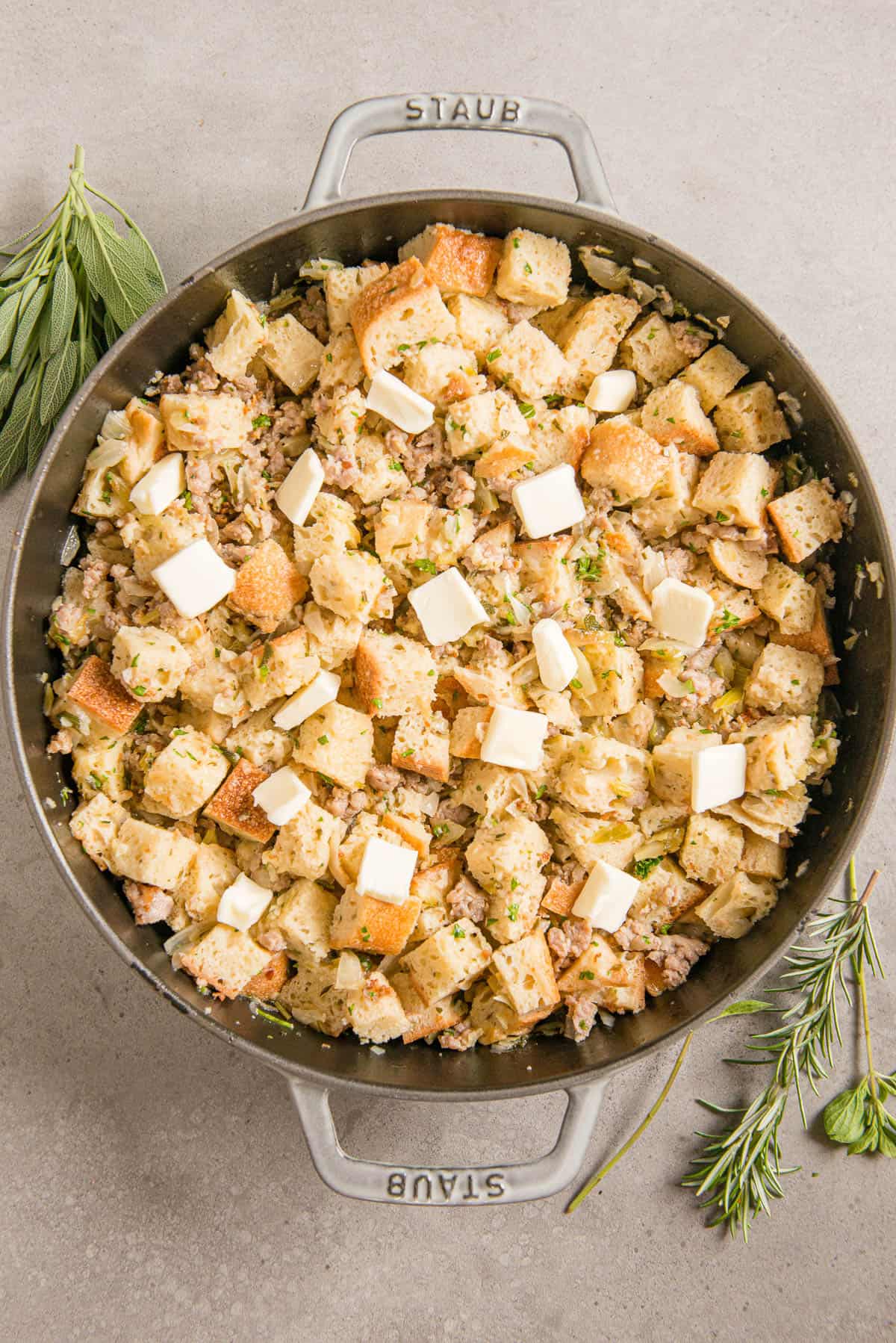 Recipe Tip
In my opinion, the best stuffing is extra crispy, so I prefer to use a larger baking dish so that the stuffing mixture is spread out to a single layer. This will reduce the cooking time slightly, but will add a delicious crispy texture to the sausage stuffing recipe.
FAQs
Can I prepare the stuffing in advance?
Absolutely! The casserole dish method allows for easy preparation ahead of time, reducing stress on Thanksgiving day.
Can I use any kind of sausage for this stuffing recipe?
Yes, you can customize the sausage blend to your preference. I prefer to use breakfast sausage, but many people like to use Italian sausage or any kind of mixture as long as it is a savory sausage blend. Pork sausage is recommended, but again, it's a matter of preference.
What kind of bread is best?
Whenever I make my Thanksgiving stuffing recipe, I always use a Take & Bake loaf for the best results. The Essential Baking Company makes the best kind, especially if you can find the Rosemary Loaf. Many people recommend using stale bread or dry bread because it helps absorb the moisture and create a custard-like texture, but the Take & Bake loaves are rather dry prior to cooking, so that's why they work so well. Typically white breads work best for stuffing, so you can also use sourdough bread or French bread.
Can I stuff this inside the turkey?
No, this recipe is designed to be baked in a casserole dish for optimal food safety and even cooking.
Storage and reheating recommendations?
Store any leftover Thanksgiving dressing in an airtight container in the refrigerator. To reheat, either microwave or (my preference) reheat it in the oven or toaster oven to maintain the crispy texture.
How long does it take to bake the stuffing?
Typically, the stuffing takes about an hour in the oven, or until the top is golden brown. If you use a larger baking dish, the cooking time will be reduced.
Can I use pre-packaged stuffing mix instead of fresh bread?
While it is recommended that you use your own bread cubes from fresh bread, you can experiment with a package of stuffing mix for a shortcut with slightly different results.
Can I make this stuffing with dietary restrictions in mind?
Yes, you can tailor the recipe to meet specific dietary needs, such as using gluten-free bread or opting for a plant-based sausage alternative. A better vegetarian alternative would be to make my mushroom stuffing and replacing the chicken broth with vegetable broth.
Can I add my own twist to the recipe?
Absolutely! Feel free to experiment with additional ingredients or variations to make this sausage stuffing uniquely yours.
Holiday Meal Recommendations
If you're looking for other fantastic recipes to display on your Thanksgiving table, here is what I serve every year.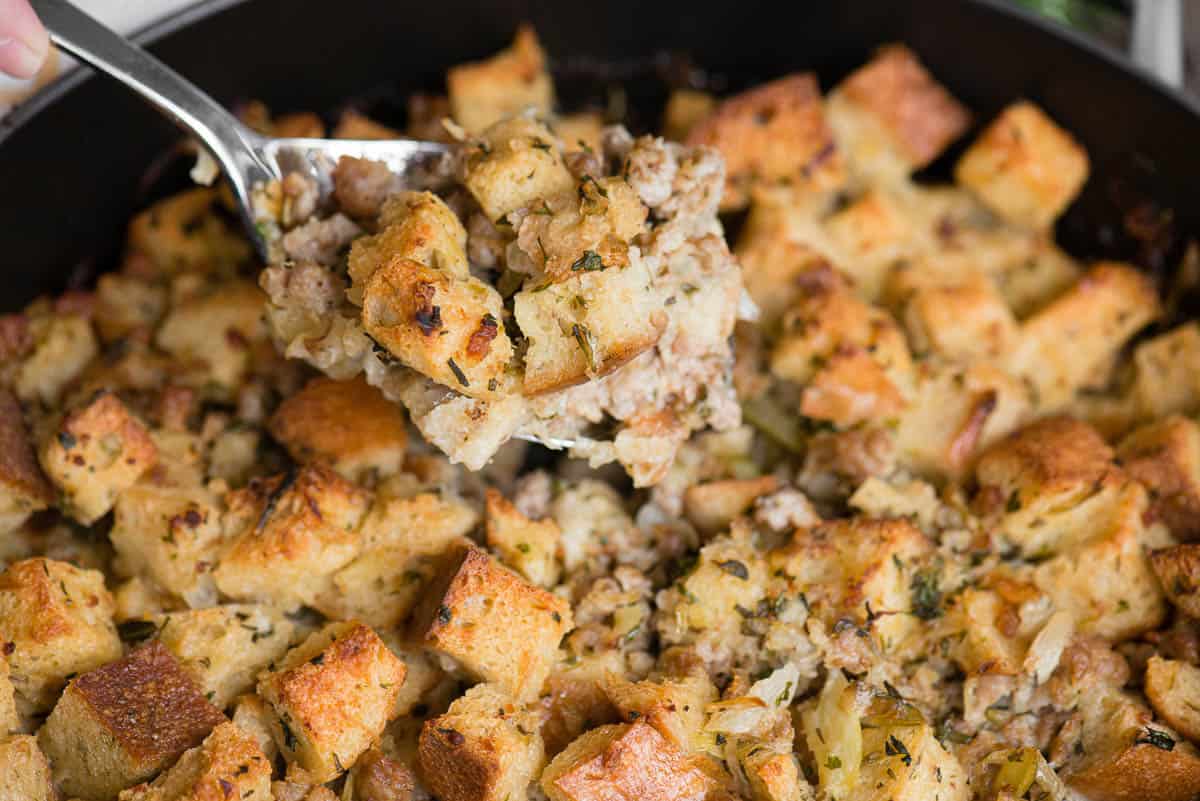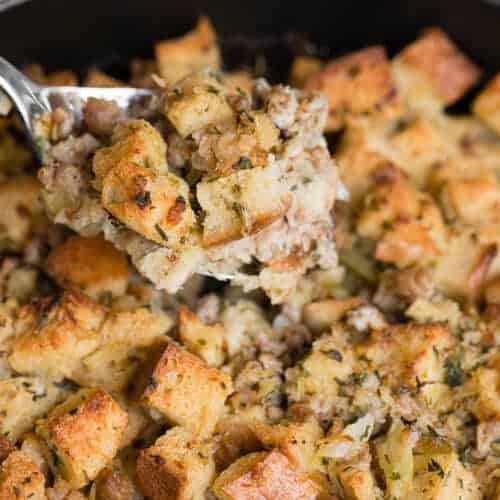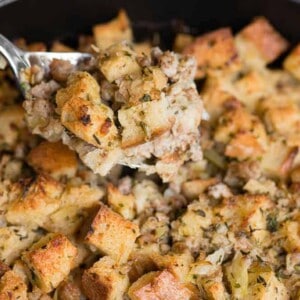 Homemade Sausage Stuffing is the very best Thanksgiving sausage dressing recipe you can make! Made with fresh bread and tons of flavor, it won't disappoint.
Ingredients
Sausage:
1

pound

ground pork

1

tablespoon

sage

dried or minced fresh

1

teaspoon

kosher salt

1

teaspoon

brown sugar

1/2

teaspoon

black pepper

freshly ground

1/8

teaspoon

red pepper flakes

or more if you like heat

1/4

teaspoon

marjoram

fresh if you have it

1

pinch

ground cloves
Stuffing:
1/2

cup

unsalted butter

plus 2 tablespoons, divided

2

cups

yellow onion

diced (1 large onion)

2

cups

celery

diced (about 8 small stalks)

4

tablespoons

fresh minced herbs

sage, rosemary, thyme

3

cups

chicken stock

or turkey if you have it

1

large

egg

beaten

1/4

cup

parsley

minced

16

ounces

bread

1 loaf, look for a rosemary round, cut into 1-inch cubes
Instructions
To Make the Sausage:
In medium sized bowl, thoroughly combine all sausage ingredients. Its easiest if you use your hands to mix.

Heat a skillet over medium heat. Cook until brown and crumbly, about 10 minutes. Allow to cool.
To Make the Stuffing:
Melt 1/2 cup (1 stick) butter in a large skillet over medium high heat. Add onion, celery, and minced herbs (not the parsley). Stir to coat in the melted butter and then saute until they start to turn golden brown, about 10 minutes.

Add broth to skillet and bring to a simmer. Remove from heat and set aside. Allow to cool enough that mixture is cool to the touch.

Meanwhile, beat egg with 1/4 cup chopped parsley in a large bowl; add cubed bread and toss to coat. Pour the cooked sausage and cooled broth mixture over the bread and toss.

Transfer to a buttered baking dish and dot with remaining two tablespoons of butter.

Cover and bake 30 minutes at 375°F. Uncover and bake until golden; about 30 more minutes.
Notes
If you like crispy sausage stuffing, cook in a larger baking dish. If you like it mushy, you can use a smaller deep baking dish.
Although I call this stuffing, it is baked and served as a dressing. I don't actually stuff my turkey.
Nutrition
Calories:
314
kcal
,
Carbohydrates:
24
g
,
Protein:
13
g
,
Fat:
18
g
,
Saturated Fat:
9
g
,
Cholesterol:
67
mg
,
Sodium:
520
mg
,
Potassium:
336
mg
,
Fiber:
2
g
,
Sugar:
5
g
,
Vitamin A:
459
IU
,
Vitamin C:
5
mg
,
Calcium:
82
mg
,
Iron:
2
mg
Nutrition information is automatically calculated, so should only be used as an approximation.
This recipe was originally published in October 2019 and has been updated with helpful information as well as recipe tips. Don't worry – the recipe hasn't changed!