Homemade Gnocchi is easy to make when you follow my step by step instructions. Just a few simple ingredients come together and they turn out perfect!

These are my favorite.
This recipe takes awhile to make, but isn't complicated and is super fun to make. Especially if you have a friend to help!
This recipe is very similar to my Homemade Pasta except that this incorporates creamy blended potato. I served this with my tasty Pork Tenderloin and Roasted Spaghetti Squash for a mouthwatering dinner!
Gnocchi contains all of the simple ingredients I use to make pasta, but the potato turns them into tiny bite sized pillowy dumplings.
Ingredients needed:
The ingredients in this best gnocchi recipe are really simple.
Potatoes. I like to use a couple of large russet potatoes. They are drier and easier to peel than red or golden potatoes.
All-purpose flour.
Semolina flour. You can make gnocchi with all Semolina, all regular all-purpose flour, or an even mixture of both like I do. Just depends on how you want them to turn out.
Egg. My backyard chickens make the best darn eggs with large dark orange creamy yolks. It makes a big difference!
Salt. I almost always cook with kosher salt.
How to make this recipe:
There are quite a few steps to this recipe. It's not difficult, but it does take time. It's a labor of love!
First step is to cook the potatoes. I love to cook them in the Instant Pot – that's how I make my baked potatoes. I peel them after their cooking.
You'll need to mash the potatoes. You can use a potato ricer but I like to use my food processor. Just be sure not to over process them as they can get gummy.
You'll combine the cooled mashed potatoes with the egg and then mix with the flours and salt. You'll form it into a sticky dough. You will not need to knead it as much as you do pasta dough to activate the gluten.
Next step is to roll small bits of dough into a long rope and then cut small pieces. Be sure to heavily flour everything to prevent sticking.
At this point you can cook the potato gnocchi or you can freeze it for later.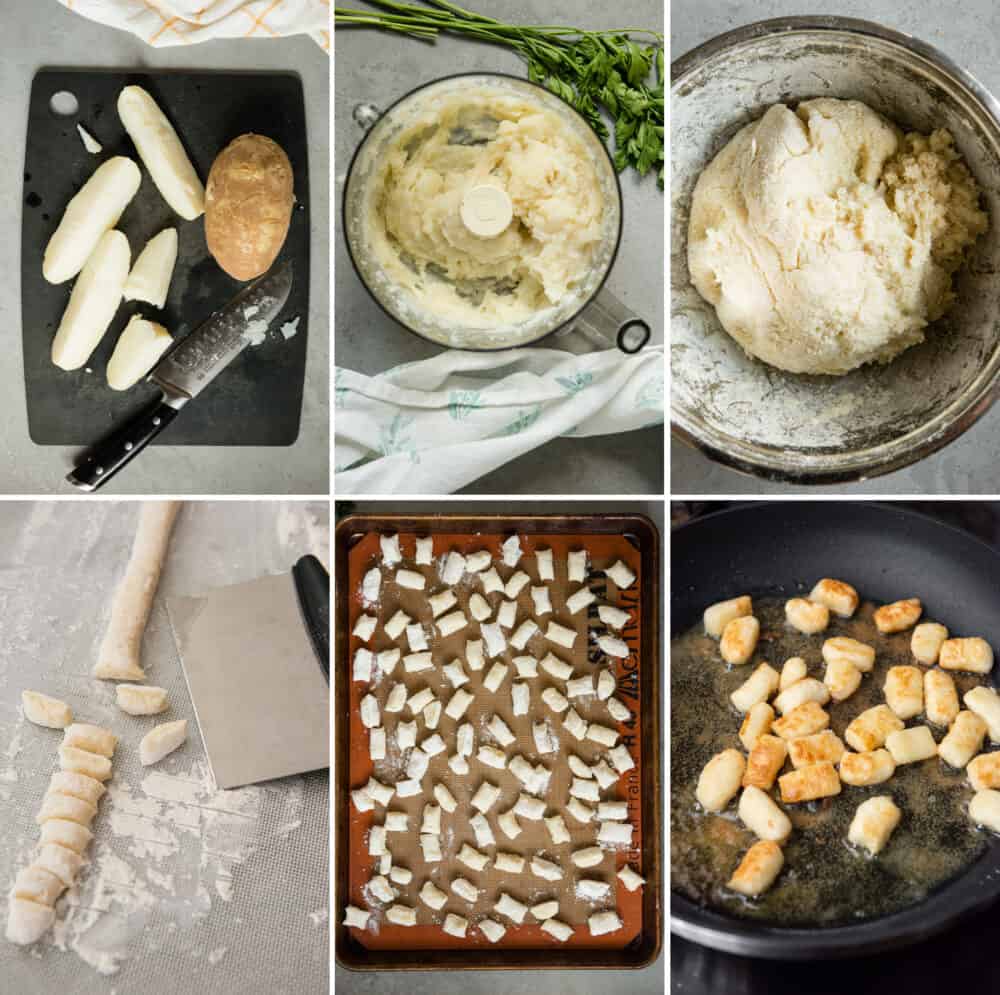 What does it taste like?
When properly made and cooked, gnocchi is like a bite sized chewy dumpling.
I can't always taste the potato.
Because the basic recipe is rather plain, much like pasta, gnocchi dishes take on whatever flavor you add to them.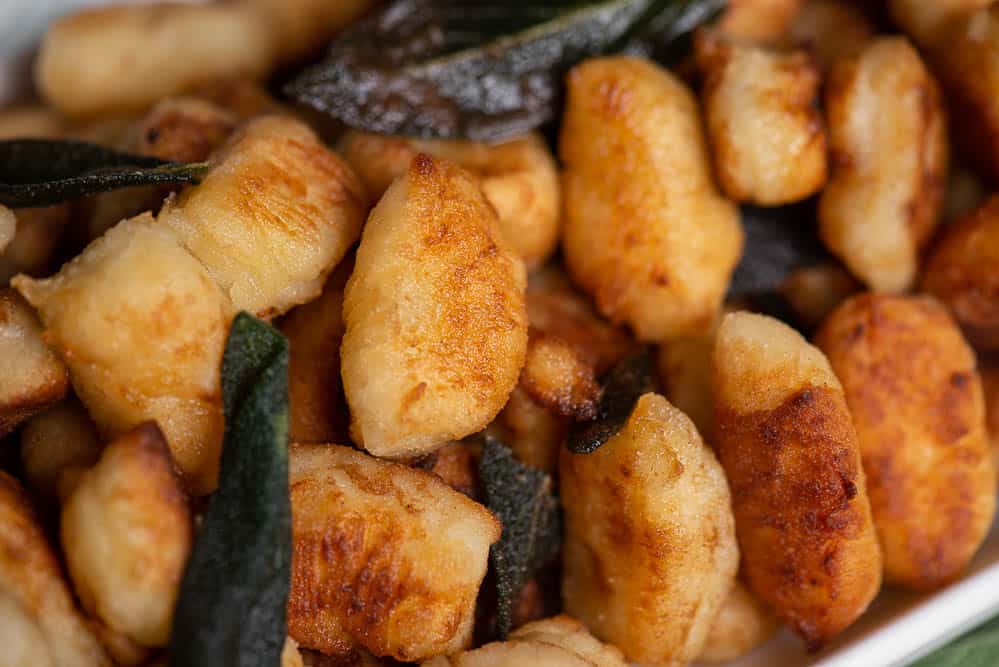 What do you eat gnocchi with?
You can eat gnocchi in a variety of ways. They can be enjoyed as a main dish or as a side.
If you want to serve gnocchi as the main dish at dinner, they are fantastic when smothered with a nice marinara or creamy cheese sauce.
As a side, you can serve them with your favorite protein and a veggie.
You can even serve these as an appetizer. Last year a friend made fried gnocchi and served it with a Mediterranean Goat Cheese Dip.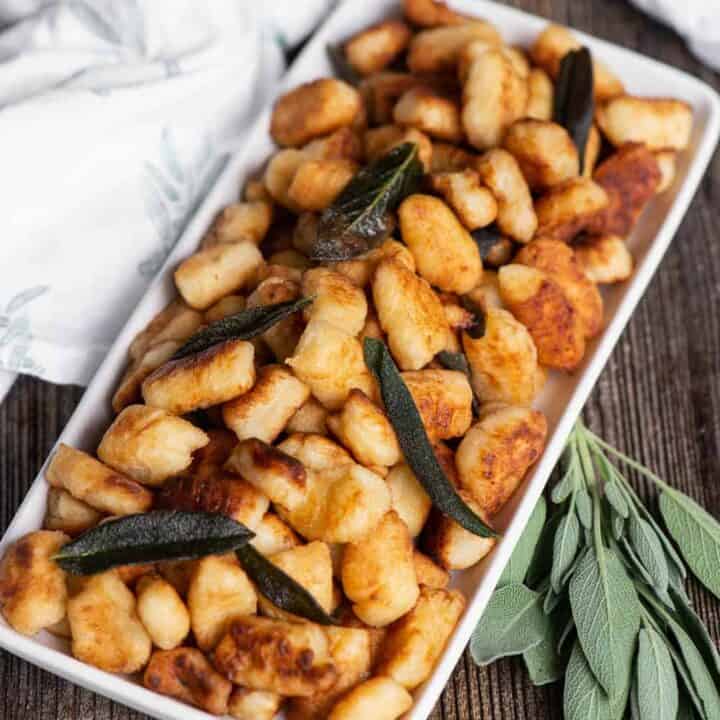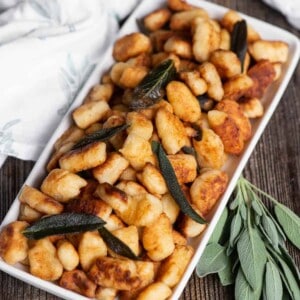 Homemade Gnocchi is easy to make when you follow my step by step instructions. Just a few simple ingredients come together and they turn out perfect!
Ingredients
2

lbs

russet potatoes

about 4 medium or two large, scrubbed and pierced with fork or sharp knife

3/4

cup

unbleached all-purpose flour

more for kneading and rolling

3/4

cup

semolina flour

1

tsp

kosher salt

1

large egg

room temperature, lightly beaten
Instructions
The potatoes are cooked whole. My preferred method is to add 1 cup of water to the Instant Pot, set the potatoes on the rack, and cook on high pressure for 15-25 minutes depending on the size of the potatoes. See note if you don't have an Instant Pot.

Removed the cooked potatoes. Once they are cool enough to handle, peel the skin off with your fingers or a butter knife and discard.

Either pass the cooked potato through a ricer or pulse in a food processor (do not over process) to ensure there are no chunks. Transfer to a bowl and allow to come to room temperature.

Add the egg to the potatoes and mix to combine. In a separate bowl, combine both flours with the salt. Add small amounts of the flour mixture to the potato mixture and stir to combine. Once all of the flour has been added, use hands to gently knead the dough to mix but don't over work it. Knead it just to fully incorporate all of the ingredients. It will be incredibly sticky.

Lightly flour a work surface. Line a large baking sheet with parchment paper or a silicon mat and lightly sprinkle with flour. Grab a handful of the dough (use a large spoon since it is so sticky) and place on your floured surface. Sprinkle more flour on top of the dough to prevent sticking. Use the palms of your hands to start rolling the dough into a long rope that's about 3/4 inch wide. Use a dough cutter to cut the individual pieces of gnocchi that are about a 1/2 inch wide.

Transfer pieces to baking sheet but don't allow them to touch in order to prevent sticking. Lightly dust with more flour.

Repeat until you run out of dough, adding more flour to the work surface as needed. If you're going to use the gnocchi within 2 to 3 hours, they can sit out on the counter. For longer storage, see the make ahead tips below.

My preferred method to cook gnocchi is to fry them. Coat the bottom of a fry pan with about a 1/4 inch of olive oil and heat over medium high heat. Add fresh for frozen gnocchi and fry until golden brown on all sides, turning as necessary. Drop 5-10 fresh sage leaves in the oil while they're cooking. Transfer to a paper towel lined plate to drain. Serve warm.
Notes
If you do not have an Instant Pot: You can put the unpeeled potatoes in a large pot, fill the pot with enough cold water to cover the potatoes by at least 2 inches and bring to a simmer over medium-high heat. Then reduce the heat to medium, partially cover the pot, and simmer the potatoes until they are completely tender and easily pierced with a skewer, 30 to 45 minutes. depending on the size of the potatoes.
You can serve freshly made gnocchi right away or within a couple of hours, or you can freeze them for later use. To freeze, put the gnocchi in the freezer while they're still on the baking sheets and freeze until they are hard to the touch, at least one hour. Transfer them to a large plastic freezer bag and freeze for up to two months.
Cook frozen gnocchi in boiling water. You must do this in small batches as frozen gnocchi will cause the temperature of the cooking water to drop, so they'll fall apart before the water returns to a boil if there are too many in the pot. 
If you don't plan to cook fresh gnocchi within a couple hours, do not refrigerate. You must freeze. If refrigerated, they will release moisture and lose their shape.
You can use only all purpose flour, but you must fry them. Boiling makes them mushy.
If you want more of a chew or want to be able to boil them, double the amount of semolina flour and omit the all-purpose flour.
Nutrition
Calories:
183
kcal
,
Carbohydrates:
38
g
,
Protein:
6
g
,
Fat:
1
g
,
Saturated Fat:
1
g
,
Cholesterol:
20
mg
,
Sodium:
305
mg
,
Potassium:
506
mg
,
Fiber:
2
g
,
Sugar:
1
g
,
Vitamin A:
30
IU
,
Vitamin C:
6
mg
,
Calcium:
21
mg
,
Iron:
2
mg
Nutrition information is automatically calculated, so should only be used as an approximation.