Roasted Spaghetti Squash is so easy to make! Roasting the squash gives the best flavor and the soft flesh easily shreds with a fork, resembling spaghetti.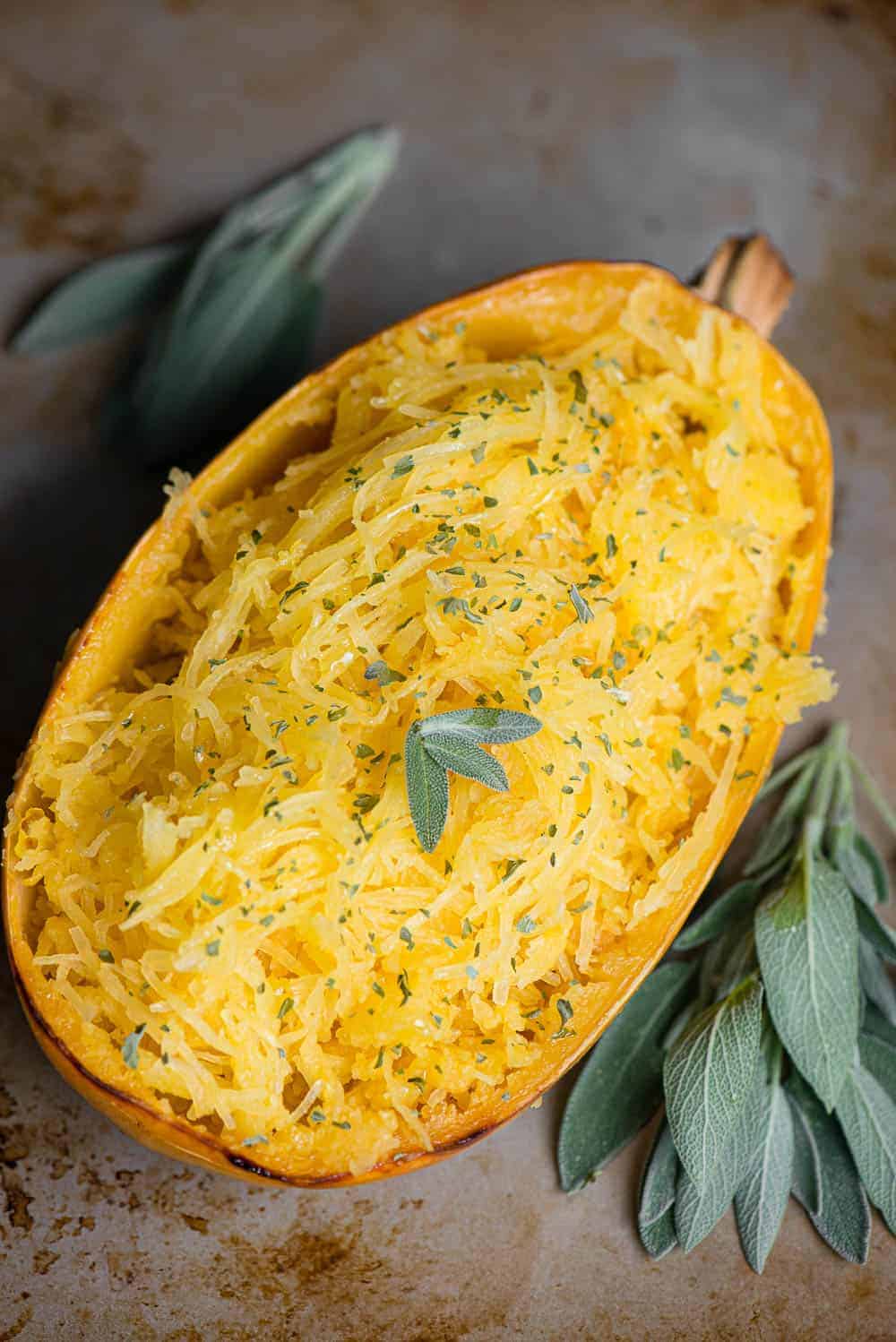 Whether you're looking to replace pasta with a vegetable, or just love the way a perfectly roasted winter squash tastes, you'll love this easy recipe. It's a fantastic side dish for Pork Tenderloin as well!
I'll be the first one to admit that it's taken me a long time to develop a full appreciation for roasted spaghetti squash. The same could be said for any squash, really.
But now! I love it. I love it so much that I crave it. The second fall weather arrives, I'm roasting squash weekly until Spring is here.
I still can't get on board with using spaghetti squash as a replacement for good old fashioned pasta, but I do love it as a side dish.
How to roast:
The process couldn't be easier.
Arguably, the hardest part is splitting the spaghetti squash in half. These suckers are hard, and if you aren't careful, you could loose a finger. Stick the point of a large chef's knife in the center and gently rock the knife back and forth, rotating the squash, until it splits.
Scoop the seeds out. You can roast, discard, or feed them to your chickens like I do.
Rub the flesh with olive oil and season with salt and pepper.
Flip them over, cut side down, onto a parchment lined baking dish.
Roast in the oven for about 45 minutes. This time will vary depending on the size of your squash, so stick a fork in it to make sure it's nice and tender.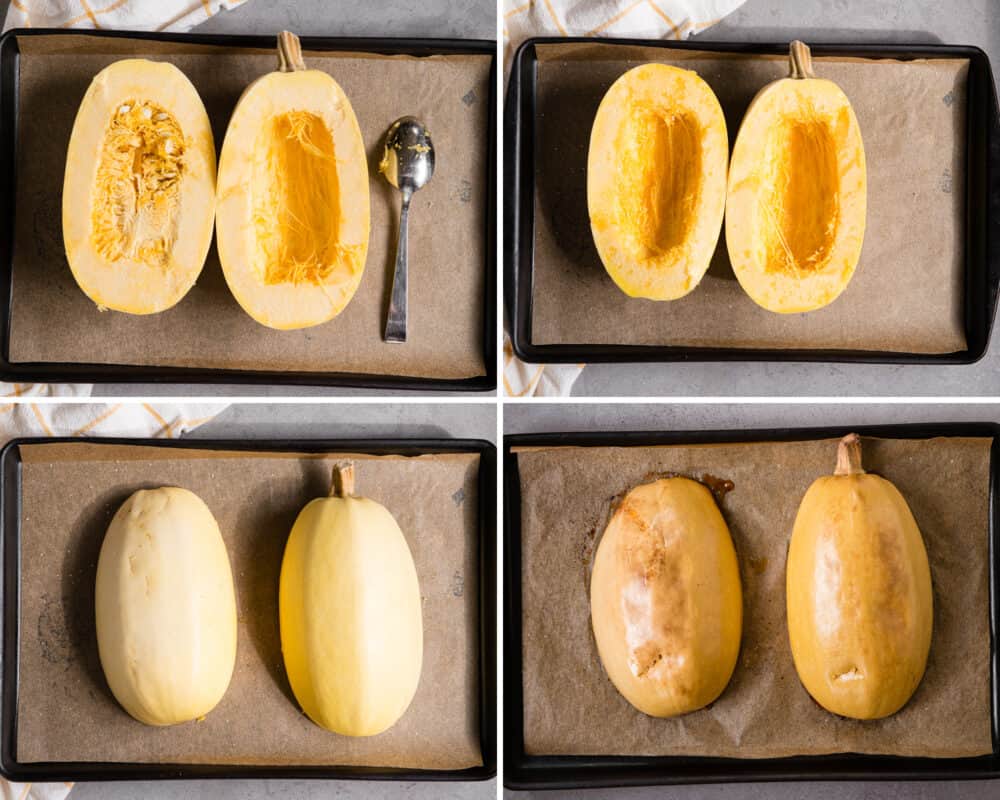 How long to roast:
You might find that your roasted spaghetti squash turns out slightly different each time you make it, even if you follow the same exact recipe.
A good rule of thumb is to cook your squash for about 45 minutes if using a 400 degree oven.
The time may vary, however, depending on a few factors:
The size of your squash. Larger will obviously take longer.
The thickness of your squash. Thicker will take longer.
The way you cut it. I chose to cut mine lengthwise, but if you cut it the other way, you'll get longer "spaghetti" strands but it might take longer.
The moisture content of your squash. This isn't really something you can measure, but some will have more stored water than others. The more water, the quicker it will steam, the less time it will require.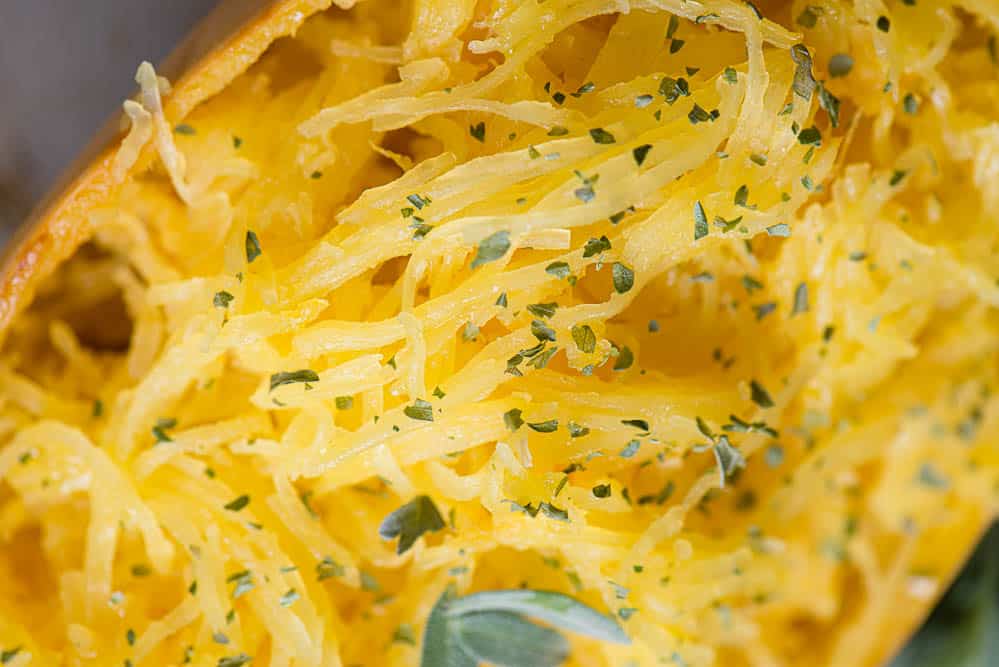 Other cooking methods:
My preferred method will always be to roast squash in the oven. I just love the flavor.
You can, however, cook spaghetti squash a few other ways.
A lot of people like to use the Instant Pot. You would still prepare the squash by cutting it and removing the seeds, add about a cup of water, and cook it for about 7 minutes.
Don't want to bother removing the seeds? You can cook it whole if you pierce it first and increase the time to 15 minutes.
You can also cook a spaghetti squash in the microwave. You would simply place the cut halves, with the seeds removed, in a baking dish that has a small amount of water. Then, cook on high 10-15 minutes.
If you're looking to cook your spaghetti squash fast, I recommend using the Instant Pot over the microwave, but either works.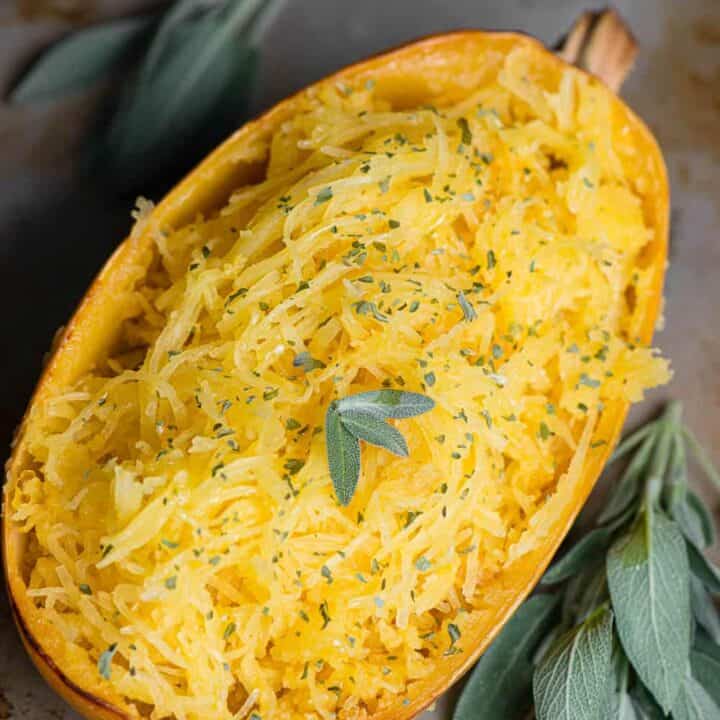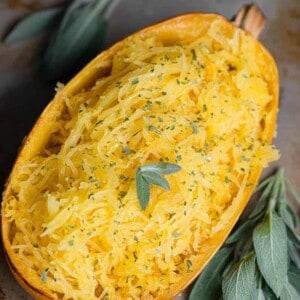 Roasted Spaghetti Squash is so easy to make! Roasting the squash gives the best flavor and the soft flesh easily shreds with a fork, resembling spaghetti.
Instructions
Cut spaghetti squash in half lengthwise. Scoop out seeds and discard.

Brush the cut sides of the squash with the olive oil and sprinkle with salt.

Place prepared squash, cut side down, on a parchment lined baking sheet.

Roast in a 400 degree oven for about 45 minutes or until tender.

Use a fork to loosen the squash fibers and make your vegetable "spaghetti".
Notes
The longer you cook your squash, the more the fibers will mush together and be less like spaghetti. I actually prefer to let my squash cook longer because I like the way it tastes, but if you really like the spaghetti strands, be sure to not cook the squash longer than 45 minutes and remove it from the baking sheet to cool.
If you like longer spaghetti strands, try cutting the squash in half between the stem and the base instead of lengthwise, like I've done in the photos.
45 minutes is about the right roasting time for a standard sized spaghetti squash. If you have a really large one, you might need to increase the time. Likewise, if your squash is small, you may have to reduce the cooking time.
Nutrition
Calories:
185
kcal
,
Carbohydrates:
33
g
,
Protein:
3
g
,
Fat:
7
g
,
Saturated Fat:
1
g
,
Sodium:
664
mg
,
Potassium:
521
mg
,
Fiber:
7
g
,
Sugar:
13
g
,
Vitamin A:
579
IU
,
Vitamin C:
10
mg
,
Calcium:
111
mg
,
Iron:
1
mg
Nutrition information is automatically calculated, so should only be used as an approximation.